Understanding Code-Compliant Integrated Ceiling Solutions
Using modern ceiling installation systems to meet design intent, IBC code requirements, and construction schedules
Sponsored by Armstrong Commercial Ceiling Solutions
Design Details: Acoustics in Flexible Building Design
Increased building flexibility and adaptive reuse over the life of a structure are not only hallmarks of modern design, they are sustainable strategies. While traditional design practices focused on development, commercial buildings focused on developing nonintrusive, moderate distraction zones and confidential spaces, today's flexible designs think of end users of spaces based on needs of today's workers: focus, collaboration, and confidentiality. Demountable partitions, open offices, and the ability to expand and contract footprints as needed lend flexibility but can severely complicate a designer's job to match the best-performing ceiling panels to the changing clients needs.
Nowhere is this more true than in the ability to meet the acoustical needs within this new design approach. Today's flexible spaces call for the ability to concentrate one minute and to collaborate the next.
The Gensler 2013 U.S. Workplace Survey showed that excessive noise at the office reduces worker effectiveness, raises stress, and lowers employee satisfaction, as verified by the Center for the Built Environment.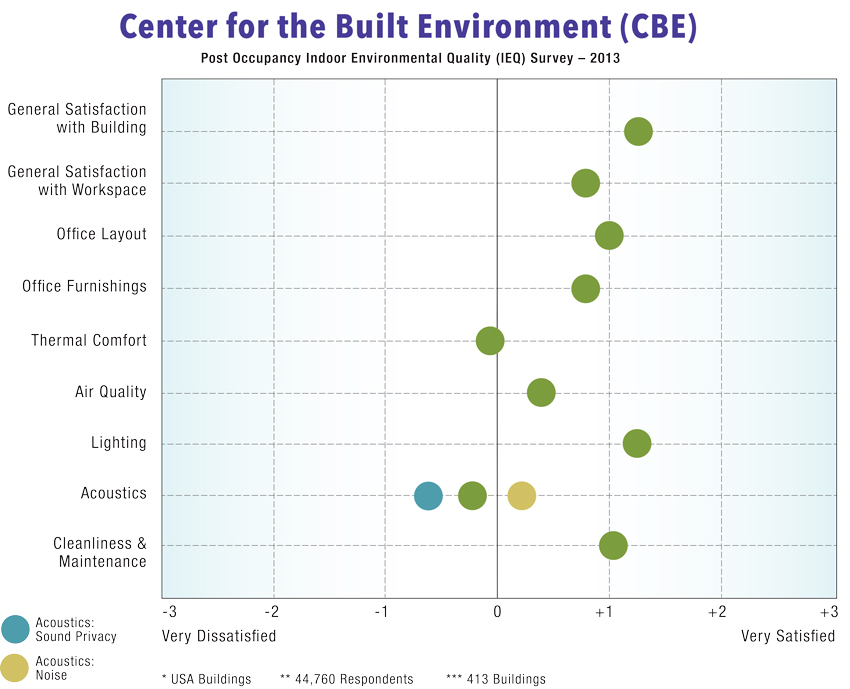 Image: Jensen, K., and E. Arens, 2004. Acoustic Quality in Office Workstations, as Assessed by Occupant Surveys. Proceedings, Indoor Air 2005, Sept. 4–9, Beijing, China.
Today's open-plan areas can become tomorrow's closed-plan areas, making both absorption (NRC) and blocking (CAC) important for not only current, but also future space flexibility. Understanding how to design for acoustics in today's flexible interiors takes on new importance because traditional acoustical recommendations are not always compatible with today's performance requirements.
Acoustic comfort means an acoustic environment that provides: • speech intelligibility for clear communications and safety;
• speech privacy for confidentiality;
• low distractions and annoyance for a nonintrusive work space.

Advances in ceiling panel technology allow one ceiling panel to be installed across all spaces to provide both high sound absorption and sound blocking. Ceiling panels featuring a more comprehensive acoustics performance, offering the ideal combination of both sound absorption (NRC greater than 0.60) and sound blocking (CAC of 35 or greater). Installing a single ceiling panel with performance that controls both types of auditory distractions results in increased use flexibility and increased occupant comfort.
Standard Product Capabilities Enable Unique Looks on Tighter Budgets
When your design calls for a signature space with a custom look, but your budget is tight, many standard capabilities are available from ceiling providers to help you achieve a unique design. In the Harrah's case study, standard 4-foot by 4-foot hexagons panels were used to represent the branches, supplemented by special sizes and shapes of panels for the trunk and transition to the canopy. This could have been done in a specific color, coordinated with other interior furnishings, or been taller plank-like panels. So, from a nonstandard panel size or shape to a special color, veneer, or perforation, many options are available to help you meet both your budget and design goals. From options in metal, wood, mineral fiber, and fiberglass to different shapes and forms, ceiling to wall transitions, sloped ceilings, faceted installations, canopies, clouds, blades, and baffles, there are ways deliver your vision and address your budget and construction schedule. Additionally, Revit and CAD details are often readily available for all standard products used in custom ways.
Originally published in Architectural Record
Notice