Understanding Code-Compliant Integrated Ceiling Solutions
Using modern ceiling installation systems to meet design intent, IBC code requirements, and construction schedules
Sponsored by Armstrong Commercial Ceiling Solutions
Design Details: Pre-Engineered Trims and Transitions
Pre-engineered trim and transition options can be used to address changes in elevation, geometry, or material type. Transitions are available that make acoustical panels to drywall, as well as geometric shifts, such as from a rectangular office to a curved hallway, fast and easy to detail and build. Pre-engineered transitions eliminate excess framing, provide consistent fit and finish, and allow for quality control, while reducing the time required detailing and specifying. These transition solutions are designed precisely to fit with a variety of ceiling panel types and suspension systems. Unique curves and shapes as well as crisp detailing are easily duplicated throughout an entire project. Pre-engineered steel and extruded aluminum transitions use significantly less framing to structure and eliminate interferences in the plenum that can reduce the construction schedule, minimizing risk and ensuring design intent. These transitions are often tested to meet the same codes as standard transitions, including seismic requirements, and are available in a wide variety of standard and custom colors.
Design Details: Integrated Shade Pockets for Acoustical and Drywall Ceilings
Traditionally, ceilings (either acoustical or drywall), shade pockets, and shades require coordination between multiple trades, potentially leading to lengthier construction schedules and poor fit and finish. Pre-engineered extruded aluminum pocket and shade options provide seamless integration between a variety of acoustical and drywall ceiling types, making specification simpler and installation faster and easier, while eliminating additional trade coordination and reducing ceiling construction schedules by 50 percent or more. Pre-engineered shade pocket options also allow consistent quality control at the building perimeter, reducing time required to detail and specify. They can also be customized in depth and dimension to work with almost any popular shade option you might choose.
Design Details: Monolithic Ceiling Design
Traditional suspended ceiling systems are often riddled with lighting, HVAC, sprinklers, and other visual "nose" break points, disrupting the appearance of the ceiling plane and the design of the space. Integrated ceiling solutions offer the ability to organize layouts to reduce visual clutter and integrate lighting, air diffusers, and other accessories, such as sprinkler systems into "zones" as narrow as 4 inches wide.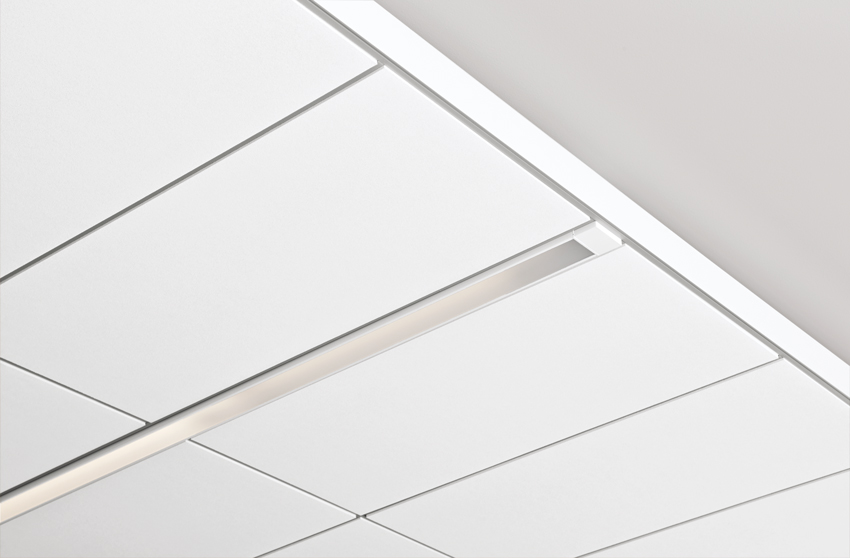 Photo courtesy of Armstrong Commercial Ceiling Solutions
Ceiling system with compact linear zones for light fixtures
Some ceiling manufacturers prequalify lighting fixtures from partner companies for fit and finish. This option makes designing and installing a customized, integrated ceiling and lighting layout using standard ceiling panels and suspension systems faster and easier.
Integrating linear lighting fixtures in a symmetrical, on-center continuous, or non-continuous layout can also be done using factory-finished or made-to-order ceiling panels and suspension systems. Wall-to-wall and cloud or canopy LED light fixtures can now be easily installed without independent suspension, and comply with IBC Seismic Design Categories (SDCs) D, E, and F for areas with high or very high seismic vulnerability.
There are six SDCs ranging from A to F. Structures posing minimal seismic risk are assigned as an SDC A, and structures posing the highest seismic risk are assigned an SDC F category. As a structure's potential seismic risk increases, as represented by the Seismic Design Category, the NEHRP Recommended Seismic Provisions requires progressively more rigorous seismic design and construction as a means of attempting to ensure that all buildings provide an acceptable risk to the public. According to the National Institute of Building Sciences (NIBS), structures are assigned to a Seismic Design Category based on the severity of ground shaking and other earthquake effects the structure may experience and the nature of the structure's occupancy and use.
Originally published in Architectural Record
Notice