In Today's World, Ventilation Has a Starring Role
Forward-thinking actions that make indoor environments safer and cleaner
Sponsored by Armstrong Ceiling and Wall Solutions
Learning Objectives:
Describe new "Safety First" pilot LEED credits developed by the USGBC to address post-COVID-19 reentry into workplaces.
Discuss strategies to provide clean indoor air to the ANOHA Children's Museum in the Jewish Museum Berlin.
Explain how filtered fresh is provided for every classroom at Blakely Elementary School in Bainbridge Island, Washington.
Identify how architects are advising their clients on safely reopening offices after pandemic closures.
Credits:
This course can be self-reported to the AIBC, as per their CE Guidelines.
As an IACET Accredited Provider, BNP Media offers IACET CEUs for its learning events that comply with the ANSI/IACET Continuing Education and Training Standard.
This course is approved as a Structured Course
This course can be self-reported to the AANB, as per their CE Guidelines
Approved for structured learning
Approved for Core Learning
This course can be self-reported to the NLAA
Course may qualify for Learning Hours with NWTAA
Course eligible for OAA Learning Hours
This course is approved as a core course
This course can be self-reported for Learning Units to the Architectural Institute of British Columbia
This test is no longer available for credit
This course is part of the The Indoor Environmental Quality Academy
Below are a set of links to building type studies from Architectural Record, which are in-depth analyses of particular kinds of buildings, with photos, drawings, specifications, detailed descriptions, and design solutions. Click on each link below, read the article then complete the quiz to earn your credit and certificate of completion.
As architects design to LEED, WELL, and other standards, attention to indoor environmental quality has long been a standard-bearer for buildings that are safe and healthy for occupants. If occupant health and wellbeing is not considered and protected, the building falls short. Various methods to ventilate buildings for occupant welfare are discussed here, from filtered fresh air for classrooms, to deep eaves in a train station that allow in fresh air but keep out rain. Also discussed are new ventilation-related Safety First credits that have been developed by LEED to address post-COVID-19 reentry into workplaces.
USGBC develops new pilot credits in response to COVID-19
As part of its Healthy Economy strategy, USGBC's LEED Safety First credits are a suite of credits that support project teams as they work toward reentry and safe operation. They were designed to be agile, so that updates can be made to their requirements as more is learned about the virus that causes COVID-19. The Safety First: Design for Indoor Air Quality and Infection Control credit and The Safety First: Maintenance of HVAC Systems During COVID-19 credit both address ventilation.

Olson Kundig's ANOHA Children's Museum Opens at Jewish Museum Berlin
The Jewish Museum Berlin has unveiled a section dedicated to children, designed by Olson Kundig, making it the Seattle firm's first museum project in Europe. The windows are controlled by carbon dioxide sensors, and regulate the air quality in the interstitial space between the interior and the outdoors as well as help minimize reliance on the building's mechanical space conditioning systems.
By Bridget Cogley
Firms Develop Strategies for Adapting K-12 Schools to the Pandemic
The architecture firm PBK had just received a permit to begin construction on a new elementary school in the Austin, Texas, suburb of Round Rock when COVID-19 hit the United States. "We quickly huddled up and put solutions together to adapt the design in light of the virus," says Darrell Pearson, a firm partner. Solutions included an upgraded air filtration system that mimics those found in healthcare environments and UV lighting, which sanitizes air and surfaces.
Laura Raskin
Blakely Elementary School by Mithun
At Blakely Elementary School in Bainbridge, Washington, a dedicated outdoor air system (DOAS) with heat recovery provides filtered fresh air directly to each classroom. This ventilation system was not designed to help prevent the transmission of viruses, but the 100 percent fresh air will add a degree of safety for in-person schooling.
James S. Russell, FAIA
Architects Advise Clients on Safely Reopening Offices
With a growing interest in healthy air that predated COVID-19, there may be a willingness to invest in upgraded HVAC systems when evidence shows they are capable of eliminating viruses or diluting their presence.
James S. Russell, FAIA
Takanawa Gateway Station by Kengo Kuma and Associates, Tokyo
Topped by a monolithic undulating roof, the Takanawa Gateway Station recalls the elegance of the historic European train station—but in the heart of Tokyo. While deep eaves prevent rain from entering the building, these gaps provide sufficient natural ventilation to eliminate the need for mechanical air-conditioning except in the lavatories and other enclosed areas.
Naomi R. Pollock, FAIA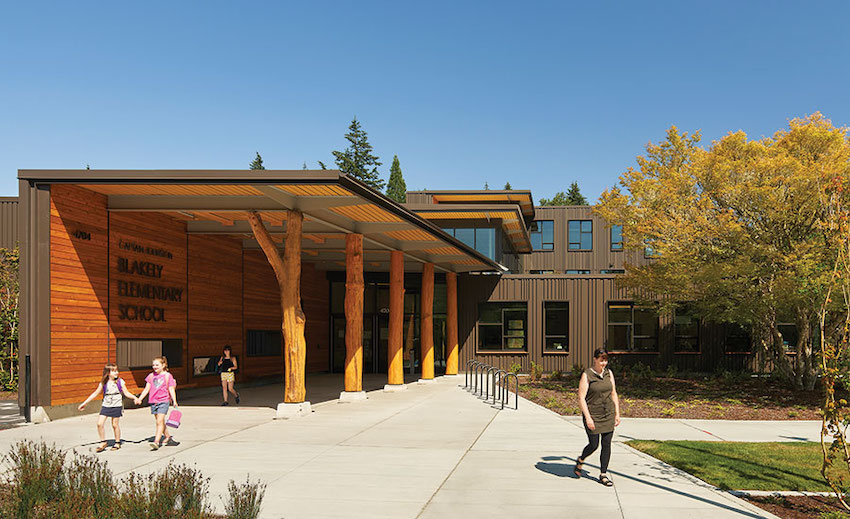 Photo © Kevin Scott
Blakely Elementary School.
Armstrong World Industries is a leader in the design and manufacture of innovative commercial ceiling and wall systems. At home, at work, in health-care facilities, classrooms, stores, and restaurants, Armstrong Ceiling & Wall Solutions offer interior options that help create healthy, sustainable spaces that protect people and cultivate well-being and comfort so they can be at their best.

Armstrong is committed to developing new and sustainable ceiling solutions, with design and performance possibilities that empower its customers to create beautiful, high-performance residential and commercial buildings. Armstrong continues to grow and prosper for the benefit of all its stakeholders. armstrongceilings.com/commercial


Originally published in September 2021
Notice