Feel-Good Architecture Delivers Daylight and Views
Occupants feel good inside when they can see outside—these state-of-the-art projects illustrate how it's done.
Sponsored by Armstrong Ceiling and Wall Solutions

1 AIA LU/HSW; 0.1 ICC CEU; 0.1 IACET CEU*; 1 AIBD P-CE; AAA 1 Structured Learning Hour; This course can be self-reported to the AANB, as per their CE Guidelines; AAPEI 1 Structured Learning Hour; This course can be self-reported to the AIBC, as per their CE Guidelines.; MAA 1 Structured Learning Hour; This course can be self-reported to the NLAA.; This course can be self-reported to the NSAA; NWTAA 1 Structured Learning Hour; OAA 1 Learning Hour; SAA 1 Hour of Core Learning
Learning Objectives:
Explain how the design of a Wisconsin orthodontist's office created outdoor views and a calming environment.
Describe the role evidence-based-design played in placement of windows in an ambulatory center in Pennsylvania to create nature views.
Identify how a mixed-use building that benefited from natural light and nature views in a parking garage and the entry to a medical clinic.
Define the design strategy that brought forest views into patient rooms at Waldkliniken Eisenberg Hospital in Germany.
This course is part of the Indoor Environmental Quality: Healthy Design Academy
This course is part of the The Indoor Environmental Quality Academy
Below are a set of links to building type studies from Architectural Record, which are in-depth analyses of particular kinds of buildings, with photos, drawings, specifications, detailed descriptions, and design solutions. Click on each link below, read the article then complete the quiz to earn your credit and certificate of completion.
The presence of natural light and views in buildings is a major component of superior indoor environmental quality, along with air quality, acoustics, and thermal comfort. This course illustrates how the design of the building creates striking opportunities to enhance interior environments, particularly those in hospitals and medical facilities, with healing and calming nature views.
Mantel Ortho by Johnsen Schmaling
Where could feel-good architecture be more important than in an orthodontist's office? Set in Cedarburg, Wisconsin, this building's west elevation, which fronts a busy county road, needed to be windowless to conceal lab and sterilization rooms. But the east-facing facade is entirely glazed, flooding open treatment bays with daylight and offering views out to a tranquil meadow.
Laura Raskin
Penn Medicine Radnor by Ballinger
At this ambulatory care center in Radnor, Pennsylvania, evidence-based design led to views of plants and trees seen from the point of arrival, from the pedestrian bridges, and through floor-to-ceiling glass expanses of the hallways and lounges. Some corridors that branch off the main hallways terminate in windows showing glimpses of the verdant property.
Suzanne Stephens
Firms Beacon Clinic by 5468796
You don't expect to find natural light and views of greenery flooding into an underground parking garage. Nor do you expect to find natural light providing a calming effect in the elevator lobby on the way into a medical clinic. Thanks to savvy design, this mixed-use building in Calgary, Alberta, delivers all that.
Laura Raskin
RAMSA's New Affordable and Supportive Housing Fulfills Need in East Brooklyn
To help provide a healing environment in this supportive housing complex for more than 300 people living with AIDS, a window wall provides daylight to the elevator lobbies on each floor.
Kara Mavros
Waldkliniken Eisenberg Hospital by Matteo Thun
If a hospital wing is set within one of the largest forests in Germany, it makes sense to create a circular façade so that wherever you are, windows provide relaxing views of the forest outside.
Mairi Beautyman
The Zayed Centre by Stanton Williams
A new research facility for the study of rare diseases in children is now part of London's Great Ormond Street Hospital (GOSH). A central atrium brings daylight to interior levels. Both outpatients and lab workers enter the building by walking on a bridge extending over the below-grade labs, which get abundant daylight from the street level above.
Tim Abrahams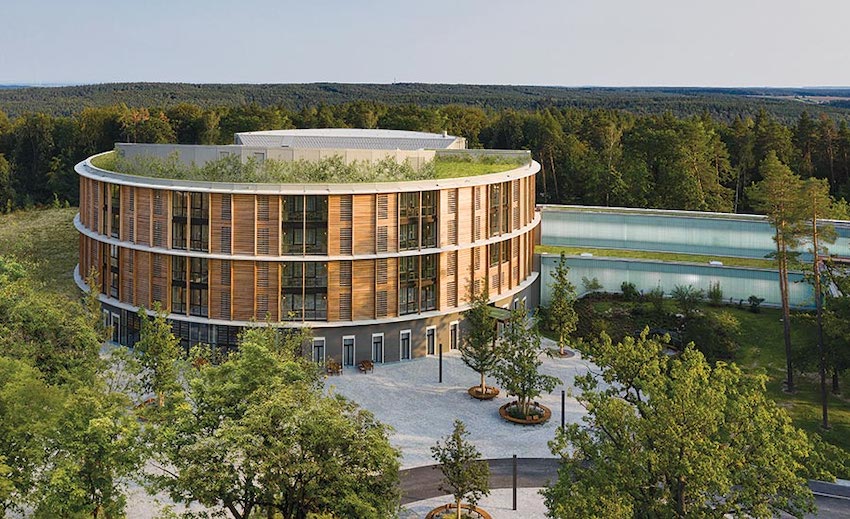 Photo © Gionata Xerra
Locally sourced larch wood clads the circular facade of the new hospital wing, which connects to the orthopedic center's existing surgery building via a glass passageway.
Armstrong World Industries is a leader in the design and manufacture of innovative commercial ceiling and wall systems. At home, at work, in health-care facilities, classrooms, stores, and restaurants, Armstrong Ceiling & Wall Solutions offer interior options that help create healthy, sustainable spaces that protect people and cultivate well-being and comfort so they can be at their best.

Armstrong is committed to developing new and sustainable ceiling solutions, with design and performance possibilities that empower its customers to create beautiful, high-performance residential and commercial buildings. Armstrong continues to grow and prosper for the benefit of all its stakeholders. armstrongceilings.com/commercial


Originally published in September 2021
Notice