Current and emerging options offer architects and designers a broad range of choice
Sponsored by Armstrong Ceiling and Wall Solutions
Acoustic Ceiling Options—Traditional and New
Using the principles of acoustics and the measurement processes available, ceiling manufacturers have been able to advance and refine their product offerings to provide architects and designers with a variety of choices. This variety allows for designs to be optimized for acoustic performance while still addressing visual and other aspects of the spaces.
Acoustical Ceiling Panels
Lay-in acoustical ceiling panels with a suspended grid system have been a traditional choice for many commercial and institutional buildings. They have commonly been available in standard 24-inch square or 24- x 48-inch rectangular sizes and made from mineral fiber or fiberglass materials. While these continue to be available and are a rather standard option, a whole new palette of ceiling panels and grids are also being produced. Ceiling panels are currently available in a wide range of sizes, patterns, and acoustical properties to suit a variety of design conditions. Long, narrow sizes such as 48 or 60 inches long by 6 inches wide are available as well as large 30-inch square panels among others. It is even possible to specify panels in trapezoidal shapes for situations where the ceiling radiates out visually from a rounded central area.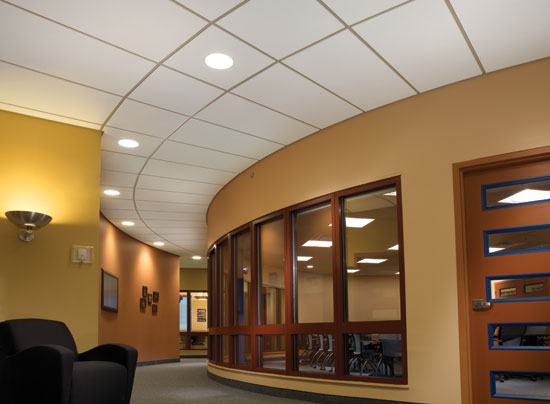 Photo courtesy of Armstrong Ceiling and Wall Systems
Traditional acoustic ceiling panels are available in more shapes and sizes, including shapes appropriate for ceilings radiating out from a circular center.
The choice of materials used for lay-in ceiling panels has also been significantly increased. In addition to mineral fiber or fiberglass, panels are also available in wood, metal, plastic, and translucent material with a variety of smoothness or textures. While the variety of materials contributes to the visual appearance and overall "feel" of a space, manufacturers have also included very good acoustic qualities into these ceiling panels. In some cases, that is achieved by using a pattern of very small (even ultra-small) perforations that are not visible when viewing the ceiling from below. Absorbent material is then added behind the panel that deadens the sound that passes through the perforations. The size and spacing of the perforations plus the reflectance of the panel material all combine to create desired NRC and CAC ratings.
Clouds and Canopies
A free-form approach to ceiling design has prompted the use of isolated panel formations that visually float below the structure above, hence promulgating the term "clouds." While commonly available in square or round formations, the actual size, shape, and material are all variable. In this way, they can be designed to add a degree of acoustic control as well as visual appeal to a space. Similarly, a canopy can be added that is curved such that it adds a true three-dimensional aspect to a space and contributes to the acoustical performance at the same time. These canopies are commonly available from manufacturers in a variety of materials as well as a variety of acoustical properties.
Vertical Acoustical Treatments
In design situations where the horizontal plane of the ceiling is not desired but acoustic control is, then an alternate ceiling design can be created using vertically hanging acoustical treatments. In some cases, these treatments are long, linear acoustical elements that can be hung in unique configurations to aesthetically define spaces. They are generally available in rectangular standard sizes along with both standard and custom colors. These long, linear treatments can be suspended from a traditional 15/16-inch ceiling suspension system, or hung individually from the structure above. Properly designed and installed, they are approved for use in seismic areas and come with many options to achieve exceptional acoustical performance by reducing reverberation time in spaces.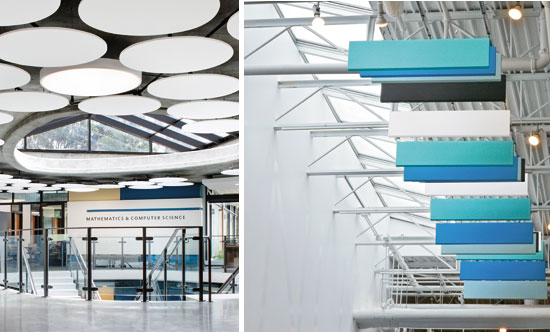 Photos courtesy of Armstrong Ceiling and Wall Systems
Left: Sound reverberation can be controlled with ceiling systems that are both acoustically efficient and visually exciting.
Right: Vertical acoustical treatments such as baffles used in this ceiling space help to control reverberation time and overall sound quality.
The term "acoustical baffles" applies to vertical hanging acoustical treatments that are commonly larger and shaped closer to squares than rectangles. Baffles are a very good acoustical solution in large spaces open to the roof structure. Tests have shown that it is possible to achieve a 50 percent average reduction in reverberation time with only about 25 percent coverage of baffles in the space. This type of treatment comes in a wide variety of material choices, colors, textures, edge details, and even shapes. They can include up to 100 percent post-consumer woven fabric content or even be made from rapidly renewable bio products. Baffles are also readily seismic approved and easy to install with adjustable aircraft cables. Overall they add acoustical control to spaces with an exposed structure or roof deck and readily add visual benefits of color and texture to the space.
Ceiling to Wall Systems
Using the same or similar material on a wall as the one used on a ceiling can make a strong visual statement when it comes to enclosing a space. It can also create a strong acoustic control, depending on the NRC rating of the material used. Seamless, integrated, and flowing transitions between ceilings and walls can be achieved using standard manufactured components. From crisp, 90° angles to active, inviting curves that ebb and flow with a particular design, a wide variety of three-dimensional enclosures can be achieved. The material choices are varied as well, including wood with a warm inviting look, metal with a cooler more sophisticated appearance, translucent materials that can add intrigue, or textured fabrics that can do many different things. Together, the combination of material and shape can be very dramatic or simple and understated.
From an acoustical standpoint, the materials used can have a very low NRC rating to create a sound reflective environment that may be required in a nightclub or other active environment. By contrast a high NRC rated material could be chosen to absorb sound and create a quieter space.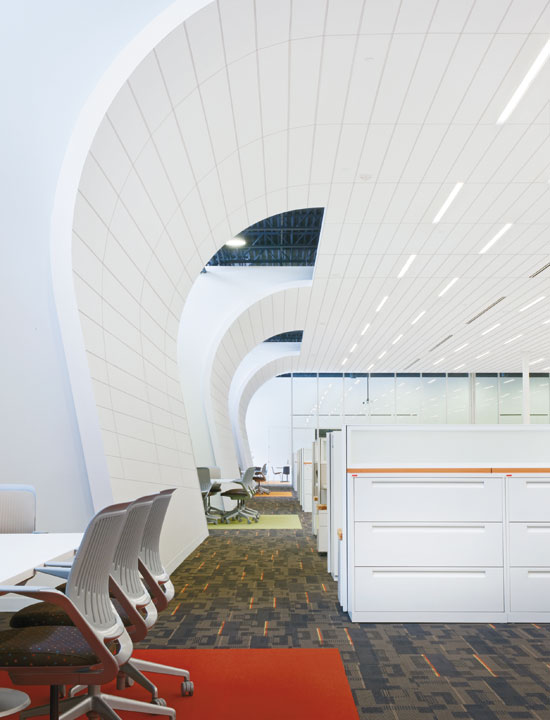 Photo courtesy of Armstrong Ceiling and Wall Systems
Extending the ceiling to become part of a wall system creates a visual and acoustical enclosure.
Originally published in Architectural Record
Notice