Sounding the Alarm: Architects and local officials grapple with building practices and regulations as the threat from wildfires intensifies
Architectural Record
Learning Objectives:
Outline the interrelated factors that are making wildfires increasingly destructive and more frequent.
Describe policy and building code changes intended to make buildings more resistant to wildfires.
Explain landscape and site-planning strategies that can enhance wildfire resistance.
Define terms relevant to wildfire-resistant design such as "defensible space" and "WUI."
Credits:
This course can be self-reported to the AIBC, as per their CE Guidelines.
This course is approved as a Structured Course
This course can be self-reported to the AANB, as per their CE Guidelines
Approved for structured learning
Approved for Core Learning
This course can be self-reported to the NLAA
Course may qualify for Learning Hours with NWTAA
Course eligible for OAA Learning Hours
This course is approved as a core course
This course can be self-reported for Learning Units to the Architectural Institute of British Columbia
This test is no longer available for credit
View course on architecturalrecord.com »
CALIFORNIA wildfires began shattering existing records early in the current season. By the beginning of October, five of the six largest infernos in the state's history had occurred, burning through more than 4 million acres—already double the damage in any preceding year. California's most extensive blaze ever, the August Complex Fire, in the Northern Coastal Ranges, had ripped through more than 1 million acres and was still only partially contained. Megafires had also ravaged large swaths of Oregon, Washington, and other western states. Hardly anomalous anymore, the prior three years had seen their own catastrophic wildfires, with the Camp Fire, of 2018, still holding the devastating record statewide for casualties and structures lost, claiming 85 lives and 18,800 buildings, including destruction of the town of Paradise. Cascading, interrelated factors—among them severe drought; strong dry, hot winds; rising average temperatures; and cumulative forest-management practices—are making such conflagrations increasingly extreme and common. "And when fires extend beyond forest areas into inhabited communities," says Stephen Quarles, an expert on how building materials and structures fare in such events, "a lot more people open their eyes and take notice."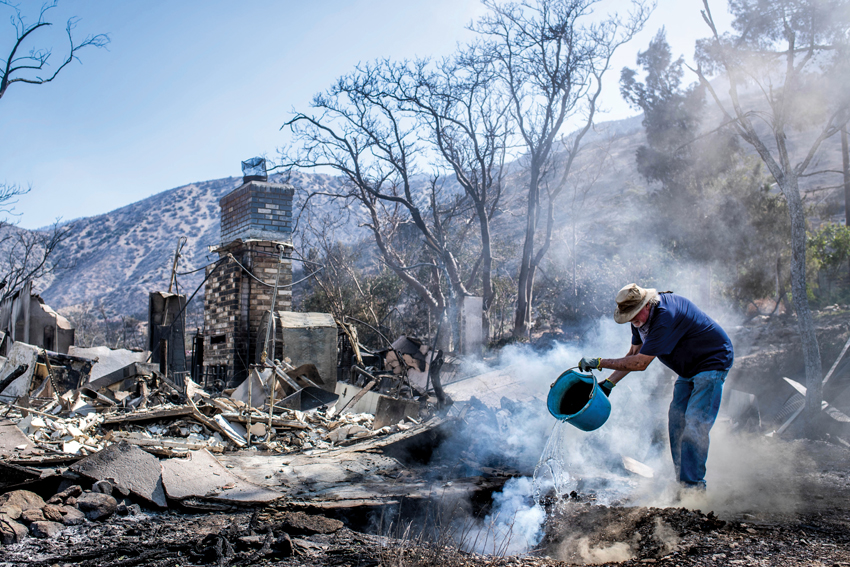 PHOTOGRAPHY: © ASSOCIATED PRESS
THE REMAINS of a house in Juniper Hills smoulder after Southern California's Bobcat Fire in September.
One reason these incidents are crossing more frequently and destructively into the Wildland Urban Interface (WUI), where suburbs and wilderness meet, is the growing migration into those fire-hazard zones. According to U.S. Forest Service data, between 1990 and 2010, the number of homes in the WUI ballooned nationwide by 41 per- cent, from 30.8 million to 43.4 million—helping fuel the fires. And the trend is continuing, driven by high housing costs in cities and a desire to return to nature.
Meanwhile, built-up greenhouse gases, resulting from human consumption of fossil fuels, have led to increasingly hot, parched conditions in the western United States, with powerful Santa Ana and Diablo winds that fan flames and/or carry embers, sometimes more than a mile, to ignite fires. Intensifying the hazards, overgrown forests have left abundant tinder-dry underbrush and dead trees—some due to bark beetle infestations, but many the casualties of drought—primed for disastrous combustion.
For more than a century, government policies suppressed fire instead of allowing controlled burns to regenerate woodland ecosystems. "Native tribes used that as a land-management tool," says Chris Dicus, a wildfire authority and professor at California Polytechnic State University. "We stopped doing it—and got too good at putting out small fires, letting forests become extremely dense, which meant dramatically increased water demands, just when drought and heat, brought on by climate change, were diminishing that resource."
In 2018, California passed legislation to promote managed burning, but change has been slow (and such techniques carry risks, occasionally setting off an uncontrolled conflagration). Meanwhile, the dead-tree overload is daunting: according to a report this September in MIT Technology Review, California needs to reduce fuel levels in 20 million acres of forest—equivalent to the area of South Carolina—to adequately mitigate the wildfire threat.
Originally published in November 2020
Notice