Green Building Certification
The Living Building Challenge Grows Up: A stringent standard for regenerative design expands its reach and influence.
Architectural Record
As the number of projects pursuing LBC, along with the diversity of typologies, has been growing, ILFI has also been expanding its offerings. One example is its Zero Carbon program, launched in 2018. Certification, which typically entails procurement of low-carbon materials, implementation of energy-efficiency measures, and the purchase of environmental offsets, is proving attractive to publicly traded companies with ambitious corporate sustainability goals. Last year, Google, whose climate targets include operating all its data centers and campuses with carbon-free energy by 2030, was the first company to achieve the certification—for 6 Pancras Square, the office building it has leased as its London headquarters since 2016. Similarly, Microsoft, which has an aggressive plan to be carbon negative by 2030, and by 2050 offset all the carbon the 45-year-old company has emitted since its founding, has committed to pursuing Zero Carbon certification for modernization projects at its Silicon Valley and Puget Sound campuses. Mean­while, Salesforce, the cloud-based software company, is targeting Zero Carbon certification on all its new office spaces.
A sampling of the institute's other initiatives include "Declare," an ingredients label for building products; "Just," a program for companies who want to improve their organizations' social equity; and a partial, or Petal, certification option, which allows project teams to focus on either water, energy, or materials. One of the newest offerings, introduced in 2019 with Version 4.0 of the LBC, is a Core Green Building Certification alternative. It entails satisfying the requirements for 10 of the 20 LBC imperatives—those deemed essential for a structure to be considered a sustainable building. For instance, the Core program calls for a healthy interior environment, universal access, and deep cuts in energy and water consumption, but not for net-positive performance. Shawn Hesse, the institute's director of business development, describes these programs as "stepping-stones" and "reporting mechanisms for organizations interested in accountability and a framework for meaningful action."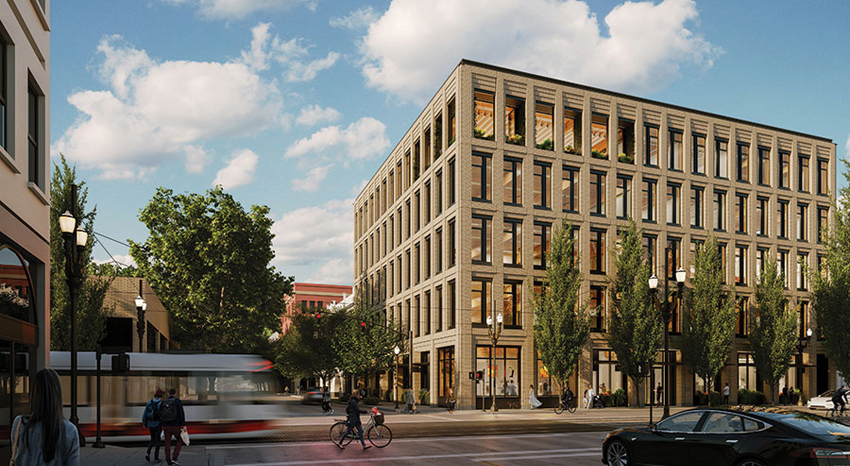 IMAGE: COURTESY ZGF
THE PAE BUILDING, under construction Portland, Oregon, faced tough constraints on PV panels due to its location in a historic district.
The growing roster of programs helps catalyze change in architectural practice and the construction industry, says Vivian Loftness, a professor at the School of Architecture at Carnegie Mellon University and an ILFI board member. But full Living status remains the ultimate prize. "It is the pot of gold at the end of the rainbow," she says. "Let's keep it there and keep it difficult."
Kathy Berg, a partner at ZGF in Portland, Oregon, confirms that the LBC is indeed difficult. "Challenge is part of the name for a reason," she says. Her firm is the architect for a five-story retail and office building under construction in the Skidmore/Old Town historic district of Portland that is aiming for full LBC status. If certified, the 58,000-square-foot building—named after its prime tenant, the engineering firm PAE, the project's m/e/p consultant—will supplant the Bullitt Center (which PAE also worked on) as the largest privately developed Living office building. In an unusual move, both PAE and ZGF have taken equity in the project in lieu of design fees. (The contractor, Walsh Construction, is also an equity partner.)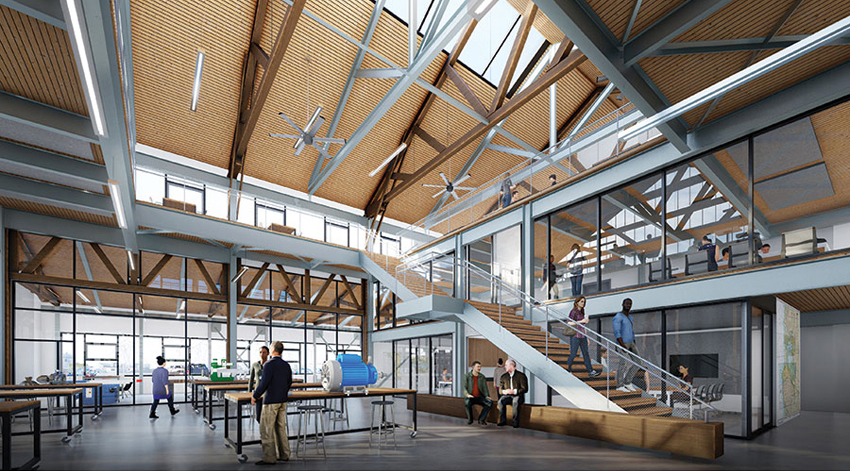 IMAGES: FREDERICK FISHER AND PARTNERS (TOP 2); MILLER HULL PARTNERSHIP ( BOTTOM)
FORWARD-THINKING cities have begun to embrace Living Building, including Santa Monica, where a glass-clad addition (top, left) to City Hall, enclosing a courtyard (top, right), has recently opened, and Seattle, where an innovation center in a historic building at the port (above) is planned.
Wearing the hats of both architect and client gave ZGF's Berg a new perspective, bringing home the need to maximize rentable area on the tight site. The solution was enhanced seismic performance: inside its brick-clad skin, the PAE Building will have a robust mass-timber frame and a concrete shear-wall core. The structure will sway significantly less than a typical code-compliant one in a major quake, which means that designers can allow less space between it and adjacent structures and therefore increase the size of floor plates. But in order to be cost effective, the structure would need to provide multiple benefits. Its exposed timber and concrete components are designed to provide the conduit for mechanical systems, serve as the primary finishes, and help bounce daylight deep into the interior from the facade's tall windows. "In a Living Building, every system needs to perform 10 functions," says Berg.
Originally published in Architectural Record
Originally published in February 2021
Notice