Grass Roots: With its rapid growth cycle and ability to store carbon, bamboo has new appeal as a building material
Provided by Architectural Record
Because the roof's structure of anticlastic, or oppositely curving, gridshells was unprecedented in such a natural and highly variable material, the project demanded a unique approach. Wijaya describes a process in which design, engineering, and testing were happening nearly concurrently, and in both digital and analog realms. The team used drawings, physical models, and computer simulations to develop and refine the scheme. They also heavily relied on full-scale mockups of the arches and other elements, loading them with concrete blocks to understand their bearing capacity. A bamboo culm "is not like a wood joist, which is normalized and graded. You know what it is and what it does. This is nature," says Thomas of the challenges of building with bamboo.
This complexity is one reason bamboo as a structural material—at least in its natural state—is unlikely to make significant inroads in the U.S. But Seattle-based structural engineer Don Davies, cofounder of Davies-Crooks, a consulting practice focused on lowering climate impacts, does see a role for bamboo in North American construction. He argues for an approach he calls "fiber optimization," which means, he says, using the best and most appropriate material for each load application, while taking into account carbon emissions and other environmental considerations. As one of nature's fastest-growing fibers, bamboo could be used to great advantage, he says, if fabricated into familiar shapes and sizes, with predictable performance, even as hybrids with other materials such as timber.
A handful of companies have entered the U.S. market with the kind of structural bamboo products that Davies is advocating. One is Windsor, California-based BamCore, which offers a panelized shear-wall framing system for low-rise residential and commercial construction. It typically consists of two engineered sheets, combining wood and bamboo plies, on either side of a shallow cavity. With bamboo sourced primarily in Central America, the company manufactures the sheets in Ocala, Florida, and then fabricates the structural panels—complete with openings for windows, doors, and mechanical systems—either there or in its California facility. The company also has plans to offer a mass-timber-bamboo product within the next 18 months, which it says will be thinner, stiffer, and lighter than cross-laminated timber.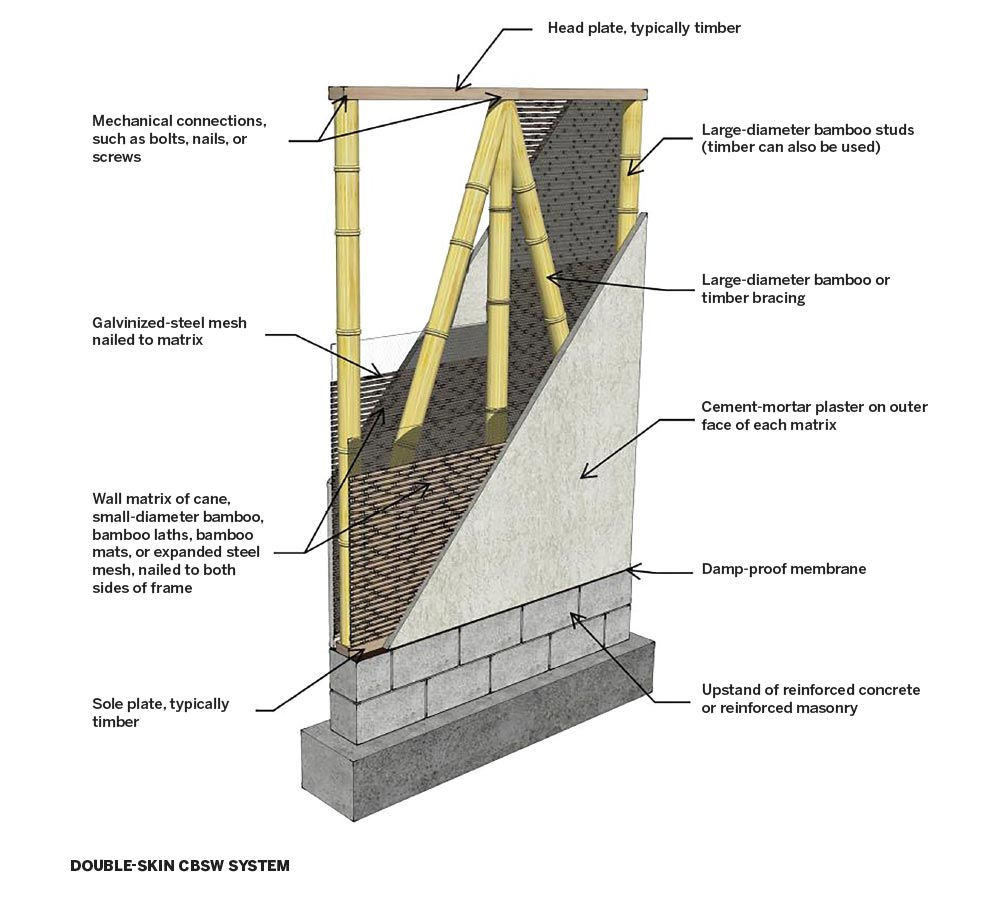 IMAGE: © ARUP
Double-Skin CBSW System
Architecture firm, BLDUS, a 2023 Record Vanguard, has used BamCore's shear-wall system in several projects, including its own office in the Anacostia neighborhood of Washington, D.C. Dubbed the Grass House—a play on the name of Philip Johnson's New Canaan, Connecticut, residence, but also a reference to bamboo's plant family—the 750-square-foot, two-story (plus basement) structure has exterior walls framed in Bam­Core panels. The framing system is used in the diminutive building along with other rapidly renewable, bio-based materials, including mycelium and woven willow, "because we are concerned about how our product choices impact the earth and the health of the building's inhabitants," says principal Andrew Linn, who founded BLDUS with Jack Becker in 2013.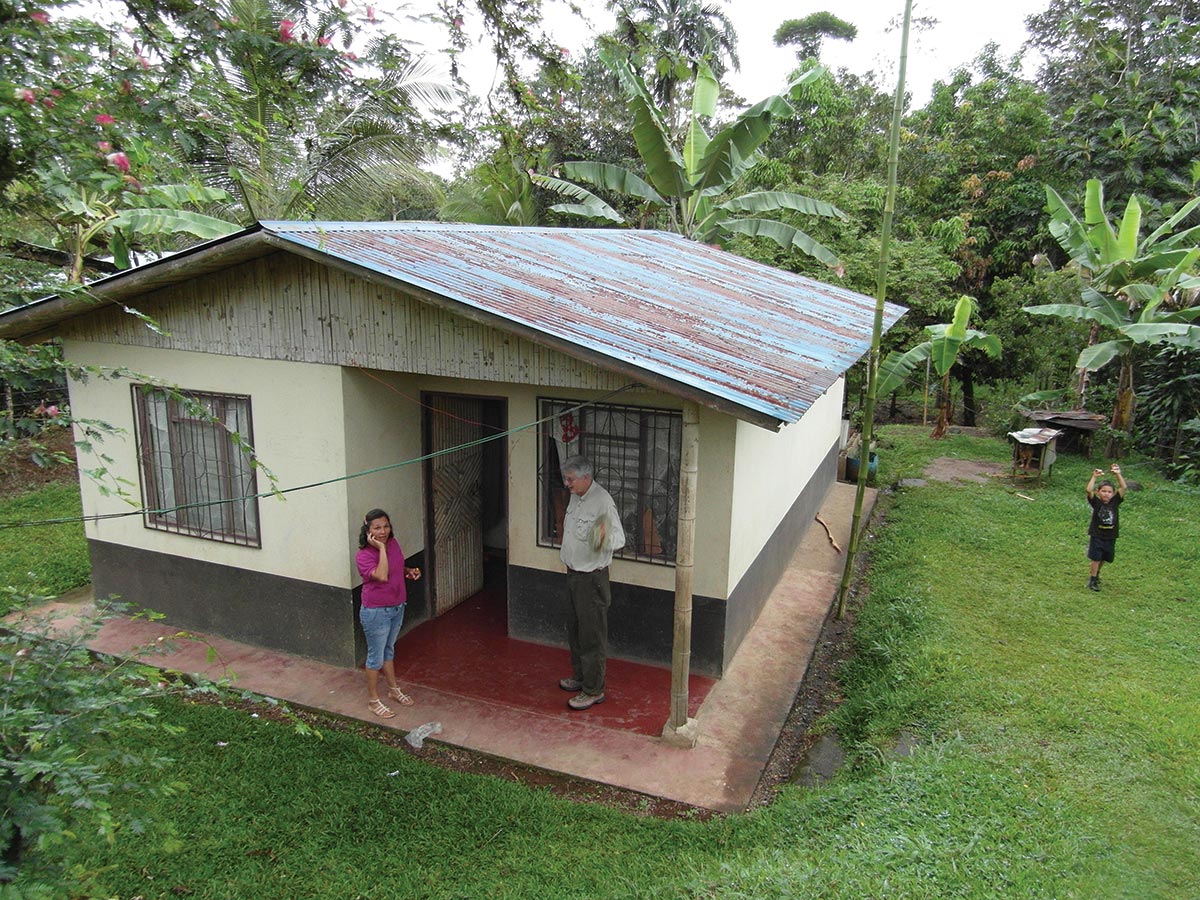 PHOTOGRAPHY: © ARUP
Bamboo buildings can be durable when properly executed. This CBSW house in Costa Rica had been standing 20 years at the time of the photo.
Technically an accessory structure to the neighboring Victorian house where Becker lives, the prefabrication of the panels made construction faster and simpler on the tight site, compared to standard wood framing, says Linn. The architects specified lambs­wool insulation for the 5½-inch cavity within the panels, while the absence of studs meant reduced heat loss through thermal bridging. The framing system also allowed elimination of some finishes—namely drywall on the interior—along with their corresponding embodied carbon. Here the architects left the inside face (a layer of wood) exposed, but stained it various shades of brown. Because the panel's outside face requires protection from the elements, Becker and Linn covered it with a fluid-applied waterproof membrane, and then clad the structure in local black locust.
Along with BamCore, there are a few other pioneers of structural engineered bamboo (SEB) offering their products in the U.S., including Lamboo and Moso. They make a variety of structural and semi-structural products, such as columns, beams, curtain-wall systems, and framing for structural glass. But the SEB industry is still in its infancy. If it is to scale up, says Davies, more support is needed for early adopters. "Opening a plant takes capital and time, which involves risk," he says.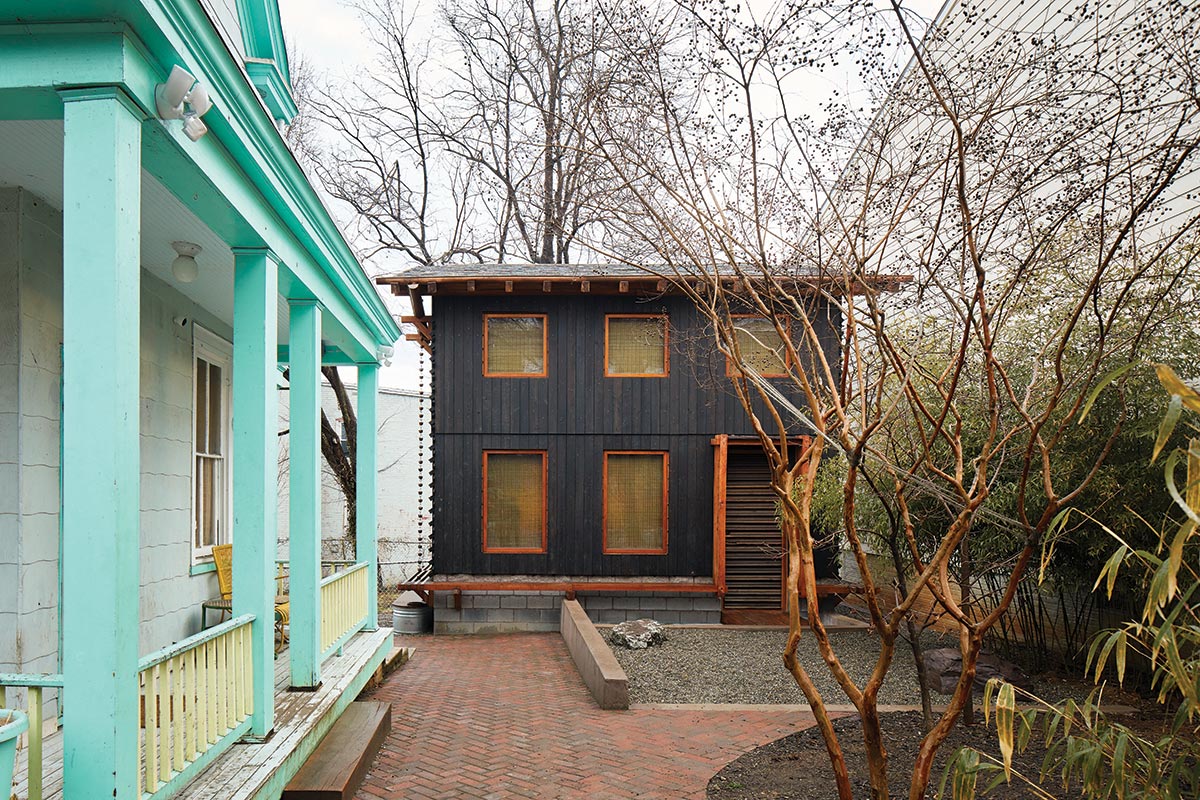 IMAGE: © TY COLE
The exterior walls of the Grass House (above), in Washington, D.C., are framed in composite bamboo-wood panels. The wood face of the panels is exposed on the interior (below).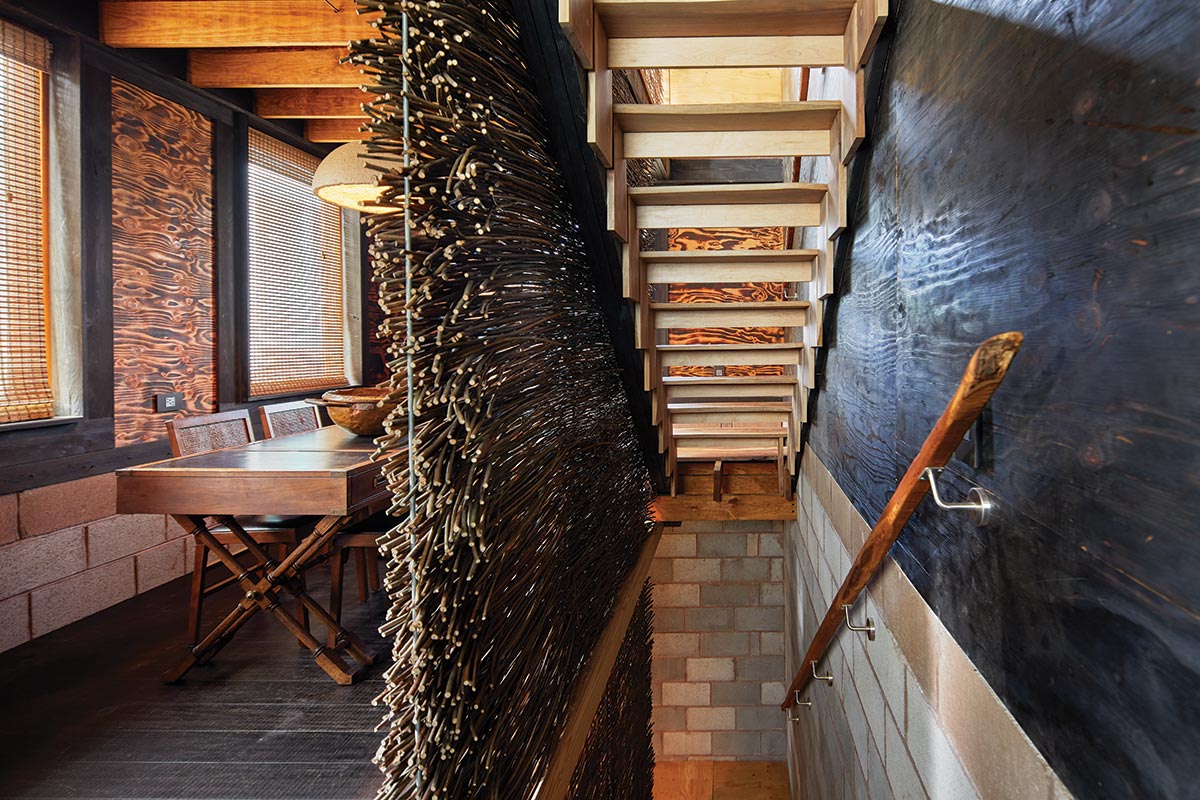 IMAGE: © TY COLE
If, and when, SEB takes off, even the most ardent bamboo fans see it as a complement, rather than a replacement, for wood, steel, or concrete. "We need to combine the best bits of each material, each for their own properties," says Thomas, echoing Davies's thoughts on fiber optimization. Regardless of what combinations manufacturers and project teams come up with, let's hope it is a big part of our material future, since the construction industry sorely needs more rapidly renewing and carbon-storing options.
Supplemental Materials:
Sebastian Kaminski, David J. Trujillo, Andrew Lawrence. "Structural use of bamboo: Part 1: Introduction to bamboo." Structural Engineer, August 2016.