Provided by Architectural Record
Leddy Maytum Stacy's Science and Environmental Center Embraces its Landscape with Sustainable Goals
BY SARAH AMELAR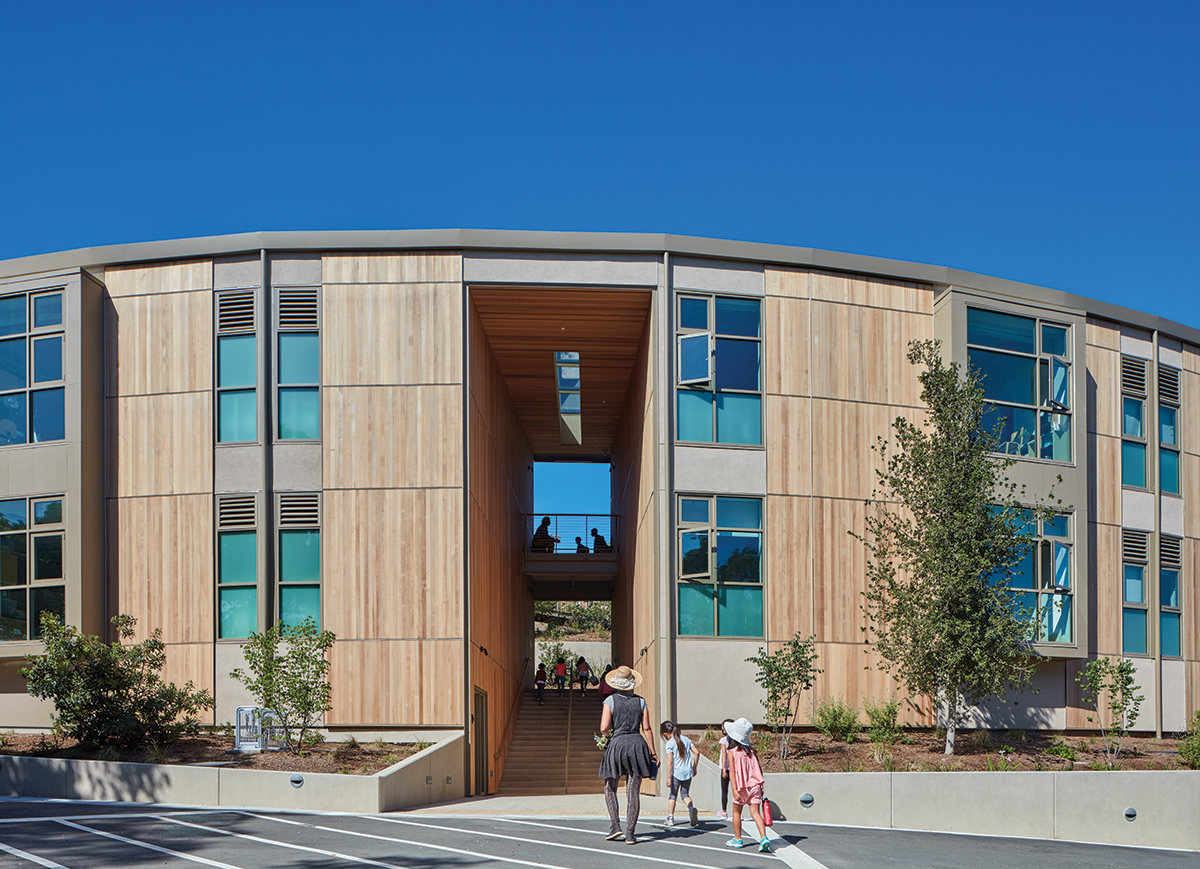 Photography by Richard Barnes
Nueva School Science and Environmental Center.
At Nueva School's pre-K through 8th-grade campus, in Hillsborough, California, even the buildings are fodder for learning. Most recently, students have been analyzing the sustainability strategies of the new Science and Environmental Center (SEC), completed in 2021 by the San Francisco firm Leddy Maytum Stacy Architects (LMSA). It's the latest in a series of projects by LMSA for this independent school's hilly, wooded 33-acre compound. Joining forces since 2004—on works including a library, classroom structure, revised master plan, and student center/cafeteria—Nueva and LMSA have set increasingly ambitious goals for energy performance and carbon reduction. The 11,600-square-foot SEC building is so efficient that, in warmer seasons, it produces more energy than it uses to operate. Still, "it doesn't hit you over the head with its technological feats," says LMSA principal William Leddy. "In our view, the poetics and experience of place—the way daylight moves, casting shadows through leafy canopies or slatted screens—are just as important as technical aspects in achieving sustainability."
Deferring to the existing undulant terrain, with its coastal live oaks and olive grove, LMSA has built along a hillside and a ridge overlooking San Francisco Bay. The meandering campus occupies land once owned by banker William Willard Crocker, whose mansion, a 1931 Italianate villa, now houses the lower school. (Founded in 1967, with an ongoing focus on intellectually curious, high-aptitude learners, Nueva added a separate, LMSA-designed high school campus in 2014, in nearby San Mateo.) The emphasis on imaginative indoor-outdoor learning and respectful stewardship of the planet are reflected in the architecture. For example, LMSA's 2007 student center/cafeteria offers—beneath a planted roof—a large, flexible multipurpose space, with a wide south-facing garage door that opens to a dining terrace and landscape-embedded amphitheater. In addition to the new SEC, this most recent phase expanded the student center and its kitchen, bumping out the structure's bowed north elevation to include a long, arcing balcony with panoramic bay views. Between the two buildings, LMSA created a "Canopy Walkway" amid the trees. Elevated on piers (and fully ADA compliant), it recalls boardwalks on stilts that weave gently through rainforests, barely touching the land.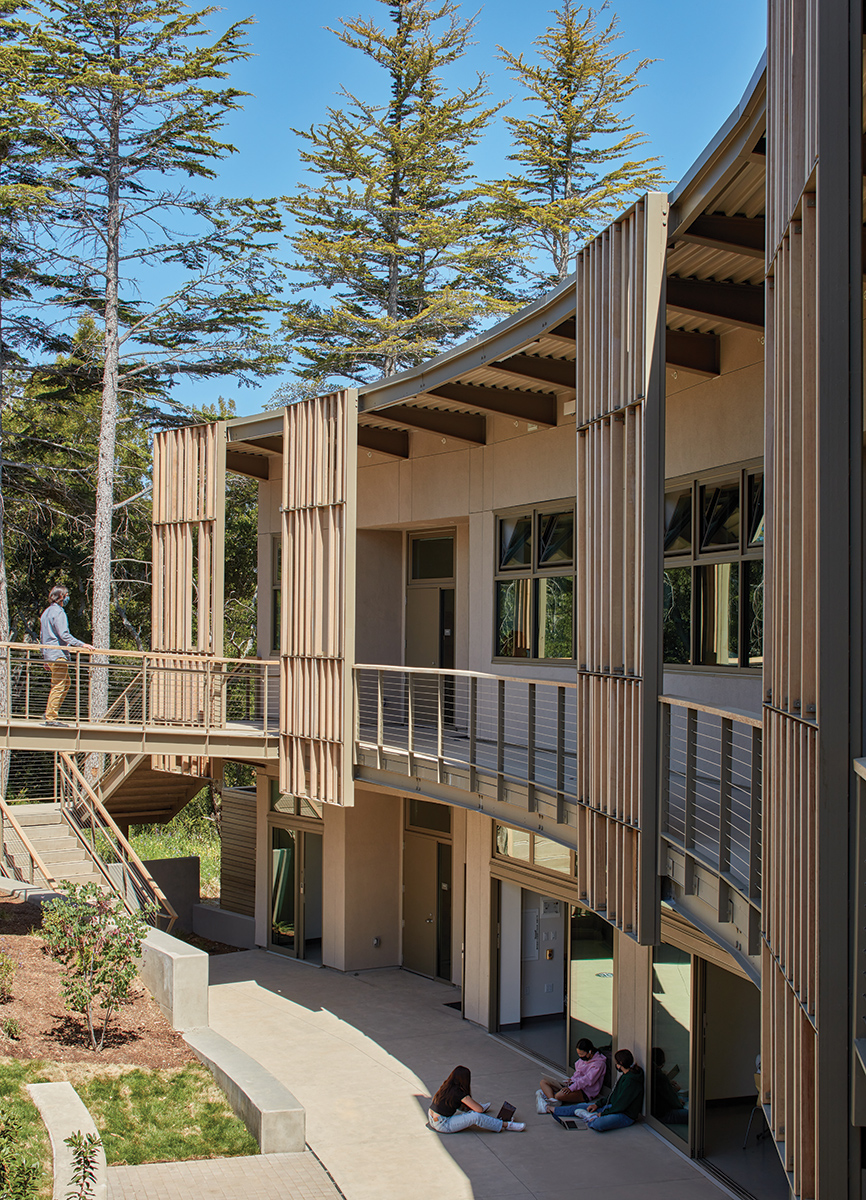 Photography by Richard Barnes
FSC-certified red cedar cladding (top of page) and slatted timber brise-soleils (above) are compatible with the SEC's forest setting.
Visually and experientially compatible with the forest setting, timber cladding and slatted brise-soleils (all FCS-certified) tie together much of LMSA's work here, including the SEC's red cedar exterior. The wood helps keep the project's embodied energy and carbon low. But, given the campus's location along a wildland-urban interface, the architects took extra precautions, planting fire-resistant native vegetation and integrating noncombustible steel and low-carbon concrete structural systems, interior sprinklers, and a one-hour fire-rated exterior skin assembly, achieved with gypsum board beneath the wood sheathing. Echoing the student center's bowed face, the SEC building has a curved bar configuration. Split by an outdoor concrete stairway that follows the downward slope, this form becomes a gateway to wilder, densely forested open space—a preserve where students play, design and construct treehouses, grow vegetables, and study ecosystems.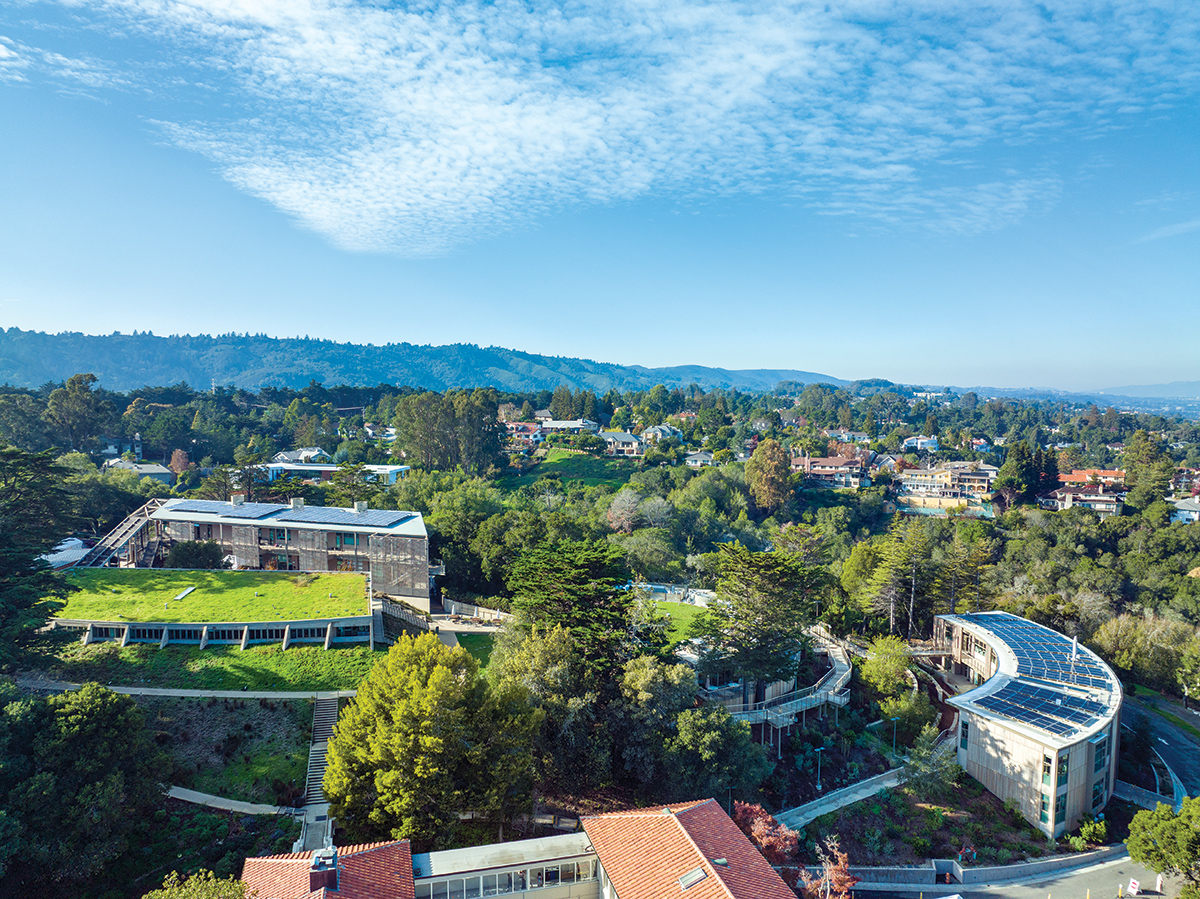 Photography by Richard Barnes
The building'scurves are in sync with the landscape and campus (above), to which it connects via catwalk and bridge (below).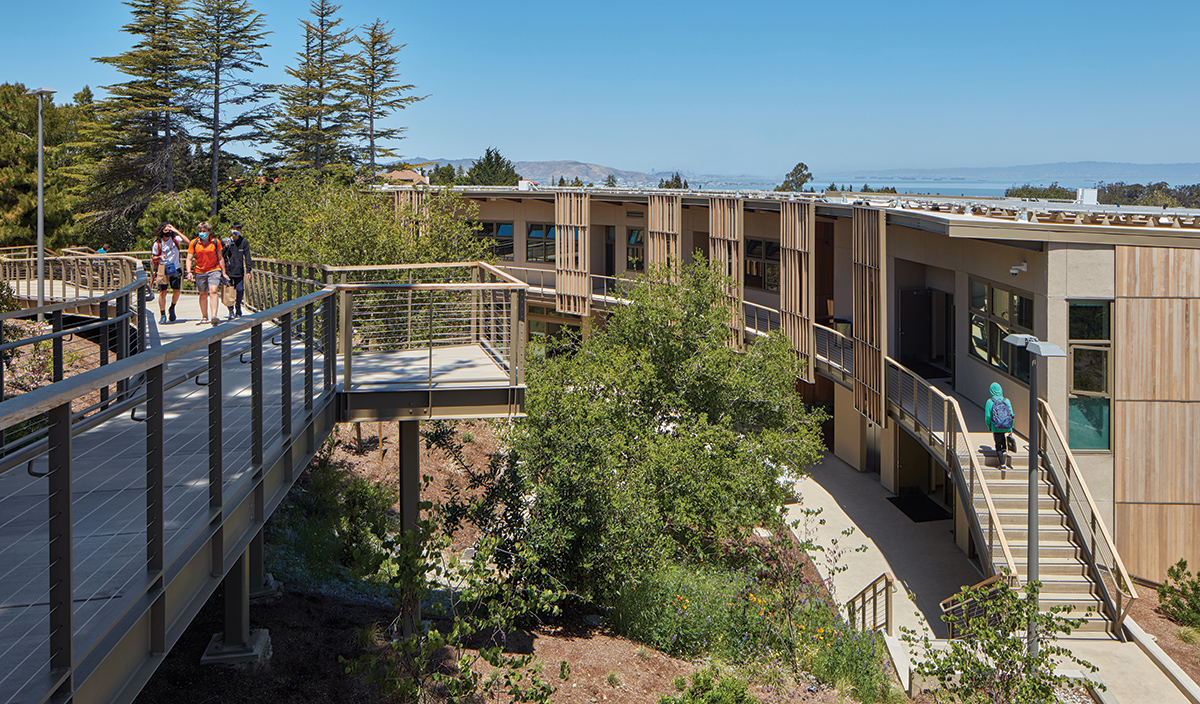 Photography by Richard Barnes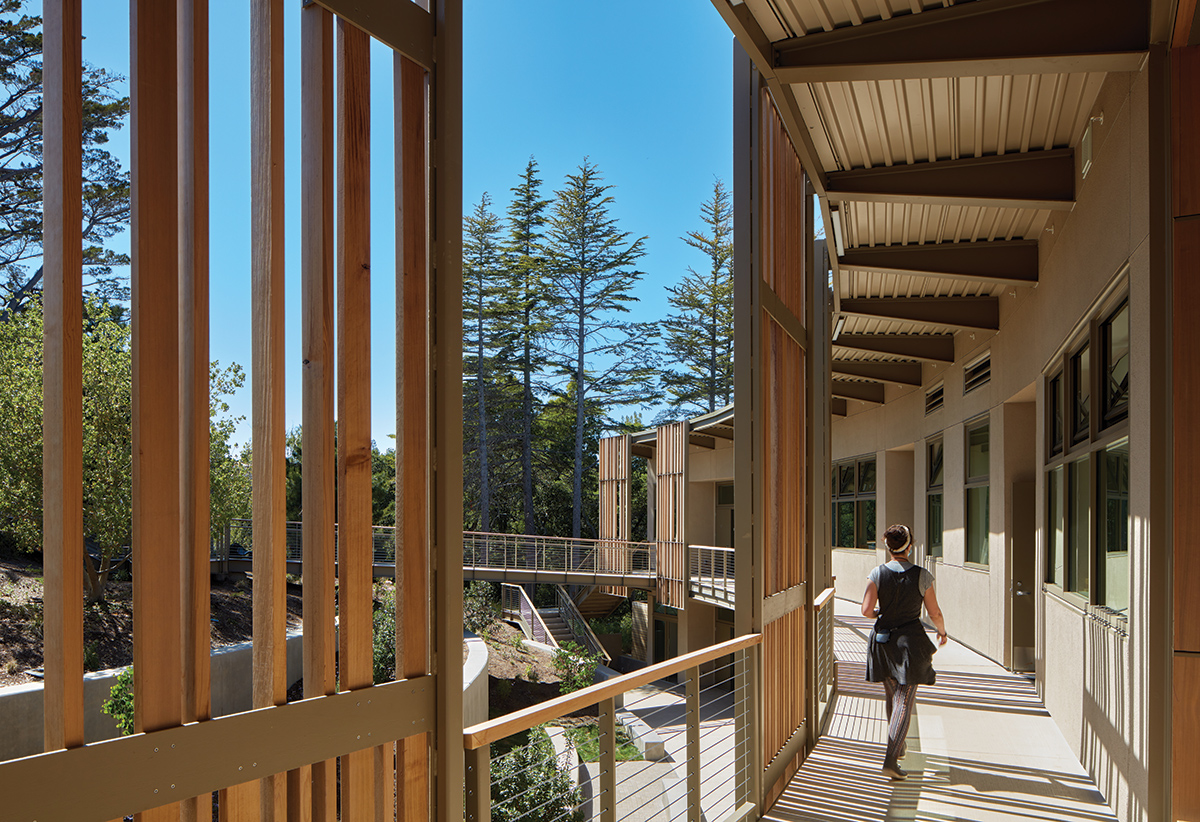 Photography by Richard Barnes
Part of Nueva's credo is "learn by doing," and broad sliding doors along SEC's south elevation support that approach, allowing classroom and lab activities to spill outdoors. "Many of the ways we achieve sustainability are simple, low-tech, and passive," says Leddy. "The building is essentially one-classroom deep, allowing for cross-ventilation, shading, and views—some of the bay, others into the tree canopy." In this temperate region, outdoor circulation replaces enclosed corridors, saving on materials and climate control. Readily reconfigurable, the interiors include spooled cables overhead, enabling students (totaling around 500 on this campus) to plug in almost anywhere indoors.
Powered by a 70-kilowatt rooftop photovoltaic array, the new building is 100 percent electric. "That's rapidly becoming the norm in California," says LMSA project architect Jasen Bohlander. "Over 55 cities and counties here have already passed all-electric building ordinances." The excess photovoltaic output in warm seasons—enabling the meter to run backwards—offsets consumption in cool months, when harvested photons fall short of demand. So far, the PVs have slightly outperformed the annual net zero operational-energy goal, producing more power than the building used over a 12-month period.
For classroom heating, a hybrid, multi-zoned, air-source heat-pump system provides hot water to radiant floor slabs. The system's thermal-exchange coils and ventilation ducts can also cool fresh air, but, for now, the school is relying on natural ventilation, nighttime air flushing, and ceiling fans. Further elevating indoor air quality, the materials, finishes, and adhesives are non-VOC and formaldehyde-free.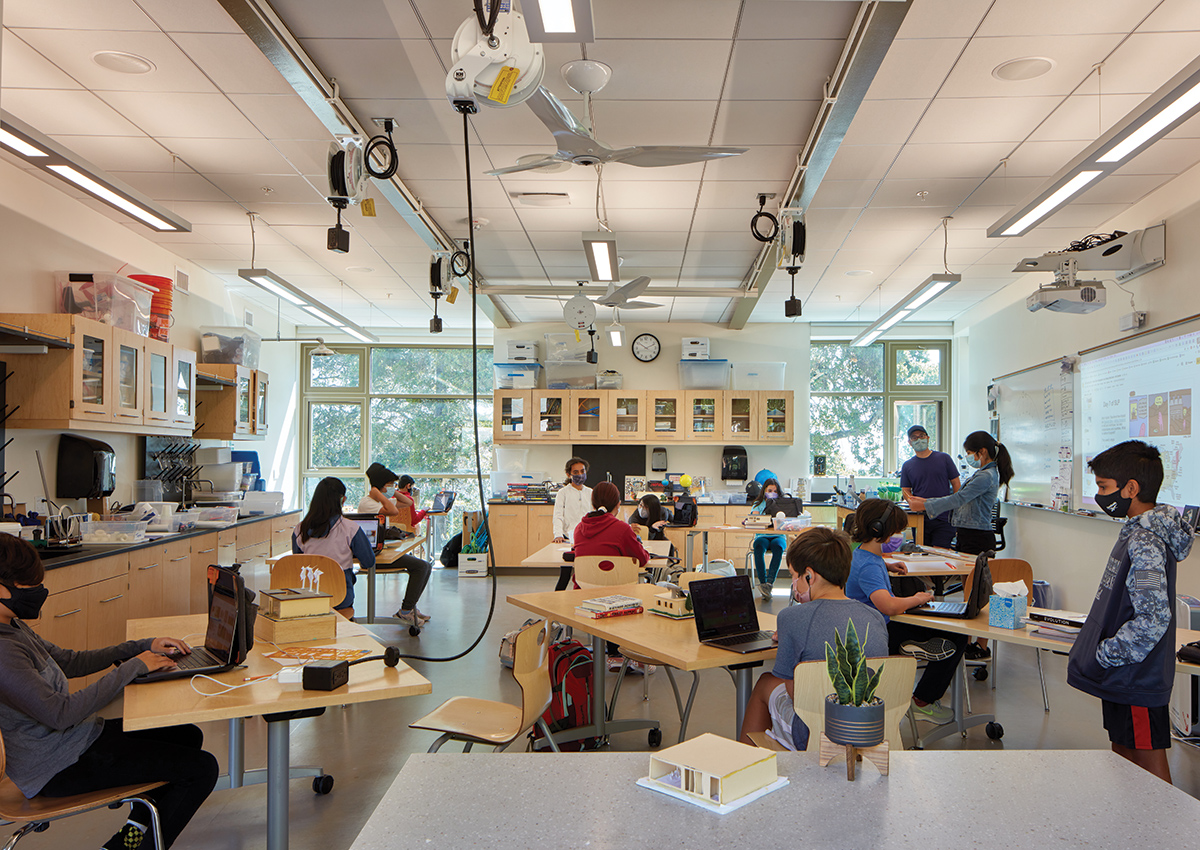 Photography by Richard Barnes
Classrooms feature non-VOC, formaldehyde-free materials, and heated floors.
LMSA, with CMG Landscape Architecture, also integrated measures to reduce water consumption in this increasingly drought-prone region. That included enhancing natural drainage routes and introducing a 10,000-gallon cistern for toilet flushing (along with ultra-efficient plumbing fixtures). As a result, the SEC has consumed 89 percent less water than typical school buildings of its size (exceeding a predicted 70 percent reduction).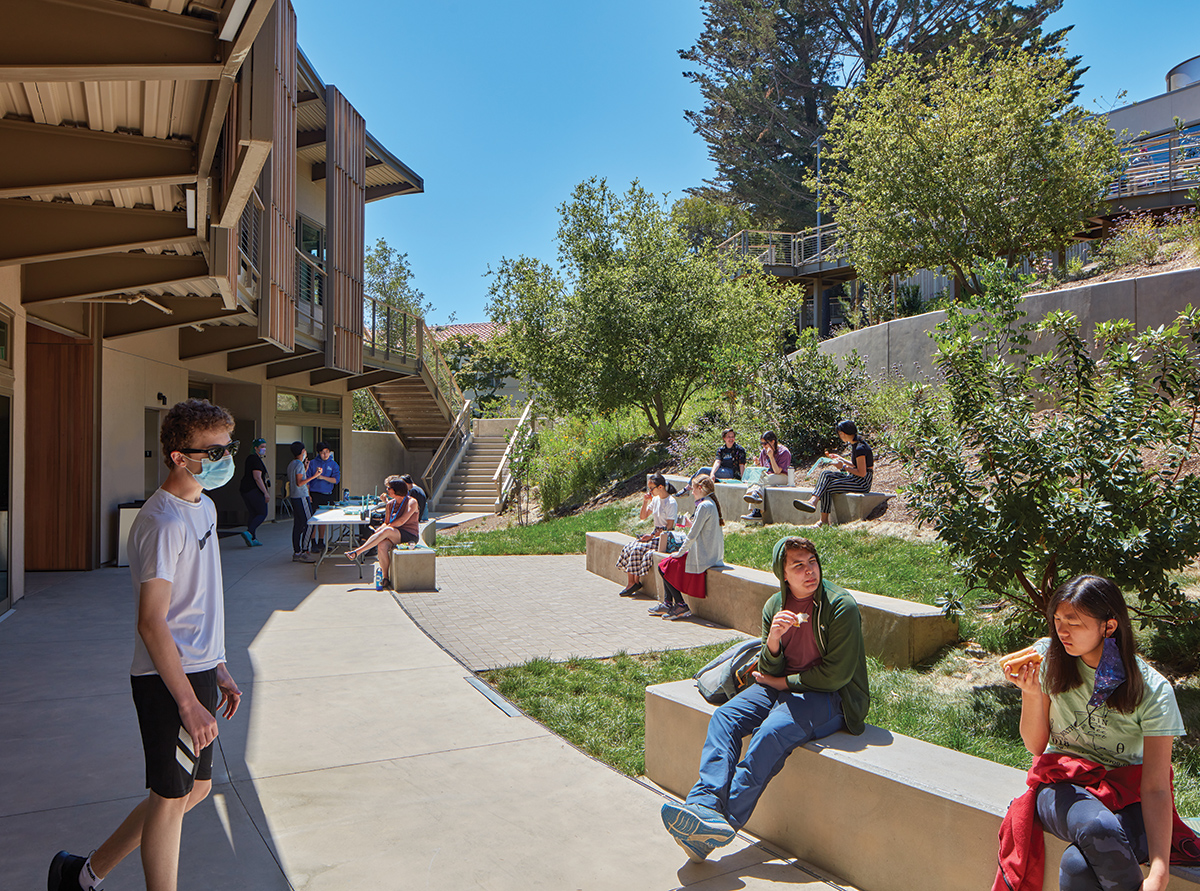 Photography by Richard Barnes
The landscape was designed to reduce water consumption and foster community.
This project not only preserved but also restored live oak woodland. Within that immersive landscape, LMSA wove outdoor spaces that encourage quiet study and informal gatherings, fostering community. On a recent visit, impromptu clusters of pupils were engaged in collaborative study on benches and in open-air nooks. "The expanded student center—now a real hub—the canopy walk, and the environmental building have seamlessly stitched together separate parts of campus, bringing together students of all ages," says head-of-school Lee Fertig. Even mid-pandemic, the SEC's spatial flexibility and outdoor venues—combined with its fresh-air ventilation system, which can integrate HEPA filtering—enabled it to open for classes upon completion in January 2021. That same year, the U.S. Department of Education named Nueva a Green Ribbon School for its resource efficiency, wellness attributes, and environmental curriculum.
"Developing the mindset of global and environmental citizenship has to be a top priority in education," says Fertig. "Empowering students to nurture the place they live and learn has never been more important." And, at Nueva, young pupils are not merely studying the ecological workings of the new architecture and landscaping—they're also constructing scale models of sustainable buildings of their own.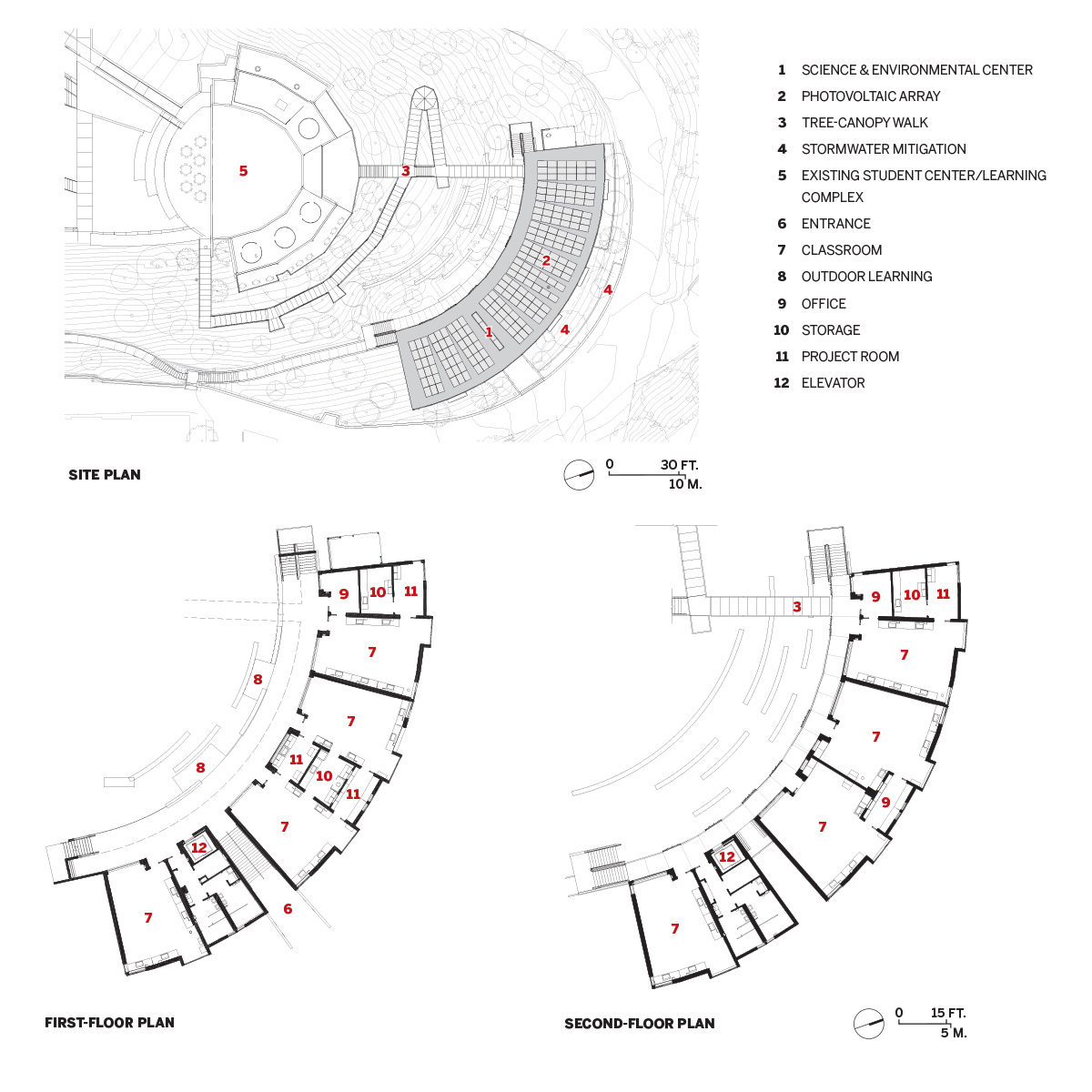 Photography by Richard Barnes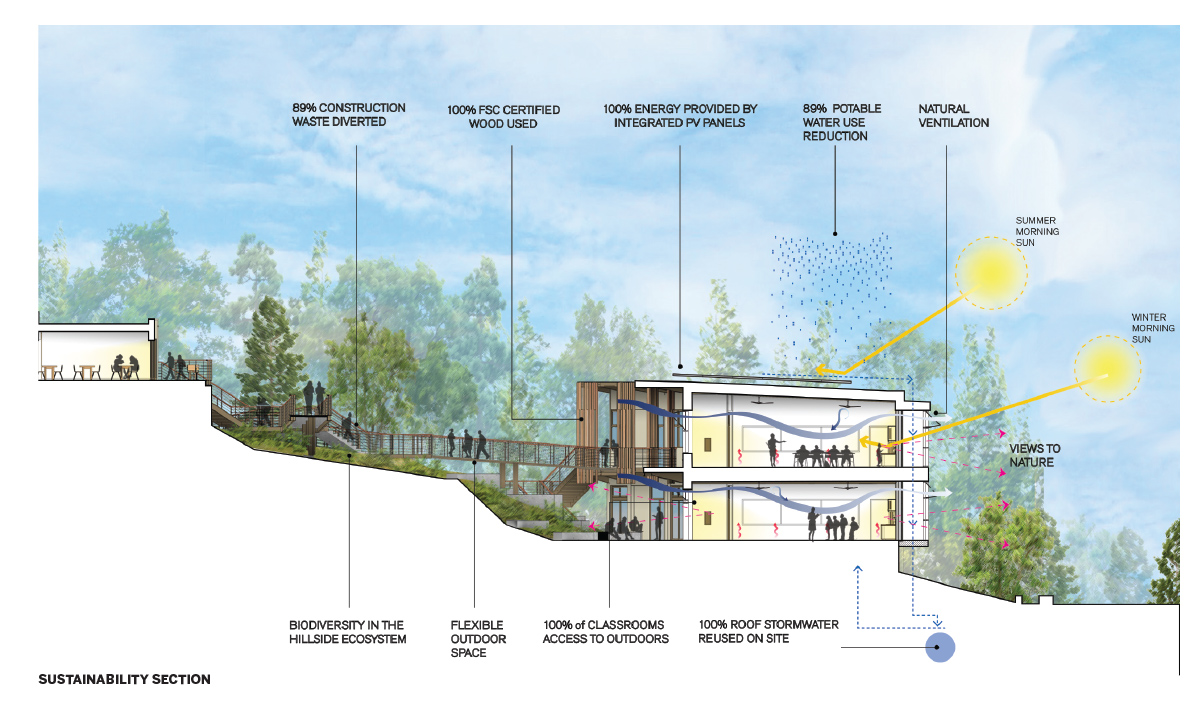 Photography by Richard Barnes
Credits
Architect: Leddy Maytum Stacy Architects — Bill Leddy, principal; Jasen Bohlander, project manager; Ian Ashcraft-Williams, project architect
Engineers: BKF(civil); Murphy Burr Curry (structural); Point Energy Innovations (m/e/p); Cupertino Electric (electrical)
Consultants: CMG (landscape architecture); UDCE (joint trench); WJE (waterproofing); Salter (acoustics); HERA (lab)
General Contractor: W.L. Butler
Client: Nueva School
Size: 11,600 square feet
Cost: withheld
Completion date: January 2021
Sources
Cladding: Western Red Cedar; Dryvit; Grace; Hardie
Roofing: GAF
Windows & Entrances: EFCO
GlaSS & Skylights: Vitro
Lighting: Finelite; BK; Wattstopper
Acoustical Ceilings: Armstrong
Paint & stains: Sherwin-Williams
Energy Management: Air Systems; SunPower (photovoltaics)
Rainwater Tank: Xerxes
Originally published in January 2023
Notice