Social Justice and the Climate Crisis
Environmental Inequity: As the brunt of the climate emergency falls on disadvantaged communities, green design must sharpen its focus on social values
Architectural Record
Learning Objectives:
Discuss why climate change disproportionately affects the health and well-being of disadvantaged communities.
Describe some initiatives to tackle these inequities in the built environment and the architecture profession.
Describe methods for creating designs that reflect a community's priorities and support its well-being.
Discuss how green building standards address social justice issues.
Credits:
This course can be self-reported to the AIBC, as per their CE Guidelines.
This course is approved as a Structured Course
This course can be self-reported to the AANB, as per their CE Guidelines
Approved for structured learning
Approved for Core Learning
This course can be self-reported to the NLAA
Course may qualify for Learning Hours with NWTAA
Course eligible for OAA Learning Hours
This course is approved as a core course
This course can be self-reported for Learning Units to the Architectural Institute of British Columbia
This test is no longer available for credit
View course on architecturalrecord.com »
"SUSTAINABILITY WITHOUT EQUITY is sustaining inequity." That's how Mandy Lee, program manager of the NAACP's Centering Equity in the Sustainable Building Sector (CESBS) Initiative, sums up the green building movement's long-standing tendency to shortchange social factors. "Like many other environmental efforts, green buildings are not reaching Black and brown communities," she says.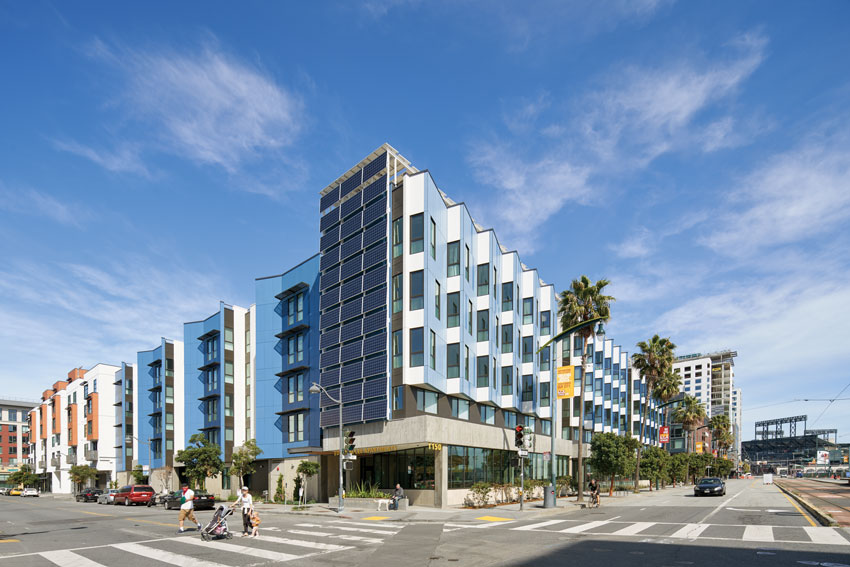 PHOTOGRAPHY: © BRUCE DAMONTE
NEW AFFORDABLE housing by LMSA in San Francisco has a sawtooth facade that admits daylight to the units from multiple directions. PV panels supply almost all of the electricity needed for the common areas.
This is especially problematic as the climate crisis heats up, and the disproportionate burdens on already disadvantaged communities start to compound. "We're on both sides of that double-edged sword," says Jacqueline Patterson, senior director of the NAACP's Environmental and Climate Justice Program. "Our communities are the sacrifice zone for fossil-fuel-based energy generation, and we are disproportionately impacted by the results of climate change."
Whether it's air pollution, urban heat islands, wildfire risk, flooding, or substandard buildings in earthquake and hurricane zones, communities of color are more likely to find themselves in harm's way. Of the 2 million Americans living within three miles of the 12 dirtiest coal-power plants, 76 percent are people of color. In 108 urban areas across the country, 94 percent of formerly redlined neighborhoods are hotter than nearby non-redlined areas, by as much as 7 degrees. (Redlining was the historical practice of refusing mortgages or insurance to whole neighborhoods based on racially motivated considerations, which in some areas continues de facto, if illegal, discrimination.) Census tracts that are majority Black, Hispanic, or Native American experience about 50 percent greater vulnerability to wildfire compared to other census tracts. The list goes on.
Just to mitigate these threats is not enough. The real goal in designing for communities on the front lines of climate change, says Patterson, is to shift the benchmark from merely surviving to thriving, embracing culture, and fostering the ability to pursue a fulfilling life.
To see what that could look like, RECORD checked in with architects working on solutions at four scales. At the building scale, Leddy Maytum Stacy Architects recently completed Edwin M. Lee Apartments in San Francisco; at the community scale, Mithun's collaboration with the residents of North Richmond, California, as part of the Resilient By Design Bay Area Challenge; at the urban and watershed scales, an advocacy-through-design effort led by Rice University's Present/Future program; and at the scale of the architecture profession itself, the University of Oregon's Design for Social Justice Initiative.
Leddy Maytum Stacy Architects (LMSA) has long operated at the intersection of sustainable design and social equity, and the recently opened Edwin M. Lee Apartments (with associate architects Saida + Sullivan Design Partners) exemplifies this work. "While climate-change-related challenges are universal, they disproportionately affect low-income and homeless people, who have fewer resources and options to address them," says LMSA partner Richard Stacy, echoing Patterson's comments. A variety of socioeconomic factors—such as poverty, race, and physical or mental challenges—can generate overlapping circles of inequity. "Our focus was on making this the most equitable and the most sustainable project it can be," says Stacy.
Developed by the nonprofits Chinatown Community Development Center and Swords to Plowshares, and named in honor of the late San Francisco mayor for his affordable-housing advocacy, the 124,000-square-foot building in the Mission Bay neighborhood provides 62 apartments for formerly homeless veterans and 57 apartments for families earning less than 60 percent of area median income (AMI), or about $69,000 for a family of three. Integrating strategies to improve resilience, reduce resource consumption, and improve residents' quality of life has put the project on track to achieve Platinum certification from GreenPoint Rated—a California-based standard for residential construction. It allocates points in categories that encompass energy and water efficiency, indoor air quality, and community. While social justice isn't a stated goal, the program includes credits for such equity-enhancing measures as universal design and affordability. Identifying synergies between the twin priorities of sustainability and social justice was key to achieving the project's goals on an affordable housing budget, says Stacy.

PHOTOGRAPHY: © BRUCE DAMONTE
TO OPTIMIZE passive-energy performance while offering a place for respite, LMSA organized the housing around a south-facing garden (left). Community areas (right) have direct access to this shared outdoor space.
The five-story building is organized around a south-facing landscaped courtyard, which optimizes passive-energy performance and daylighting while offering areas for contemplation, gardening, and play. The first floor is elevated, a tactic that anticipates sea-level rise (with a hinged slab at each building threshold to maintain an accessible entrance even as the sidewalk—built on fill on a former marsh—continues to subside). In the meantime, the raised floor improves the privacy of first-level units.
The building is ventilated with filtered 100 percent outdoor air, which supports residents' health day to day, as well as when wildfire smoke makes it hazardous to open a window.
A sawtooth facade provides each unit with more than one outlook and admits daylight from multiple directions. Its rainscreen cladding of colorful cementitious panels improves the building's thermal and weather performance and durability. And its building-integrated photovoltaic panels generate more than 90 percent of the electricity needed to power the project's common areas. In addition to its technical performance, says Stacy, "the dramatic and contemporary exterior helps bring pride of place to affordable housing."
Originally published in October 2020
Notice