Embodied Carbon & Adaptive Reuse
Carbon Calculus: Architects reduce embodied emissions by revamping existing structures instead of building new.
Sponsored by Build with Strength, a coalition of the National Ready Mixed Concrete Association
Architectural Record

1 AIA LU/HSW; 0.1 IACET CEU*; 1 AIBD P-CE; AAA 1 Structured Learning Hour; This course can be self-reported to the AANB, as per their CE Guidelines; AAPEI 1 Structured Learning Hour; This course can be self-reported to the AIBC, as per their CE Guidelines.; MAA 1 Structured Learning Hour; This course can be self-reported to the NLAA.; This course can be self-reported to the NSAA; NWTAA 1 Structured Learning Hour; OAA 1 Learning Hour; SAA 1 Hour of Core Learning
Learning Objectives:
Define the term "embodied carbon" and explain why its reduction is critical to mitigating climate change.
Explain why adaptive reuse conserves embodied carbon.
Explain what a life cycle assessment (LCA) is and what impacts it quantifies.
Describe some common LCA tools.
This course is part of the Concrete Academy
View course on architecturalrecord.com »
DESIGN TEAMS have a new mission.
Over the last two decades, the operating emissions of America's total building stock have been pared back so far that it generates a third less (and falling) than it did in 2005—even though more than 50 bil­lion square feet of new construction have been added during that period. Thanks in no small part to design professionals' ingenuity, the once groundbreaking feat of net zero operations is now a practical goal for nearly every new building. It's also a necessary one, if global heating is to be capped at the internationally agreed limit of 1.5 degrees Celsius.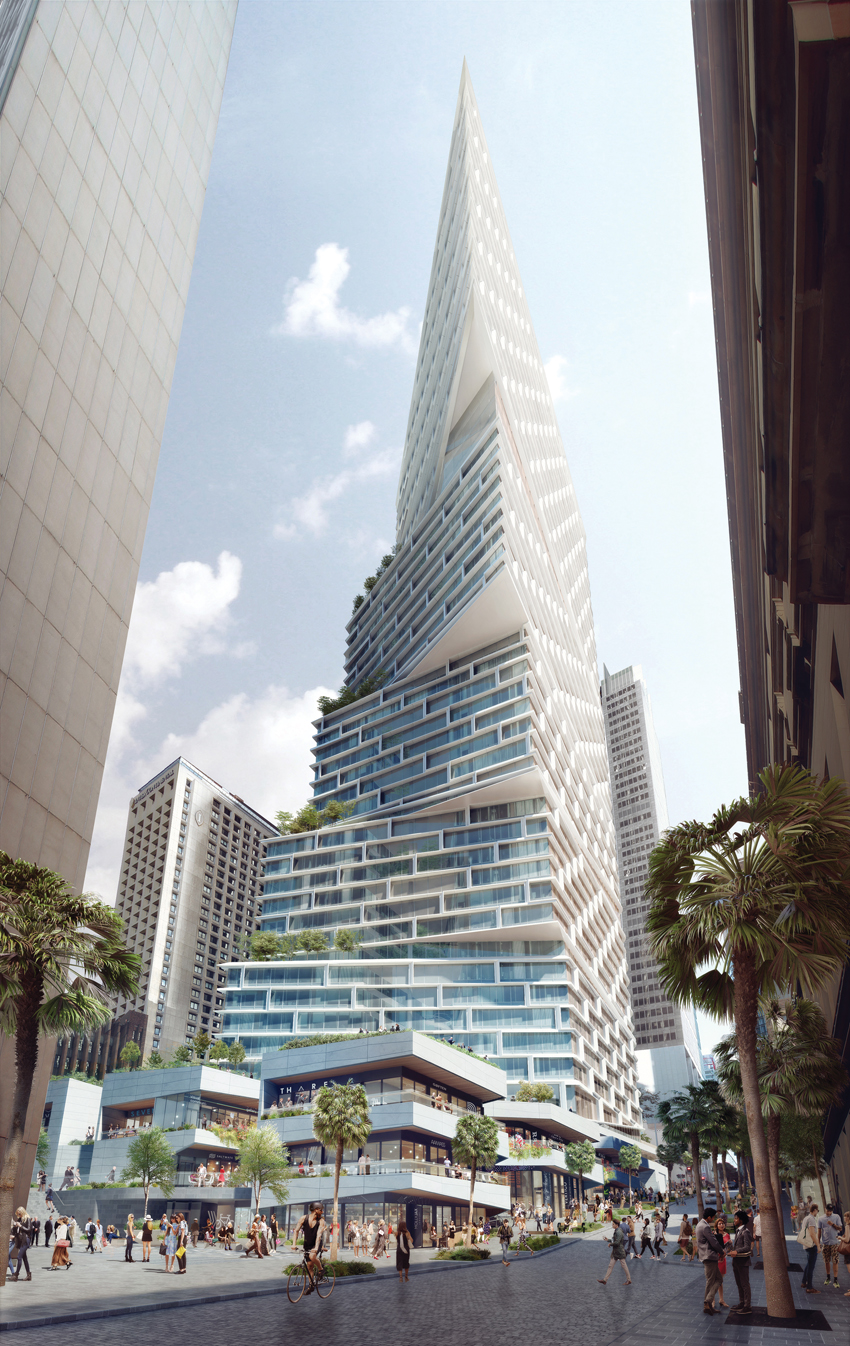 IN SYDNEY, 3XN's 50-story Quay Quarter Tower (above) incorporates a 45-story 1970s office tower (below).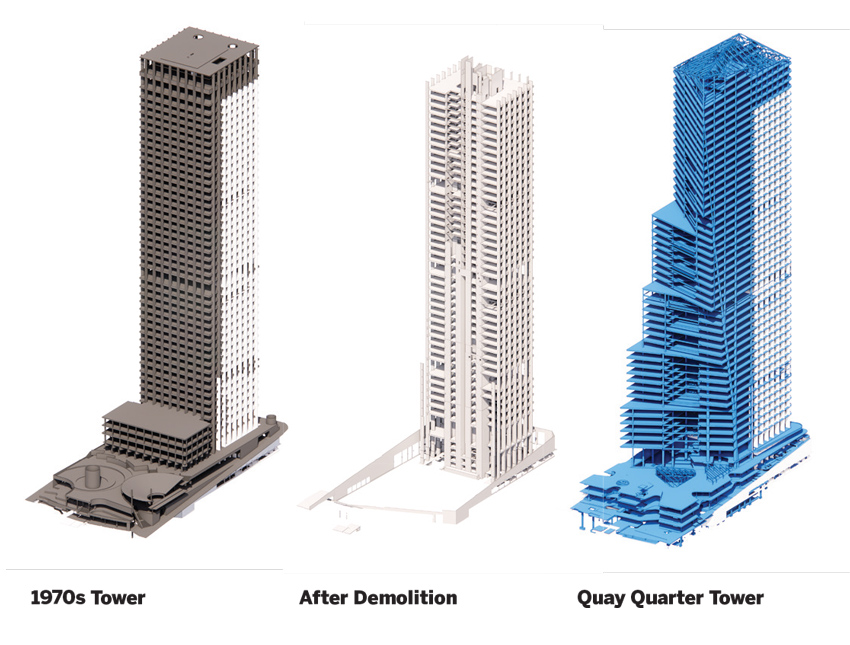 As operating emissions fall, bringing total emissions down, embodied carbon accounts for a growing proportion of what's left. (Embodied carbon refers to greenhouse gases generated during the extraction, manufacture, and transportation of building materials, and during construction and disposal.) Worldwide, between now and 2050, embodied carbon is expected to account for over half of total green­house gases from all new construction, according to a 2021 report from the World Green Building Council. The fact that embodied emissions happen up front skews the short-term ratio: over the next 10 years, they are expected to account for 72 percent of the global building sector's total. Coincidentally, a decade is about the amount of time remaining for reining in emissions this side of the 1.5 degrees Celsius limit, and avoiding the devastating climate impacts that lie beyond.
So the new mission for developers and design teams—should they choose to accept it—is to lower embodied carbon, as well as operating emissions, for a total carbon take­down. And there's one surefire way to do it.
"Adaptive reuse is the best way to reduce embodied carbon—period," says Andrew Rastetter, an architecturally trained structural engineer in the San Francisco office of Buro Happold. Rastetter also teaches structures at UC Berkeley's College of Environmental Design, where he makes embodied emissions the focus of his course's final lecture, "so it will stick," he says. With concrete and steel the major repositories of embodied carbon in the built environment (cement manufacturing alone accounts for 8 percent of global CO2 emissions), "I want architects to understand how critically important this is. If there's existing building infrastructure on-site, we need to consider whether there's something we can do with it," he says.
Three recent projects exemplify what can be accomplished when design teams prioritize embodied-carbon conservation. In Sydney, the Danish firm 3XN retained two-thirds of a 45-story tower, incorporating it into a new 50-story tower (completing in March) with double the floor area. Reusing the structure saved about 8,250 tons of greenhouse-gas emissions, equal to two years' worth of the high-performance building's operational emissions. It also shaved six to nine months off the demolition and construction schedule. In Los Angeles, ZGF Architects salvaged a university's seismically damaged mid-20th-century lab building that was scheduled for demolition and upcycled it into an adminis­trative and student-services building (2021). The project achieved an 82 percent reduction in embodied carbon compared to an equivalent new building. And in Denver, Gensler adapted a failing 1960s telecom building as a mixed-use workplace (2021), reducing embodied carbon by 68 percent of what new construction would be, while revitalizing a moribund stretch of a historic city block.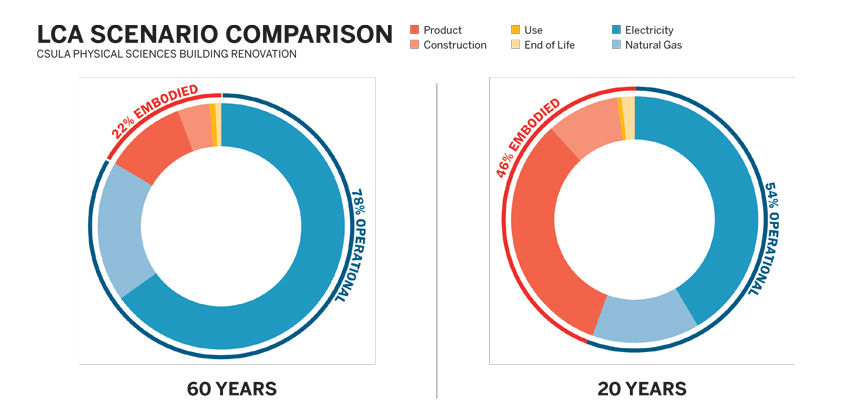 THE LCA of Atelier Ten's California State University project reveals that, over 60 years, embodied emissions account for 22 percent of total carbon. Shorten that to 20 years, and embodied emissions shoot up to 46 percent, reinforcing the importance of embodied carbon in achieving near-term reduction goals.
"A combination of regulatory and market drivers is changing the way we engage with both operational energy and embodied carbon," says Kåre Poulsgaard, a partner and head of innovation at Copenhagen-based GXN, 3XN's independent research and consultancy company. As a sign of the shifting regulatory context, Poulsgaard cites the Greater London Authority's new requirement that all major projects calculate and reduce life-cycle carbon emissions, which include embodied carbon. He points to the increas­ingly ambitious carbon-reduction targets that clients are developing and disclosing as part of their corporate social responsibility com­mit­ments—especially as 2030 net zero commit­­ments come due; 3XN and GXN now routinely perform a CO2 impact assessment on the firm's large projects, comparing the carbon footprint of various construction methods and using the results to inform discussions with clients and guide design decision-making.
An early example of the firm's work to conserve embodied carbon through adaptive reuse is Quay Quarter Tower (QQT), now approaching completion as the cornerstone of Sydney's Circular Quay District redevelop­ment, near the iconic opera house. The 650-foot-high, 1.1 million-square-foot tower incorporates 65 percent of the concrete col­umns, beams, and slabs, and 96 percent of the core of a mid-1970s office tower, which, due to its small floor plates could no longer attract or retain tenants. The addition twists up from the existing footprint, improving views of the harbor as it rises, and doubling the floor area without expanding the original shade envelope.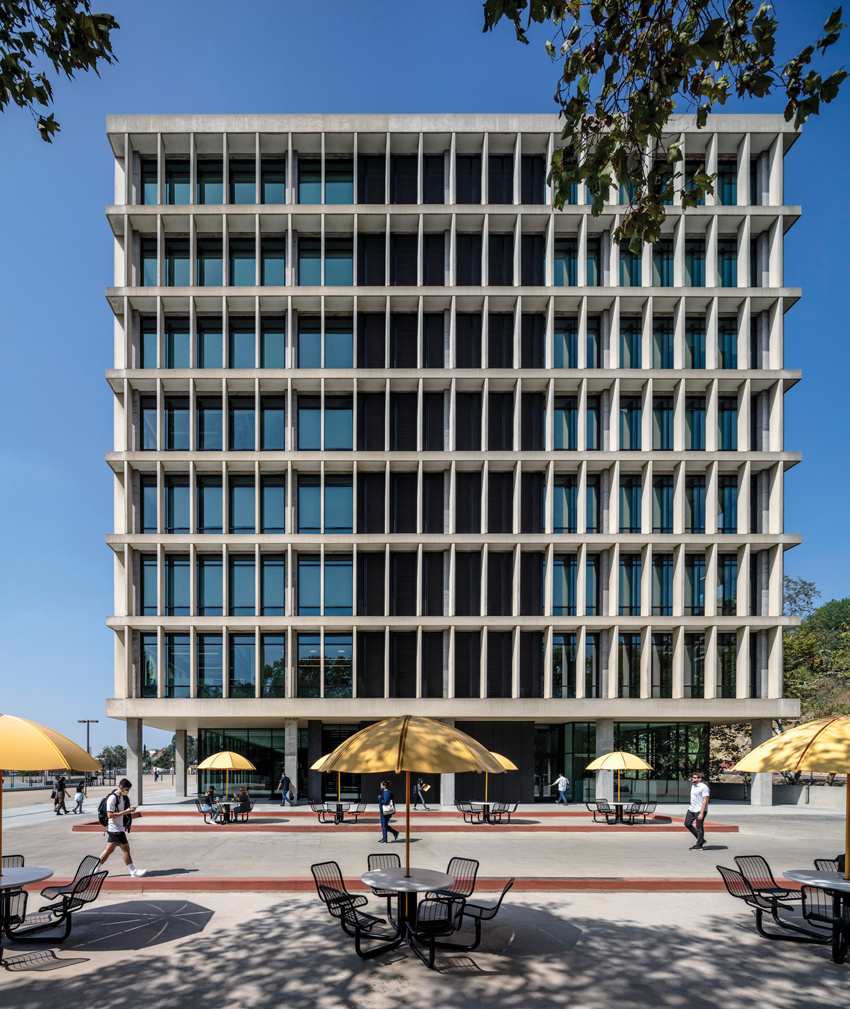 PHOTOGRAPHY: © MAGDA BIERNAT
A LAB slated for demolition on the Los Angeles campus of California State University has been upcycled into an administrative and student-services building by ZGF.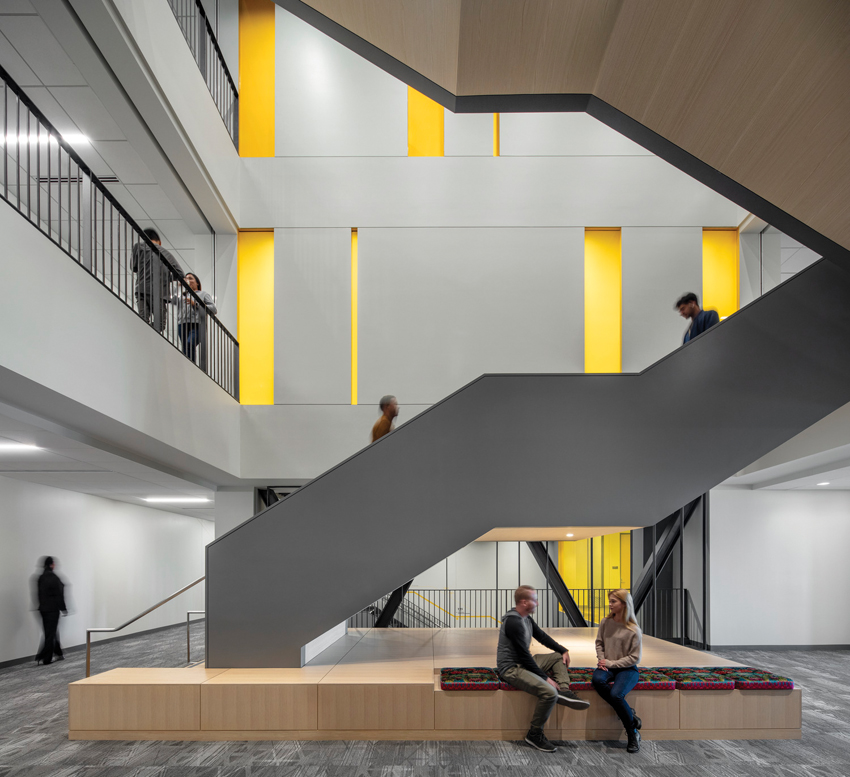 PHOTOGRAPHY: © MAGDA BIERNAT
Originally published in Architectural Record
Originally published in February 2022
Notice