Design for Neurodiversity
Brain Trust: Architects engage with users to create environments that support those with a multiplicity of neurocognitive abilities and needs
Architectural Record
The building, which is set in a park, also maximizes connections to the calming, restorative power of nature. In addition to the views from the family lounge, a seventh-story verandah offers vistas of the Lowcountry salt marsh, and a sensory-rich rooftop garden with pathways inspired by the marsh lets kids get outside. Throughout the hospital, artworks evoking "stories of the Lowcountry" bring the soft colors of the marshlands into the building.
To minimize strong or intrusive sensory experiences that can distress a person with autism, the design team paid careful attention to acoustics, lighting, and even the smells of materials and the products that would be needed to clean them.
Care-team areas are enclosed behind glass walls, with doors positioned so that conversations don't project down corridors. Slight articulations in corridor walls create acoustic breaks while also defining a "porch" area for each room. Automatic toilet flushers and electric hand dryers have been eliminated altogether.
The use of LED fixtures throughout (now more common than when the building was in design) eliminates the buzz of fluorescent ballasts. To prevent glare, fixtures illuminate surfaces rather than space, forming soft washes and pools of light. Corridor lighting is dimmable, and outside each patient room a little porch light reinforces the domestic feel.
"What we brought to this project was a sense of humanity," says Cadrecha, in an echo of Berresford's insight. "It's really about designing buildings that are sensitive to the needs of the people who are going to be using them—in this case, children who have special needs."
Another type of building that serves children, including exceptional ones, is schools. Less well funded than workplaces or healthcare facilities, schools nonetheless have to meet the needs of neurodiverse populations. The Quad Preparatory School in Manhattan serves students who are twice exceptional: they face challenges with emotional and social learning and excel at intellectual learning, so rising to the level of their talents requires extra support with both. Design strategies developed for Quad by New York–based Verona Carpenter Architects (VCA) suggest options for making any school more supportive of students' neurodiversity.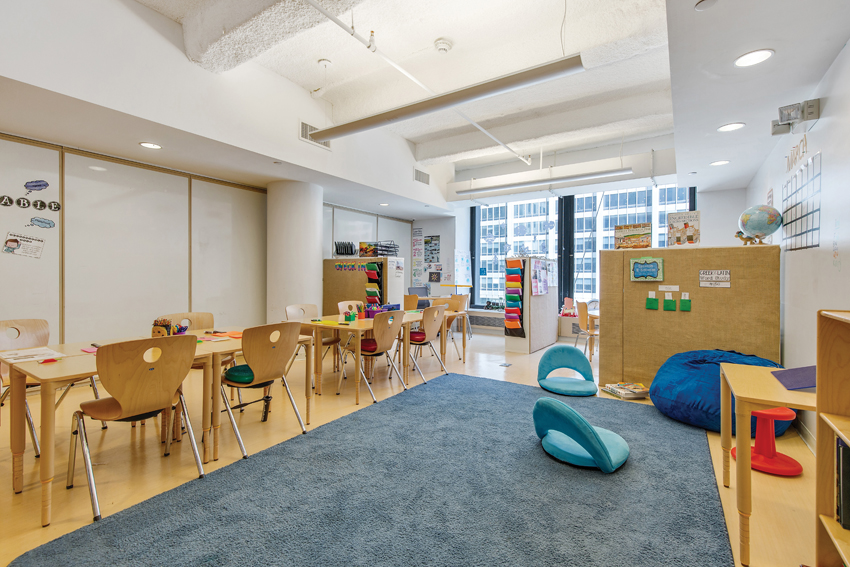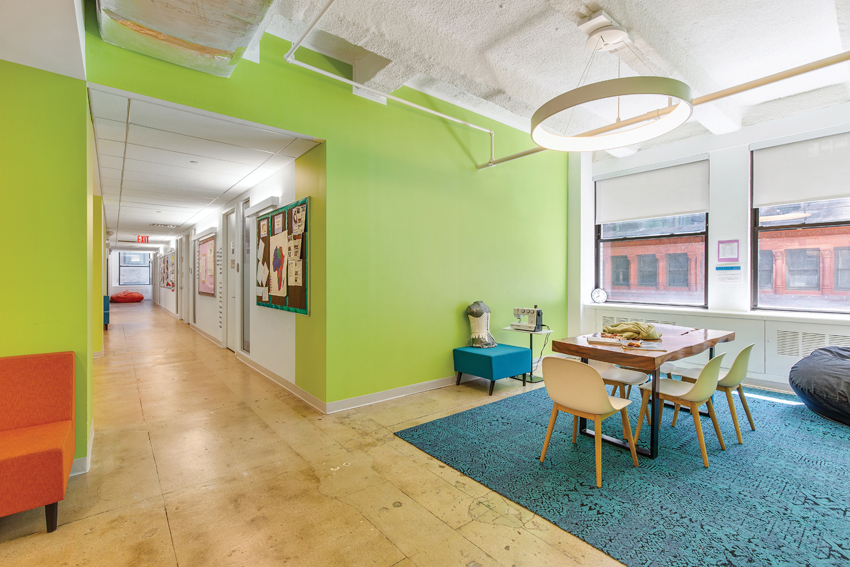 PHOTOGRAPHY: © JEFFREY ROSENBERG
SPACES for the lower (top) and upper (bottom) schools for Quad Prep, housed in separate commercial buildings in New York, include a variety of seating options, indirect lighting, and spray-on acoustical treatment to make students comfortable and enable them to focus on learning.
Quad's renovated upper and lower schools each occupy a floor of separate commercial buildings—18,000 square feet (completed in 2019) and 32,000 square feet (completed in 2017), respectively. The designs are based on VCA's extensive process of research and consultation with staff, students, and families.
"To design for neurodiversity is to create environments that offer choice," says VCA principal Jennifer Carpenter. "Providing a range of sensory environments lets kids find the spaces that work for them." Variously sized learning spaces—including classrooms (which are smaller than a typical school's), more intimate areas defined with furniture, meeting rooms for one-on-one support, alcoves with soft furnishings, and even corridor stations—provide choices to match a range of needs. And because heightened sensory awareness can contribute to social isolation, a gathering space where students can sit around low tables also includes carrel desks nearby, allowing students who prefer a more enclosed space and more muted acoustics to still feel connected to the group.
A variety of seating options is another important choice the design offers. "If you're not comfortable, you can't pay attention," says Carpenter. Classrooms offer chairs with a slightly cantilevered seat for a bit of bounce, seating balls, stools designed to rock and tip, legless floor chairs, and squashy beanbags. These options allow students to make themselves comfortable, increase their activity level with micro-movements, and meet their needs for sensory feedback, all without interrupting—and instead supporting—their focus on learning.
As an independent not-for-profit school, Quad needed to put every renovation dollar to the highest use. For neurodivergent users, acoustic treatments—which can be expensive—are well worth the money, says Carpenter. In the lower school, the reception area eases arrival with noise-dampening burlap-wrapped cellulose-based-fiber wallboard that also serves as space dividers and as a display area for student work. At both the upper and lower schools, acoustic ceiling spray eliminates echoes and reverberation, soaks up background noise, and generates a calmer acoustic environment. Soft furnishings and floor coverings also help.
To reduce sensory input and anxiety in transition zones, lighting levels are lower than in the work areas, and illumination is indirect, with an uplight wash. Throughout all areas, the lighting design prioritizes controllability and choice with dual-circuited, separately switched direct and indirect fixtures. "It lets us get a lot of options for not a lot of investment," says Carpenter.
Orientation in space is something neurodivergent people commonly struggle with. To help, a consistent use of color defines the upper school's two wings, with a range of greens to the south and blues to the north, and counseling and therapy areas coded in yellow. The color palette is simple, but graduated to avoid being stagnant. A similar use of material, color, and lighting across the lower and upper schools (with refinements for a more grown-up feel in the upper school) provides familiarity and continuity, supporting students as they graduate from one school to the other.
Architecture that supports students or patients or workers, in all their diversity—as this trio of projects demonstrates—expands opportunities for human well-being. "People who are on the spectrum that we're now starting to consider as a new normal are very sensitive to their environment. I think all human beings are, really," says Berresford. "When it comes down to it," adds Perkins&Will's Cadrecha, "design for neurodiversity is just good design."
Supplemental Materials
| | |
| --- | --- |
| | Architectural Record is the #1 source for design news, architect continuing education, and info on sustainability, houses, projects, and architectural products. |
Originally published in Architectural Record
Originally published in January 2021
Notice