Converting Offices to Housing
A New Lease on Life: As vacancy rates rise, developers and architects transform outdated office buildings to residences.
Architectural Record
Philadelphia-based real-estate developer Ron Caplan, president of PMC Property Group, agrees. "There's no way that I'm aware of for a developer to build low-income housing in a conversion without significant subsidy," he says, pointing out that most office buildings suitable for conversion are in city centers, with purchase prices that reflect their location. "Creating a high-rise conversion is simply expensive."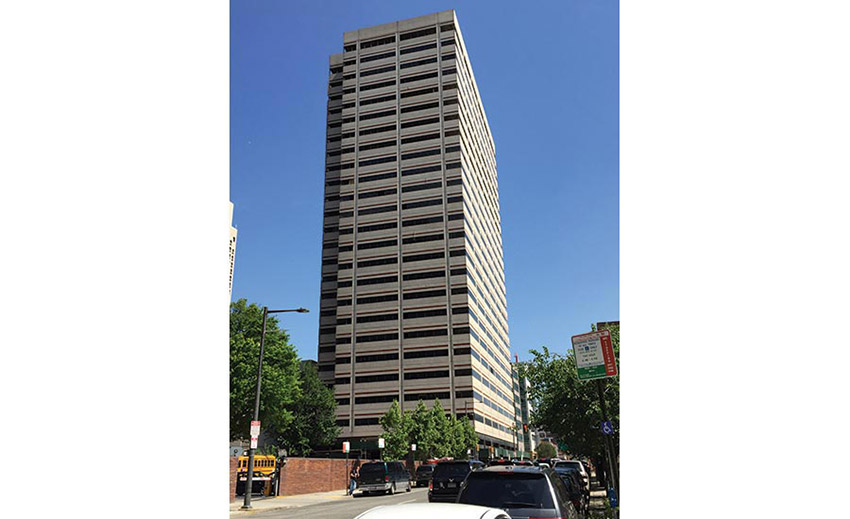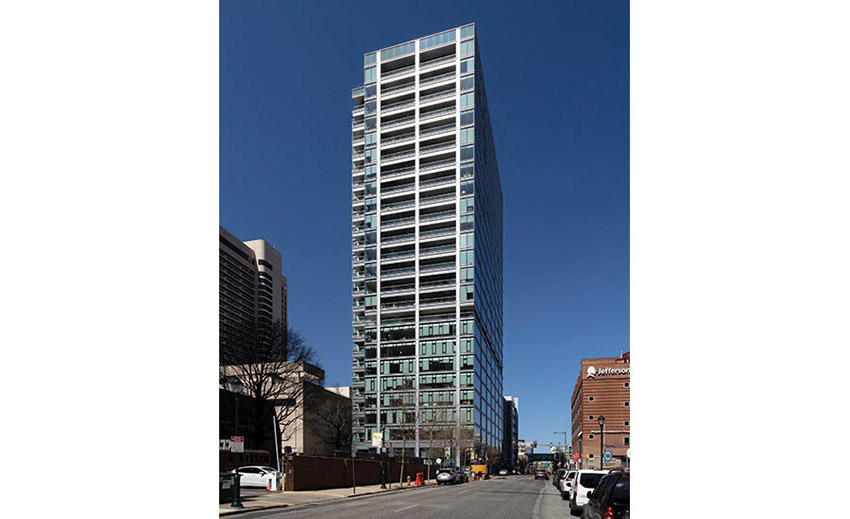 Photography: © Robert Deitchler, courtesy Gensler
A dated 1970s Philadelphia office tower, with a precast facade and strip windows (first), was recently revamped by Gensler and is now a sleek, glass-clad residential building (second).
PMC recently renovated Franklin Tower (completed in 2019), a long-vacant 605,000-square-foot, 24-story office tower that was built in the late 1970s in Philadelphia's Logan Square neighborhood as part of a hotel complex but subsequently severed to flounder on its own. Its environmental-control systems were no longer viable, its floor plates were inconsistent with contemporary office design, its retail level was recessed at the back of a gloomy arcade, and its facade—precast concrete with strip windows—was just plain repellent. "The issue—and frankly it's a societal issue—is, what are we going to do with all the office buildings that become outdated over time?" says Caplan.
The conversion, designed by Gensler's New York office, completely reclad the previously uninsulated structure, replacing 4-foot window openings with full-height double glazing—an improvement in energy performance—and recessing it to create balconies. It brought the retail level out to meet the street, with an indoor basketball court on the corner. And it used core spaces formerly occupied by large double-gang restrooms and utility rooms to provide an array of amenities, including a yoga studio, spinning room, movie lounge, and work spaces (prescient, given what was coming). In addition, there's a dog park, and a rooftop lounge—complete with fireplace, kitchen, and fitness center, adjacent to an outdoor terrace with another kitchen, a grill, and picnic and lounge seating. "It's arguably over-amenitized, if that's possible these days," says Robert Fuller, a principal at Gensler and the project's design lead. "There's a great quote from our client: 'I want them to rent the apartment before they even see the apartment.' "
The strategy was sound: all the building's 549 units leased in just 16 months. "This was an old dog of a precast relic. It's now a sought-after property," says Fuller. "As a firm committed to sustainability, we see this as a great example of trying to do more with what we have rather than knocking it down."
The adaptive reuse of franklin tower takes place in the context of philadelphia's successful history of urban revitalization, says paul levy, founding chief executive of the center city district, a business-improvement association that, since its inception in 1991, has helped to catalyze the conversion of about 4.5 million square feet of vacant workplaces in the formerly 9-to-5 downtown. As a measure of the success of these changes, levy compares the impact of recessions on the district's assessed property value: in the early 1990s, pre-conversion, it fell 26 percent; between 2008 and 2010, it actually rose. "diversifi­cation of downtown land use has been absolutely key to the fiscal health of the city," he says. As for the future of office buildings, levy predicts that workplaces will continue to fulfill a critical function in city centers. Looking back on the historic impacts of pandemics, he says, "you find that cities bounce back in a remarkable way."
Suplemental Materials
What's Next for Remote Work: An analysis of 2,000 tasks, 800 jobs, and nine countries. McKinsey Global Institute, November 23, 2020.
| | |
| --- | --- |
| | Architectural Record is the #1 source for design news, architect continuing education, and info on sustainability, houses, projects, and architectural products. |
Originally published in Architectural Record
Originally published in September 2021
Notice