Planting the Future: Materials derived from nature—as an alternative to conventional building products—grow up.
Architectural Record
While there's excitement around the prospect of bio-based alternatives for such common components as insulation board and MDF, the availability of substitutes for structural and envelope components—often among a building's highest embodied-carbon materials—remains limited. "There's a world of advancement right now in products like carpet and furnishings," says Christiana Moss, a principal at Phoenix-based Studio Ma. "We'd like to see that level of innovation in primary architectural materials."
Studio Ma has been tracking carbon in its projects since 2010, when the firm conducted a full embodied-carbon study. "Learning about how much embodied carbon already exists in the built environment was eye-opening," says Moss. To curtail its projects' contributions, the firm's design approach seeks first to maximize the use of a development's given conditions, to evaluate and then minimize additional requirements, and to meet remaining needs as much as possible with materials that are renewable. Examples of products the firm has used include plant-based ceiling tiles and cork-and-linseed-based resilient flooring; products it is monitoring for opportunities include the ISOBIO panels, mycelium composites (using the filament network of fungi), and denim- and wool-based duct liners.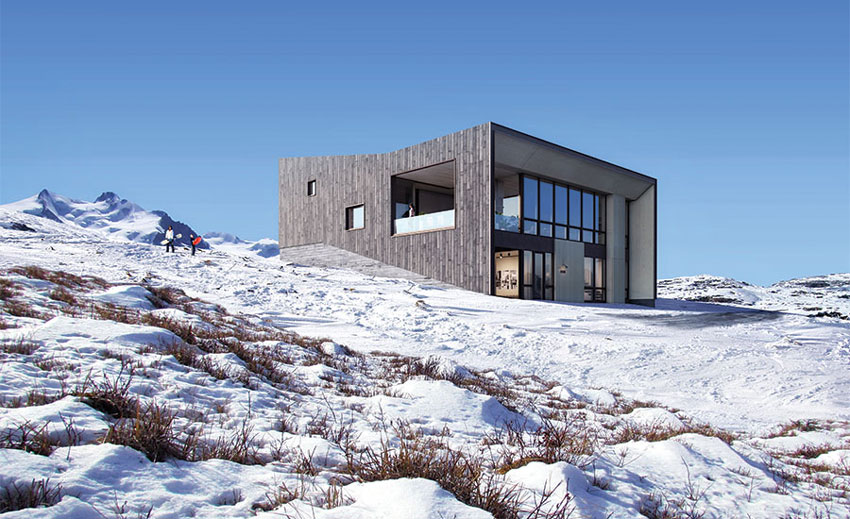 IMAGE: STUDIO MA
FOR A HOUSE under construction in Eden, Utah, Studio Ma looked for a cladding material that could withstand the harsh climatic conditions of its mountainside site and store carbon.
For a 1,500-square-foot house now starting construction in Eden, Utah, Studio Ma designed a rainscreen envelope using an innovative bio-based cladding. Because the project's mountainside site provides views of the two-story house from above, the cladding will even be used on the roof. The building will be wrapped in a sustainably sourced softwood that has been impregnated with furfuryl alcohol, a nontoxic waste product of agricultural crops such as sugarcane and corn. Developed in Norway, the toxin-free treatment thickens the cell walls of the softwood, rendering it hard, dimensionally stable, rot-resistant, and low-maintenance3.
Located at an elevation of 9,000 feet, the house will be exposed to sun, wind, snow, and a daily freeze-thaw cycle that lasts from November to May. In these harsh conditions, the maintenance requirements typically associated with wood might well have trumped its ability to store atmospheric carbon at about 50 percent of its dry weight, and led the house's owners to prefer a higher-carbon option. But for a price and expected lifespan comparable to metal cladding, says Moss, "the fact that we have a 30-year-warrantied facade from this material is a game-changer."
That's a term that could apply equally well to an expanding, but still regrettably limited, range of bio-based building products. The houses profiled here demonstrate the carbon-saving potential of some of them. The projects also invite consideration of the role and tectonics of environmentally innovative materials and methods in contemporary practice. These alternatives offer, as Howland says, "more of a medium through which to explore a broader architectural idea." Whether that's to do with simplicity of materials and construction, authenticity of expression, or the nature of an environmentally aligned practice, the bio-based materials now emerging onto the market offer a strong place to start.
Supplemental Materials
Lawrence, Mike. Reducing the Environmental Impact of Construction by Using Renewable Materials, 2015, BRE Centre for Innovative Construction Materials, Department of Architecture and Civil
Engineering, University of Bath, UK
FOOTNOTES
1 Accoya
2 CalPlant
3 Kebony
Katharine Logan is an architectural designer and writer focusing on design, sustainability, and well-being.
| | |
| --- | --- |
| | Architectural Record is the #1 source for design news, architect continuing education, and info on sustainability, houses, projects, and architectural products. |
Originally published in Architectural Record
Originally published in June 2020
Notice