Experiential Graphic Design
Immaterial Material: Digital media give architects a powerful tool for transforming the experience of buildings
Architectural Record
Learning Objectives:
Define the term "experiential graphic design."
Outline the professional disciplines involved in creating environments that incorporate experiential graphic design.
Describe some of the hardware typically involved in environments shaped by experiential graphic design.
Describe various ways experiential graphic design installations can respond to their surroundings and engage building occupants.
Credits:
This course can be self-reported to the AIBC, as per their CE Guidelines.
This course is approved as a Structured Course
This course can be self-reported to the AANB, as per their CE Guidelines
Approved for structured learning
Approved for Core Learning
This course can be self-reported to the NLAA
Course may qualify for Learning Hours with NWTAA
Course eligible for OAA Learning Hours
This course is approved as a core course
This course can be self-reported for Learning Units to the Architectural Institute of British Columbia
View course on architecturalrecord.com »
As a visitor passes through an office-building lobby, images that are partially glimpsed in one wall—raindrops, time-lapse clouds, a school of fish—subtly respond: the rain softly falls; the fish swim alongside. In the curtain wall of a campus biology building, patterns based on fundamental principles of nature morph from one to another as visitors create and upload designs of their own. In the facade of a science gallery, over 200 handmade glass bricks become miniature projection booths playing a kaleidoscopic preview of the exhibition inside. Architecture and experiential graphic design (EGD, or XGD) are converging; in the process, digital media have become dynamic new construction materials.
Imagine a Venn diagram showing the place-making arts and the communication arts as two intersecting circles: the area of overlap is the interdisciplinary practice of EGD. Spanning the spectrum from information to art, EGD orchestrates such elements as typography, imagery, color, form, and, increasingly, technology to create environments that communicate, according to Cybelle Jones, CEO of the Society for Experiential Graphic Design (SEGD). "Silos of design are breaking down," she says. "Architects are doing digital, and experiential designers are creating places and spaces." Jones, who trained as an architect before embarking on her career in EGD, personifies this convergence. What's accelerating it, she suggests, is the contemporary pace of change, whether in response to the pandemic, the climate crisis, social inequities, economic disparities, or these factors in combination: "Architecture is stable, secure, and solid, but our world is rapidly changing. Digital materials provide a layer that enables buildings to become more agile and responsive to changing needs."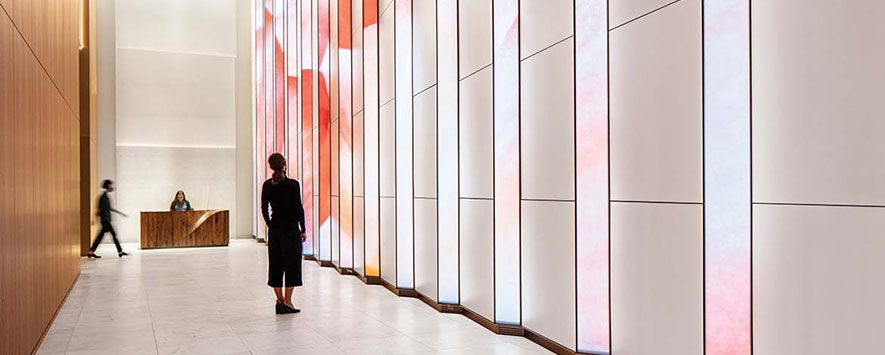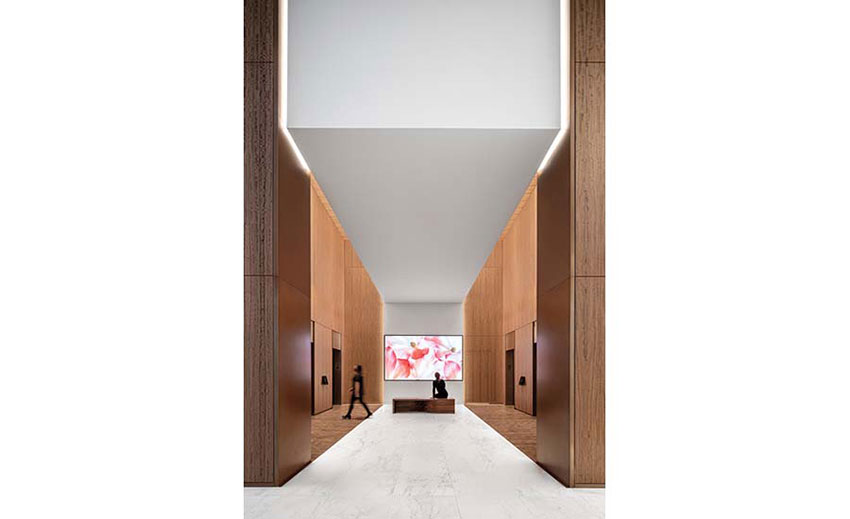 In San Francisco, Gensler has created a responsive gallery from an awkwardly proportioned office-building lobby.
The impact of the pandemic in emptying out America's office buildings reinforces the business case for the use of digital media in the renovation, recently completed, of the lobby of 88 Kearny (Video: © Gensler), a 22-story mid-1980s tower in San Francisco. "Now that people have grown used to working from home, there's a much greater burden on buildings to provide a reason—something delightful and different—to come to the office," says Doug Zucker, a principal in the local office of Gensler, the renovation's architect. A 120-foot-long corridor, 10 feet wide and 23 feet high, leads from the multi-tenant building's street door to its elevator bay. "Everyone had to experience this tunnel," says Zucker. "It was terrible, and we needed to figure out how to make the experience magical."
The solution makes a virtue of the corridor's awkward proportions by turning it into a responsive digital gallery. Viewed axially from the entrance, the long wall of the lobby presents a segmented image—a black-and-white landscape, almost-abstract textures, microscopic nature, or maybe something seasonal. As the visitor proceeds along the gallery, the image is revealed to consist of 25 slices stepped 40 inches apart, each slice an 8-inch-wide by 23-foot-high LED screen integrated into the corridor wall. Sensors in the ceiling detect the visitor's arrival, group size, speed, and proximity to the screens, and signal the images to respond—rain splashes in response to footfalls; dandelion fluff floats as if on a breeze stirred by the visitor's passing. "It will just be fun and you'll smile," says Zucker. In the elevator foyer, the image reappears on the end wall, now whole and responding in real time to other visitors as they move along the corridor.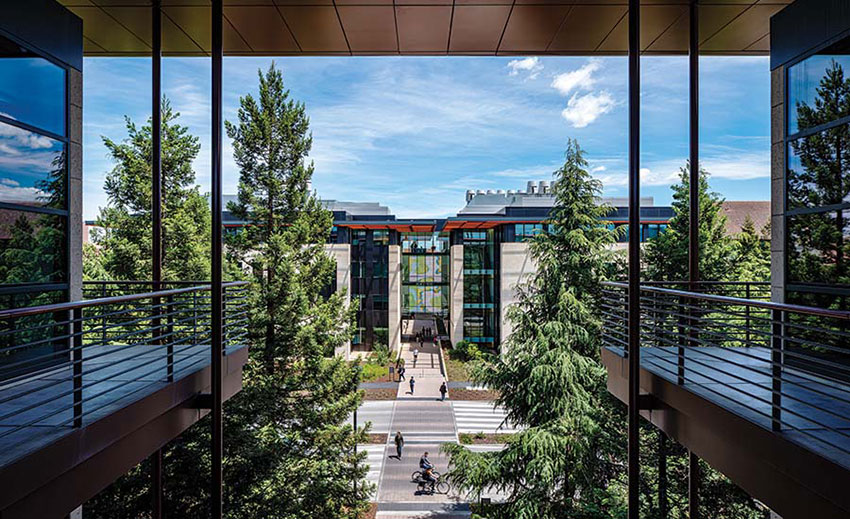 Passersby can manipulate Morphogenesis, an installation on Stanford University's Bass Biology Building (top) by using a touch screen (bottom).
The digital component of the project is more complex in its programming and design than in its hardware. Big screens are expensive—and they put out a lot of heat, among other issues—so covering the entire wall wasn't an option. Instead, the display consists of smaller, not especially high-resolution screens (a deliberate strategy to prevent the technology's rapidly dating), covered with a diffusing tensile fabric. As well as helping to protect the screens and extending their useful life, the fabric (which is commonly used for stretch ceilings) softens the appearance of the LEDs and presents as an architectural rather than technological surface.
Originally published in Architectural Record
Originally published in October 2021
Notice