Categorized by Design: Architecturally Exposed Structural Steel
Specifying architecturally exposed structural steel (AESS) with defined categories to meet project expectations for appearance, budget, and schedule
Sponsored by American Institute of Steel Construction
Learning Objectives:
Explain the factors that impact the implementation of AESS.
Describe how to identify and specify AESS in the contract documents using the category method.
Discuss the expectations of fabrication and erection of AESS under the 2016 AISC Code of Standard Practice.
Define methods for efficiently achieving AESS quality with relation to budget and schedule.
Identify available resources for additional information when applying AESS on upcoming projects.
This course is part of the Steel Academy
AESS 4: Showcase Elements
The sculptural nature of steel is meant to be the main focus when specifying AESS 4. This category draws inspiration from the expression of form as the featured aesthetic in a project. Making material connections appear seamless in a project can sometimes be the most challenging to design and construct. The latter is also true of structure, especially when architecturally exposed structural steel is to have a very smooth and sleek finished appearance. It is generally understood that AESS 4 components may entail the highest premium over the previous categories, not only per the desired "glove" smooth finish, but more often due to the complexity of structural geometry. The design approach should be discussed between the architect and structural engineer in advance of selecting the AESS category.
The characteristics of the previous categories, AESS 1, 2, and 3, are all included with the selection of AESS 4. In AESS 3, it is acceptable to reduce the visibility of weld seams. The "glove" smooth finish desired for showcase elements in AESS 4 necessitate that weld seams are no longer visible. Certain structural steel shapes and sections, such as pipes or some types of hollow structural shapes, lend themselves to have fewer or no seams. If at all possible, turn the seam away from view for the most cost-effective strategy.
The smooth and contoured appearance of welds enhances the style of the more plastic look of AESS 4 components. Majority of steel designs in this category focus less on bolted connections and implement more welded connections for a seamless aesthetic. There are cases where welds may show through the back face of an exposed steel element. Locations where welds show through to the other side of the AESS component are to be addressed to reduce their undesirable appearance. Open holes placed in the steel members, often for the welding process, are to be closed off and smoothed out for a clean, finished surface.
More labor and time is often necessary during fabrication and erection to achieve the quality of AESS 4 compared to the previous categories. Surfaces that are in view range are to be free of imperfections. Filling any deviations with a body filler as well as sanding textured surfaces are methods of fabrication used in this category. This higher level of care and detail allows for glossy coats on steel to be a truly successful aesthetic in close view range, as depicted in the Brookfield Place Entry Pavilion in New York City.
AESS C: Custom Elements
Any deviation from the requirements of AESS 1, 2, 3, and 4 falls under the Custom category AESS C. Occasionally, there are situations when sharp edges do not need to be ground smooth or erection and painted marks are not required to be removed from view. Allowing this flexibility in choosing characteristics provides designers with greater freedom but also notifies steel fabricators and erectors that there is a noteworthy difference from the typical category requirements. Custom elements should be clearly defined in the contract documents with AESS C located as needed.
The 2016 AISC Code of Standard Practice recommends using Table 10.1, similar to the AESS Category Matrix shown previously in the course, as a checklist for architects to coordinate or customize AESS requirements with structural engineers. The matrix should be used to specify special requirements for AESS C in the contract documents.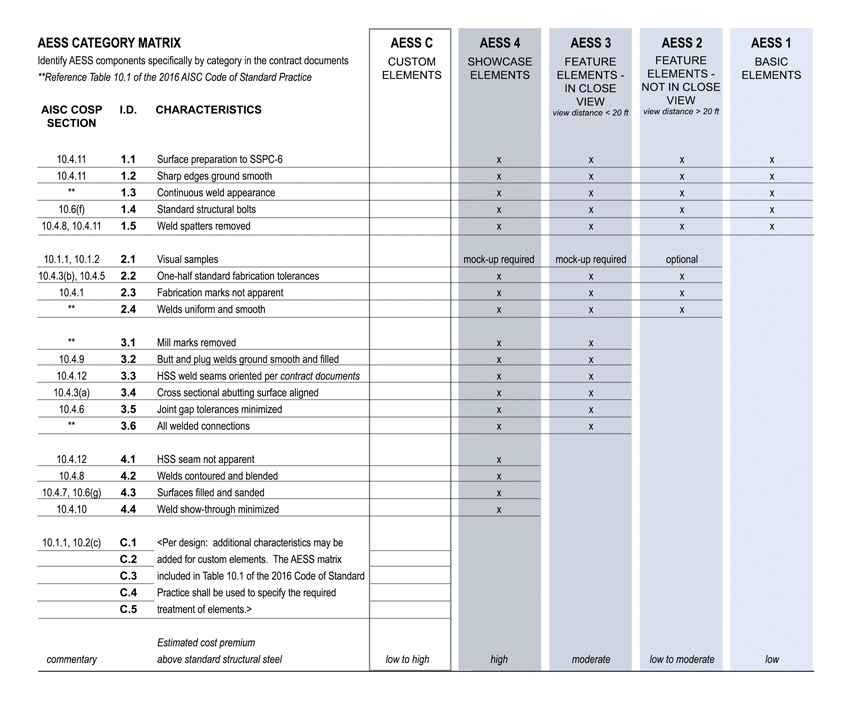 Image courtesy of American Institute of Steel Construction (AISC)
Note: I.D. numbers correspond to adjacent AESS image chart. Table 10.1 (similar) of the AISC Code of Standard Practice.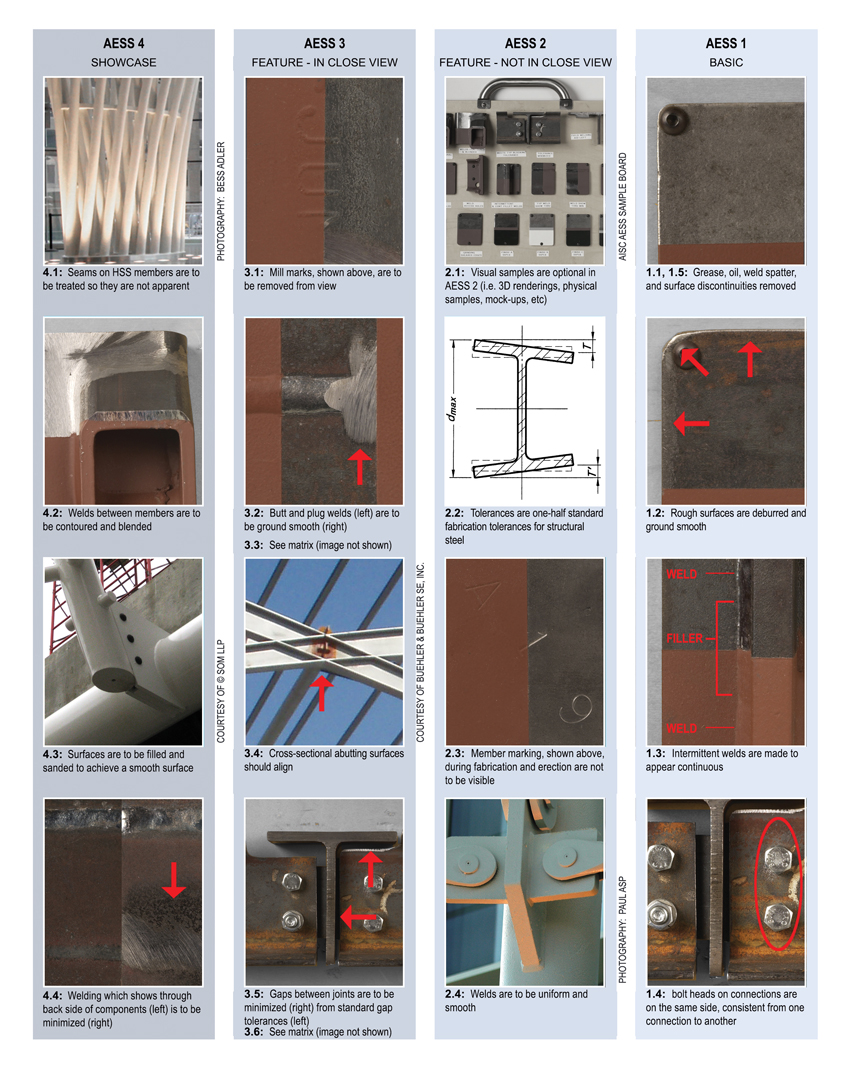 Images courtesy of American Institute of Steel Construction (AISC), except as noted
Note: Reference adjacent AESS Category Matrix for I.D. numbers and characteristics.
The Last Piece
The last portion of the AESS process is just as critical as a well-coordinated design phase. The 2016 AISC Code of Standard Practice addresses requirements for erection of AESS in Section 10. The higher-quality finish and treatment of AESS necessitates extra care and handling during transit and placement. The timeline for erection may be slightly longer when AESS is specified on a project. Erectors are tasked with assembling the steel with careful planning and methods to avoid damage to the finished product.
Conclusion
The decision to architecturally expose structural steel can add significant value to a building. Improvements in the 2016 AISC Code of Standard Practice satisfy the desire to create efficient and cost effective measures when implementing AESS on a project. The five categories (AESS 1, 2, 3, 4, and C) that distinguish architecturally exposed structural steel require sufficient evaluation and coordination in order to meet project expectations within budget and schedule. Establishing the same level of expectations between owners, architects, engineers, general contractors, fabricators, detailers, and erectors is critical to achieving the best end results for a project.
Resources
| | |
| --- | --- |
| | AISC is the leading advocate and trusted resource for American structural steel. Grounded in unsurpassed science, quality, and craftsmanship, our vibrant industry is ever-advancing and ever-improving. That's why for nearly 100 years, AISC has proudly innovated with breakthrough research and applied technology for fabricators, engineers, architects, and the construction industry. We set the standard so you can focus on delivering visionary projects of the highest quality for your clients. As we move into our next 100 years, we'll continue to advocate for, champion, and strengthen this vital industry. www.aisc.org |
Originally published in Architectural Record
Notice