Categorized by Design: Architecturally Exposed Structural Steel
Specifying architecturally exposed structural steel (AESS) with defined categories to meet project expectations for appearance, budget, and schedule
Sponsored by American Institute of Steel Construction
Learning Objectives:
Explain the factors that impact the implementation of AESS.
Describe how to identify and specify AESS in the contract documents using the category method.
Discuss the expectations of fabrication and erection of AESS under the 2016 AISC Code of Standard Practice.
Define methods for efficiently achieving AESS quality with relation to budget and schedule.
Identify available resources for additional information when applying AESS on upcoming projects.
This course is part of the Steel Academy
AESS vs. Exposed Structural Steel: What's the Difference?
The 2016 AISC Code of Standard Practice defines structural steel as elements that are required to support the design loads of a building and fit within the components of a structural frame. For clarity, the AESS category system is typically only applied to fabricated structural steel as referenced in Section 2.1 of the code: anchor rods, base plates, beams, bracing, canopy framing, columns, connection materials, crane stops, girders, lintels, posts, shear stud connectors, trusses, etc. Unfinished, reused, galvanized, or weathering steel may all be fabricated with AESS requirements.
AESS is a step beyond standard fabrication and erection. During fabrication, shipment, and erection, extra care is taken to avoid blemishes and unwanted surface appearance when handling the steel and removing temporary braces or fixtures. Additionally, all backing and runoff tabs are removed, and welds are to be ground smooth for those areas. Basic unpainted steel must also be cleaned of oil, grease, dirt, and loose mill.
There are "other steel, iron, or metal items" that are not typically specified under AESS, though there may be exceptions depending on project requirements. Cables, castings, catwalks, chutes, cold-formed steel products, corner guards, flagpole support, grating, handrail, ladders, ornamental metal, stacks, stairs, steel deck, open-web steel joists, joist girders, trenches, etc. are examples of components that do not typically receive AESS identification. Reference Section 2.2 of the 2016 AISC Code of Standard Practice for the full list, available for free download at www.aisc.org/freepubs.
Coordination, Coordination, Coordination
Everyone in the building industry is familiar with the phrase "location, location, location." When architecturally exposing the structure as an integral part of the design intent, keep in mind the significance of the three Cs: coordination, coordination, coordination. While the architect chooses the locations of AESS in a project, the structural engineer should document it. According to Bill Andrews, SE, a principal at structural engineering firm Walter P. Moore, fabricators and detailers will typically look to the structural drawings in the contract documents as the primary source of information for structural steel, including AESS. This methodology saves time and costs during construction, with the intent of consolidating references to AESS as much as possible. It is of utmost importance that successful coordination between these disciplines takes place to ensure the contract documents are bid per the design intent.
Equally imperative is selecting the correct category for all AESS components in a project. Per the 2016 AISC Code of Standard Practice, it is required that all AESS is identified by categories 1, 2, 3, 4, or C. "This is a dramatic improvement over the previous code edition [in 2010]," says Andrews, "in terms of better clarity, articulating expression...and giving everyone a better understanding of relative costs when choosing AESS and at what level." Sufficient coordination and understanding of best practices are essential to keeping a project within budget and schedule.
The Impact of Context
There are many factors that influence the level of finish and detailing on an exposed member. It is important to understand the context surrounding the exposed steel before choosing an AESS category. The following explains which elements impact AESS and how it is perceived in the built environment: member visibility, viewing distance, location, lighting, coatings, style, and adjacency.
Member Visibility
Simply put, if it is not readily visible, there is no need to identify exposed steel as AESS. There are often conditions where one side of an exposed steel column or braced frame may be blocked from view by a wall or other component. It is possible to only note a specific AESS category on the side of an exposed member that is visible to view. Specifying AESS incurs more time and care during design, fabrication, and erection and should only be spent on portions of the project that are visible and prominent. Identifying specific locations for AESS takes careful consideration, but thoughtful analysis can greatly reduce costs and schedule during construction.
Viewing Distance
Details tend to disappear from the naked eye the further away they are located. When an object is beyond 20 feet, the distinction between components is not as clearly seen as when it is within reach. Consider objects 100 feet away from the closest point of view and the level of visible detail is even less distinct. The category system for AESS recognizes that viewing distance is critical to the level of fabrication and erection required for structural steel. The 20-foot viewing distance separates categories AESS 2 from AESS 3.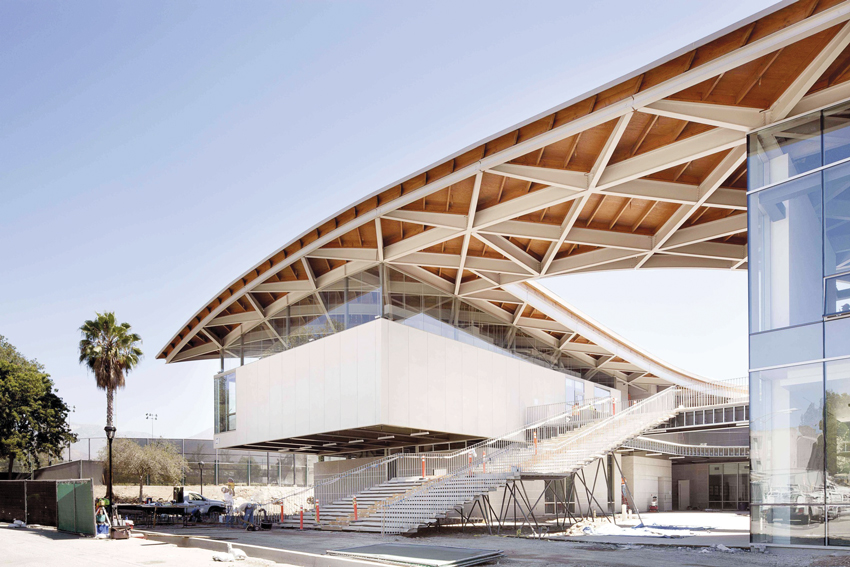 Photo courtesy of wHY Architecture/Jeremy Bitterman
The Pomona College Studio Art Hall in Claremont, California, exposes the steel roof structure as an aesthetic feature visible from below. The height of the steel diagrid is well over 20 feet from the typical viewing distance at ground. The project was completed in 2015, prior to the implementation of the AESS category system in the 2016 AISC Code of Standard Practice. AESS Category 2 could have been specified for the roof structural expression as the appropriate level of fabrication.
Location
Whether AESS is placed interior or exterior makes a significant impact to the type of coatings and protections selected for the member in addition to how it is detailed. If placed on the exterior of a building, the exposed steel must withstand more corrosive or harsh climate conditions. Additional surface preparation and protective coatings are often implemented to promote long-lasting AESS. Methods of detailing at joints or connections must also take special care to keep water out to avoid rusting of steel members.
Lighting
According to Steve Weiss, principal and founder of Weiss Architects, lighting typically has the greatest impact on interior AESS, whereas sight lines are the most important for AESS located on the exterior. Details are not as visible in high ceilings with low lighting, but when elements are brightly lit, they may tend to expose more texture and blemishes on the surface. The location and type of lighting with relation to AESS components should be determined prior to specifying the appropriate category.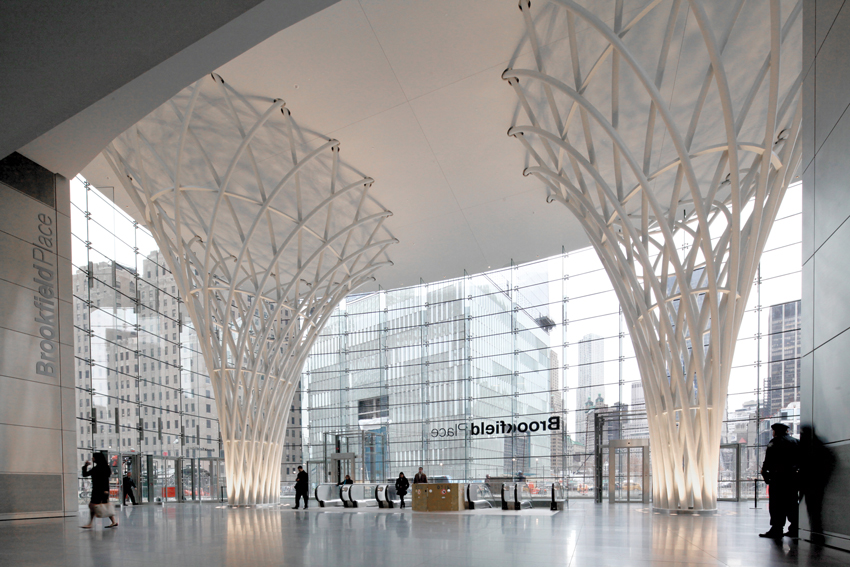 Photo courtesy of Thornton Tomasetti/Bess Adler
AESS steel trees are the feature elements in the Brookfield Place Entry Pavilion in New York City. Uplighting the structural elements creates a dramatic effect but also highlights the importance of surface finish. Welds were ground smooth and made flush with the exposed surface for a cleaner aesthetic. Additionally, fitting multiple steel pipes together in the Brookfield Place Entry Pavilion necessitated stringent erection tolerances for the sculptural tree columns. These showcase elements typically fit the requirements of AESS Category 4.
Coatings
The selection of a coating, whether it be paint or intumescent fire protection, should be coordinated with the location and lighting intent for an AESS member. "Glossy coats tend to show every imperfection and surface variation," says Larry Kloiber, PE, vice president at fabricator shop LeJeune Steel. A glossy coat combined with bright accent lighting within a close view range requires greater care and surface preparation for AESS. A thicker intumescent coating or matte finish tends to cover surface marks and blemishes, thereby reducing the need for certain characteristics of surface preparation to the steel. Kloiber stresses that it is always important to keep in mind how the material will be viewed, as it will impact the AESS category specified.
Originally published in Architectural Record
Notice