Reaching the Roof: Specifying Fixed Access Aluminum Ladders for Safety and Efficiency
Installed in virtually every commercial structure, fixed access aluminum ladders are a necessary feature for maintaining both building equipment and occupant safety.
Sponsored by ALACO Ladder Company
Roof Hatch Access
Governed by OSHA Regulations 1910.23 & 1910.27, roof top hatches should provide safe egress and ingress through the roof. Hinged and guarded by railings with a standard height of 12 inches, they are in effect a ladderway floor opening, the roof being the floor or platform.
Fixed access options for roof hatch access include ships ladders permanently angled at different degrees, folding ladders, vertical fixed wall ladders and retractable ladders.
Ships ladders are designed for access to roof hatches, mezzanines, equipment lofts and other restricted spaces. They usually include heavy duty aluminum top and bottom brackets for a fixed, permanent installation. Typically, they are available in 60 degrees 70 degrees and 80 degrees with maximum heights varying between 15 feet and 20 feet. They can be specified with or without side rails and with or without extended side rails.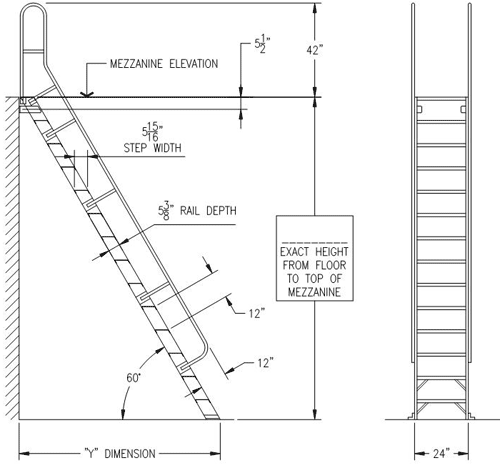 Configuration shown: ships ladder with handrails mezzanine access
Ships ladder fixed at 60 degrees with extended handrails for easy climbing, this model has a maximum height of 15 feet.
Pivotal ladders are suitable for limited space and can be folded away when not in use. Typically they are available with no-marking, solid rubber feet for secure floor contact when not in use and have optional flush handrails.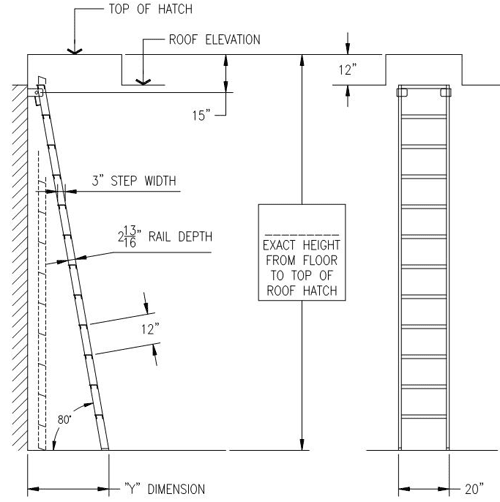 Configuration shown: ships ladder without handrails roof hatch access
Pivotal ladder hinged at the top extends 80 degrees from the horizontal.
Retractable ladders are designed for space saving interior access to roof hatches from small rooms. They are ideal for restaurants, tool storage rooms, workshops and mini warehouses.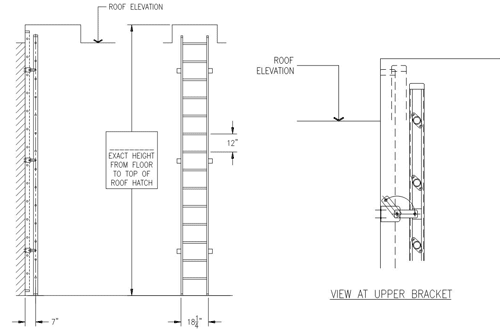 Configuration shown: retractable vertical ladder roof hatch access
Right: Retractable ladder saves space when accessing roof hatches from the interior of small rooms. Left: Upper bracket detail for retractable ladder. Rotating brackets allow the ladder to be extended.
Mezzanines
Ships ladders and pivotal ladders with required side rails are generally specified for mezzanine access.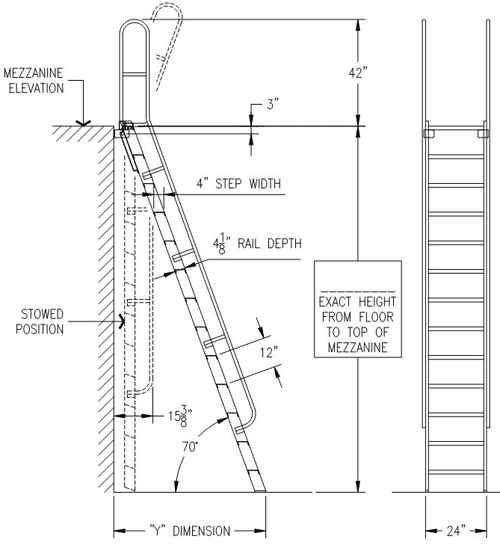 Configuration shown: pivotal ships ladder mezzanine access
A 70-degree pivotal ladder with hinged bracket for mezzanine access requires an extended handrail.
Originally published in December 2013
Notice