Reaching the Roof: Specifying Fixed Access Aluminum Ladders for Safety and Efficiency
Installed in virtually every commercial structure, fixed access aluminum ladders are a necessary feature for maintaining both building equipment and occupant safety.
Sponsored by ALACO Ladder Company
The following code requirements are the most important for architects, specifiers and project managers to be familiar with (for fuller code wording see sidebar):
Requirement for Fixed Ladder
A double-cleated ladder or two or more ladders must be provided when ladders are the only way to enter or exit a work area having 25 or more employees, or when a ladder serves simultaneous two-way traffic.
Live Load
*A fixed ladder must be able to support at least two loads of 250 pounds each, between any two support brackets.
Landing Platforms
Required when ladders are used to ascend to heights exceeding 30 feet. Or required for every 20 feet if no cage, well or ladder safety device is provided.
Cages
Cages or safety devices are required for fixed ladders with a length of more than 20 feet to a maximum unbroken length of 30 feet. A safety device is generally more expensive to install than a cage. The bottom of the cage must be between 7 feet and 8 feet above the point of access to the bottom of the ladder. The top of the cage must be a minimum of 42 inches above the top of the platform or the point of access at the top of the ladder. As of November 2019, OSHA requires ladders over 24 feet to have a fall proection device. (See sidebar for more information.)
Designing Fixed Access Ladders
A first and obvious step to specifying a fixed access aluminum ladder is to know the particular function and location of the ladder since the location dictates the type of ladder required:
How much space is there for accessing the ladder? What is the daily traffic pattern of the area at the base of the ladder? This will help determine the type of ladder required:, a ships ladder at 60 degrees takes up far more area than a folding ladder at 80 degrees or a vertical fixed ladder .
How often is the ladder going to be used? A ships ladder at 60 degrees is easier to climb than a fixed vertical ladder and is therefore safer. If an employee rest area is located on a mezzanine floor, as is often the case in fabricating facilities, the ladder will have heavy use. A ladder accessing roof equipment would have regular but far less use.

Are people who are using the ladder going to be carrying heavy or awkward loads? Is the ladder accessing a mezzanine where inventory is stored? Often concrete tilt-up buildings are one story tall and use fixed access ladders to reach storage spaces.
Who will be using the ladder?
In a somewhat misguided concern for safety, one designer specified a fixed ladder should support loads of 1000 pounds In this particular case the ladder was not reaching a storage area, and employees, firemen, inspectors and service contractors, were expected to use it on an irregular basis. Not only would the ladder have been excessively expensive as a result of custom fabricated components, but unnecessary given that probably no person weighing 1000 pounds would be climbing it. The loading specified by OSHA and ANSI has been developed from years of study based on usage. However, when exceptional conditions warrant, ladders can be designed for additional loading.
What is the purpose of the ladder? Exterior roof access, roof hatch access or mezzanine access?

The manufacturer should be able to guide you through the design process, and provide easily downloadable specifications.
Exterior Roof Access
Fixed vertical wall ladders provide permanent exterior roof access. They are ideal for chimneys, towers, vats, antennas, tanks, water treatment plants, refineries and other industrial or marine applications. Remember that ladders in excess of 20 feet require cages and rest platforms are required for each 30 feet of height. Side exits and ladder step through are other means of access and egress. Typical specifications include side rails with 11/8-inch round rungs that are serrated and secured with cast aluminum connectors, 4 solid rivets and 3/8-inch thick brackets mounted to the walls.
Several different vertical ladder configurations include: Handrails over the roof, side exit, roof return and parapet return.
Roof Access with Security Doors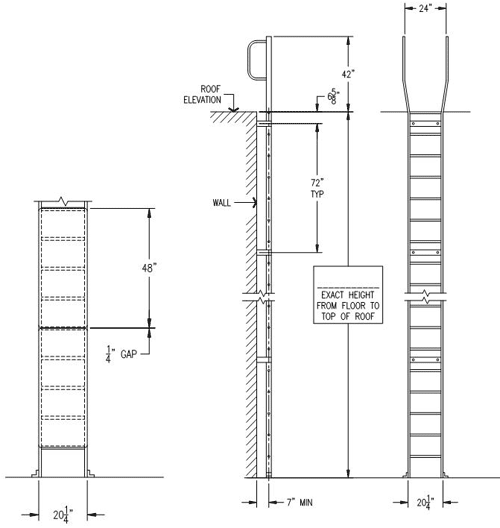 Configuration shown: roof access
Right: Exterior roof access vertical fixed ladder with handrails extending 42 inches over the roof. Left: Configuration showing placement of the security door.
Caged with Platforms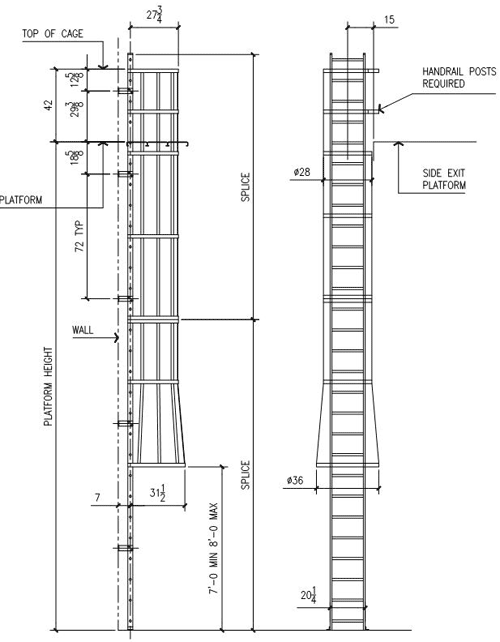 Configuration shown: caged side exit platform access
Exterior roof access ladder with side exit. A cage is required because the ladder is in excess of 20 feet. Note the bottom of the cage must be between 7 feet and 8 feet above the point of access to the bottom of the ladder. Also note the flaring dimensions of the enclosure at the lower end of the cage. This is a code requirement to aid the ladder user in climbing the ladder.
Roof Return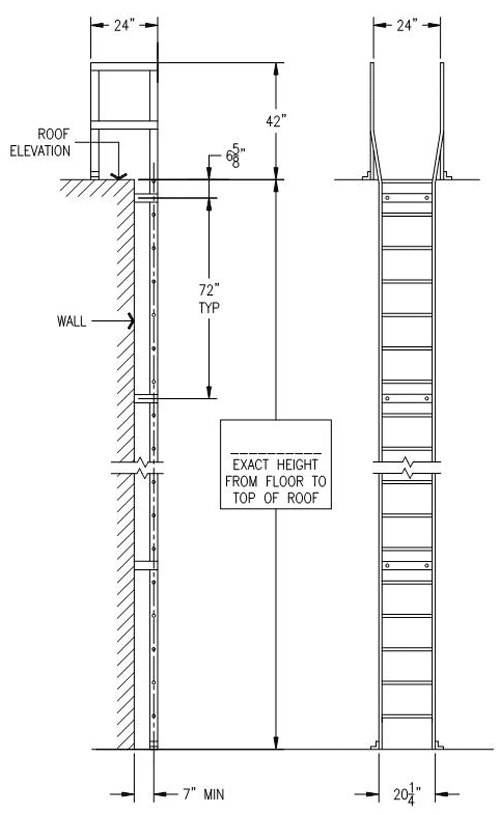 Configuration shown: roof access roof return
Exterior roof access fixed ladder with roof return. The roof return is the portion of the ladder mounted above the roof and means that the ladder is returning to the roof.
Platform over Parapet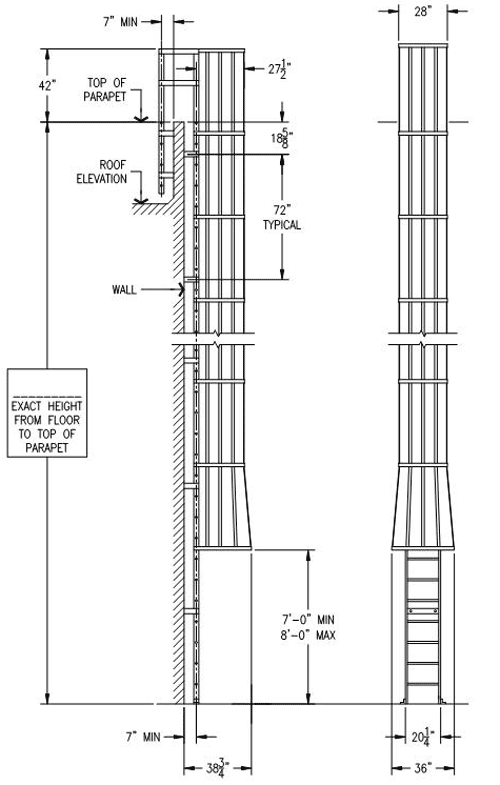 Configuration shown: caged roof access over parapet
Exterior roof access showing parapet return and cage. The parapet return is the portion of the ladder that returns from the parapet to the roof level. The return would be required anytime the distance from the parapet to the roof is greater than about 12 inches (305 millimeters).
Originally published in December 2013
Notice