Using Western Red Cedar in Commercial and Multifamily Buildings
Cedar is a reliable material that architects are finding new and exciting ways to use
Sponsored by Western Red Cedar Lumber Association
This test is no longer available for credit
Scottsdale's Museum of the West: Western Spirit
About this Project: Architect Studio Ma of Phoenix used this project to answer the age-old question: what happens when Old West meets contemporary design? This 38,279-square-foot, two-story Scottsdale museum features an outdoor courtyard, gift shop, interpretive spaces, galleries for permanent and traveling exhibitions, and a multiuse space for gatherings and audiovisual presentations. Expertly combining modern forms with traditional materials, the stunning venue has garnered a lot of positive attention from both visitors and architecture aficionados alike since it opened its doors in Scottsdale's historical and increasingly hip downtown hub. "The museum is not only a leading attraction for regional culture, but it has also been applauded as an iconic building and a catalyst for an urban community," says Studio Ma Principal Christina Moss.

Photos: © Bill Timmerman
The Design: As part of the interior's textured and tactile palette, Studio Ma opted to use WRC extensively throughout, including all entry doors to the reception, ticketing area, and courtyard, the 10-foot-high barn door, and wall paneling outside the elevator, galleries, and other spaces. Cedar siding also appears at the high ceilings above the stairs, low ceilings at galleries and the museum store, interior doors in public spaces, wall base, and interior and exterior signage. "It is an essential and impactful building material for this composition," says Studio Ma Principal Christopher Alt. For these applications, Alt primarily specified a knotty WRC. As he explains, this cost-effective grade of cedar offered the non-profit museum project great value as well as several other benefits.
The Results: "In addition to its wonderful smell, WRC's knotty appearance and board-constructed paneling complemented the rough-formed concrete and the oxidized steel," Alt says. "It really stood up to the others. Also the material helped us recall some of the construction methods for fences and housing in the West, with their various-sized boards and earthy appearance. Last, we knew the naturally finished and durable wood species would retain its character, coloration, and shape for a long time."
Renovation and Retrofit Projects with Cedar
Most architects are involved in renovation projects that can include alterations, renovations, additions, or similar scopes of work. Sometimes, existing buildings need an update because of a new use, a change of occupancy, a new owner, or just to overcome outdated appearance or functionality. Regardless of the motivation, the opportunity remains to create a renovated building that has its own design statement, improves its sustainability, and functions better in accordance with the needs of the building owners and users.
In that context, cedar is an ideal material for renovation and retrofit projects. It is lightweight, versatile, and brings all of the same attributes to renovations as it does to new construction projects. Most appropriately, it is easy to cut and shape to fit existing conditions, making for less waste and more economy. It is also very easy to customize the finish to blend with or complement existing finishes that may remain either on the interior or exterior of the building.
A great example of how this can all come together on a renovation project is detailed in a restaurant project in San Diego.
Station Tavern Restoration Project
About the Project: Finished in September of 2009 after two years of restoration, Station Tavern & Burgers is an open-air, modern beer garden located in the heart of San Diego's South Park, which itself has transformed from a shabby historic village into a hip, urban neighborhood. With its huge awning and communal picnic table-style dining that conceals a small and cozy interior, Station Tavern imparts a laid-back atmosphere. The establishment is kid friendly and dogs are also welcome—which is entirely in keeping with the past use of this property as a public trolley stop.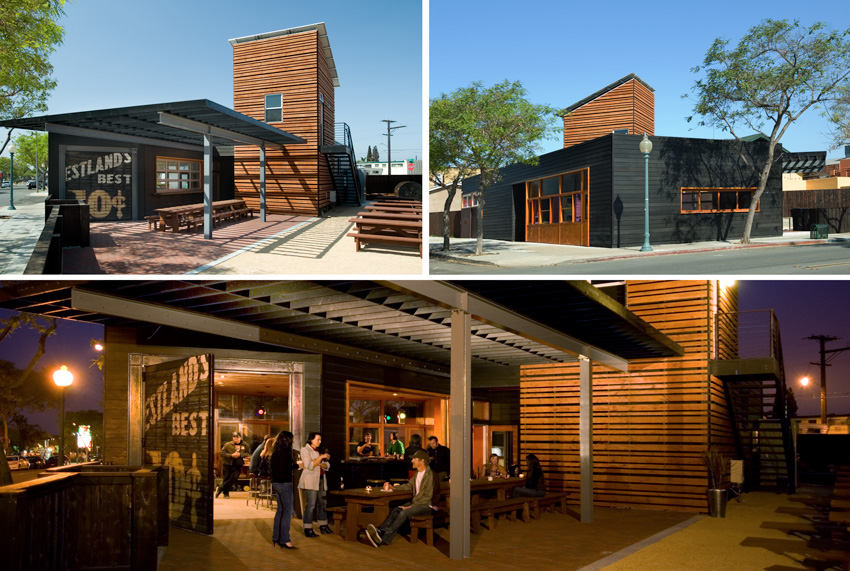 Photos: © Dave Harrison
While much of the establishment's success goes to acclaimed San Diego architect Lloyd Russell and Mario Quintero Construction, the use of WRC as a cost-efficient material to augment the structure's other wood components also played a significant role in the restoration.
The Design: At the request of South Park businessman and pub owner Sam Chammas, Lloyd Russell designed Station Tavern to be as open air as possible in order to make it seem like an organic extension of the South Park neighborhood. The site was originally a trolley easement and station for San Diego's No. 2 line from 1929–1948. The old line cut diagonally across the parcel of land, and subsequently a triangular-shaped building was constructed on the property. By the time Russell was retained to restore the property, that building had become what he refers to as "an old dive bar, Snippy's Tavern, which operated from 1950 to 2003; it had no windows and was covered in pink stucco."
Chammas and Russell sought a contemporary, sophisticated, but not expensive look that would fit in with an older, established community—a look that would appeal to the increasingly sophisticated younger population in the neighborhood. The way to achieve this came about when the stucco was pulled off the building and the architect discovered redwood siding underneath that had blackened with age. He recalls, "To us, the wood was the human element of the building and the black was the modern component, so we saved as much of it as we could before demolishing the structure."
Also found during the demolition was a giant wooden sign behind some utility boxes; without a clear idea of what it would eventually be used for, Russell stored the sign for a year—another example of how this project was very much a journey of discovery concurrent to the new establishment being rendered on paper (the sign was eventually framed with steel and used as the tavern's main entrance door).
The tavern was entirely rebuilt within the same small (600-square-foot) footprint and height, the only changes of note being the addition of windows and trellises as well as a wooden tower housing a kitchen. The design creatively incorporates the history of the San Diego electric streetcars thanks to an outdoor patio area similar to a train platform and an outdoor children's play area featuring a large wooden trolley.
The interior of Station Tavern was designed by San Diego boat-builder-turned-furniture-maker Pat Wilkening, founder of Red Craft Custom Design, who milled the bar top, stools, tables, and chairs from 100-year-old 2-by-4s reclaimed from Snippy's. For greater sustainability, Russell also designed the roof of the tavern's tower to accommodate solar panels that would generate 30 kilowatts of energy daily, or about 30 percent of the establishment's electrical consumption.
The Cedar Solution: Although Russell and his restoration colleagues saved as much blackened redwood siding as possible from the original structure, more siding was required to complete the property's metamorphosis into Station Tavern. For Russell, it was a matter of making one of two choices: to source more redwood or go with WRC. "I had incorporated WRC into designs for past projects and was very impressed by its beauty and durability, but for this particular project, its use would be a matter of practicality: as it happened, clear cedar was available to us at an attractive price point, so we went with it."
Russell admits that despite his admiration for the wood, Station Tavern represented "tipping my toes into the world of WRC, and fortunately I grew more knowledgeable about sourcing and specs as the project evolved." Ultimately, the clear cedar was stained black and used for siding to augment the redwood as well as for the trellises; clear cedar was used for window trim; and Douglas-fir was used for other woods elements.
Although WRC was used mainly for utilitarian purposes as well as for decorative touches at Station Tavern & Burgers, the project is significant in that Russell is a supporter of the WRCLA. "And since the completion of Station Tavern, I've used WRC for a single-family residence as well as two multifamily projects," he adds.
The Results: Station Tavern has been credited for helping to upgrade conditions in South Park, and as a restoration project, it has won several awards, including the Grand Orchid Award for architecture by the San Diego Architectural Foundation in 2010 and Best Restaurant for Hipster Parents in San Diego Magazine.
Conclusion
The materials used to finish the exterior and interior of a commercial or institutional building, whether newly constructed or renovated, need to meet a variety of demands from design professionals, construction contractors, building owners, and users. WRC is a wood choice that has been shown to meet many, if not all of those demands for the exterior and interior of new and renovation projects for all types of commercial, institutional, and multifamily buildings. It benefits from a well-developed industry with the experience of many industry professionals and an international trade association that can provide technical support. Using these resources to understand the attributes, characteristics, and details of using cedar in nonresidential buildings can help architects create designs of virtually any style. Overall, WRC is a sustainable material of choice on projects of all building types and in virtually any location around the world.
Peter J. Arsenault, FAIA, NCARB, LEED AP, is a nationally known architect, consultant, continuing education presenter, and prolific author advancing building performance through better design. www.pjaarch.com, www.linkedin.com/in/pjaarch
| | |
| --- | --- |
| | The Western Red Cedar Lumber Association represents quality "Real Cedar" producers, distributors & retailers throughout North America. Founded in 1954 and known as "the voice of the cedar industry," WRCLA offers extensive resources to assist with selection, specification, application & quality standards. |
Originally published in Architectural Record
Originally published in December 2018
Notice