Using Western Red Cedar in Commercial and Multifamily Buildings
Cedar is a reliable material that architects are finding new and exciting ways to use
Sponsored by Western Red Cedar Lumber Association
This test is no longer available for credit
Cedar Exteriors on Commercial Buildings
When thinking about materials for a commercial building exterior, there are some misconceptions about cedar that need to be cleared up. Perhaps the most common is that cedar is a high-maintenance product and, as such, shouldn't be used on commercial buildings. In fact, cedar performs better and requires less maintenance than most man-made materials, particularly plastic composites that simulate a wood appearance. This has been proven in countless buildings where cedar is allowed to naturally weather and develop its own patina or where it is stained with a long-lasting finish. Bo Helliwell, AIBC, FRAIC, architect at Helliwell + Smith, has notes, "In our building experience, we have come to trust cedar for its beauty and natural durability in exterior applications."
Another misperception is that cedar can't look modern on the exterior of a building, only rustic and woody. The reality is that cedar is being used beautifully in all styles of buildings, including some very modern ones. Lloyd Russell, AIA, has a history of designing modern buildings and states, "My goal is to make handmade Modernism. The warmth and depth of cedar helps me achieve that."
Finally, there is an unfounded fear that cedar is not cost-effective. Anyone who does a simple comparative cost analysis will often find that it is very competitive with other cladding and siding materials in terms of first costs since the grade, finish, and profile can be selected to suit a full range of budget needs. Further, its long-term durability and low maintenance make it cost-effective over the life of the building. Jeff Jordan, principal with Jeff Jordan Architects, makes this statement about a recent project where cost and other attributes were the deciding factor on the exterior material choice: "Cedar is such a prominent part of the look, and it would have been difficult to find another material that has both a natural appearance and can weather naturally over time."
With these aspects cleared up, let's take a closer look at three specific projects where WRC played a prominent role in the exterior building design. For our first example of cedar being used on the exterior of a commercial building, we begin with a dormitory style project for a well-known architectural institute in Pennsylvania.
High Meadow Dwellings at Fallingwater
About the Project: Designed by Bohlin Cywinski Jackson – Architects, this project is located on a historic farm adjacent to Frank Lloyd Wright's renowned Fallingwater residence in Mill Run, Pennsylvania. It serves as a home base for students of Fallingwater Institute's summer residency programs in architecture, art, and design. The facilities, which are positioned between forest and fields, consist of an original four-bedroom 1960s cabin and four newer units, plus a screened porch connected to the main entry for outdoor gathering and dining space.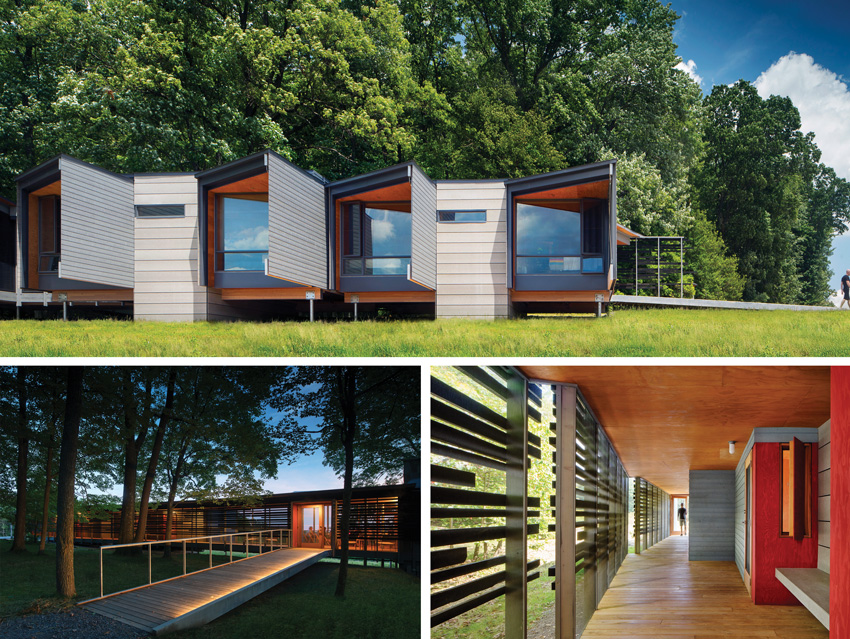 Photos: ©Nic Lehoux (top and bottom left), ©Alexander Denmarsh (bottom right)
High Meadow was intended to complement its rural setting in both form and function, and it provides students of all ages the opportunity to be inspired by architecture that exists in harmony with its setting. One major element that serves as visual inspiration originated in 2015 during the design stage of the four new units, when it was decided that WRC would be an ideal material to fulfill aesthetic as well as durability needs.
The Design
: Although Fallingwater has for more than 20 years sponsored on-site residency programs, by 2015, it decided that the original split-level cabin was not large enough to meet future program demands. Bohlin Cywinski Jackson, the Pennsylvania-founded architectural practice best known for its iconic designs for Apple stores globally, was retained to expand lodging with four dwelling units tied to the main facility via a shared porch and walkway.
In creating the units, the architects remained faithful to the overall goal of restoring, preserving, and fostering an appreciation of the natural world. In order to reduce the project's physical footprint, it positioned the new units above ground on a network of steel columns, with a simple wooden walkway rising from the forest floor to the elevation of the new porch. This screened porch was designed to have a vaulted wooden ceiling and provide views of the meadow and hills beyond. A dark slatted wall would stitch the four units and the porch together with the original cabin, and a screened walkway would lead from the porch to each dwelling—altogether imparting a sparse elegance entirely in keeping with the natural surroundings.
Wood was the prime material for the expansion project: cork flooring is used throughout, and walls and ceilings are made of marine-grade BCX plywood; a horizontal screen of Norway spruce—harvested and milled on-site—is located outside of the four units; and the cabin exteriors are clad in cedar stained shale gray.
The Cedar Solution: Bohlin Cywinski Jackson is hardly a stranger to WRC: it has been using the material extensively for decades for its visual appeal and resiliency, attributes the architects say are due to its superior performance characteristics. Specifically for this project, architectural knotty-grade WRC was used for its predominant grain structure and the silvery-grey patina it would take on over time for the porch, window frames, and doors.
This grade of wood was stained semitransparent grey for the siding, and its use both as an interior as well as an exterior element helped provide visual unity to the entire High Meadow site. All of the porch trims are of WRC, but due to its instant accessibility, structurally graded Douglas fir was used for the ceiling beams.
The Results: The expansion of High Meadow Dwellings is a classic case of WRC being used along with other wood species to impart a less-is-more visual aesthetic. Its materials and finishes are deliberately simple and durable, while their use is pared back to impart the sense of sparse elegance desired by the owners. Fallingwater Institute is now able to double its reach of programming, while creating only minimal disturbance to the historic site. The project won the Silver Award for Architecture from The American Institute of Architects (AIA) Pennsylvania Chapter in 2016.
Moving from the East to the Midwest, let's look now at the award-winning St. Paul Saints' baseball stadium, which is designed to be the greenest ballpark in America, and to which comedian Bill Murray is both co-owner and "team psychologist."
CHS Field Saint Paul Saints Stadium
About the Project: The 7,210-seat CHS Field in the Lowertown district of St. Paul, Minnesota, opened in 2015 after three years of design and construction and is now many things to many people. For sports fans, it is the new home to the St. Paul Saints, with unique design elements that include a seating bowl built into the natural topography of the site. For local residents, it is a revitalized green space in an area where one of the 10 most contaminated sites in the Twin Cities once sat. And from an environmental standpoint, CHS Field is designed to be the greenest ballpark in America, with a rainwater harvesting system, solar panels, and many other energy-savings features.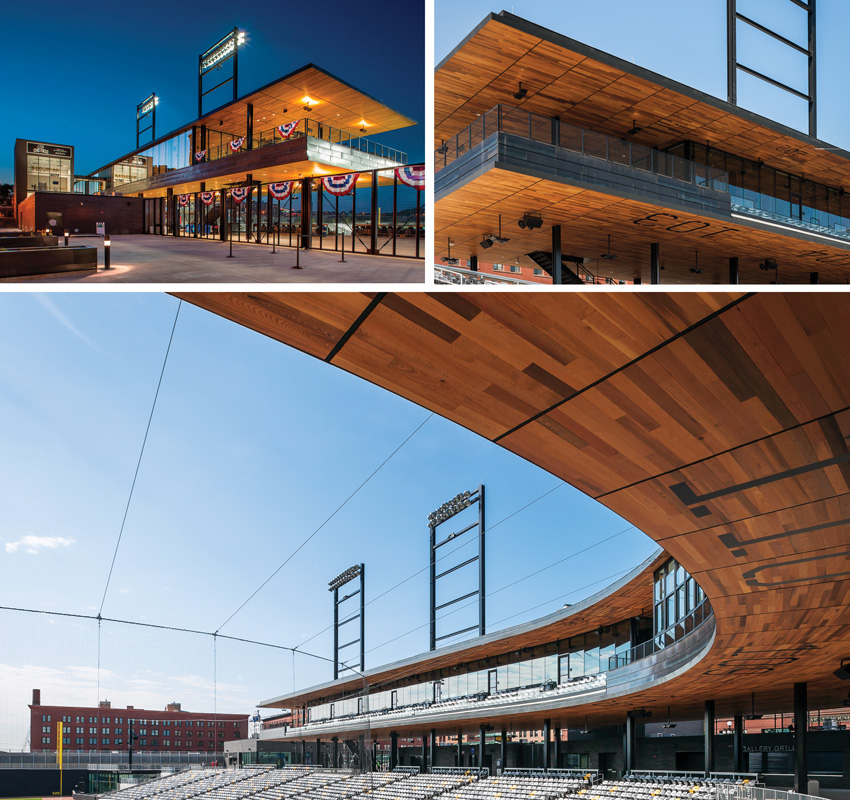 Photos: © Paul Crosby Architectural Photography and © Christy Radecic Photography
While a host of diverse elements attract people to CHS Field (about 450,000 guests are expected yearly), one element stands out as a universally pleasing eye-catcher: the ballpark's extensive use of WRC.
The Design: This project is a collaboration of Snow Kreilich Architects acting as design architects, Ryan Architecture + Engineering serving as the architect of record, and AECOM filling the role of sports architect. The $63-million CHS Field was conceived primarily as a green space amidst 19th century warehouses (a region of widespread preservation initiatives and gentrification). The design adheres to this concept, starting with concourse amenities pushed back into the hillside. The seating bowl and playing field are depressed into the natural topography, thus preserving the visual connection to surrounding Lowertown. The concourse itself doubles as a 360-degree walkway, allowing patrons to navigate the entire field.
The architectural collaboration sought to enhance the social experience endemic to baseball by providing open seating opportunities in the park. They also included an art courtyard behind home plate, outdoor terraces at the suite level, and a large terrace.
Sustainability was a major objective and would result in a 27,000-gallon rainwater harvesting system to provide 25 percent of the property's irrigation needs, a 100-kWh solar array that would provide 15 percent of the ballpark's electrical needs, and many other features.
The Cedar Solution: As is the case with many of the best ballparks, wood would be an important building and finishing material for CHS Field. The Field's owners initially considered other wood species, but consultation with the WRCLA prompted them to conclude that the warmth of WRC would be most appropriate due to its tonal properties. Also, although not forested in Minnesota, cedar is common to the region and has a local feel to which the community can more easily relate.
Based on this input, and in keeping with a design motif taking visual clues from the surrounding Lowertown warehouses, WRC was used by architect Julie Snow for many interior and exterior purposes. Early on, it was decided that cedar would be used as cladding on the underside of CHS Field's suites, club, and press box, which were designed to seemingly float above the concourse on a light steel frame. In this regard, the wood would be the central exterior visual feature. Additionally, as fans enter the ballpark, they would be greeted by a WRC soffit contrasted by black pillars—very similar in style to neighborhood commercial spaces.
The wood as a design element proved to be stunning, especially at night, when a lot of indirect lighting gives the grandstand concourse a warm ambiance. WRC also became a visual showcase in the prestigious Securian Club, where it lines the ceiling, continues without interruption along one wall (as a backsplash for the club's bar and display rack), and then along the side of the bar itself. A tongue-and-groove profile was deemed to be the best strategy for the exterior, and on interior applications, the cedar is spaced to allow for acoustic control. The architects selected clear cedar for durability and resiliency and were careful in exterior applications to use it only as soffits or ceilings, thus minimizing UV exposure and ensuring its visual integrity for many years to come.
The Results: Not surprisingly, patrons to the new CHS Field cite the WRC elements as the ballpark's most striking characteristic. It's one more win for a unique facility that exhibits 21st century environmental values and honors traditions of the past. The project was recognized with an Honors Award from AIA at the national level in 2016. This is AIA's highest recognition of works that exemplify excellence in architecture, interior architecture, and urban design. It was also cited as the Greenest New Stadium of 2015 in the GreenSportsBlog, 2015.
Changing gears a little bit, let's consider now a different type of exterior treatment for a resort location in Telluride, Colorado.
Originally published in Architectural Record
Originally published in December 2018
Notice