Natural Winner: Western Red Cedar and Nonresidential Building
An age-old favorite, this wood species supports a new wave of green building
This course is no longer active
Sponsored by Western Red Cedar Lumber Association
Learning Objectives:
Describe the benefits of using western red cedar in terms of major green-building standards and forestry industry programs.
List the main performance attributes of western red cedar and how they differ from other forestry products.
Explain how red cedar materials were employed in a high school new construction projects, with details on assemblies and finish treatments.
Discuss the kinds of western red cedar products available and their typical architectural applications, with attention to environmental benefits.
Credits:
The use of natural materials in architectural projects is among the most valuable movements spawned by the green building industry. Sustainability is driven both by a reliance on the earth and long-term husbandry. The use of natural products, especially those that are renewable and durable, brings a cascade of benefits: Built environments tend to be healthier. Less pollution results. Occupants are less likely to experience allergies or chemical sensitivities. Energy is saved. And the beauty of nature is on display for all to enjoy.
One of the materials experiencing a recent renaissance of building use is western red cedar, a typical and widespread species in the Pacific Northwest. It is seen in an increasing number of green building projects, including institutional buildings like the award-winning Research Medical Complex of Barcelona, with its exterior lattice of 44,000 western red cedar boards, or commercial buildings like Brian Church Architecture's mixed-use, live-work SEMA 4 development in Leucadia, Calif., with its hull-like western red cedar exostructures.
The recently built Sandy High School in Sandy, Oregon, offers a highly valuable case study on why architects are using western red cedar for these kinds of large-scale gestures. The reasons are myriad, but include such considerations as environmental protection, building durability, and facility life-cycle cost.
This evergreen coniferous was once widely known as shinglewood—for its storied success in protecting Western homes and buildings. The species grows alone and amid stands of Douglas fir and western hemlock in forests, on mountainsides, and in wet lowlands from Vancouver Island and the Oregonian Pacific Coast to the Inland Empire areas reaching into Idaho. Ruddy brown in appearance, western red cedar (sometimes called "red cedar" or "western redcedar") has a uniquely tight and straight graining pattern, typically with few knots. Its smell is memorable, yet architects and builders often favor Thuja for its inherent strength and high resistance to decay and rotting. In fact, this is partly due to its chemical makeup, which includes a natural fungicide, thujaplicin, that contributes to the aroma and persists in the timbers for decades after felling.
It adds up to a worthy cash crop, say experts in building materials. "Western red cedar is the most valuable species of the coastal forests and among the most appreciated architectural materials globally," says Paul Mackie, a technical specialist and field representative for the Western Red Cedar Lumber Association (WRCLA), a trade group representing manufacturers and distributors. "First, it is the most stable of all softwood species, and one unique advantage of western red cedar is that it is extremely lightweight."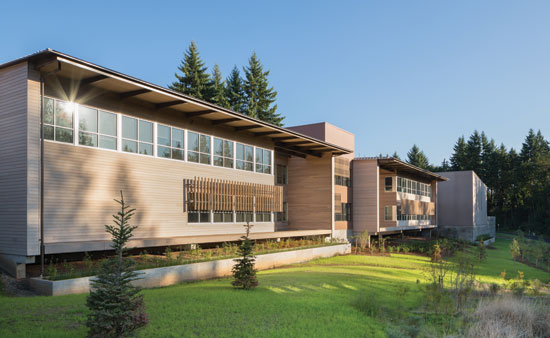 Sandy High School demonstrates commitment to sustainability and achieved LEED G old certification. It also met the local design standards.
Photo by Josh Partee, courtesy of WRCLA
Use of the wood, which is a traditional building material for residential applications, now extends around the world. In Australia and New Zealand, "western red" is favored for shutters, blinds, and window trims. For years it has been commonly used in the United Kingdom, Japan, the Netherlands, the Czech Republic, France, and Ireland, among other places. Recent projects have included a major U.S. big-box retailer, currently rolling out stores around the globe, from Mexico City and Chile to Europe and Russia, with a cladding of North American Thuja.
"The international exposure is amazing," says Mackie, a former wholesale lumber executive whose family has had a legacy of involvement in western red cedar since 1895, and operated western red cedar shingle mills until 1963. "It's an effective choice for architects and building owners who want practically perfect wood. In most cases, one supplier can furnish whatever the project needs."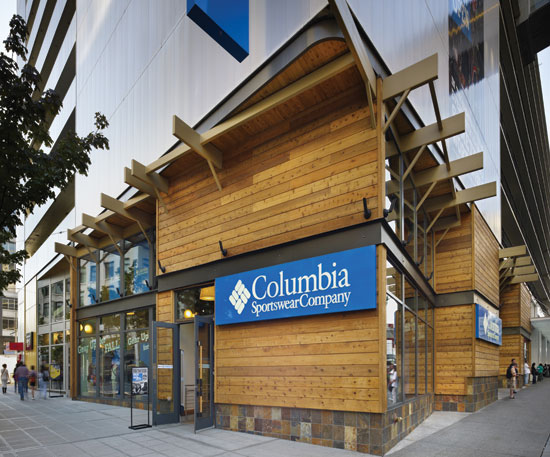 Western red cedar is commonly used for residential buildings, but it is increasingly used for commercial and institutional facilities.
Photo courtesy of WRCLA
Originally published in October 2013
Notice