How to Design With and Specify Western Red Cedar Siding
Many design choices are available with great performance attributes
Sponsored by WRCLA: Western Red Cedar Lumber Association
This test is no longer available for credit
Finishing Cedar
Western red cedar has a natural beauty that is either enhanced or preserved by using finishes. There are a full array of choices on the type of finish but the first thing to remember is that wood, like many building materials, cannot be taken for granted when it arrives at the project site, In order to assure that the finished, installed siding looks the way it is supposed to, a few general recommendations need to be followed. The most critical one is that cedar siding needs to be stored properly onsite. That means the humidity and temperature should be monitored or controlled first to be sure the wood does not react unduly, but also to allow it to acclimatize before installing. Additionally, if the siding is specified as unseasoned (moisture content of 20 percent or more), then it needs to have time to season properly so that any onsite finishes will be accepted and penetrate the wood grain. The recommended moisture content level at the time of finishing is 12 percent or less, which is typically best achieved through kiln drying at the time of manufacture. Of course, if pre-finished cedar siding is used, then the wood has presumably been properly seasoned and stored, minimizing the sensitivity to site issues as well as saving time during construction.
For cedar siding that is finished onsite, there are essentially four choices to consider regardless of type, profile, or grade:
Unfinished Siding: Although this choice is not very common, it is quite possible because of the natural ability of cedar to resist deterioration. Over time, it mellows to a naturally weathered silvery grey color on the surface. This may be desirable for reasons related to design, practicality, or sustainability, but it also has some other implications. First, all cedar siding will need some maintenance and any contaminants such as dirt or mold need to be cleaned promptly to avoid damage to the surface. Second, cedar does not weather uniformly in all climates, so it may develop spots or dark blotches. Third, if the decision is made later on to finish the siding after it is weathered, some extensive preparation may be needed to clean and restore the exposed face of the siding first so that a finish can be successfully applied.
Clear/Transparent Finishes: A clear finish is sometimes used because it preserves the appearance of the natural cedar with minimal change in the color of the wood. Clear finishes are available in water-based or solvent-based formulas, and additives such as fungicides and UV filters can be included for enhanced protection. However, while clear finishes work great on indoor applications they do not resist ultraviolet degradation from the sun in exterior siding. Hence, they will need to be reapplied regularly, usually about once a year. Fortunately, the surface preparation to do so is usually fairly simple. Nonetheless, it will need to be done. Note that transparent, non-flexible, film-forming finishes such as lacquer, shellac, urethane, and varnish are not recommended for exterior use on western red cedar.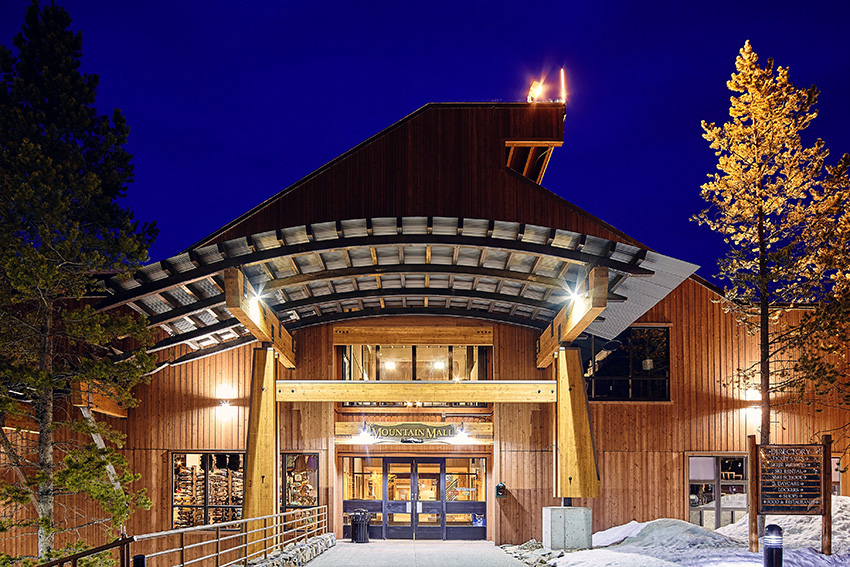 Mountain Mall by Centre Sky Architecture, Ltd; photo: Ryan Day Thompson
Semi-transparent stain is used on this resort building in Montana to create a natural, stunning appearance.
Semi-transparent Finishes: There are two types of semi-transparent finishes, solvent (oil) based and latex (water) based. The solvent-based stains penetrate the wood and do not form a film like paint does and are often considered the best choice for exposed, natural-looking, exterior, cedar siding. They can typically be applied in one coat on smooth face or two coats on textured face with a longer service life than fully transparent stains (two to six years). Latex semi-transparent stains are similar in appearance to solvent-based stains but they don't penetrate the wood in the same way. Instead, they create a thin film on top which tends to degrade over time and flake off from the surface. That means the surface preparation to re-coat with these latex stains is more involved. Manufacturers are developing better water-based stains in the interest of sustainability and improved longevity, so it is worth checking with suppliers on the latest available products.
Solid Body/Opaque Finishes: In some cases, paint or solid color stains are desired over cedar siding and/or trim. The first thing to recognize here is that some of the same natural characteristics that make cedar durable can also create unwanted staining of opaque finishes. Therefore a stain-blocking primer coat is always needed when any opaque finish is used. The best way to have that primer applied is in the factory where it can coat all sides of the wood under controlled conditions and assure a uniform, consistent covering. Then, either an exterior paint or solid color stain can be applied, either in the factory or in the field. If applied in the factory, it typically comes with a warranty on the finish on the order of 15 to 25 years depending on the number of top coats. If applied in the field, the warranty, if any, will be based on the manufacturer of the finish.
As with semi-transparent stains, primers, paints and solid stains are available in water-based (latex and acrylic) and solvent-based (alkyd and oil-modified) formulations. It is critically important that the type of primer and the type of final finish are the same—i.e., no oil-based paint or stain over latex primers since they are not compatible. Solid color paint over the proper primer will provide the most control on the final color and the most surface protection of the wood. Solid color stains have similar characteristics but can allow more of the texture of the cedar to remain. There are also some semi-solid stains that reveal the wood grain with an effect on the wood between that of semi-transparent and opaque stains.
Clearly there are many options for creating a final design appearance for a building with cedar siding. However, regardless of the finish type, the final design details and the exposure to variable weather conditions will ultimately impact the actual service life of finishes.
Conclusion
The exterior finish of a building is the visible face that is most often experienced by the people who use the building and the general public. It is a significant and integral part of the total design of a building and a critical component in the long term weatherability and durability of the building. Western red cedar siding is a wood siding choice that benefits from a well-developed industry with the experience and the offerings to provide a variety of versatile products to work with. Understanding the types, profiles, and grades of cedar available can help architects create designs of virtually any style. Recognizing the inherent durability and characteristics related to fastening and finishing allows specifications to be written to assure long lasting results. Overall, western red cedar is a sustainable material of choice for siding on projects of all types and in virtually any location around the world.
Peter J. Arsenault, FAIA, NCARB, LEED AP, is a practicing architect, green building consultant, continuing education presenter, and prolific author engaged nationwide in advancing building performance through better design. www.linkedin.com/in/pjaarch
| | |
| --- | --- |
| | The Western Red Cedar Lumber Association represents quality "Real Cedar" producers, distributors, and retailers throughout North America. Founded in 1954 and known as "the voice of the cedar industry," WRCLA offers extensive resources to assist with selection, specification, application & quality standards. www.realcedar.com |
Originally published in Architectural Record
Notice