How to Design With and Specify Western Red Cedar Siding
Many design choices are available with great performance attributes
Sponsored by WRCLA: Western Red Cedar Lumber Association
This test is no longer available for credit
Grades of Cedar Sidings
Wood is known to be as variable as the trees and forests that they come from. Therefore, the only proven way to specify qualities of wood is to base it on an independent, objective grading process that can categorize different grades of wood quality. This is commonly done for dimensional (structural) lumber based on standards by grading agencies such as the Western Wood Products Association (WWPA), West Coast Inspection Bureau (WCIB) and National Lumber Grades Authority (NLGA) with categories such as "Select Structural," "Number 1," "Number 2," and others. However, when it comes specifically to cedar siding, this grading system for structural lumber and the categories used there do not apply. Instead, these agencies use a separate grading system which identify "Appearance Lumber Grades." These grading systems use terms like "Clear Heart," "A Clear," "B Clear," and others. The word "Heart" in the case of grading cedar refers to the inner wood in a tree as opposed to the outer sapwood between the heartwood and the bark. Hence, it is important at the outset to recognize that these different appearance grading categories are used.
The people who actually do the inspection of wood products include organizations like the West Coast Lumber Inspection Bureau (WCLIB) or, in Canada, the National Lumber Grades Authority (NLGA). These organizations publish their own rules for determining how to classify a wood product to a particular grade.
They also interface with wood product manufacturers to determine which grades apply to different products such as siding, trim, boards, etc., since not all grades are applicable to all products. Note that many cedar siding products are graded based on the smooth face of the milled pieces. However, some products are sold and used as a reversible item with the option of exposing the re-sawn back. Typically, there will not be a lot of quality difference between the two sides of siding products because they are simply processed differently to have a different face appearance.
It is also important to recognize that after products are graded, they aren't necessarily sold in packages of only one grade. For example, some grades of siding are not sold only by themselves but are sold in lots with a mix of another, higher grade. In particular, straight B Clear grade is not typically available all by itself, but a small percentage may be included with the next higher grade, which would be A Clear.
In recent years, grading organizations have recognized that not all appearance wood needs to be clear, but that cedar with a knotty appearance is desirable too. While clear, tight grained heart wood generally provides a cleaner, more contemporary look suitable for many designs, knotty grades of cedar are more rustic in appearance and desirable for other design situations. And just as there are categories for grades of clear cedar products, there are also categories for knotty cedar products. (Note, however, that one designation, Select Tight Knot (STK), is not an official grade but a common trade designation. The proper grade classification is "Select Knotty.")
Types of Cedar Sidings
With an understanding of the difference between structural grading classifications used for dimensional lumber and appearance grading classifications used for exterior cedar siding products, we can now look at the different types of cedar siding products available. They fall into four siding categories as follows:
Bevel Siding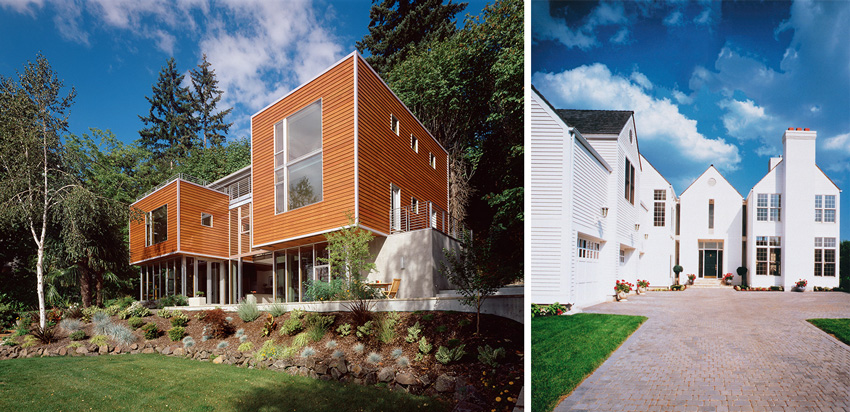 Bevel cedar siding is used for horizontal siding applications in a common clapboard style on many building styles and types.
Western red cedar bevel siding is the most widely used siding type (also known as clapboard siding). It is produced by taking a rectangular sawed cedar board and re-sawing it at an angle to produce two pieces that are each thicker on one edge than the other. This manufacturing process results in pieces with one face textured by the angled saw cut. The other face is typically smooth. Bevel siding should only be installed horizontally, never vertically or angled, since it is not designed to accommodate water runoff in those positions. It is installed with the thin edge facing upward and the thick edge of the next piece placed over it with varying reveals (exposed face area) based on the nominal width of the siding (i.e., 4 to 12 inches). When done properly, it creates an attractive, consistent pattern accentuated by a shadow line with a spacing that varies depending on the width of the siding.
Bevel siding is available in both clear and knotty grades with the clear providing a premium quality appearance for upscale designs and the knotty siding providing a warm, casual, and rustic look. While continuous pieces of siding boards are the norm, it is also possible to use finger-joined bevel siding in clear grades. The finger-joined process allows the bevel siding to be available in longer lengths up to 16 feet, which installers appreciate for the speed and ease of construction with fewer field joints. In most cases, the precision-fitted finger joins are virtually invisible.
Seven grade levels apply to bevel siding. Clear Vertical Grain (V.G.) Heart is the premium grade with a smooth face and all vertical grain sawing with no growth characteristics visible (such as small knots or other grain interruptions). A Clear and B Clear grades allow slightly more characteristics and are of mixed grain. As noted, B Clear is usually only sold as a portion of A Clear siding lots. Clear Rustic grade bevel siding does not have a smooth siding face but instead offers a sawed textured appearance. This grade allows for limited growth characteristics that do not detract from its serviceability, making it middle choice between the clear grades and the knotty grades. Moving to the knotty grades, the premier version is Select Knotty, which includes knots that are sound and tight. It is usually available with a textured face. Smooth face may be available by special order. Lots of Select Knotty may include some amount of the slightly lesser grade Quality Knotty, although Quality Knotty is not typically sold as a grade unto itself (similar to A Clear and B Clear lot sales). Finally, there are proprietary product standards such as Architect Knotty, which is defined by the Western Red Cedar Lumber Association as containing no open characteristics or through defects. It allows the use of adhesives on the reverse side to secure knots and is particularly well suited for factory priming or finishing.
Pattern Siding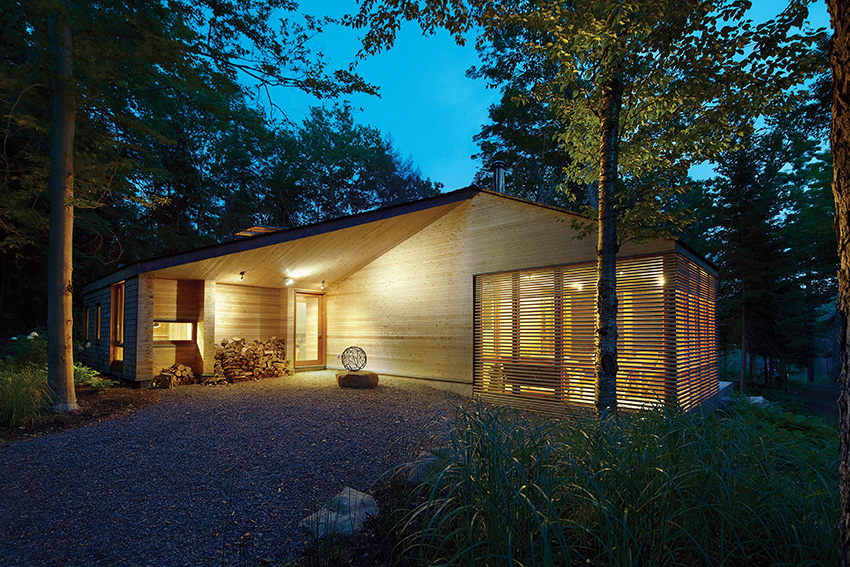 Stealth Cabin by superkül; photo by Shai Gil Fotography
Pattern siding in tongue and groove style can be used in horizontal or vertical orientations to create dramatic effects using clear or knotty grains.
The tradition of wood siding in North America has not been limited to clapboard or bevel siding. Recognizing this, cedar siding is available in two other patterns or basic shapes. The first is tongue and groove siding, which is known for its versatility since it can be installed horizontally, vertically, or diagonally with each method providing a distinct and different look. The joints between the siding pieces can take slightly different forms to allow very tight, narrow joints or slightly wider joints producing a shadow line. Commonly available sizes include 1x4, 1x6, 1x8, and 1x10 in various lengths in seasoned (kiln dried) form. The face of tongue and groove siding can be smooth or saw textured, often produced as reversible.
The second type of pattern siding is shiplap siding. It is similar to tongue and groove but is milled to create a profile such that each board partially overlaps that of the next one. This produces a flat vertical surface with shadow lines, excellent weather protection in all orientations (horizontal, vertical, or angled), and a means to allow for dimensional movement. Channel rustic is a common shiplap profile. Available sizes include 1x6, 1x8, 1x10 and 1x12 in various lengths. It is normally provided in seasoned, knotty grades with a saw textured face, although clear grades can be manufactured to order. Shiplap patterns are produced and graded to the intended exposed face.
Pattern siding is produced in five grade levels. Clear Heart grade is the highest grade with only heartwood on the exposed face. A Clear grade is the same as discussed for bevel siding with some limited imperfections allowed and some B Clear grade included in packaged lots. Select Knotty is again the premium level of the knotty grades with an allowance for some Quality Knotty grade to be included in lots. In some cases, however, the boards may need to be trimmed on the site to yield suitable quality for a particular project. In addition, there are proprietary product standards available such as Architect Knotty and others—check with suppliers for more information on those.
Boards for Siding and Trim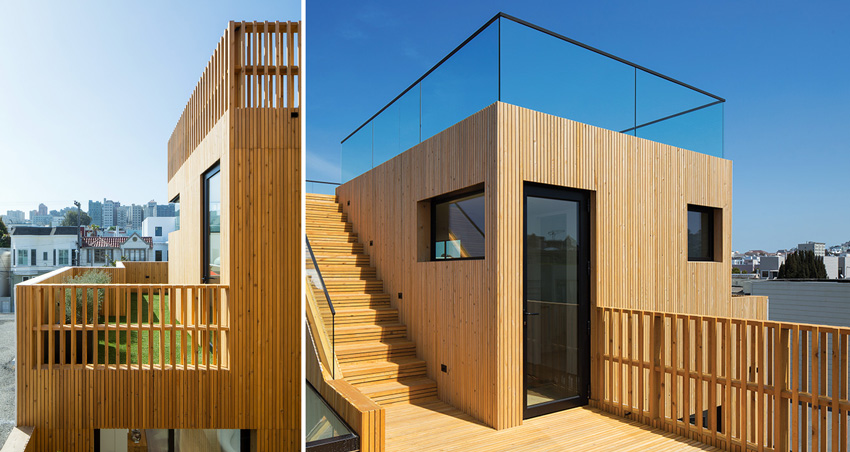 No. 1864 by M-Projects with Larson Shores; photo: Ethan Kaplan
Board siding can be used creatively to create a vertical finish with clean lines and texture.
Flat, milled boards of cedar play a role in siding in two ways. First they can be used to create board and batten siding, which uses wide boards run vertically and narrow boards covering the joints. While a common combination is the use of 1x3-inch battens over 1x10-inch boards, many different sizes are available ranging from 1x2 to 1x12 inches and can be combined to satisfy different design aesthetics. In some cases, the pattern can even be reversed with the battens installed first and the boards over the top to create a recessed channel. In any case, board and batten siding is usually rough sawn, although boards can be smooth surfaced on one face and two edges (designated as S1S2E).
The second use for cedar boards on exteriors is to provide trim for corners, fascia, soffits, windows, doors, and other common trim conditions. As with most other wood trim, cedar boards are available in a variety of sizes including nominal thicknesses of 1, 5/4, and 2 inches and nominal widths between 2 and 12 inches. They can be smooth surfaced or rough sawn textured on the face and can have three or four edges smooth surfaced (S1S2E or S4S designations).
Because of the variety of uses and options, boards can be categorized into any of nine different grade levels—the most number of grade levels for a cedar product. Similar to pattern siding, Clear Heart, A Clear, and B Clear grades are used in the same manner for boards. In addition, two others are also available in C Clear and D Clear with D Clear grade normally only being sold as an acceptable portion of a C Clear lot. These lower grades are still considered quality lumber suitable for exterior building trim and other very visible uses, but they require more jobsite trimming than higher grades. Cedar boards are also available in knotty grades including Select Knotty, Quality Knotty, and proprietary product standards like Architect Knotty—just like for pattern siding.
Originally published in Architectural Record
Notice