How to Design With and Specify Western Red Cedar Siding
Many design choices are available with great performance attributes
Sponsored by WRCLA: Western Red Cedar Lumber Association
Learning Objectives:
Identify the characteristics of real western red cedar related to appearance, durability, and versatility.
Investigate the different types and grades of western red cedar siding and trim products related to appearance and performance.
Recognize and select the different common profiles of western red cedar siding and trim for specific project applications.
Specify appropriate finishes for western red cedar to create final colors, maintain the surface appearance, and support the natural durability of cedar.
Credits:
This course can be self-reported to the AIBC, as per their CE Guidelines.
This course is approved as a Structured Course
Approved for structured learning
Approved for Core Learning
This course is approved as a Core Course
Course may qualify for Learning Hours with NWTAA
Course eligible for OAA Learning Hours
This course is approved as a core course
This course can be self-reported for Learning Units to the Architectural Institute of British Columbia
This test is no longer available for credit
The use of wood for interior and exterior surfaces in buildings is part of a long tradition in North America due to the natural abundance of trees and lumber as well as the acquired skills of woodworking professionals. Among the choices of wood species, western red cedar has been prized for its natural durability and stability (comparable to redwood) plus its natural beauty that comes from a fine grain and pleasing natural color. While western red cedar is a regional product of the Pacific Northwest area of North America, it is used in buildings around the world because of these fundamental attributes. The types of buildings that architects select it for include well-designed custom homes, multifamily buildings, commercial structures, retail settings, hospitality and resort facilities, museums, churches, educational facilities, and most other project types where beauty and durability are sought. Like all wood products, there are best practices borne out of years of experience for how to select, specify, design with, install, finish, and maintain red cedar. This continuing education article will explore some of the specific aspects of how architects can successfully, and elegantly, incorporate western red cedar siding and trim into a full range of new or renovation building projects.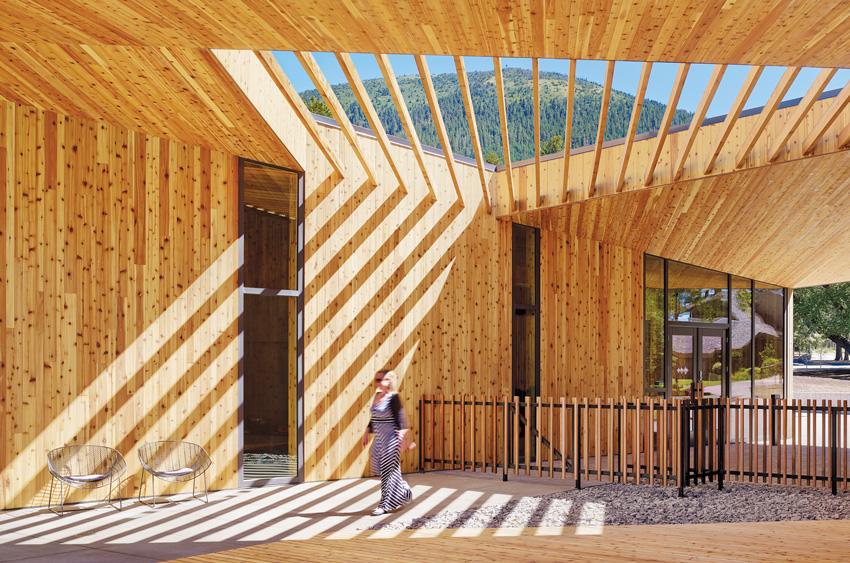 Lakeside at Black Butte Ranch by Hacker; photo by Jeremy Bittermann
Western red cedar is a regional product of the Pacific Northwest, Alaska, and Idaho areas of North America but it is used throughout the United States and around the world to create buildings of enduring natural beauty.
Characteristics of Cedar Siding
Architects, interior designers, building owners, and facility managers have been drawn to use western red cedar (WRC) for some specific reasons. These include:
Appearance – Western red cedar is real wood with the corresponding authentic appearance of wood. Its grain and natural color have helped it to become regarded as a superior aesthetic imbued with decidedly crisp, yet superbly rich, tonal properties. Because of this superior look, it is often used as the basis for other, non-wood products, to imitate wood. Real western red cedar, however, can create sublime outdoor spaces, provoke cutting-edge architecture and inspire innovative interiors making it quite attractive for a range of design styles including traditional, contemporary, arts and crafts, and modern styles.
Durability – Western red cedar is well known for its longevity and durability due to the natural makeup of the wood. It has been found to be naturally resistant to rot, decay, and insect attacks, which means anything built with it will last longer and require less maintenance.
Versatility – Unlike some other wood species, western red cedar is pitch and resin-free. This means it's ideal for accepting and holding a wide range of wood finishes including stains, bleaches, traditional solid colors, and naturally beautiful semi-transparent finishes. Western red cedar also offers a wide range of sizes, surface textures, grades, and profiles—both standard and custom. Therefore, it is easy to incorporate into a wide range of design schemes and patterns.
Sustainability – Independent studies prove that when it comes to environmental performance, natural wood is superior to synthetic products in every way. While other building materials generate greenhouse gases western red cedar trees actually remove greenhouse gases from the atmosphere. Further, unlike many manufactured or composite material, western red cedar is fully biodegradable at the end of its useful life.
Perhaps one of the best-known sustainability attributes of western red cedar is that it is a renewable resource when harvested and re-planted using sustainable forest practices. In fact western red cedar in North America is sourced from some of the most sustainably managed forests in the world. Siding and trim comes from the Pacific Northwest including Western Montana, Washington, Oregon, Idaho, Alaska, and British Columbia. The largest single source is British Columbia. The Provincial government owns 95 percent of the forest land. These forests are in turn managed by private companies who participate in sustainability certifications such as the Sustainable Forestry Initiative (SFI), the Forest Stewardship Council (FSC), and the Canadian Standards Association (CSA). The LEED rating system for green buildings now recognizes all three of these certifications.
In all, western red cedar provides a building material that is suitable for a number of uses. For purposes of this article, we will focus on its use as an exterior siding product and explore how to use these benefits to achieve excellence in design and construction.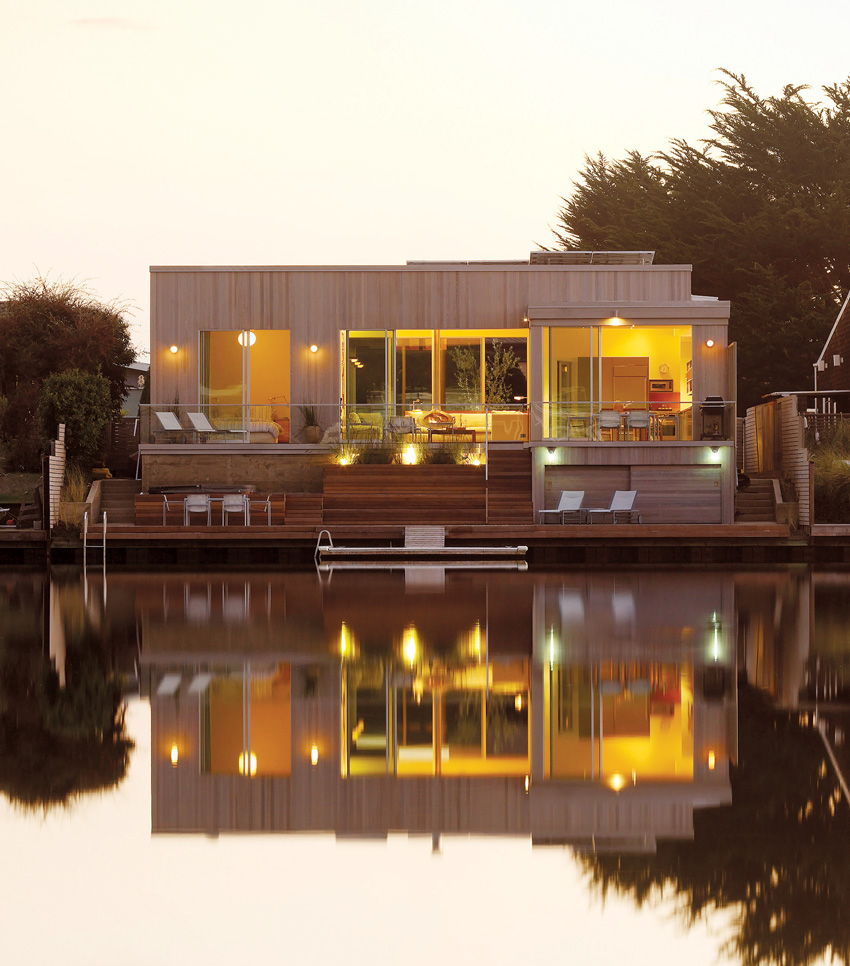 Seadrift Residence by CCS Architecture, Cass Calder Smith; photo: Matthew Millman; San Francisco, California
Western red cedar siding is known for providing great appearance, natural durability, considerable versatility, and proven sustainability.
Originally published in Architectural Record
Notice