Energy-Efficient Hand Dryers
New models offer more choices to optimize performance in restrooms of all sizes
This course is no longer active
Sponsored by World Dryer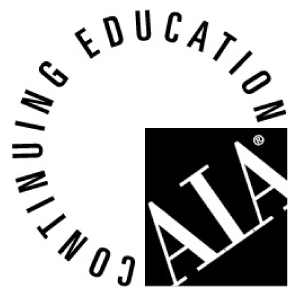 Continuing Education
Learning Objectives - After this course, you should be able to:
Recognize the range of variables that contribute to the design and ongoing operation of clean, efficient, and appealingest rooms.
Verify the current facts about paper towel use and their resulting waste and ongoing cost in restrooms.
Analyze the energy, and environmental impacts that can be reduced by using high-speed energy-efficient hand dryers instead of paper towels in both new and retrofit applications.
Determine the contributions of high-speed energy-efficient hand dryers in contributing to a healthier indoor environment.
Credits:
All buildings need restrooms, and everyone who owns, operates and uses them can appreciate those that are well designed. Part of the definition of good design includes attention to the efficiency and sustainability of the components that make them up. Often, green building design focuses on the water, using component of restrooms, which, while important, is not the whole story. Considerable attention is also focused on how to provide hand drying that is effective and sanitary for users while providing energy and cost efficiencies for owners and building managers. Understanding the options and the implications of hand drying decisions contributes to the creation of greener, more sustainable restrooms and the buildings they are located in overall.
 
Restroom Design Influencers
Restrooms are necessary, but they can also be costly. In fact they could be the most costly rooms in a building on a comparative square foot basis since there are more built-in fixtures, features, and equipment there than most other spaces. Add in the fact that these rooms are often the most used and need to be finished in durable materials that are sanitary and water tolerant, and the construction costs get compounded further. Beyond these initial costs, however, there is the need for daily or sometimes even hourly maintenance, cleaning, and replenishing of supplies. This means that they continue to generate costs to the owner or manager every day that they are in use.
Architects working on the design of restrooms who are sensitive first to meeting the functional needs of restrooms but second to also understanding the ways to control efficiencies and costs can create designs that truly achieve both. To begin with, there are a number of fundamental pieces of information needed to create successful and sustainable designs. It starts with the nature of the building. A stadium or concert hall is obviously quite different from a retail store in their restroom needs even though they are both public places. An office building with employees present for long hours is different than a doctors' office building with patients coming and going. Confirming and clarifying the real pattern of the people using the building will directly influence the need and design of restrooms that are there to serve those people, often well beyond the code minimum requirements that dictate fixture counts. The demographic make-up of the people using the restroom will certainly come into play as well. A single gender facility with occasional visits from the other gender will need a different balance than those commonly visited equally by both men and women. A facility that serves predominantly handicapped or elderly users will need more restroom amenities than the standard ADA or code minimums to properly meet those needs. And of course, the anticipated use level on an hourly, daily, weekly, or other basis needs to be understood to appropriately address not only the restroom size and layout, but also the effective pattern of people using those restrooms. Since there are often real peak times of use related to other activities in the building, the final design needs to address those peaks, or bear the critique of those waiting in the lines that may form as a result. All of this will likely influence not only the number of restroom fixtures and supporting equipment but also help determine their best locations.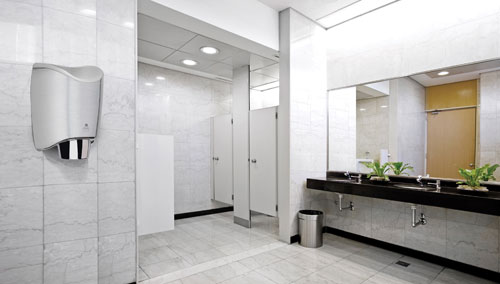 Sustainable restroom design includes the selection of energy-efficient hand-drying equipment.
Photo courtesy of World Dryer, Inc.
Notice