The Intersection of Universal Design and Sustainable Living
Accessibility and sustainability come together in kitchen and laundry spaces that combine established design principles with proper appliance selection
Sponsored by Whirlpool Corporation
This test is no longer available for credit
Integrated Kitchen Design
With an understanding of the principles of integrating universal design and sustainable design, let's focus on what is arguably the most complex room of a living unit to design, namely the kitchen. The National Kitchen & Bath Association (NKBA) is a great resource and the recognized trade association for developing planning and design guidelines for residential kitchens and bathrooms. In 2012, it worked with John Wiley and Sons to publish Kitchen Planning Guidelines with Access Standards to provide designers with good planning practices that consider the needs of a wide range of users. For general issues, these standards reference the 2012 International Residential Code (IRC) and the International Plumbing Code, while for accessibility the reference is ICC A117.1-2009 Accessible and Usable Buildings and Facilities. This publication offers 31 different kitchen planning guidelines that address kitchen layouts, circulation, reaching distances, work areas, and many other details of creating a good, accessible, kitchen design. More importantly, it epitomizes the concept of universal design in that it shows how to design for all people.
From a sustainability standpoint, there are many great resources to draw from including LEED for Homes or ENERGY STAR®. Essentially, however, kitchens need to meet the same general criteria as the rest of the building in terms of healthy, appropriate construction that allows for light, fresh air, and energy-efficient thermal comfort. But there are some things specific to kitchens to focus on as well. Notably, the appliances in the kitchen require energy and in some cases water that should be used efficiently or only as needed. Appliances can also contribute to unwanted noise when they are running if not acoustically controlled. Additionally, the kitchen is a common place to provide trash receptacles, which means that from a sustainability view, receptacles for recycling are also needed. Some of these sustainable design elements will affect the amount of space required, and some will affect the selection of materials and equipment.
Pulling this all together, a kitchen that is truly sustainable and universally accessible is also efficient in its use of space, such that it doesn't make the living unit bigger than really needed in the first place. Single-floor living is the usual overall starting point, suggesting that the kitchen is integrated into the main living level. Access into the kitchen from other areas will require an accessible path not only through adjacent spaces, but also leading from a garage or entry door following level floors or acceptably sloped surfaces at 1:12. The circulation and flow into and through the kitchen also needs to avoid interfering with the functionality and flow of the kitchen. It also needs access paths that can accommodate people walking, using wheelchairs, or both.
The functionality of a kitchen is commonly broken down into five explicit zones for storage, preparation, cooking, serving/eating, and clean-up. Each of these zones need to be addressed as an integrated part of an overall kitchen design that allows for accessibility and sustainability. We can look at these five zones in more detail as follows.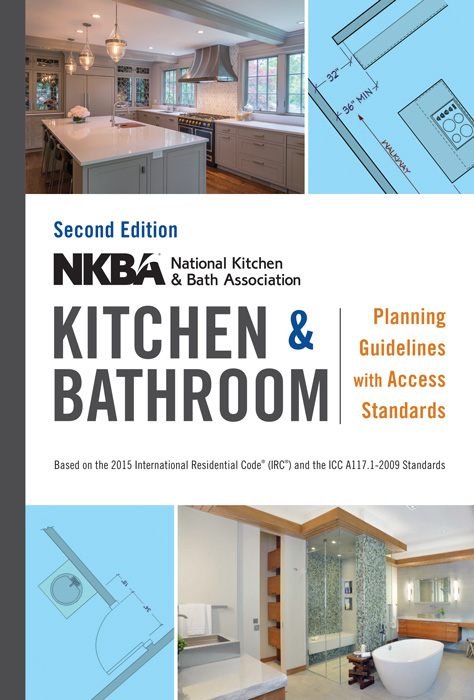 Graphic images in the rest of this article are excerpted from the NKBA Kitchen & Bathroom Planning Guidelines with Access Standards published by John Wiley & Sons. Copyright 2012: National Kitchen & Bath Association. This material is reproduced with the permission of the NKBA.
The National Kitchen and Bath Association (NKBA) has authored a set of design guidelines for kitchens and bathrooms with accessibility standards included. A new, second edition is expected in January of 2016 published by John Wiley & Sons.
Storage Zone
One of the primary functions of a kitchen is to keep or store food, cooking implements, dishes, and other related items. The universal design key, of course, is that everything being stored is easily placed and reachable by everyone. The trend in kitchen storage design is evolving notably to do exactly that. Upper wall cabinets are being used less frequently since they are difficult to reach by many average-height standing adults and even more so by anyone sitting, as in a wheelchair. Hence, a trend has been observed that these cabinets are being replaced with lower-height, open-front shelves that provide ready access and display of things like dishes, glassware, etc. Similarly, instead of lower cabinets with doors concealing fixed shelves that may be difficult to reach down into, drawers are emerging as a preferred option. It is clearly easier for anyone to pull out a drawer to view and access the contents but it can be particularly better for anyone who has trouble bending or kneeling down.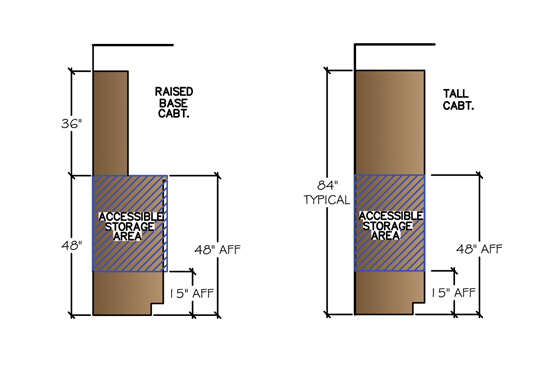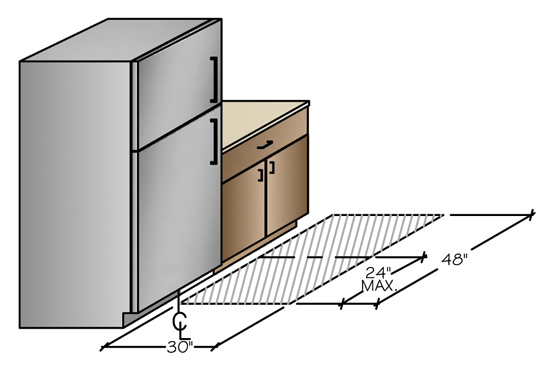 Images excerpted from the NKBA Kitchen & Bathroom Planning Guidelines with Access Standards published by John Wiley & Sons
The storage zone of a kitchen needs to address access of shelving and cabinetry, as well as refrigeration.
Storage also includes the need to refrigerate or freeze perishable food. That means an appliance to refrigerate and/or freeze food is part of this storage zone. We are all aware that there are many different choices in such appliances, but there are certainly some that meet sustainability and accessibility better than others. From an energy standpoint, refrigerators have typically been cited as the most energy-intensive household appliance because they operate 24 hours a day, every day, all year. Improvements in the mechanical portion of the refrigerator, the ability to control it, and the insulation used all have helped to reduce the amount of energy consumed. When selecting a refrigerator, the decision should be based on choosing one that is as energy efficient as possible, which is made easier by looking for the blue and white ENERGY STAR® label associated with the appliance. ENERGY STAR® is a federal program of the U.S. Environmental Protection Agency (EPA) that allows manufactured appliances to earn that designation by providing evidence that they perform better than the current federal minimum standards for comparable appliances. In 2015, refrigerators were required to operate at least 9 percent more efficiently than minimum standards in order to be ENERGY STAR® rated.
Generally, it is usually less costly and more energy efficient to run one larger refrigerator/freezer appliance rather than two smaller ones. If a single refrigerator/freezer appliance does not appear to meet the food storage needs of a user, then there are two fundamental options: either increase the size to a larger unit or add supplemental refrigeration appliances. For design situations that call for a variety of notably different refrigeration needs, including different temperature settings for significant quantities, then multiple units may be a logical choice. This may be the case in a large multi-generation household; for example, where a larger, built-in refrigerator-only unit is supplemented by a similar but separate freezer-only unit. From a design standpoint, locating these units as part of the storage zone makes the most sense. However, if smaller supplemental refrigeration is needed, such as for storing wine only or for a separate area for serving, then a small, dedicated unit set to the appropriate temperature may make sense.
From an accessibility standpoint, refrigerators could be looked at as a big cabinet. That means placing freezer or refrigeration drawers in the middle or lower section of the appliance that can be pulled out for easy access will be easier than only relying on swinging doors. Nonetheless, since most use swinging doors of one type or another, the selection should be based on the ease of use, both from a standing position and from a wheelchair. Side-by-side refrigerator/freezers are one option for full-height access to both. However, French-door-style appliances can provide full access to the refrigeration portion, which may be the most actively used portion, and they do so with minimum impact on clear floor space by reducing the space needed for the door-swing. Chest-style freezers that are very deep are generally difficult to reach into and use by most people, and particularly for those in a wheelchair or those with difficulty bending, so they are not the best choice here. Common swing-door refrigerators with a freezer on top can also prevent some people from accessing them easily, which is why a freezer drawer below the refrigerator can be more universally accessible.
Accessibility guidelines call for adequate approach areas to refrigeration, such that a clear space of 30 by 48 inches is available in front of the appliance. That access space should be offset by no more than 24 inches from the centerline of the refrigerator on the handle side. There is also the requirement that a "landing" area is located immediately adjacent to the refrigerator or within 36 inches of it on a nearby counter top. The purpose is to allow for an item to be set down on the counter, freeing up both hands to open or close the refrigerator door.
Preparation Zone
When it comes time to prepare food or a meal, a horizontal work surface is needed, recommended to be adjacent to a sink for rinsing or cleaning food. Acknowledging universal design in creating this work zone means acknowledging that the people using that work surface may have different abilities to stand for extended periods or not at all. Therefore, a work surface that can accommodate standing or sitting is called for. That can translate into different surfaces that are different heights ranging from 29 to 36 inches or an adjustable surface that can raise and lower within that range to suit a person's needs. It also presumes that a chair, whether with wheels or not, or a stool can be placed appropriately with leg room under the work surface, not with a base cabinet in the way.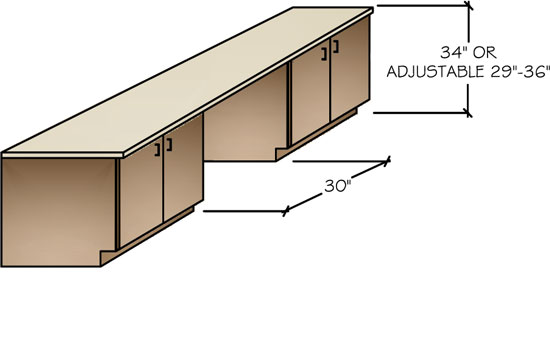 Images excerpted from the NKBA Kitchen & Bathroom Planning Guidelines with Access Standards published by John Wiley & Sons
The preparation zone should be located near a sink and provide access for either sitting or standing.
The standards for accessibility have established accessible work heights, but the NKBA guidelines go further in demonstrating different heights for different capabilities. Specifically, they suggest that at least one 30-inch-wide section of countertop be provided either without a base cabinet underneath within the height ranges above, or that a removable cabinet be provided in the event that a seated access is needed in the future.
Cooking Zone
This area of the kitchen is typically very appliance centered, which can include a single integrated appliance or, more commonly, multiple cooking appliances. In order to address universal design needs, appliances are being placed and located at heights that are comfortable and usable for everyone rather than limit them to traditional locations and heights. Microwave ovens, for example, need to be readily accessible at a height suitable to people who are standing or sitting. As such, they can be located independently from other appliances or as part of a cooking center with multiple options. Either way, they can be placed to be reachable at counter height, below counters, or slightly above the counter as may best suit the overall design. Allowing for the microwave to be moved offers the most flexibility using shelves at different heights that can receive the microwave oven. In terms of efficiency, while microwave ovens are a known and expected time saver, they also generally use one-half to two-thirds less electricity than a conventional oven, particularly when used for reheating small portions. Because less heat is generated in the kitchen, residual savings may accrue from reduced air-conditioning loads in the unit.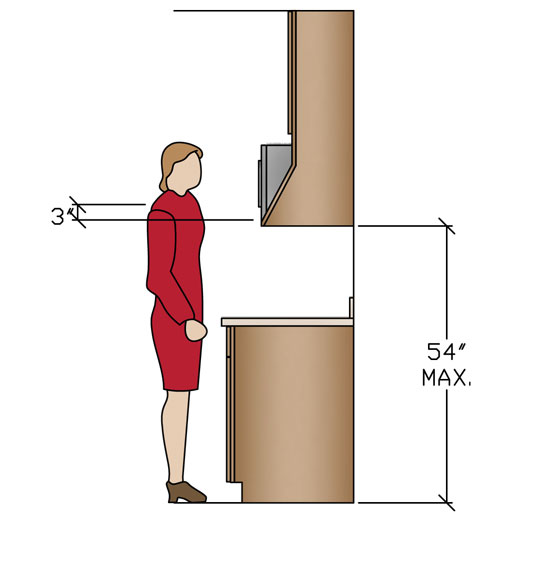 Images excerpted from the NKBA Kitchen & Bathroom Planning Guidelines with Access Standards published by John Wiley & Sons
Cooking zones need to address appliance height as well as landing areas for placing things while doors are opened or other maneuvers done.
Turning to conventional ovens, certain free-standing ranges are being manufactured with two oven cavities, typically a smaller one above a larger one. This provides convenience in cases where two separate dishes are being cooked at the same time but which require different temperatures. However, it is also more energy efficient because the oven cavities are smaller than a comparable free-standing range with just one oven large cavity. Hence, each individual cavity requires less energy to heat up to temperature while heating up faster in the process. Models that provide a smaller top oven cavity, where a vast majority of meals could be cooked, use less energy overall than the traditional larger single cavities. This also means that the upper cavity is easier to access from both a standing and sitting position.
Separate built-in wall ovens can achieve the same convenience if they are raised up to an accessible height. This makes it easier to put things into and out of than a lower conventional oven that requires bending or lifting but may or may not be as energy efficient. Choices in features and types will impact energy performance, but they also offer other options to suit the lifestyle of the occupants. Convection ovens, for example, save time by using an internal fan to move heat inside the oven. They can average 20 percent more energy efficiency than standard ovens because the heated air is continuously circulated around food, meaning heat is distributed more evenly, and cooking time can be decreased. In any version, some ovens are self-cleaning, which requires energy to heat up the appliance to a very high temperature and burn off any soil inside. Some have innovative coatings on the cavity wall that make it harder for soils to stick, while some use lower cleaning temperatures, all in the interest of saving energy.
Cooking surfaces for pots, pans, etc. can be accommodated by cooktops that are part of a range appliance with an oven or are separated out as a stand-alone appliance. Separating out the cooktop from the ovens allows for different types of cooking functions to occur in different specific locations, which may be appropriate for high-use kitchens. It also allows for ovens to be located separately for the most convenient access for everyone. For a fully universal access, the controls for cooktops, ranges, and ovens need to be easy to reach, read, and use without stretching arms over a hot surface. That usually means that the controls are toward the very front of the appliance or on the side, but not the rear.
When considering fuel type for cooking, there are usually two fundamental choices: electric or natural gas. It makes good sense to determine the best-performing energy source for a specific cooking appliance, although in some cases, it may also be problematic or expensive to provide natural gas. Fortunately, many improvements in electrical cooking appliances can actually favor them over gas-fired kitchen appliances. A particularly innovative technology in this regard is the use of electric induction elements in cooktops and rangetops. The difference between conventional electric cooking and induction cooking is dramatic. Conventional appliances use large electric resistance coils to produce raw heat that radiates up to a pan above, thus heating it and the surrounding surfaces at the same time. By contrast, induction elements use electromagnetic energy that is focused directly on the pan, placing heat specifically where it is needed and not on the cooktop surface. When the pan is removed, there is little or no lingering heat on the cooktop because it was never heated up in the first place. As a result, induction cooking is not only safer for people using it, it is very energy efficient requiring significantly less energy than other standard cooking elements. In fact, in a comparison of different types of cooking systems, induction cooking was found to be notably more efficient than typical radiant electric and gas cooking appliances.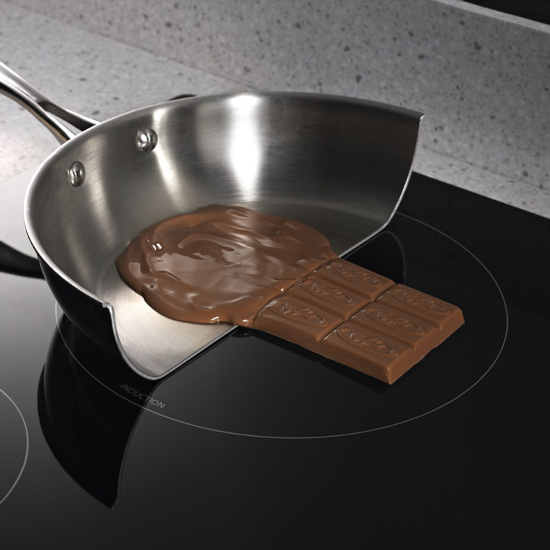 Photo courtesy of Whirlpool Corporation
Electric induction cooking not only uses less energy than conventional cooktops, it is inherently safer since pans heat up while cooktops do not.
Of course, many people who cook often indicate that they like the quick response to adjusting temperatures with natural gas. However, it turns out that induction cooktops or ranges are actually more responsive than natural gas. Heat levels can be instantly adjusted from a delicate simmer up to a high setting that can boil water in as little as 90 seconds. Further, since the surface doesn't get hot, it can be cleaned up quickly and easily in case of spills. Electric induction cooking appliances are easy to work into residential designs since they don't require any special electrical work; they can be connected to a standard electric range outlet or junction box. They are equally easy for users since no special cooking utensils are needed; most ferrous metallic pots or pans works just fine.
Regardless of the oven or cooking appliance used, landing areas on either side are needed similar to the ones described earlier for refrigeration. In this case, the intent is to provide a place to set pans, utensils, food, etc. on a countertop adjacent to the cooking appliance either to open or close an oven door or to access needed tools or ingredients while cooking. The recommended minimum landing area size varies by appliance, but generally a minimum area of 15 by 16 inches is needed adjacent to one side of an oven. On cooktops or rangetops, one is needed on each side, although one can be reduced to 12 by 16 inches. Further, a landing area 9 inches deep behind a cooktop is recommended on an island or when it is otherwise not located against a wall.
Serving and Eating Zone
Once food is prepped and cooked, it's time to serve it up and eat of course. A nearby table with enough chairs for the household and adequate clearance to access it is a common and flexible approach. It also allows chairs to be removed in the event someone wheels up in their own. Beyond that, it is common in many kitchen designs to provide a built-in eating area with fixed serving and eating surfaces. This latter approach is more permanent in nature, so it is important that it is designed properly the first time to allow for the most usability for a variety of people. Designed properly, it can be a space saver and allow for more open area in the kitchen for maneuvering.
One of the first things to consider in a fixed seating area is its location within the kitchen. The NKBA guidelines point out the need to locate it adjacent to the primary work areas, but with access that does not require travel through those work areas. Commonly, this means that a counter top is extended on the back of a work zone. The location is important, though, since the access to the seating area needs to accommodate a variety of people who might need to walk by, edge past, or wheel by. That means that the nearest obstruction, such as a wall or furnishings, needs to be at least 36 inches or preferably 60 inches away to allow space for a chair or stool plus space for someone else to pass behind them.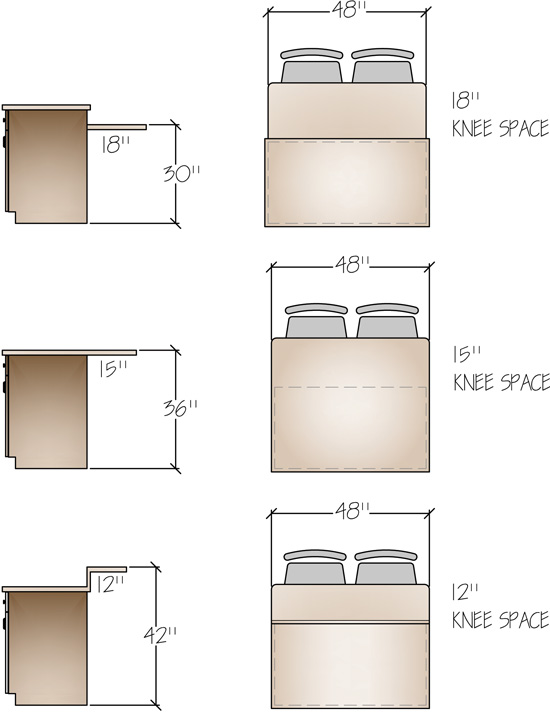 Images excerpted from the NKBA Kitchen & Bathroom Planning Guidelines with Access Standards published by John Wiley & Sons
Built-in serving and eating areas need to have proper clearances and leg room, which can vary based on the height of the eating surface.
A key variable for such a serving/eating surface is its height. Some designs will call for it to be the same height as a countertop (36 inches above floor) making it easy to extend out accordingly. However, that height requires a higher seated position on a stool or in a wheel chair that can raise up. Many parents aren't keen on the idea of young children seated higher up either, so it is also common to instead use a lowered surface of approximately 30 inches, which is more consistent with typical table height. At the other end of the spectrum, some people prefer to have a higher surface either to make it easier to access while standing or to simply sit on a higher stool. Hence, a 42-inch-high surface is often used with the added benefit of providing a bit of a visual screen to whatever is on the surface on the other side. The NKBA standards address all three of these heights and the associated clearances for each. First, they indicate that kitchen seating areas should be 30 to 36 inches wide and 17 to 25 inches deep to better accommodate people of various sizes or those using a mobility aid. There are variations in this formula, such that a 30-inch eating height requires at least 18 inches of knee space, a 36-inch-high surface only requires 15 inches of knee space, and the taller 42-inch height requires the least knee space of 12 inches. It may also be possible to justify narrower widths on the order of 24 inches per seated person.
Cleanup Zone
All kitchens involve cleaning, whether of the kitchen itself or the things used in it, such as pots, pans, dishes, glasses, etc. Low maintenance is of course desirable, particularly for people with mobility issues. Peterson has observed this desire, citing that "antibacterial materials and finishes, cleaner lines, appliances that report trouble back to the manufacturer, self-regulating ventilation or lighting," are all part of the ways we can streamline the care of kitchens.
Beyond these overall basics, the sink and dishwasher components become the primary focus of this zone. The NKBA standards suggest that the distance between these two components should be no more than 36 inches for convenient access plus 21 inches of minimum clearance between an open dishwasher front and the nearest obstruction. A landing area on either side of the sink of 18 to 24 inches wide and at the same height as the sink counter are recommended. They also indicate the preference for a removable sink front and leg room access beneath the sink to allow a seated person to use the sink when needed or warranted.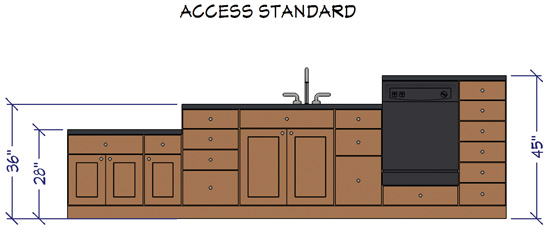 Images excerpted from the NKBA Kitchen & Bathroom Planning Guidelines with Access Standards published by John Wiley & Sons
In the clean-up zone, a raised dishwasher located next to the sink can make it easier for anyone to load and unload.
The dishwasher itself is recommended to be raised up 6 to 12 inches off of the floor for easier access. Peterson points out, "It's interesting to note that while the original reasoning behind a raised dishwasher was for use by a person in a wheelchair, today it is more often a benefit to a standing person who would choose not to bend. However, this is one of those universal design concepts that only works when it fits into the design. A raised dishwasher at the end of a generous counter stretch separating the kitchen views from the adjoining space might be great, but that same raised unit in the middle of a U-shaped kitchen would be all wrong."
Residential dishwasher design has increasingly been influenced by professional-grade dishwashers to provide better performance, use less energy, less water, generate less noise, and need less time to get dishes clean. A significant portion of the energy used by dishwashers is actually the energy required for heating the water they consume, since almost all dishwashers on the market use internal booster heaters. That is actually a good thing because it allows household domestic hot water heater temperatures to be turned down to around 120 degrees Fahrenheit, instead of the higher temperatures usually desired for dishwashing. The lower water heater temperatures mean less energy is used on an ongoing basis, with the higher temperature created only for the intermittent needs of the dishwasher.
Water use in appliances has become enough of an issue that the EPA has developed a water efficiency labeling program for plumbing fixtures but not yet for appliances. Nonetheless, some ENERGY STAR® dishwashers use half as much water as others, saving hundreds of gallons of water each year and corresponding savings in energy use. Check the manufacturer's literature for ratings and water use on different makes and models. Selecting a unit that meets or exceeds the ENERGY STAR® rating requirements for both energy and water usage will enhance the energy savings even more.
Originally published in Architectural Record
Notice