The Intersection of Universal Design and Sustainable Living
Accessibility and sustainability come together in kitchen and laundry spaces that combine established design principles with proper appliance selection
Sponsored by Whirlpool Corporation
Learning Objectives:
Identify and recognize the ways that universal design is important and needed in residential design.
Distinguish between the various components of sustainability in building design.
Explore the ways to design kitchens to achieve successful integration of universal design and sustainability.
Demonstrate the ways that kitchens, laundry rooms, and appliances can be accessible to all users while using water and energy efficiently.
Credits:
This test is no longer available for credit
New and renovated residential buildings, among other things, need to be designed to meet current standards or code requirements for handicapped accessibility and energy use. Specifically, multi-family buildings are required to meet code requirements for at least a portion of units to be handicapped accessible following national standards while energy codes and standards, require energy conservation in buildings overall and in equipment and appliances in particular. Increasingly, however, single-family homes and multi-family units are also being voluntarily designed to think beyond code minimums and achieve a higher level of design. Living units often follow the approach of universal design, meaning that the living spaces are universally accessible by all people. Buildings and appliances that carry certification labels reflecting sustainability, such as ENERGY STAR® and LEED, have become not only a marketing edge, but a mainstream expectation. Both of these areas of sustainability and universal design have become quite well-developed and sophisticated in recent years, with many professional and trade resources available. A key consideration is that design professionals can incorporate both of these design areas in ways that work together with each other, creating the best outcomes for the users or residents of the building. The techniques to do this have also advanced to the point where aesthetics and overall design do not need to be compromised by either one. All of the sustainability and accessibility approaches affect the design of a total living unit, but perhaps most notably in kitchen areas and related laundry areas. Accordingly, this article will look at the ways the general principles of universal design and sustainability can work together in residential buildings, and focus on some specific ways to apply them in the design of kitchen and laundry areas.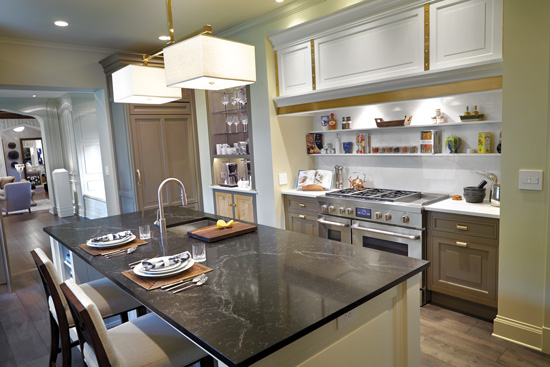 Photo courtesy of Jenn-Air; credit: The IWS Lake Forest Showhouse
Universal design and sustainable living come together most notably in the design of efficient, accessible kitchens.
Universal Design
Everyone involved in the design of buildings is certainly aware of the national standard for accessibility, namely, ICC A117.1: Accessible and Usable Buildings and Facilities. The latest version of this standard is included by reference in the family of building codes produced by the International Code Council and adopted in various forms around the country. Originally only a publication of the American National Standards Institute, it has since been fully codified and is generally in agreement with the building provisions of the landmark Americans with Disabilities Act enacted in 1990. Fundamentally, these all prescribe specific requirements to accommodate people with physical disabilities.
Universal design, by contrast, involves designing spaces holistically so they can be used by a full range of people with many different capabilities. Universal design looks beyond code and regulatory requirements for accessibility by recognizing that there is a wide spectrum of human abilities either between different people or between different periods in someone's life. Everyone, whether able-bodied or not, experiences childhood restrictions, adult capabilities, periods of temporary illness, physical injury, and limitations of old age. The differences at these different periods can be found in physical, perceptual, and cognitive abilities, as well as different body sizes and shapes. By recognizing this diversity of experiences that affect all people, environments can be designed that are easier for all people to use. A good example can be found in curb cuts at sidewalks that were initially designed and constructed primarily for people who use wheelchairs. It didn't take long to recognize that they could also be used by pedestrians with strollers or rolling luggage, thus adding functionality and convenience to everyone as part of a universal population.
In addition to convenience, health and wellness in general are common topics of concern by many individuals, organizations, and institutions. It is commonly understood by most of them that preventive, pro-active measures are preferable to treating symptoms and conditions after the fact. Mary Jo Peterson, a nationally known expert on universal kitchen and bath design, has noted that universal design has been emerging as just such a proactive approach to supporting health and wellness. She has observed that "by allowing people to function in their own home environment, they can remain more independent, avoid unnecessary healthcare stays, and help promote their own longevity".
As part of this health and wellness perspective, there are several groups of people in particular that have given rise to the popularity of universal design. The first is the approximately 75 million baby boomers who are approaching or entering retirement age. With a keen interest in staying active and independent, the concept of "aging in place" has become a strong design interest. This approach is intended to allow people to remain in their own homes as their physical capabilities change over time. Typically, people in this group have sought a housing design that suits a current active lifestyle but readily accommodates anticipated future restrictions in mobility or capabilities. Another group of people with a similar but inverted order of needs is returning war veterans who are undergoing rehabilitation with the anticipation of improving capabilities. In this case, they seek a housing design that can accommodate their current compromised capabilities now, while still allowing for them to remain in the house when capabilities increase. Then there is the case of an increased number of multi-generational households, where family members or others of different capabilities are living in a household all at the same time. This multi-generational group seeks a housing solution that can accommodate all of their different needs simultaneously.
Incorporating universal design approaches in a residential design allow for the various needs of all different types of residents to be met. It also allows for the building to have a longer period of usefulness to the owner, reducing the need to move or relocate due to changing capabilities. This is one way that universal design is also more sustainable.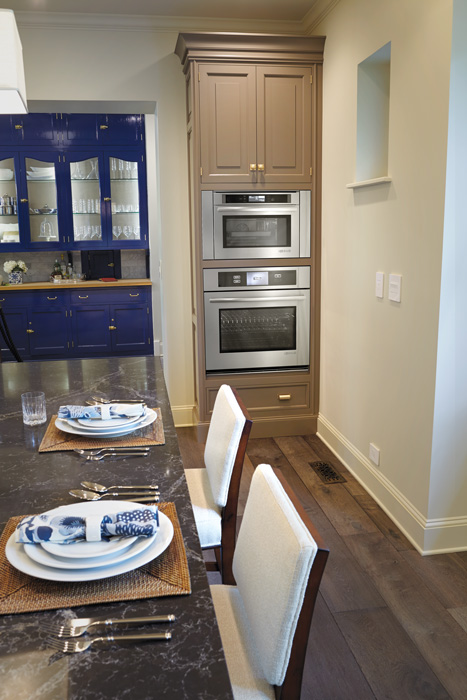 Photo courtesy of Jenn-Air; credit: The IWS Lake Forest Showhouse
Universal design promotes layouts that are easy to maneuver and pass through, as well as aspects of functionality and convenience.
Sustainable Living and Universal Design
It is well understood that the design of sustainable residential units requires attention to a variety of issues. Energy efficiency is appropriately the first one that commonly comes to mind and is the most heavily weighted in green building rating systems, such as LEED, and the primary focus of the ENERGY STAR® program. However, most of us are aware that other issues are important, too. Water conservation is becoming as important as energy savings, particularly in many areas of the country where water shortages are becoming critical. As part of a healthy indoor environment, indoor air quality is a concern particularly in regard to the chemical make-up of many building materials and products used in buildings. But an indoor environment is also affected by other things too, such as the acoustics and noise generation in a space or the ability to incorporate daylight and views from all areas.
Many of these sustainability attributes are also consistent with universal design attributes, meaning designing buildings to incorporate both does not mean that they need to be thought of as exclusive and separate things, particularly in terms of overall health and wellness of occupants. Turning again to Peterson, we can learn that "universal design has always had a focus on the health of the environment, including healthy air, elimination of allergens, and the way the quality, direction, and amount of light affect the occupants of a space. The same is true of sound quality and the control of noise in the home." This connection between universal design and sustainable design is fairly obvious in that both are concerned with the ultimate health and wellness of the occupants as much as they are with the physical design of the spaces.
Looking at the bigger picture, if an entire home or a kitchen is created to be flexible and to respond to the differences in the people who will use it, then the home will last longer and be inherently more sustainable. Taking that a step further, if we use the best products and materials we can afford—those that will last the longest—then we can have the least potential long-term impact on the environment. Peterson sums it up nicely: "For a living space to be sustainable, it needs to be usable equally by all inhabitants, and this is what the combination of sustainability and universal design is all about."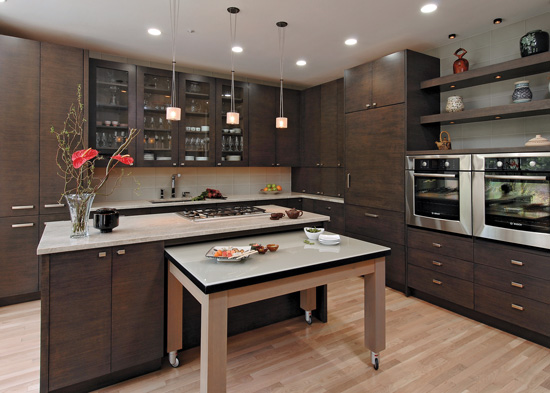 Photo courtesy of NKBA; design by Jennifer L. Gilmore, CKD
Sustainability can be achieved throughout a residential unit, but there are aspects of kitchens that warrant particular attention.
Originally published in Architectural Record
Originally published in December 2015
Notice