Strategies for aging in place through all periods of life from millennials through retirees
Sponsored by Whirlpool Corporation
Learning Objectives:
Identify the ways that universal design can be the basis for lifelong housing in residential design.
Distinguish between various programs and organizations that are promoting lifelong housing.
Explore the ways that leading designers and developers are achieving the successful integration of universal design and lifelong housing solutions.
Demonstrate the ways that kitchens, laundry rooms, and appliances can be accessible to all users while using resources efficiently.
Credits:
This test is no longer available for credit
What makes housing not only attractive and functional but truly livable? The answer can depend on who is being asked. Young or middle-aged singles or couples have specific needs and wants that can be different from families with children who are still different from empty-nest or retirement households. Recognizing this, developers and housing designers often create housing solutions focused around just one typical household type, anticipating that residents will move in and out based on the phase of life or lifestyle that a particular housing design addresses. But there is an alternative approach in the form of housing that can adjust or adapt to different life stages, allowing people to live in the same housing situation longer. In some cases, elements of such designs remain the same by being universally appealing or functional. Other parts of the housing unit might be designed to be readily adaptable, allowing for elements to be movable, expandable, or even collapsible to suit different conditions. Such an approach allows people to remain in a home and neighborhood despite lifestyle changes, giving rise to the design notion of "lifelong housing."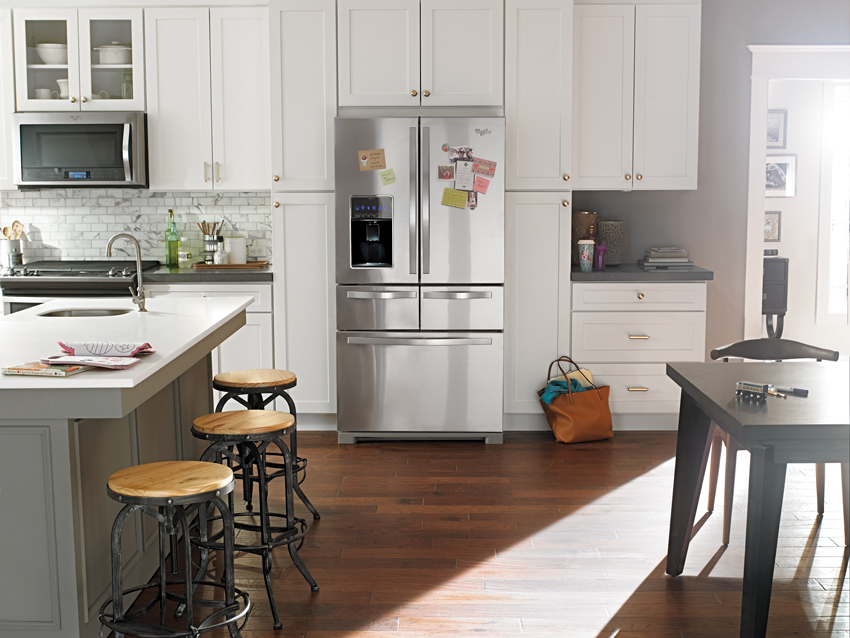 Photo courtesy of Whirlpool Corporation
The concept of lifelong housing is based on designs that are appealing, functional, and flexible to accommodate different stages of life or changes in lifestyle, particularly in rooms with built-in features, such as kitchens.
Universal Design
For the past few decades, buildings of all types have needed to comply with design requirements to allow people with physical disabilities to function independently in them. The Americans with Disabilities Act (ADA) and codified standards such as the American National Standards Institute (ANSI) 117.1 have become both recognized and required as guidelines for the design of accessible spaces, including residential living spaces. As these requirements took hold, the design community began to realize that many of the things that make a home more accessible don't need to rely on special or additional items, rather, just on a better design approach. Further, it became clear that residential units might need to accommodate people of different capabilities at the same time, as in multigenerational households, or that people who are otherwise able-bodied might have a temporary disability due to an accident or medical procedure. This gave rise to the concept of "universal design," which is a design approach that holistically integrates accessibility features that are useful to people of all capabilities without necessarily drawing special attention to those features.
Universal design looks beyond code and regulatory requirements for accessibility by recognizing that there is a wide spectrum of human abilities either between different people or between different periods in someone's life. Everyone, whether able-bodied or not, experiences childhood restrictions, adult capabilities, periods of temporary illness, physical injury, and limitations of old age. The differences at these periods can be found in physical, perceptual, and cognitive abilities, as well as different body sizes and shapes. By recognizing this diversity of experiences that affect all people, environments can be designed that are easier for all people to use. A good example can be found in curb cuts at sidewalks that were initially designed and constructed primarily for people who use wheelchairs. It didn't take long to recognize that they could also be used by pedestrians with strollers or rolling luggage, thus adding functionality and convenience for everyone as part of a universal population.
Universal design can be based on permanent design elements, such as corridors and doors of appropriate widths, or on adjustable solutions in a space, such as adjustable counter heights, movable furniture, or even movable partitions. This approach allows for the building to have a longer period of usefulness to the owner, making it functional over different stages of life and making it more sustainable in the process. Who can benefit from this universal design approach? Almost everyone. Young, healthy people may not need to worry about any physical accommodation of spaces, until they incur an injury or find themselves needing to care for someone else who does need an accommodation. Young veterans returning from Iraq and Afghanistan who were wounded in combat and are now back home recovering are an example of this situation. Households with children need spaces that are appropriately accessible to allow those children to participate fully in the family but are also appropriately limiting as they learn to navigate safely in their living environment. This might play out as isolating young children away from stairs or landings, while still allowing adults ready access for example. People entering or near retirement may not need to worry about any particular accommodations in the short term but often look at their housing with an eye toward the future, wishing to remove obstacles, such as stairs, to allow them to still function easily in the same home as they age. Of course, all of these different issues may come together at the same time if the household is made up of people of multiple generations, such as a middle-aged couple who has their adult child or children living at home with them or has brought an elderly parent to live in the house with them. In any of these cases, a universal design approach makes it easier for everyone to function and be accommodated in a coordinated/integrated way regardless of temporary or permanent physical capabilities. It also allows everyone to stay in the same living unit longer without being forced to move.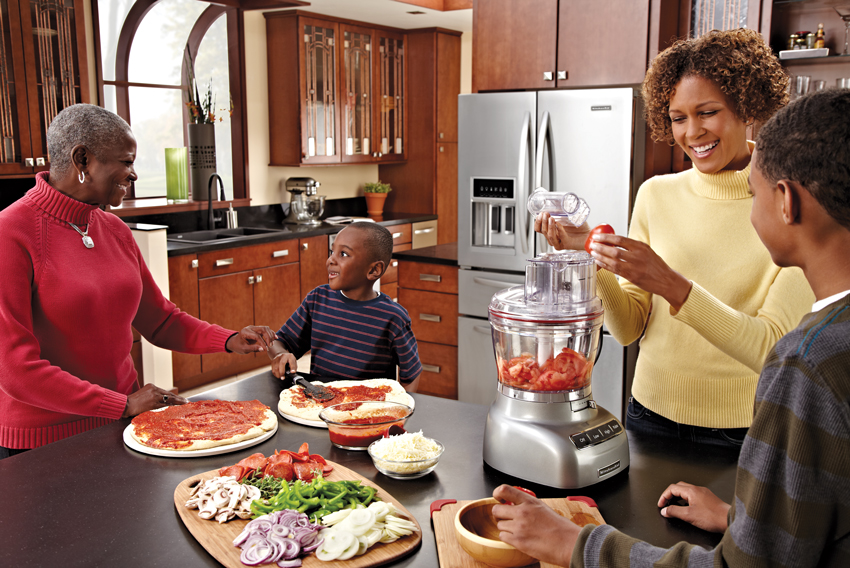 Photo courtesy of Whirlpool Corporation
Lifelong housing allows for people of different generations to live and function effectively in well-designed living units.
Originally published in Architectural Record
Originally published in December 2016
Notice