Composite Panels: Particleboard and Medium-Density Fiberboard
Specified as substrate for a multitude of applications, particleboard and medium-density fiberboard are an essential material for interior architects.
This course is no longer active
Advertorial course provided by Weyerhaeuser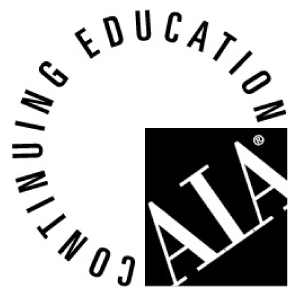 Continuing Education
Learning Objectives - After this course, you should be able to:
Understanding the sources, characteristics and performance issues of composite wood panels.
Make better decisions regarding the choice of composite substrate products.
Be aware of resources available for solving technical and performance issues of composite wood panels.
Credits:
Composite Panels Help Save a Piece of History
The Cathedral Sainte-Cecile, originally built in 1935 in Salaberry-de-Valleyfield, Quebec, survived a serious fire three years ago. The ornate ceiling was made from colorful hand-painted details cut from pressed wood fiber panels and nailed to larger sheets that spanned the arches.
Baupré & Michaud Architects, specialists in historic and religious buildings throughout eastern Canada, wanted to recreate the ceiling as faithfully as possible. However, the original material literally burned like paper in the fire, preventing them from using most of it. They also wanted to improve the acoustical properties of the space, and chose a composite wood panel, medium-density fiberboard (MDF), that met flame-spread requirements without special treatment.
First, they replaced the wooden ribs between the concrete arches, and then installed 5/8-inch-thick MDF panels to span the ribs. A second layer of MDF was machined into detailed parts, hand-painted and glued to the panels to recreate the original ornate design. Wood furring strips used between the ribs and the panels varied the offset of the panels from nine to 12 inches to further control reverberation.
An experienced high-end architectural millwork firm sized and machined the MDF panels based on designs recreated by the architect and draftsmen in the shop. They used the original 1934 shop drawings and the parts of the original pieces recovered from the fire. Precise drawings of the structure allowed CNC equipment to cut parts that fit perfectly when installed.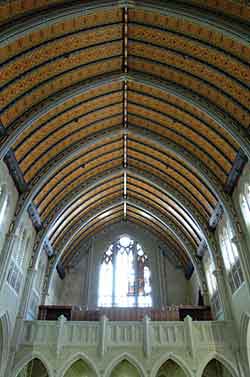 Cathedral Sainte-Cecile, Salaberry-de-Valleyfield, Quebec, reconstruction by Baupré & Michaud Architects. Source: Second Wave, Composite Panel Association
Found in myriad projects from the cathedral ceiling in Quebec to renovated rowhouses in Philadelphia, composite wood panel products are an essential building material. One of the great advantages to building and fabricating with composite panels is the materials' ability to be custom engineered for a great range of furniture, architectural, and construction applications.
The most commonly used composite wood panels for interior applications are Particleboard and Medium-Density Fiberboard (MDF). Although raw composite panels are rarely seen anywhere on a project, they're a critical component of most interior architecture. (Hardboard composite panels, which are manufactured differently from particleboard and MDF, are used for exterior siding, interior wall paneling, household and commercial furniture, and industrial and commercial products.)
Europe and the U.S. started producing particleboard commercially during the 1940s, when there was an insufficient supply of wood panels available due to World War II. Today, the North American market's annual production capacity is 7.645 billion square feet (3/4 inch basis).
Originally published in Architectural Record.
Notice