How automated systems are changing the future of parking with lowered emissions, space savings, user safety, and ROI
Sponsored by Westfalia Technologies, Inc.
This test is no longer available for credit
The User Experience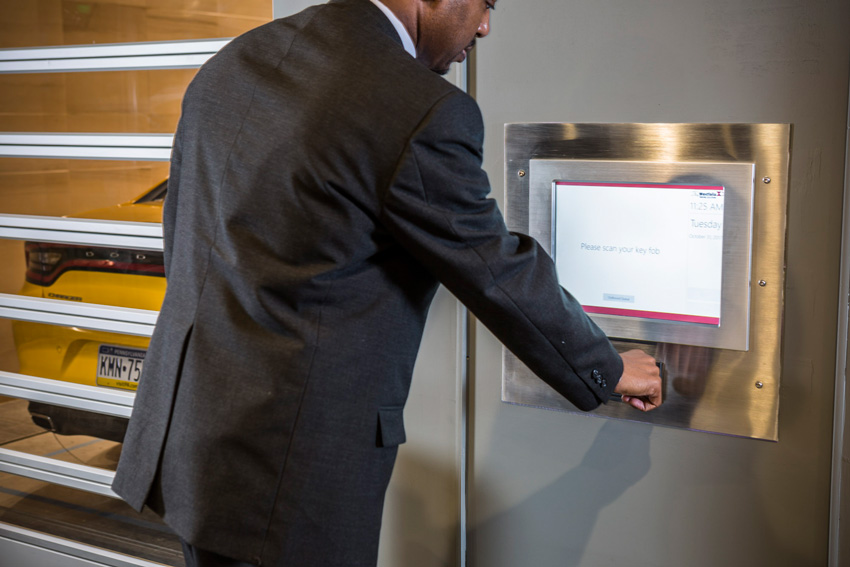 Photo courtesy of Westfalia Technologies, Inc.
Because the entire parking garage does not need to be made attractive to users, there is more in the budget to make the transfer area extra luxurious. In this system, people and their cars are safer.
User Safety
Conventional parking lots hold many dangers for users. According to the National Safety Council (NFC), parking lot accidents are not minor events and are often more serious than people realize.2 More than 50,000 parking lot accidents occur each year, which results in more than 60,000 injuries and as many as 500 deaths. Fifty-one parking lot and parking garage deaths each year occur when drivers are backing up.
Also, according to the U.S. Bureau of Justice Statistics, more than one in 10 property crimes occurred in parking lots or garages. This could include fender benders, door dings, vandalism, theft of vehicle, and theft of vehicle contents. In an automated system, criminals and careless drivers do not have access to the garage.
Parking lots and conventional parking garages are large and difficult to monitor. With an automated system, the only space used and occupied by people is the transfer area and small common areas, which are smaller and easier to secure and monitor.
Considerations for Designers, Developers, and Owners
For designers, developers, and owners, automated parking systems require more thought, planning, and expertise than an asphalt parking lot or even a conventional multilevel parking structure. Here are some benefits:
Reduced Construction and Finishing Costs
Since automated parking facilities require less building space, developers can save on construction costs through reduced excavation, construction time, and land costs, which adds up to major savings that can go back into the project's budget.
According to a study by Walker Parking Consultants in 2012, developers can save up to 25 percent in overall costs with an underground, automated garage directly below the building in comparison with a traditional underground garage.4
By comparison, the construction costs for a stand-alone, aboveground, automated garage could be up to 40 percent higher per space than a conventional garage. However, aboveground automated garages have actually been built, which goes to show that even they have advantages over traditional garages in certain situations, such as luxury experience, minimal environmental impact, and increased parking capacity.4
Originally published in Architectural Record
Originally published in December 2018
Notice