Keeping the Beauty in High-Performance Areas with High-Pressure Decorative Laminate Doors
HPDL doors provide solid architectural solutions for a wide range of commercial applications
Sponsored by VT Industries Inc.
This test is no longer available for credit
Finishes
Matte Finish
Most common and very durable
Considered standard
Minimizes smudges and fingerprints
Enhances reflective qualities
Reproduces the sheen associated with waxed wood furniture
Other Finish Options
Gloss: Mirror-like finish (not recommended for door construction).
Microdot: A subtle grid of concave dots in a low-sheen satin finish, offering a three-dimensional aspect for optical effect. This finish adds visual interest to monochromatic laminate patterns.
Grained: Achieves the look of wood pores just freshly treated.
Chiseled: Captures the look and feel of hard carved woods.
Soft mat: A shallow surface texture that is smooth to the touch.
Casual rustic: A blend of grain variations ranging from linear to subtle movement with random, irregular features.
Linear: Directional texture with narrow, random, matte-gloss linear quality. It is complementary with linear wood grains and patterns and provides movement to solid laminate colors.
Fine grain: A subtle narrow grain structure that features the polish and luxe of wood veneer.
Decorative Laminate vs. Wood Veneer
Decorative laminate doors have long been associated with durability and uniformity of appearance. Recent advances in laminate printing technology—including larger-scale patterns, creative design options, and easy maintenance—provide a durable solution and creates overall value.
The following lists additional benefits of using decorative laminate doors over wood veneer:
They are less expensive and don't require on-site finishing.
Laminate doors are easier to clean and maintain.
Laminate prices are more constant, regardless of wood grain, pattern, and availability.
Exotic wood grain patterns won't deplete valuable forests.
Most HPDL is available Forest Stewardship Council (FSC) certified.
Laminate doors are ready to install when they arrive on the jobsite.
Most manufacturers machine for hardware.
Some manufacturers predrill pilot holes for hinges and face plates.
In most cases, lead times are shorter for laminate doors.
Face Material Cost Comparison
A cost comparison generated by a leading manufacturer and based on a 100-door project using 3-by-7-foot particleboard core doors, nonrated, standard hardware preps, factory finish, and sold through distribution found the following: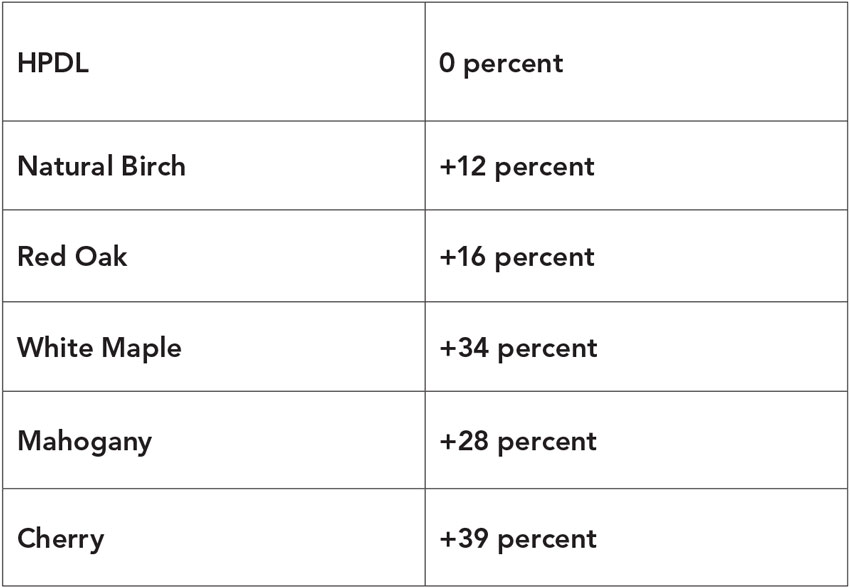 Typical manufacturer cost differential for various face materials
Cleaning and Maintenance
Laminate does not facilitate the growth of bacteria, microbes, or fungi because of its melamine coating. Furthermore, doors are available with laminated end rails to completely seal the doors for use in health-care facilities or other applications where a smooth, impermeable finish is desired.
HPDL Door Construction
The difference between HPDL and five-ply wood veneer is the face material. Doors may be hot pressed or cold pressed and typically have either a three-ply or a five-ply construction. Standard laminate thickness is 0.048 inch to meet the WDMA quality performance standards.
Components
Five-Ply HPDL Door Construction: five-ply construction is the preferred construction method for HPDL doors because of the incorporation of a high-density fiberboard (HDF) crossband (shown in yellow in illustration below) that serves as a buffer layer between the core and the laminate. The HDF crossband reduces the occurrence of show-through or telegraphing, which as defined by the WDMA is a defect caused by the outline and or/surface irregularities that are visible through the face veneer (material).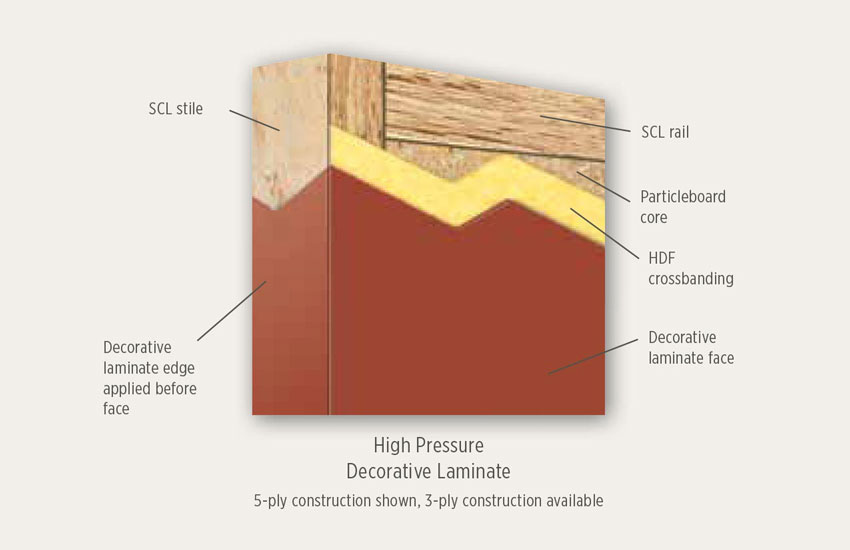 The photo above shows the construction of a five-ply wood veneer door and how the components are assembled. The five-ply wood veneer door features HDF crossbanding on both sides of the door.
Three-ply construction is also available for HPDL doors but does not include the HDF crossband of the five-ply construction, therefore the laminate is adhered directly to the core.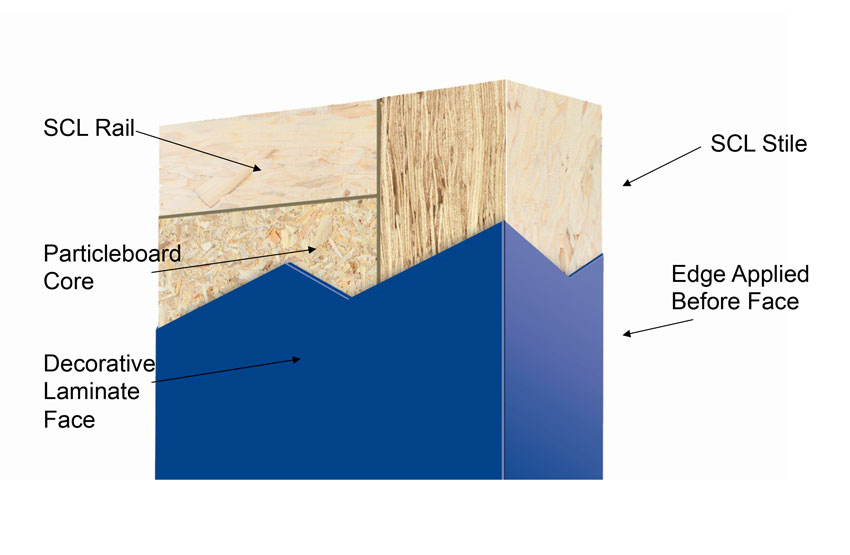 Three-ply HPDL door construction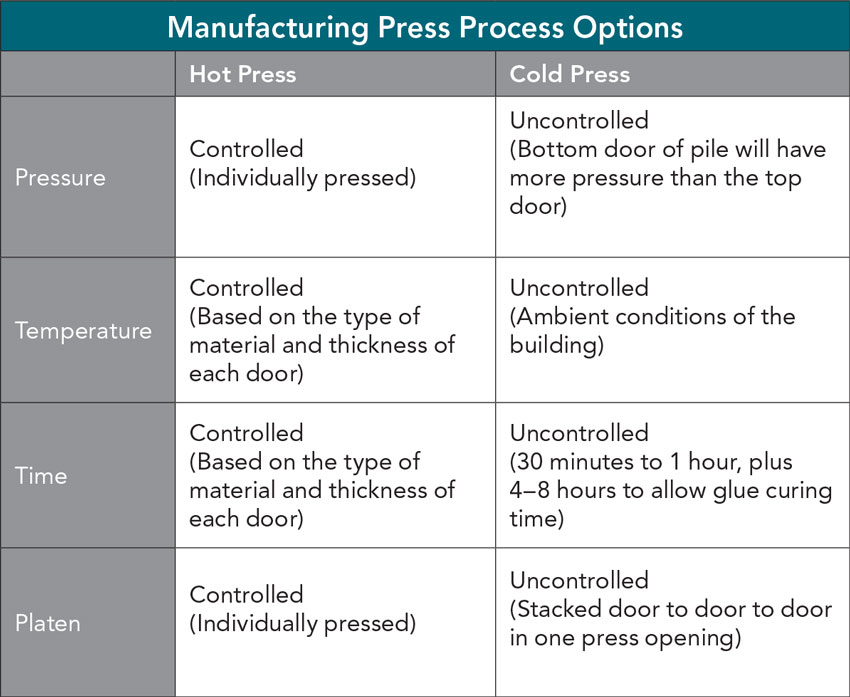 Hot Press vs. Cold Press
Hot Press
Hot press is the common process for architectural wood doors. The key to consistency is the press technology, and the door manufacturer controls all components.
Hot press controls all steps of the process
Uniform bond
Type I glue
Each door individually pressed
The hot press provides control
Cold Press
Cold pressing takes much longer
Cold pressing cannot produce the quantity or quality than hot pressing does
The skins for cold pressing are often outsourced
Laminate Door Construction
HPDL doors have the same core options available as wood veneer. Here we'll take a look at some basic definitions:
Particleboard: A core product composed of small particles of wood and wood fiber that are bonded together with synthetic resin adhesives in the presence of heat and pressure.
Stave Lumber: Made with any combination of blocks or strips of wood, not more than 2½ inches (64 millimeters) wide, of one species of wood glued together (in butcher block fashion), with joints staggered in adjacent rows.
Structural composite lumber (SCL): An engineered wood product that is made by fusing a network of wood strands together with a water-resistant adhesive to produce a strong, solid, and stable product that has true structural properties with excellent screw-holding properties and very high split resistance.
Mineral core (non-combustible material): A fire resistant core material generally used in wood doors requiring fire ratings of ¾ hour or more. Engineered composite products meeting the minimum requirements of WDMA.3
Agrifiber core: A core product made from agricultural fiber. Examples include particleboard, medium-density fiberboard (MDF), plywood, oriented-strand board (OSB), wheatboard, and strawboard. Consists of wood or plant particles or fibers bonded by a synthetic binder or resin.4
Additional Construction Features, Considerations, and Repair Options
Edge-before-face construction is a construction method that essentially helps protect the most vulnerable portion of the door: the edge. When the laminate edge is applied before the face laminate, it "locks in" the edge laminate and helps prevent chipping. Additionally, the edge-before-face construction method helps minimize the seams for a more attractive appearance.
HPDL doors are typically finished with the same laminate as the face; however, different laminates can be specified for the face and the edge, if preferred. Edges may also be painted or stained to match the face veneer. As mentioned earlier, the door edge is the most vulnerable surface of the door, therefore PVC and stainless steel edge guards can be added to the door to minimize damage to the door in high-impact areas, such as hospitals and schools.
Most manufacturers have the capability to factory machine doors for commercial hardware preparation, which improves the overall quality of the installation. Typically, pilot holes for hinges and face plates are predrilled by manufacturers, ensuring a quick and hassle-free installation at the jobsite. Factory machining also helps prevent splitting of the stiles during the installation process, which in turn saves contractors time and money.
With HPDL doors, the top and bottom rails (surfaces) of the door are unfinished. As a best practice, manufacturers should seal the top and bottom rails to protect against moisture damage (from mopping, school and hospital environments, etc.) that can eventually cause warping. Another option is to manufacture the doors with laminate on the top and bottom rails, which can be done for an additional charge. Another way to protect the doors is to individually polybag the doors to mitigate damage that is possible during transport and while on the jobsite.
If a HPDL door sustains minor chips or scratches, it can easily be repaired on the jobsite. First, the surface being repaired needs to be clean and dry. Then apply a laminate repair product or matching color stick (found in most lumber yards or hardware stores) to the surface and wipe away the excess and allow to set. Available repair products bond mechanically to the laminate surface and dry hard, becoming a permanent part of the laminate surface that resists moisture, detergents, and other products as effectively as the original laminate.
Originally published in Architectural Record
Notice