The Beautiful, Modern, Budget-Friendly Floating Staircase
A closer look at tips and trends for designing with this new staircase style
Sponsored by Viewrail
This test is no longer available for credit
Floating stairs also create a dramatic and safe experience for people walking up and down the staircase. The hidden mono stringer and the elimination of the risers creates stairs that are more open than anything seen conventionally. The openness and connection to the larger space offered by floating stairs is certainly thrilling to experience, while being just as safe as the more hemmed-in staircase solutions.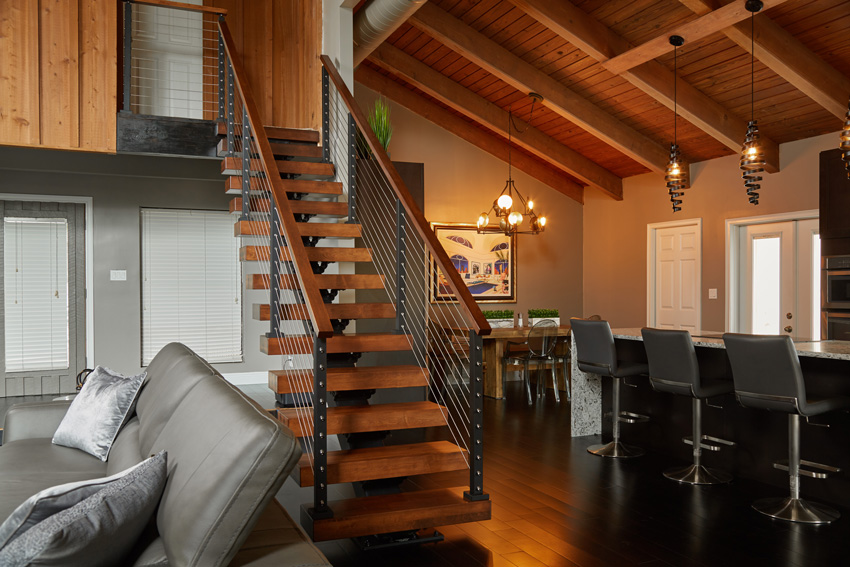 "Floating staircases are architecturally beautiful, and they give me a unique square-footage in a space that I wouldn't otherwise have," explains Brian Ellison, owner of Brian Ellison Designs in Melbourne, Florida.
"I create a lot of Miami-modern interiors. Floating staircases are architecturally beautiful, and they give me a unique square-footage in a space that I wouldn't otherwise have," says Brian Ellison, owner of Brian Ellison Designs in Melbourne, Florida. "These staircases elevate the environment, and going up and down the staircase is exciting. It does create a moment."
Aesthetic Options
Unlike the conventional staircases made of framing materials that demand to be covered up or camouflaged, a floating staircase is designed to be looked at from every angle and touched. The stringers, treads, and railings are constructed from high-quality materials in on-trend colors and finishes. Designers can choose from several options to create the floating staircase that perfectly complements any interior decor. The floating staircase also creates a unique experience for people using the stairs, redefining the feeling of moving from one level to another.
Mono Stringer
The mono stringer serves as the structural backbone for the entire floating staircase. Although its view is partially obscured from some angles by the treads installed upon it, the powder-coated mono stringer is available in more than 15 colors, including the most popular: black, silver, and white.
Treads
The treads in a floating staircase are the centerpiece of the design. They are thick, beautiful pieces of wood that create an impression when they are seen and walked upon. They look substantial and stylish. They feel smooth and sturdy.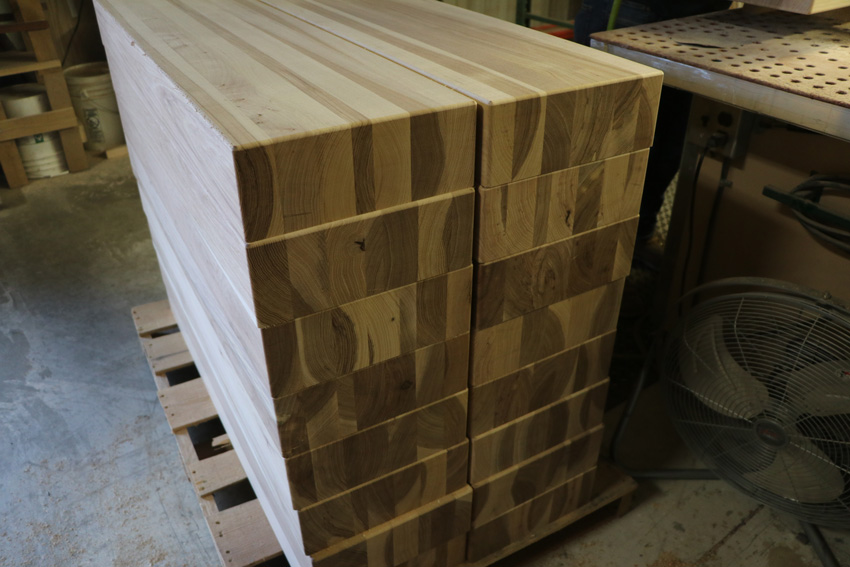 Treads that are 31⁄2 inches thick are also referred to as butcher-block style treads, and they make a substantial impression when incorporated into a staircase in a commercial or residential project.
When selecting a tread for a floating staircase, there are four different qualities of the tread that must be defined: the type of wood, the stain of the wood, the thickness of the treads, and whether the treads should be finished in a traditional, distressed, or hand-scraped style.
Treads can be found in a variety of wood types that offer different levels of variability within the grain pattern and strength. Both white oak and red oak are highly recommended for floating stair designs. White oak contains a lot of movement in its grain pattern that makes it easy to hide wear, and the level of variation has been found to pair nicely with natural hardwood flooring and design accents. If a designer is looking for a floating staircase that is a bit more uniform from one step to the next, consider hard maple. Other popular wood types used as treads in floating staircases include walnut, American cherry, Brazilian cherry, hickory, and ash.
Once the type of wood has been selected, designers may choose from several stains to develop the color of the tread. The wood can be stained clear, something that would add more of a honey-colored tone to the wood, a richer chocolate, a deep red, or even an antique grey.
Then the thickness of the tread must be specified. A typical, standard stairway has treads that are 11⁄2 inches thick. Floating staircases commonly feature treads that are 31⁄2 inches thick, also referred to as butcher-block style treads. These treads are heavy and substantial both visually and when they are felt underfoot.
Finally, some manufacturers offer treads that can be given a more lived-in look with a distressed or hand-scraped aesthetic.
Brackets
Brackets and the aesthetic impact they have on the completed staircase are an interesting point of differentiation between various floating stair providers. As a reminder, the brackets are used to hold and secure the treads to the mono stringer that runs underneath them from the top of the staircase to the bottom. Typically, these brackets are quite large and visually obtrusive. Some systems use a plate that covers most of the bottom-side of the tread's beautiful wood surface or incorporate V-shaped structures that overwhelm the tread its supporting. The presence of these large brackets or plates gives the underside of the floating staircase a hardware-heavy look, which is not ideal.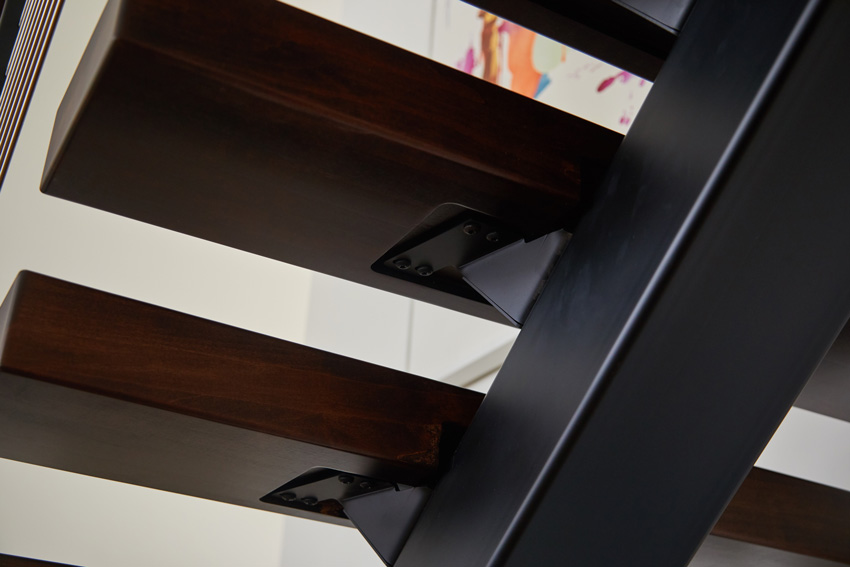 From this vantage point, looking up from under a floating staircase, a viewer can see the amount of surface space covered by the smallest, least-obtrusive brackets in the industry.
New brackets have been developed that are a fraction of the size of their predecessors and are all but invisible. When people walk underneath a floating staircase that uses these smaller brackets, the wood tread is still the visual star. The development of smaller, less-obtrusive bracket technology improves the overall floating aesthetic that these staircases deliver into an interior.
Originally published in Architectural Record
Originally published in March 2019
Notice