Sustainability, Modular Design, and BIM
Incorporating the most up-to-date thinking into an integrated design and construction process yields exciting projects
Sponsored by Vectorworks, Inc.
Learning Objectives:
Compare and contrast traditional design and construction processes with current pre-fabrication and modular design processes.
Identify and recognize the trend of integrating together modular prefabrication, sustainability, and building information modeling into building projects.
Investigate the innovative design opportunities to create buildings that meet all user and code demands plus sustainability requirements using pre-manufactured components.
Assess the functional contributions of using building information modeling to create pre-manufactured buildings while achieving green and sustainable design.
Credits:
This test is no longer available for credit
It is an exciting time to be an architect: We are living and working in a time of a convergence of evolutionary activities that allow those of us engaged in designing, renovating, and operating buildings to push the traditional limits of the architectural profession. This activity is borne in part from the modernization of design and construction processes that help design professionals work more closely with construction teams. It is also being driven by green, sustainable design thinking, which has advanced to become part of the mainstream definition of good design and construction. At the same time, there is an ever-increasing interest in and use of modular, pre-fabricated construction to achieve better quality control in buildings. Tying all of these trends together, computer aided design (CAD) for buildings is giving way to object-oriented building information modeling (BIM) that can provide a common platform for everyone to engage in the design and construction process. This article not only examines the emergence of these architectural movements, but will also use examples of built projects to highlight how these individual trends come together to produce visionary designs. Architects who recognize these emerging movements and are able to incorporate them into their practice will find benefit to their projects, their clients, and their firms.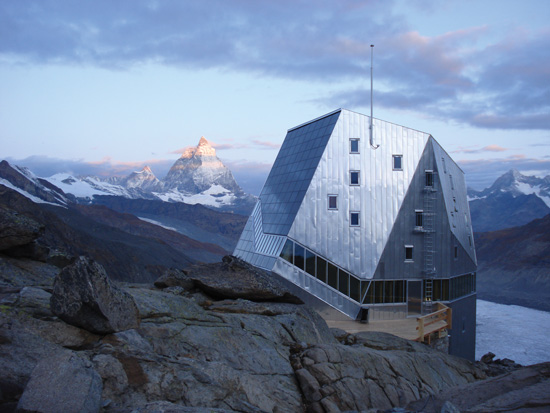 Photo courtesy of Vectorworks, Inc., Holcim Foundation and Wikimedia Commons
The Monte Rosa Hut in Switzerland is an excellent example of the ongoing evolution in the design and construction process. An integrated team used modularized design, sustainability, and building information modeling to achieve outstanding results.
Originally published in Architectural Record
Originally published in December 2015
Notice