Meeting and Exceeding Energy Standards with BIM Software
Building design professionals rely on building information models and other computer software as integrated tools for design and performance
Sponsored by Vectorworks, Inc.
Learning Objectives:
Identify the basic focus of national energy conservation codes for buildings, including ways that computer software helps demonstrate compliance.
Investigate voluntary standards that allow for independent certification of green and sustainable buildings that go beyond code minimum levels of energy conservation with the aid of building information modeling and related software.
Define net-zero energy buildings and target dates for all buildings to be designed to achieve that capability.
Consider designing very high-performance, net-zero energy buildings using available building information modeling software as an effective design tool.
Credits:
This test is no longer available for credit
Energy efficiency in buildings has been a hot topic ever since the 1970s oil crisis focused public and private attention on the matter. Since then, an increasing number of mandatory and voluntary codes and standards have been developed that impact building design. Each of them have been updated and sometimes expanded based on input from regulators, designers, constructors, owners, and others. All of these codes and standards have been informed, and in part made possible, by the availability of computer software programs that allow for total building assessments of energy use under defined conditions. Beyond creating a separate, computerized energy model of a building, architects and other design professionals are now also able to use building information model (BIM) software to design, assess, and revise a building to achieve targeted levels of energy performance. Some BIM software has inherent energy analysis capabilities, while others link to separate specialized software based on information available in the building model. In this course, we will look at the current status of some of the best-known and most-used energy codes and standards, and how computer analysis is an integral part of not only demonstrating performance, but also a tool that helps with making better design decisions.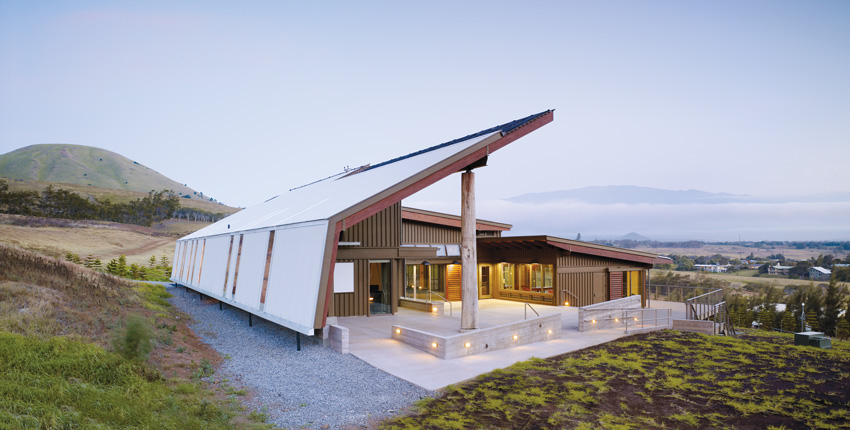 Photo courtesy of Vectorworks, Inc./Flansburgh Architects
Designing buildings to be energy efficient enough to meet or exceed selected codes and standards is made more effective and easier through the use of building information modeling (BIM) software.
Establishing Minimum Standards with Energy Codes
While most architects and engineers are familiar with the need to address energy codes, there are in fact multiple codes that may be in play at any given time.
International Energy Conservation Code
The International Code Council (ICC) was formed in the United States in 1994 as a singular model code agency that consolidated three prior model code organizations (BOCA, ICBO, and SBCCI) that each had limited applications in different parts of the country. The resulting family of International Codes, or I-Codes, includes a full range of integrated building, fire, and other codes that are publicly reviewed, revised, and vetted by regulators and design professionals on a three-year cycle. Jurisdictions in all 50 states, the District of Columbia, and many federal agencies have formally adopted versions of the I-Codes, with or without amendments, as the governing code for their jurisdictions. This currently includes the 2009, 2012, and 2015 versions of the International Energy Conservation Code (IECC), all of which have the same intent: the IECC "regulates the design and construction of buildings for the use and conservation of energy over the life of each building."
In order to achieve this goal of energy conservation, the IECC addresses four primary areas that are designed and specified directly by architects and engineers:
The building envelope (or building enclosure), including insulated walls, floors, and roofs; fenestration such as windows, doors, and skylights; and reducing air infiltration. It is generally regarded that addressing all of these areas first is the most cost-effective and efficient means of reducing a building's need for energy to run the other three systems below.
HVAC systems, including requirements for proper system sizing, equipment efficiencies, controls, and other items.
Service hot water systems that heat water for any purpose other than space heating (i.e., bathrooms, kitchens, laundries, etc.)
Electrical systems used for lighting and electrical equipment.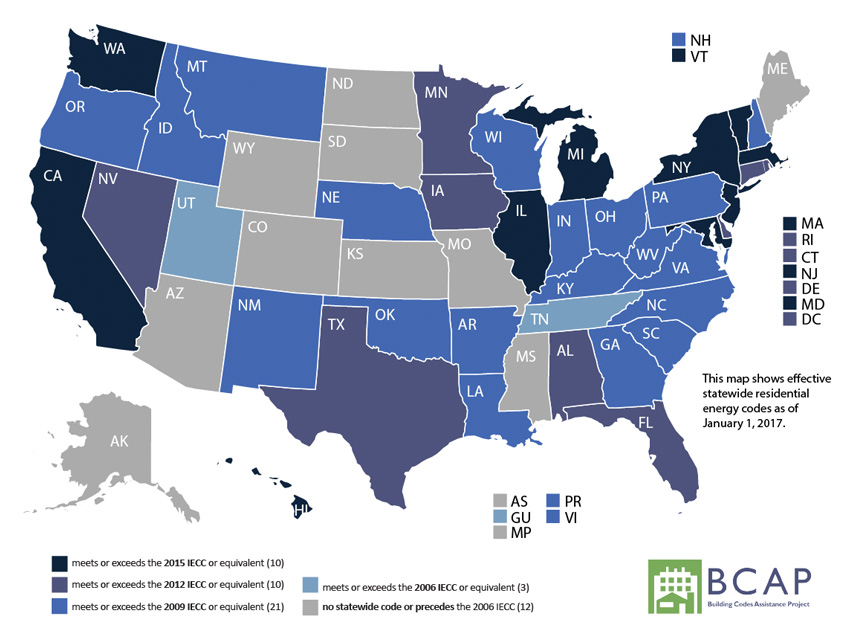 Image courtesy of BCAP
The not-for-profit Building Codes Assistance Project (BCAP) keeps track of which version of the IECC energy code has been adopted by different states and jurisdictions around the country.
As adopted, the IECC applies to virtually all new or renovated residential and commercial buildings that contain conditioned space (i.e., heating, cooling, and/or ventilation) with almost no exceptions. In a very real sense, it is the basic, minimum energy conservation standard for all new and renovated buildings in the United States. The not-for-profit organization Building Codes Assistance Project (BCAP) monitors adoption of the different versions of the IECC across the country and advocates for responsible improvements during the three-year review process. Maureen Guttman, AIA, president of BCAP, points out the significance of architects participating by noting, "It is imperative that architects become engaged in the development of building codes, especially the advancement of the energy code, to ease the burden that code compliance has on a firm. More so than other codes, the energy code allows architects to associate value with their design strategies, and therefore it gives them more influence with clients on design decisions."
ASHRAE 90.1
During the time that the IECC was being developed in the 1990s, the American Society of Heating Refrigeration and Air Conditioning Engineers (ASHRAE) was also developing a standard for energy-efficient design in commercial buildings. Currently known as ANSI/ASHRAE/IES Standard 90.1: Energy Standard for Buildings Except Low-Rise Residential Buildings, it has similarly been updated regularly since 1999 with input primarily from the engineering community. As of 2017, the versions in use around the country include the 2010, 2013, and 2016 editions. The IECC recognizes this standard as producing energy performance equivalent, albeit not identical, to its own buildings. Therefore, the code allows this standard to be selected and followed to demonstrate compliance for commercial buildings, provided it is used singularly for that purpose—it is not possible to select some provisions from the IECC and others from ASHRAE 90.1 within a single building design. The reasoning is simple: they each have slightly different requirements that work together to produce an efficient building system but cannot be mixed and matched and still show the same results. Generally speaking, the IECC has more stringent building envelope requirements, while ASHRAE 90.1 has more stringent mechanical and electrical requirements, although actual differences will vary based on building types, sizes, and other details.
Image courtesy of Vectorworks, Inc.
An interactive psychrometric chart using calculations based on ASHRAE standards can be created within BIM software to determine comfort ranges that contribute to energy efficiency.
Originally published in April 2017
Notice