Building Information Modeling (BIM) as an Investment
Design professionals, firms of all sizes, and building owners are seeing real returns by using advanced computer software tools.
Sponsored by Vectorworks, Inc.
This test is no longer available for credit
The Evolution of BIM Processes
The full adoption of BIM has become easier to incorporate into project workflows, in large part, because some independent, not-for-profit organizations have brought people together to look at some of the practical, technical, and contractual issues surrounding the use of BIM. These efforts have been underway for quite some time, which means that a firm or organization that is starting out or ramping up their use of BIM doesn't need to start from scratch as many issues, misperceptions, and expectations have already been looked at, clarified, and addressed. That doesn't mean that all BIM software and tools are the same; clearly they are not, and anyone looking at such software should clearly shop around and find the best one that suits their needs. However, there are commonalities in the ways software is used and shared so that it can foster a truly collaborative way of working.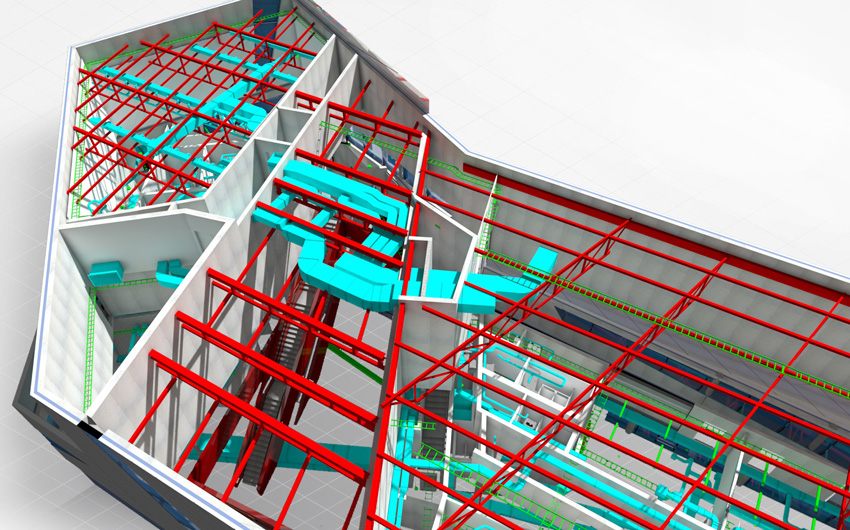 Image courtesy of Vectorworks, Inc.
Collaboration among different design disciplines using different software programs is streamlined when all software is interoperable based on open BIM standards using IFC file formats.
The AIA sponsors a number of professional knowledge community groups across the country, including the Technology in Architectural Practice (TAP) Committee as a forum for architects to interact on using BIM, among other technologies. (network.aia.org/technologyinarchitecturalpractice/home/bimstandards) They encourage the creation of standards related to BIM and monitor their development so that architects and others can benefit from "open standards" which can be used universally. Some of the better known ones include the following:
Recognizing the need for clarity and a contractual arrangement between all parties using BIM, the AIA has developed specific contracts just for this situation that are coordinated with other AIA contracts for services. Specifically, AIA Contract Document G202-2013, Building Information Modeling Protocol Form is one part of a series of digital practice documents the AIA published in June 2013. This series consists of AIA E203–2013, Building Information Modeling and Digital Data Exhibit, AIA G201–2013, Project Digital Data Protocol Form, and AIA G202–2013, Project Building Information Modeling Protocol Form. The purpose of AIA Document G202–2013, as stated by the AIA, is to "document the agreed upon protocols and procedures that will govern the development, transmission, use and exchange of building information models on a project. It establishes the requirements for model content at five levels of development, and the authorized uses of the model content at each level of development. Through a table completed for each project, AIA Document G202–2013 assigns authorship of each model element by project milestone. G202 defines the extent to which model users may rely on model content, clarifies model ownership, and sets forth building information modeling standards and file formats." Using this form and the exhibits associated with it can avoid confusion between parties and help the design and construction process move along smoothly by providing clear expectations for each party at each phase of development. This document is also the basis for the BIMForum LOD specifications.
Clearly, a lot of excellent work has been done that has allowed BIM to be incorporated into the practice, workflow, and collaborative processes of efficiently creating high-quality buildings. With all of this as a foundation, let's take a closer look at some of the specific ways that architects are taking advantage of the benefits of BIM to enhance their marketing efforts, visualization capabilities, and construction document creation, all while realizing a very favorable return on their BIM investment.
BIM as a Marketing Resource
Architectural firms or other organizations that are using BIM tend to recognize that they are not only using computer software, but also they are using an enhanced design process. This process allows them to offer a higher level of service to clients or building owners, particularly those that are looking for better coordination, better quality, and better information about their building in a cost- and time-efficient manner. These are all key points not only to know, but also to demonstrate in a marketing proposal and presentation. For example, being able to show a building owner how 3-D models are used throughout the design process can drive home the point that they, along with the design team, will be readily able to visualize any or all aspects of the building at different stages. This should help notably with communicating design ideas and construction details in a way that 2-D drawings might not. Better communication and visualization can lead to quicker design reviews and shorter turnaround times for approvals to keep the project moving forward. And if the building owner prefers to have access to the BIM for the life of the building (a growing requirement among owners with long-term interests in the building), then it creates not only the opportunity to meet this requirement but also to establish an ongoing relationship with the owner for future renovations, updates, reconfigurations, maintenance, etc. that may come up.

Images courtesy of Rob Glisson/ROJO Architecture
The visualization capabilities of BIM can start with a proposal (left), be developed into a final BIM rendering (middle), and be followed through to the built condition (right).
Demonstrating the benefits of BIM to a building owner is a direct way that can impact marketing efforts, but it can help firms in indirect ways too. For example, small firms appear to be finding that they can be more time efficient and therefore more cost-competitive when they are pursuing projects and are up against larger firms. The holistic nature of BIM and the ability to collaborate over the life of the building means that it can give firms the opportunity to offer more services to the same clients instead of only pursuing new ones. Further, since many building owners need services for multiple buildings, demonstrating quality and efficiency with BIM can help win repeat work from clients.
François Lévy, AIA, is the co-founder of Lévy Kohlhaas Architecture, a four-person firm in Austin, Texas. He is also a former university lecturer and author of "BIM in Small-Scale Sustainable Design." His firm had adopted the holistic, 3-D design way of thinking using computer models before they even realized they were effectively using BIM. "One of the first projects I can remember doing with BIM involved some non-orthogonal geometry, and we needed to create a 3-D model to generate accurate 2-D drawings. This project would have been very cost-prohibitive to explore without BIM technologies."
Lévy's positive experience with BIM became a very practical way to help the firm win new contracts for services. "The first time we saw that BIM made us more competitive in a concrete and quantifiable way was in the year 2000 when we were competing with a larger and more established firm," says Lévy. "We were able to quote a lower fee without taking a huge hit ourselves because we were more efficient. We could do the same work in less time and we could do work that wouldn't have been possible or cost-effective otherwise. That other firm wasn't doing BIM."
Lévy also recalls that it was his confidence in, and level of comfort with, his design tool that made these early victories possible. "We were comfortable and confident in pursuing certain design directions because we knew we had the software that could pull it off. We knew we could make the construction documents we needed and could use a software approach to accommodate the design we had in mind. We were able to document challenging geometries in a rational, clear, and explicable manner, which makes it easier for our clients, as well as for contractors who may not be used to dealing with architects."
Originally published in Architectural Record
Notice