The Rise of Ceramics in Today's Post-Pandemic Society
With nano-treatments enhancing hygiene and digital advances supporting replications of virtually any material, ceramics are having their day
Sponsored by Tile of Spain
Working with a grass set, all installers need to do is remove the sod beneath then place the pavers. For a gravel set, a three-layer system with sand for leveling is applied, coarse aggregate is used for drainage, and the install is finished with aggregate for an aesthetic topping.
The pavers can also be installed on pedestals for a raised floor, which is more common. The weight of the unit is often sufficient to settle into the floor upon installation with little to no movement, and no adhesion. This method is ideal for decks where drainage, slope, and waterproofing are below surface grade. Mortar set is also an option for areas like stairs.
Working with tile and cutting it precisely can be done more easily, and the material is extremely resistant to external abrasion or scratching by hard tools, equipment, and foot traffic.
UV resistance makes the pavers suitable for uncovered applications, and a higher dynamic coefficient of friction rating supports use in pool areas.
In comparing porcelain pavers to clay brick, concrete, cast-in-place concrete, and stone, porcelain outperforms them all in the realm of damage resistance to stains, UV rays, freeze-thaw, deicing, and acid. Porcelain's water absorption in pavers like this is often less than 0.1%, compared to the other materials which range between 5 and 10 percent. In addition, porcelain pavers offer a significantly greater compressive strength with a PSI of greater than 30,000. Clay brick and concrete trail far behind at greater than 8,000 PSI, while commercial cast-in-place concrete pavers only offer a compressive strength of greater than 4,000 PSI.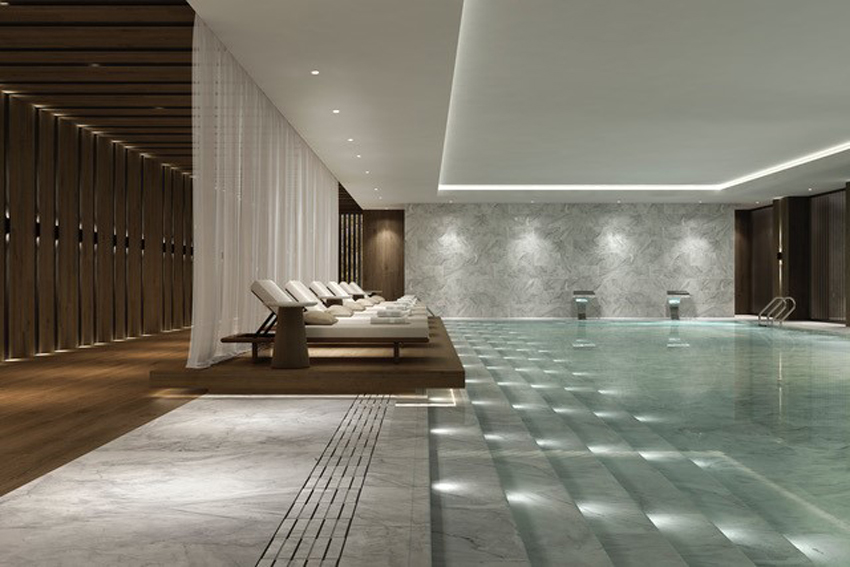 Photo courtesy of Tile of Spain
UV resistance makes these pavers suitable for uncovered applications, and a higher dynamic coefficient of friction rating supports use in pool areas.
Color and Style Trends
Because ceramics are seen as a more permanent solution, the industry tends to take a longer-term view on design trends. That said, colors and materials reflecting the natural world and evoking a sense of comfort are currently a major trend.
"There's a lot of interest in natural, authentic colors, and earthy tones," confirms Alonso.
The growing popularity of biophilic design is supported by the fact that the built environment's association with the natural world has been proven to increase occupant cognitive function, physical health, and psychological well-being.
The demand for ceramic tile in natural colors is growing enormously, as specifiers and building owners are favoring brown, black, and grey earth tones, green hues of vegetation, and shades of blue, reflecting water and sky. Additionally, sunset orange, which evokes a natural, relaxed feeling, is also quite popular.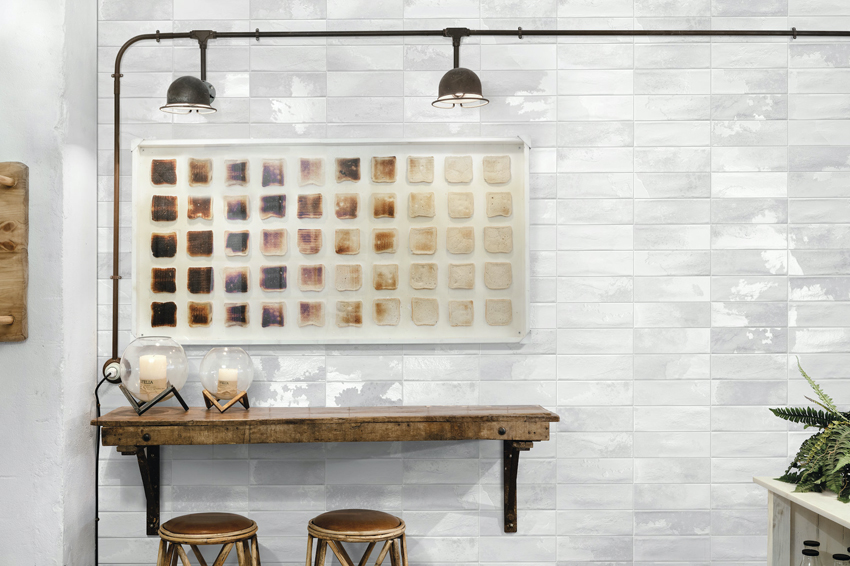 Photo courtesy of Tile of Spain
Trending away from standard 3-inch-by-6-inch formats, subway tiles are longer and thinner.
At the same time, Eyink is witnessing an influx of vibrant colors including beautiful emerald tones and other gemstone-inspired options that appear rich and can accent an overall space. "Artisan-like tiles that appear handmade are having a moment. With imperfect edges and surfaces, they bring a bespoke quality to their environment," she notes.
She also sees subway tiles as evolving from the standard 3-inch-by-6-inch style to longer and thinner styles.
"Overall, I find myself drawn to modern, geometric patterns, like diamond-shaped or scalloped tiles with three-dimensional surfaces," she relates. "Using them, we have the ability to create interesting patterns and mosaics, and the effect is nice because the tiles catch the light and provide depth."
Offering her perspective, Avigail Eisenstadt, a principal with the Inwood, New York-based AEDG Design Group, is seeing a lot of unique terrazzo colors and different tile shapes and bits of color within the tiles. "We are also seeing Art Deco patterns, vintage style patterns, Moroccan, Arabesque, and Asian-inspired patterns, wood, cement, and marble looks, metallics, tiles with rivets, waves, and varieties of geometries stamped onto the tiles. Of course, the tile staple, the subway tile, still is and always will be a popular standard choice, especially for lower budget projects."
Similarly, Fasan in observing a strong rise in classic earth tones of traditional terracottas, as more plant life is being invited indoors. "Earth is the natural companion of plants and this history and contextual reference is being celebrated in tile at the moment," he notes.
With its baked-clay origin, ceramics are a natural match for growing interest in earthy materials.
With its natural colors and textures lending a raw, earthy look, terracotta is enjoying increased popularity, as are organic textures like woodgrain and rattan.
Commenting on biophilic design and how ceramics play into this trend, the folks at Coverings magazine stated in a "Top 10 Tiles Trends of 2021" article, "Ceramic tile designs are trending towards simple woodgrains─narrow and wide, light and dark, as well as natural stone looks in every texture and size and in colors that evoke a sense of nature."
In a recent Forbes article, wellness design consultant Jamie Gold observes that ceramic tile designs are favoring more natural and untreated wood looks as timber elements evoke calm and the natural world. "These natural inspirations are part of an overall trend toward wellness design, a definite growth industry since the start of the pandemic," she says.
Tying into the biophilia trend, Gold is observing interest in colors which evoke a spa-like environment, such as soft blues and greens, muted tones, and textured neutrals reminiscent of the sky, forest, sand, and sea.
This affinity for the natural world is also driving interest in extra-large ceramic tile slabs designed to look like marble and other precious stones. In some applications, the white or classic subway tiles are broken by strong color blocks in bold colors suggestive of vegetation.
At the same time, smaller rectangle and square formats in matte and glossy glazes are still being specified, though Fasan anticipates more multi-finish designs to emerge, lending another layer of interest to this traditionally more reserved format.
Another color category trend is what Fasan refers to as unpretentious refinement.
"Simple, honest materials like finished plywood, raw concrete, and local timbers are becoming the melody over which we are building our visual symphony around," he explains. "Instead of overworked and artificial, many are finding their design voice in the language of simple materials worked minimally, but with a craftsman's care."
This unpretentious refinement color palette includes honey, oatmeal, espresso, and heather grey with complementary colors of white, matte black, gunmetal, rusty corten, and warm grey.
Fasan predicts a rise in exposed aggregates as the lines between concrete and terrazzo collections soften and become blurred, and the aggregates favor a more complementary multihued variety. He adds that the chip pattern will be more diffused than usual, more accurately rendering the look of traditional terrazzo.
One other noteworthy trend is "cathedral stone," reminiscent of small town European churches and cathedrals of the Renaissance. Historically inspired, marble and limestone are gaining market share as are styles inspired by the architectural stones used in important cultural and religious buildings.
Based on a small extraction of original material, the sample can be deep-scanned to reproduce these ancient and forgotten stones. "Advancements in digital inks and frits mean that we can reproduce a broader array of colors and even highlight the different mineral densities by using glossier frits or even sinking inks along the veinwork to deepen the realism of our stone looks today,"
Originally published in Architectural Record
Originally published in November 2021
Notice