The Rise of Ceramics in Today's Post-Pandemic Society
With nano-treatments enhancing hygiene and digital advances supporting replications of virtually any material, ceramics are having their day
Sponsored by Tile of Spain
Newer Applications
Breaking out beyond its traditional role as floor tiling, bathrooms, and backsplashes, the industry has rediscovered ceramic as a great choice for kitchen counters. In fact, ceramic's unique properties, including its heat and acid resistance, make the material very suitable for these applications.
Ceramics sinter at very high temperatures through the manufacturing process, creating a reaction that forever fuses its components into an immutable, homogeneous piece. The relatively insignificant heat of a hot pan or a baking dish straight out of the oven has no effect and can be placed directly onto a ceramic countertop. Frost-resistant as well, ceramic countertops are also suitable for outdoor kitchen spaces.
"With the material qualities of ceramics combined with manufacturing capabilities to produce large format products and recent innovations in surface nano-treatments, ceramics have the potential to become a strong material choice for countertops and work surfaces," agrees Gwin.
As for durability, ceramics are significantly stronger than granite and almost as hard as quartz. The material's structure makes it scratch-resistant, allowing users to cut up food right on the surface.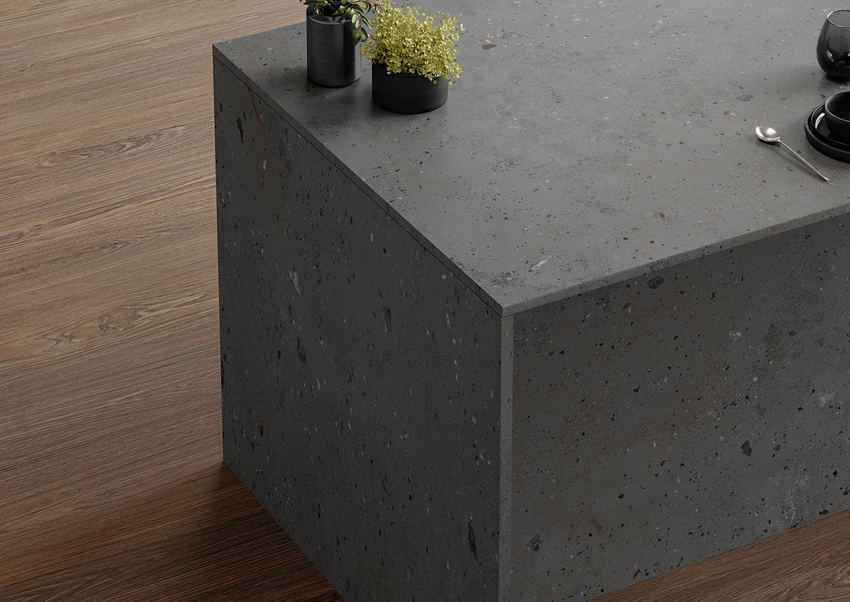 Photo courtesy of Tile of Spain
Heat- and acid-resistant, ceramics are gaining popularity as kitchen counters and islands.
Case in point, M+A Architects recently completed an office project that included a modern café with ceramic countertops. Matte black counters were designed to complement the other built-in elements in the space, and ceramic porcelain slabs were seen as the best way to achieve this vision.
"Ceramic is practical for kitchens," says Eyink. "Because it's nonporous, there is no scratching, staining from food spills, or water rings like on softer counter materials. When used in a large format, this reduces the number of seams in the countertops."
"I expect a huge rise in demand for the industry's 12mm and 20mm gauged porcelain slabs for worktops especially," anticipates Fasan. "Some of the key innovators have found ways to decorate the edge of the slabs and even started offering full-body technical designs, where, for example, a marble vein will run continuously through the body, alleviating the only common complaint that edges required hiding in sintered ceramic slabs."
Nonporous and stain-resistant, the surfaces are easy to clean and UV-resistant. Consequently, unlike quartz, direct and prolonged exposure to sunlight will not damage the surface. Ceramic can be manufactured as extra-large slabs—e.g., 126 inches by 62 inches—so one slab is often sufficient to cover a kitchen island. For larger regular counters, typically only one or two seams are needed. While this may be the case for denser stones like granite and manufactured quartz agglomerates, stones like marble and limestone must be extracted in much smaller slabs.
A ceramic countertop can be as thin as ¼ inch, making it even lighter weight and easier to handle.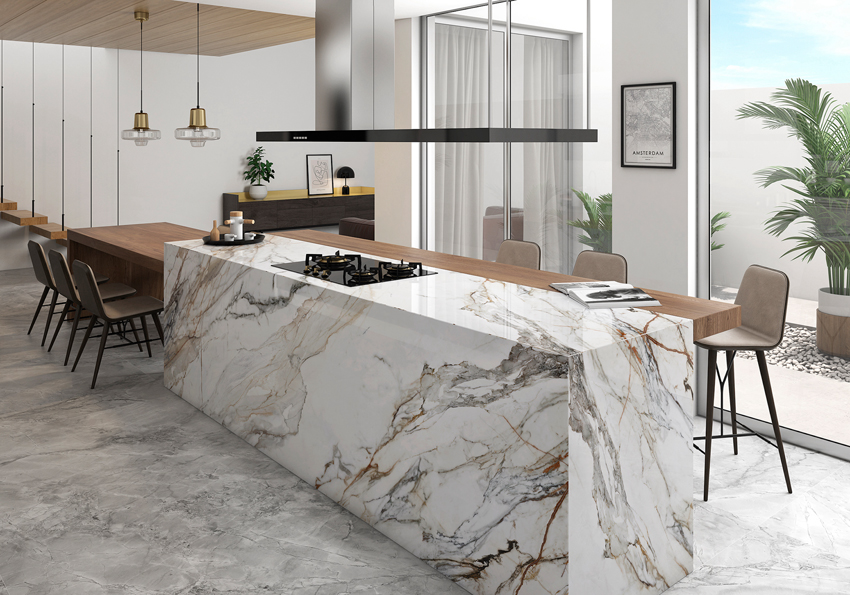 Photo courtesy of Tile of Spain
Ceramic can be manufactured as extra-large slabs—e.g., 126 inches by 62 inches—so one slab is often sufficient to cover a kitchen island.
In the realm of style, the interplay between smaller and larger format tiles are offering architects and interior designers a broad palette with which to create. In some cases, the smaller, more traditional look might be desired. Or, if the design intent is to emulate the look of natural stone or other large slab materials, then the large format slabs would be of interest.
"Large format tiles have been very popular for both kitchen and bath, and our installers are happy when we specify the product," Sacramento, California-based designer Kerrie Kelly recently told Forbes in an article entitled "7 Top Tile Trends and Styles for 2021."
"Large format tiles are easy to clean and sanitize—a key advantage as the hospitality industry rolls out upgraded cleaning protocols in the wake of the COVID-19 pandemic," says Waldrop.
The technical definition of "large format" ceramics according to ANSI standards as referenced in the TCNA 09300 Handbook is any tile with one dimension exceeding 16 inches, and in the context of gauged porcelain panels and slabs to mean 40 inches by 40 inches or larger. Designers are realizing the flexibility offered in interchanging the large format tiles with smaller tiles to create a varied appearance while offering uniform performance levels.
"For installations that seek the appearance of minimal joint lines and tight tolerances, then precision-cut (i.e., rectified) panels can be specified to be created in the factory," explains Peter J. Arsenault, FAIA, NCARB, LEED AP, in an Architectural Record article on large-size porcelain slabs. "This creates very thin grout lines, giving the porcelain the appearance and control of solid stone slabs."
Popular Pavers
Another recent ceramic innovation is 2cm pavers for outdoor flooring applications. A fraction of the weight of dimensional stone and concrete pavers, the porcelain pavers don't require a substrate and can be mechanically fastened for easier installation.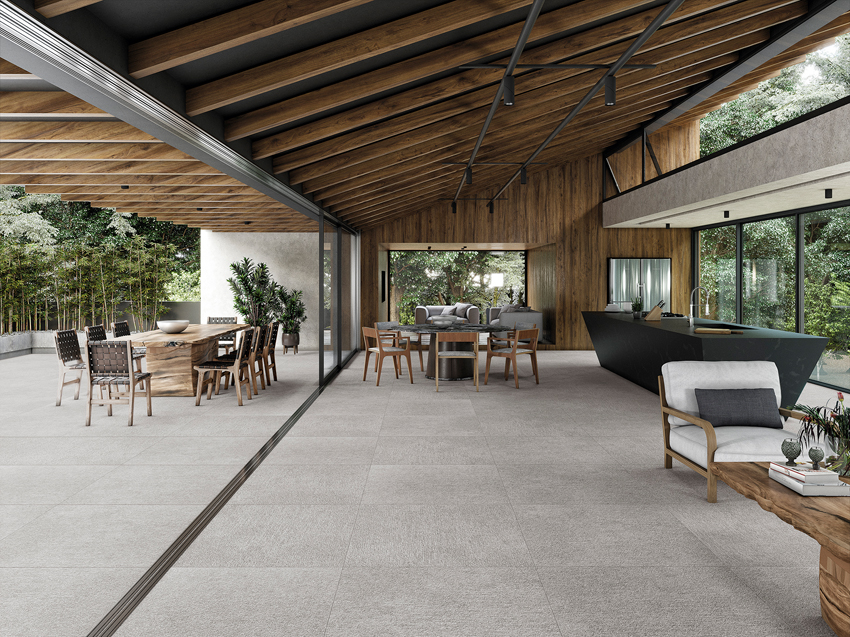 Photo courtesy of Tile of Spain
2cm pavers enable a seamless inside-outside transition.
With matching 10mm material, architects can design ceramic flooring to continue from the interior to outside patios. Great for restaurants, the pavers offer continuity and a great aesthetic for matching interior and exterior spaces. With the application of digital printing, the pavers are gaining popularity for replicating wood, stone, concrete, and more.
"Having a material that can transition from interior to exterior spaces to create visual and performance continuity is a big deal," confirms Fasan. "The advent of 2cm pavers allows for much more cost-effective exterior installations and with a little planning, the transition is seamless. Even when poor weather precludes open doorways or the use of outdoor rooms, the visual continuity gives a comforting illusion of our space being much larger than it is which can have a dramatic impact on our state of mind."
While outdoor amenities have long been important, the pandemic has further accelerated people's desire to be outside.
"We're seeing real estate owners prioritize outside areas in offices because they're attractive to employees and can lead to greater levels of productivity and job satisfaction. I am including some element that connects the indoors with the outdoors in nearly all of my designs," says Eyink. "Flooring is a huge component of the indoor-outdoor relationship, a physical connecter that makes two spaces feel seamless. Porcelain tiles rated for exterior use are a great way to accentuate the transition and connection of these spaces."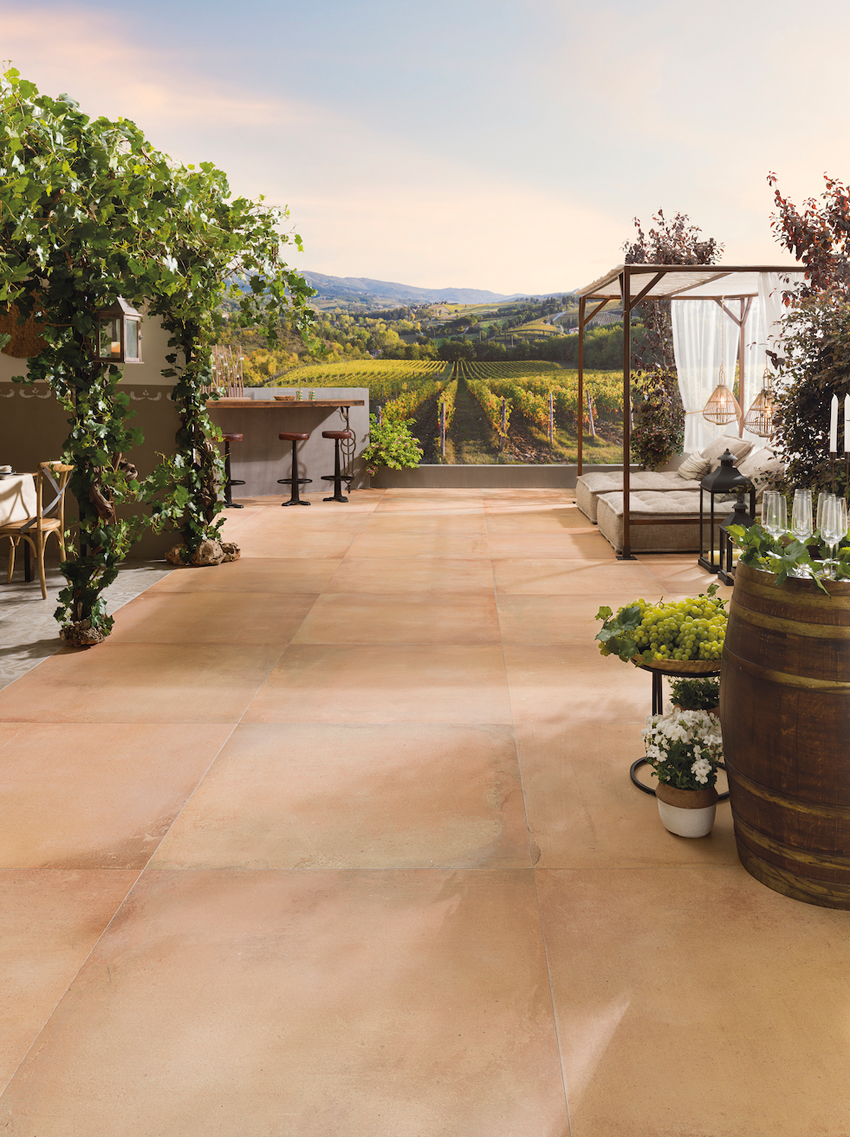 Photo courtesy of Tile of Spain
Outdoor porcelain pavers are lightweight, easier to handle and install, and offer a high compressive strength.
Also driving interest in outdoor pavers for restaurants are new city programs supporting supplemental outdoor dining to assist hospitality establishments struggling to survive post pandemic. Of note, Los Angeles has an L.A. Al Fresco initiative, which allows restaurants to apply for permits to expand dining areas into the street, sidewalk, and private parking lots. Similar programs are popping up in California's Bay Area, and in Tampa, Cincinnati, Atlanta, and Connecticut, to name a few.
Porcelain pavers are a great way to tile over these areas, thanks to its light weight, which makes transport, handling, and installation faster and easier. In comparison, a ¾-in.-thick porcelain paver weighs 9 pounds per square feet whereas granite pavers have an average weight of 22.5 pounds per square feet and are twice as thick.
Porcelain also offers a high breaking strength and impact resistance, delivering a very sturdy surface.
Originally published in Architectural Record
Originally published in November 2021
Notice