The Impact of Wood Use on North American Forests
Can specifying wood for buildings contribute to forest sustainability?
Sponsored by Think Wood
This test is no longer available for credit
Tools for Accountability
Although types of ownership vary, forest management in the U.S. and Canada operates under layers of federal, state/provincial and local regulations and guidelines that foresters and harvesting professionals must follow to protect water quality, wildlife habitat, soil and other resources. Laws addressing safety and workers' rights also govern forestry activities. Training, continuing education and certification for loggers and foresters support continuous improvement as well as the use of forestry best management practices (BMPs). Government agencies monitor forest management activities for compliance with regulations.
Forest Certification
While forestry is practiced in keeping with regulations and guidelines that consider environmental, economic and social values for that particular country, voluntary forest certification allows forest companies to demonstrate the effectiveness of their practices by having them independently assessed against sustainability standards.
Wood is the only building material that has third-party certification programs in place to demonstrate that products being sold have come from a responsibly managed resource. As of January 2015, more than 500 million acres of forest in the U.S. and Canada were certified under one of the four internationally recognized programs used in North America: the Forest Stewardship Council (FSC), Sustainable Forestry Initiative (SFI), Canadian Standards Association's Sustainable Forest Management Standards (CSA), and American Tree Farm System (ATFS). This represents approximately half of the world's certified forests.9
According to the National Association of State Foresters, "credible forest certification programs include the following fundamental elements: independent governance, multi-stakeholder standard, independent certification, complaints/appeals process, open participation and transparency. [...] While in different manners, the ATFS, FSC, and SFI systems include the fundamental elements of credibility and make positive contributions to forest sustainability."10 Similarly, the World Business Council on Sustainable Development released a statement supporting an inclusive approach that recognizes these programs as well as CSA (and others).
The FSC, SFI, CSA and ATFS programs all depend on third-party audits where independent auditors measure the planning, procedures, systems and performance of on-the-ground forest operations against the predetermined standard. The audits, performed by experienced, independent foresters, biologists, socio-economists or other professionals, are conducted by certification bodies accredited to award certificates under each of the programs. A certificate is issued if a forest operation is found to be in conformance with the specified forest certification standard.11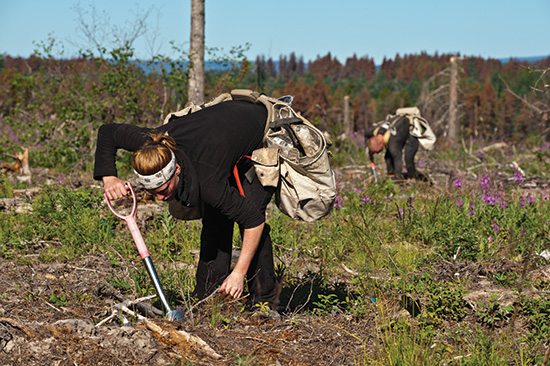 Photo courtesy of naturallywood.com
Tree planters
The Art and Science of Forest Management
There is a good reason forestry is often described as a blending of art and science. Foresters must follow the laws, regulations and best practices of forestry and apply forest science and the results of ongoing research. They must also nurture the art of recognizing the unique features of a specific forest and site and develop the management design that will meet diverse environmental, economic and social interests, including the needs and objectives of the landowner.
The blending of art and science that occurs in forest management is similar to what occurs in a building project. Like the multi-disciplinary team that designs and constructs buildings, sustainable forest management involves a team that includes foresters, engineers, biologists, hydrologists, surveyors and loggers that plan and care for the forest. In both cases, members of the team must address the technical requirements and obligations of their profession while taking into consideration the tastes and desires of the project partners and owners. In the case of forestry, this includes caring for the forest while meeting the needs of landowners, the environment and their community.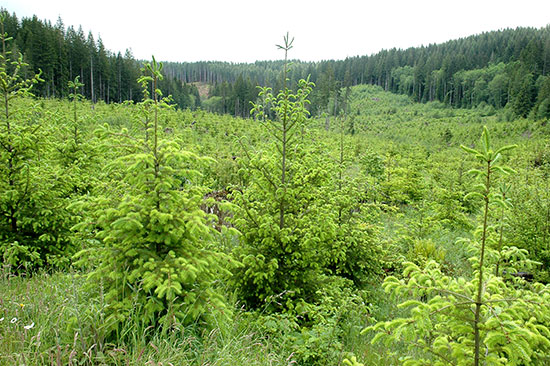 Photo courtesy of the Oregon Forest Resources Institute
Douglas-fir working forest in Tillamook County, Oregon
Originally published in Architectural Record
Notice