Successful Strategies for Profitable, Carbon-Neutral Designs Using Passive House and Mass Timber
Webinar On-Demand
Sponsored by Think Wood
LIVE WEBINAR ATTENDEES:
If you attended the live webinar for a minimum of 45 minutes, you DO NOT need to complete the quiz to earn credit. Your certificate of completion will be added to your CE Center Credit Tracker within 24 hours and your credit will be reported to AIA.
Learning Objectives:
Explain the important characteristics of mass timber that allow for energy- and cost-efficient design, and key strategies for taking advantage of these characteristics.
Understand the key principles of successful Passive House Design.
Quantify the potential operational and embodied energy impacts of Passive House design and mass timber technologies.
Communicate the pathways for cost savings and increased marketability that are made possible from Passive House and mass timber design.
Credits:
This course can be self-reported to the AIBC, as per their CE Guidelines.
In construction, environmental benefits and developers' interests are often seen as conflicting. "Green" features are thought to add cost and complication. Yet, with careful review of the site and economic conditions and informed decisions about which sustainable features are to be implemented, it is possible to align both environmental and financial goals. When designed intelligently, environmental performance and efficient construction can not only work together but actually make a project more marketable and profitable while reducing a building's carbon footprint. One of the most successful ways to achieve construction efficiency with environmental benefits is to fuse mass timber technologies with Passive House principals to create some of the most energy-efficient buildings, often achieving carbon neutral. Advantages also include increased marketability and sale value, improved quality of life for the residents, and reduced operational costs.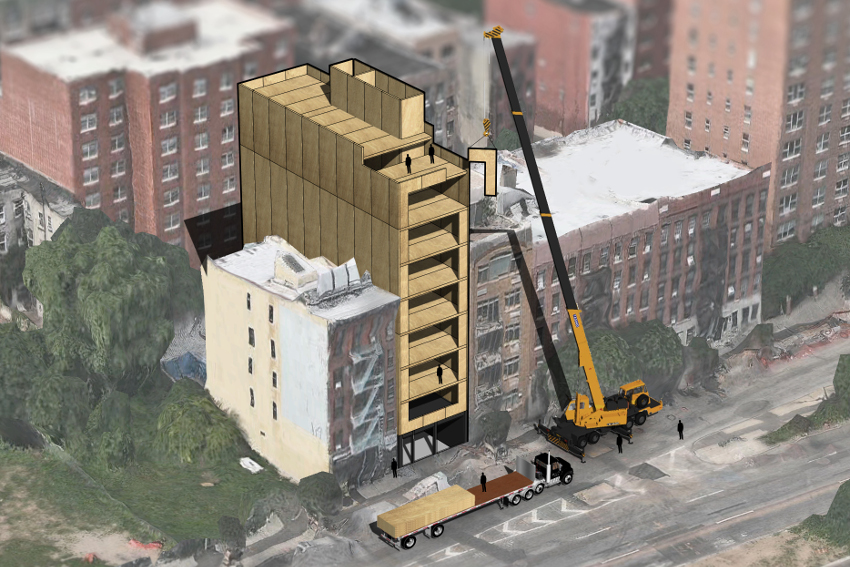 Image courtesy of reThink Wood
| | |
| --- | --- |
| | Graham Finch, principal and building science specialist for RDH Building Science, has a passion for technology and a dedication to making better and more energy-efficient buildings. He leads the RDH Building Science Research Group and is actively involved in a wide range of projects from building research studies to forensic investigations, building monitoring, hygrothermal modeling, and new construction facade design across North America and overseas. In addition to his work at RDH, Graham is a part-time instructor at the British Columbia Institute of Technology, where he teaches building science courses to students at the diploma and masters levels. |
| | Stas Zakrzewski is a principal at ZH Architects located in New York City. ZH's work focuses on integrating sustainable practices into its current body of modern and design-driven work. The firm is currently working on several Passive House projects in New York City, ranging from a 24-story residential high-rise to a 10-story mixed-use condo to single-family homes. Further to the work of his firm, Stas is active in advocating for the Passive House standard and CLT construction with local government and regulatory agencies. He also holds a position at New York Passive House and is currently on the Advisory Energy Code Committee for New York City. |
| | |
| --- | --- |
| | Think Wood is a leading education provider on the advantages of using softwood lumber in commercial, community and multifamily building applications. We introduce innovators in the field to our community of architects, engineers, designers and developers. For support or resources, contact us at info@ThinkWood.com. |
Notice