Energy Efficient Wood Buildings
Strategies for achieving energy objectives with wood-frame structures
Sponsored by reThink Wood
Learning Objectives:
Summarize a range of design considerations required to achieve energy-efficient building enclosures in multi-story wood-frame buildings.
Discuss thermal insulation strategies, which must be considered together with airtightness and vapor permeability in assemblies in order to achieve effective thermal efficiency.
Explain common methods for controlling heat and airflow in wood-frame buildings.
Identify how new energy codes, such as the International Energy Conservation Code, have placed increased emphasis on the thermal performance of buildings.
Credits:
This test is no longer available for credit
Wood's favorable carbon footprint is one reason more North American architects are choosing wood-frame construction for mid-rise buildings up to six stories while closely following the rise of taller wood buildings made from mass timber and hybrid building systems. However, while it is fairly well known that wood products sequester carbon and typically require less energy to manufacture than other building materials, their performance related to operational energy efficiency is often overlooked.
From a thermal perspective, wood-frame building enclosures are inherently more efficient than steel-frame, concrete, or masonry construction1—because of the insulating qualities of the wood structural elements, including studs, columns, beams, and floors, and because wood stud walls are easy to insulate. Options also exist for insulating wood-frame buildings that aren't available for other construction types. For example, while requirements for lighting systems or mechanical systems do not change based on structural material, wood's versatility related to building envelope configuration gives designers more insulation flexibility.
While wood-frame buildings have a history of cost-effectively achieving energy-efficiency objectives, new energy codes and standards have increased the minimum thermal requirements for building enclosure assemblies, and many of the new requirements exceed the cost-effective thermal insulation limits of traditional wood-frame construction. This has prompted the need for alternative assemblies—e.g., with insulation outside the framing spaces or deeper wall cavities—as well as more thermally efficient detailing.
With proper attention to detail and the application of building science in design, wood buildings can meet or exceed the requirements of new energy codes and standards, as well as conservation programs and labeling systems such as Passive House, net-zero energy, and the Architecture 2030 Challenge. With an emphasis on building envelope design for mid-rise buildings, this course will focus on design strategies for air and thermal control, and energy-efficient assemblies. It will discuss wood-frame construction in the context of the International Energy Conservation Code (IECC), and highlight expanding possibilities for the design of energy-efficient wood buildings using "mass timber" products.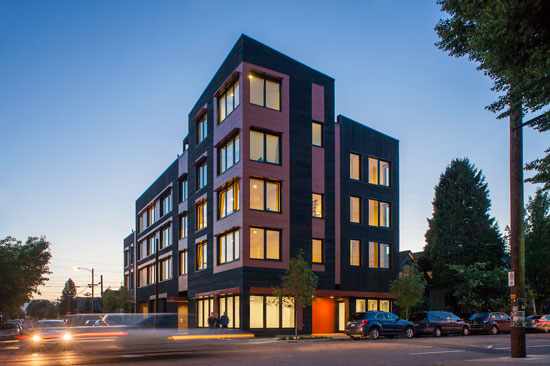 Photo courtesy of Eckert & Eckert Photography
KILN APARTMENTS
Portland, OR • GBD Architects
Kiln Apartments is a five-story wood-frame building with 19 residential units and retail space on the ground floor. It is the first market-rate multi-family/mixed-use development in the United States designed to meet Passive House standards.
A History of High Performance
Wood framing has long been used to create energy-efficient buildings. For example, between 2004 and 2011, the Bethel School District (BSD) in Washington State reduced energy use by more than 7.6 million kilowatts and saved $4.3 million in utility costs—equivalent to the cost of electricity for 15 of the District's elementary schools for one year. BSD reports an 81 percent ENERGY STAR rating overall, and several of their 17 elementary and six junior high schools have a rating of between 95 and 98 percent. While size, configuration, and age of the 23 facilities vary, one thing remains constant: each is wood-frame.
Originally published in Engineering News-Record.
Notice