Strategies for achieving maximum durability with wood-framed construction
Sponsored by Think Wood
Buildings that Work
Over the years, research and experience have identified several key characteristics of wood buildings that last.
Dry Buildings
As has been discussed, controlling moisture is a key factor in ensuring durability. Wood meant for a dry structure must start out dry and stay dry. Buy dry wood, store it properly, design the building to keep the wood dry, and observe proper maintenance practices. This is fundamental to an approach called "durability by design."
For example, if wood is in direct contact with concrete outdoors, moisture can accumulate unless the concrete is detailed to drain away from the wood. Moisture can be a problem in basements because they are surrounded by soil and basement walls are subject to penetration by tiny amounts of water through concrete foundation walls. This can be prevented by use of an effective moisture barrier.
Buildings with Quality Assurance
For long-term durability, conformance to requirements of the building code is essential at every stage of the building process. Inspection is required for all construction materials covered by the building code and is typically performed by the local code agency. Special inspection by third-party agencies for construction practices critical to the building's structural capability, such as tight diaphragm nailing in high seismic areas, are enumerated in Chapter 17 of the IBC, Structural Tests and Special Inspections. Treated wood products should confirm to AWPA standards, and should carry the quality mark of an accredited inspection agency of the American Lumber Standard Committee (ALSC) or ICC Evaluation Service.
Buildings that are Properly Maintained
Also essential to building longevity is regular maintenance, repair, and renewal. Five years after installation (or sooner), wood exposed on the exterior should be inspected, and then every two years thereafter. Sunken paint and surface collapse both indicate subsurface wood decay, which requires repair. To minimize moisture problems, cladding should be inspected annually for signs of wear and for green algae stains; through-wall flashing should be examined for brown stains. Exposed wood should be properly painted, stained or otherwise protected. Re-treat with termiticides at appropriate intervals. Heavy shrubbery should be kept from exterior walls, and sprinklers pointed away from wood walls. Roof gutters should be kept unclogged. Any plumbing leaks should be promptly repaired.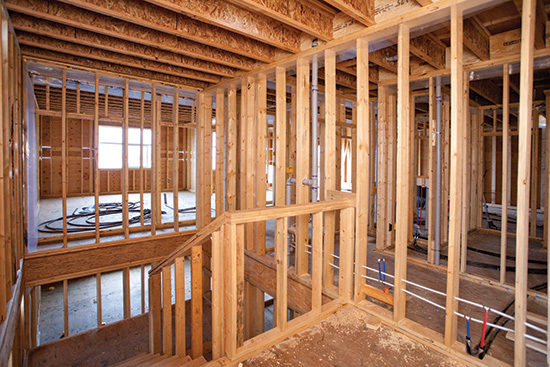 Photo courtesy of Stephanie Tracey
Wood: A Material of Choice
Because of its cost effectiveness, ease and efficiency of construction, versatility, and sustainability, wood will continue to be a material of choice for many structural applications. Protecting the longevity of wood buildings starts with good design and construction practices—both areas in which architects can influence the optimum use of wood. When appropriate steps are taken, architects can tap the virtually unlimited design possibilities of wood, while delivering buildings that will perform well for owners, occupants, and the environment—and for decades to come.
For more detailed information on the subjects covered in this CEU, a new version of the American Wood Council's Code Conforming Wood Design based on the 2018 CCWD is available as a free download at www.awc.org.
References
Endnotes
| | |
| --- | --- |
| | Think Wood is a leading education provider on the advantages of using softwood lumber in commercial, community and multifamily building applications. We introduce innovators in the field to our community of architects, engineers, designers and developers. For support or resources, contact us at info@ThinkWood.com. |
Originally published in Architectural Record
Originally published in December 2015
Notice