Twenty-First Century High-Performance Limestone Plaster
Historic exterior finish material meets modern environmental performance criteria
Sponsored by THERMOCROMEX
This test is no longer available for credit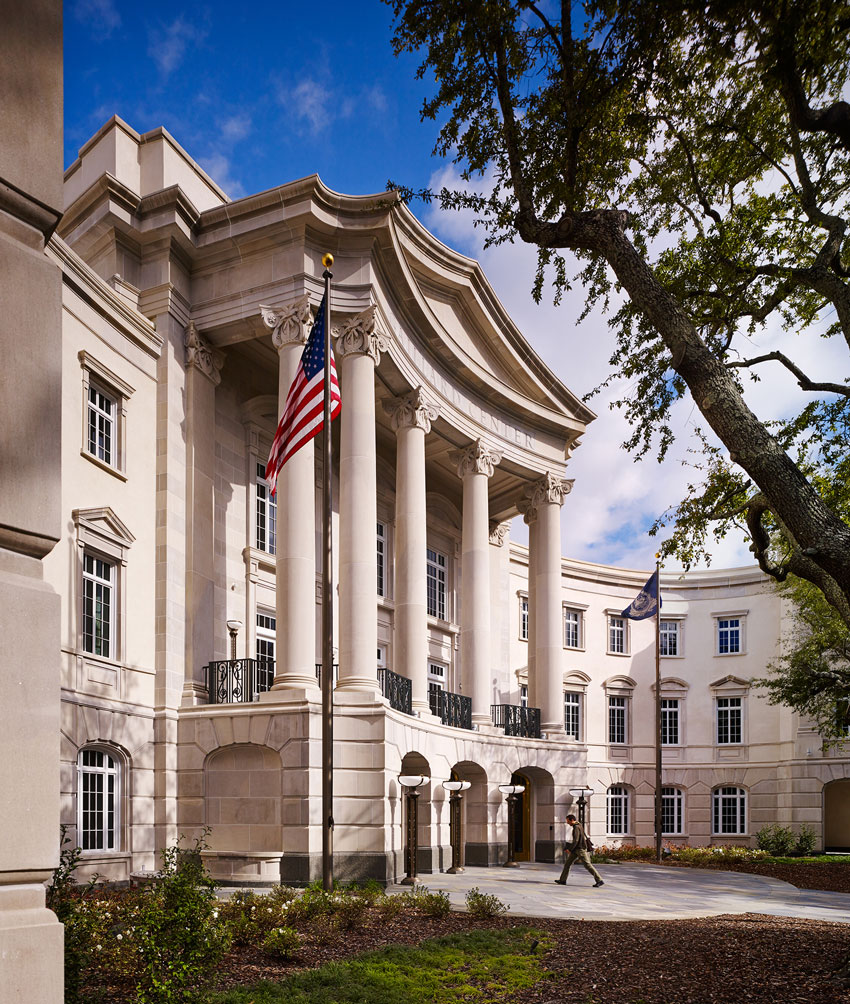 Photo courtesy of Steve Hall, Hedrich Blessing
The Galliard Center complements the historic district in Charleston, South Carolina, and by using high-performance limestone plaster, it also provides 21st century environmental advantages.
Performance Matters
The Galliard Center completed in 2015 by David M. Schwarz Architects and Earl Swensson Associates was originally planned as a small-scale renovation. This 1960s-era municipal auditorium and exhibit hall needed rehabilitation. The project quickly grew to include an additional 90,000 square feet for city offices and a complete overhaul of the entire building. The exterior cladding needed to be compatible with more than three different substrates. Located near the heart of the Charleston, South Carolina, historic district, the designers wanted to select a material that complemented adjacent buildings.
Many of the historic buildings in Charleston were clad in stucco, which since its introduction to America during the Civil War, has been comprised of a mix of lime with Portland cement. According to Steve Knight, associate at David M. Schwarz Architects, "A limestone-based plaster versus Portland cement-based stucco was chosen for the Galliard Center." Choosing high-performance limestone plaster improved performance. "Limestone is softer than Portland cement, it allows for more movement without cracking…and, no need for control joints," Knight adds. For this project, more than 200,000 square feet of high-performance limestone plaster was installed. The product was sprayed onto the wall and then hand-troweled to achieve smooth finishes. In some locations at the first-story base of the building, the material was applied to a greater thickness and recessed reveals were incorporated to simulate a rusticated base. When applied over a mass wall, there is no need for control joints, and it can be directly applied to brick, precast stone, unpainted stucco, concrete, concrete masonry units (CMU), and poured-in-place concrete (PIP).

Photos courtesy of Thermocromex
Pictured is HPLP sprayed onto a wall (left) and troweled for a smooth finish (right). The HPLP was sprayed onto the wall in a single coat and then hand-troweled to achieve smooth finishes with block coursing to more than 200,000 square feet at the Galliard Center for Performing Arts.
HPLP is stone, and as such, the material reflects the light and provides the texture of a natural material. Knight says, "The ability of this finish to be directly applied to CMU and PIP concrete, keep out the rain, and provide a cladding that breathes was an exceptional bonus." Limestone-based plaster is both new and old at the same time. It is a material that has been used in Europe for hundreds of years, while the spray-on application of 21st century products is both modern and efficient. "This high-performance finish addresses movement, vapor, and moisture barrier issues, as well," he adds. "It provides a clean, smooth, and uninterrupted monolithic look."
Performance matters when selecting finishes for new construction or renovations. In the case of high-performance limestone plaster, there are numerous distinctions to be made before specifying a product that exceeds building codes and green building criteria.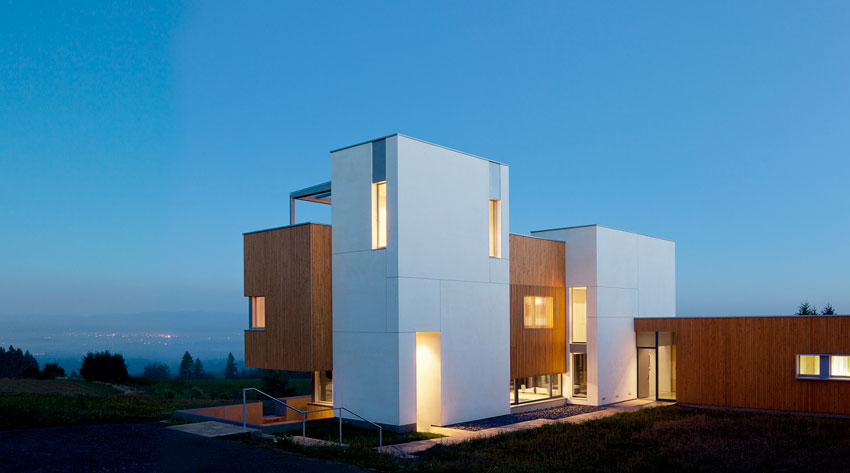 Photo courtesy of Jeremy Bittermann
The Karuna house is sited on an exposed hillside overlooking the Willamette Valley. Holst Architecture chose HPLP as the material for the anchoring towers because of performance values that contributed to environmental certifications. These included Passive House PHIUS+, LEED for Homes Platinum, and MINERGIE-P-ECO.
Meeting High-Performance Environmental Standards
According to Cory Hawbecker, senior associate at Holst Architecture in Portland, Oregon, the selection of HPLP for the Karuna House was a response to the client's strict environmental requirements. "Karuna House is an ambitious sustainable design project that was designed to meet a combination of the world's most demanding green building certifications," he says. "The project is the first MINERGIE-certified building in North America, earning the top rating of MINERGIE-P-ECO. Additionally, it has achieved Passive House PHIUS+, LEED for Homes Platinum, and net-zero energy by incorporating on-site solar panels. It is expected to be one of the few homes in the world certified by both MINERGIE and Passive House Institute US, and is the first to earn all three certifications." Hawbecker explained that MINERGIE is a Swiss green building rating system that is difficult to achieve. In this rating system, there are high-performance, production, and content requirements for materials used on a project. The owner, a leading proponent of smart climate policy and sound land use, "pursued the project as an environmental case study," Hawbecker explains. "He directed the architects to select the most sustainable materials possible and particularly wanted to limit the use of cement to limit greenhouse gas emissions. Using a high-performance lime plaster not only limited greenhouse gas emissions, but the facade absorbs CO2 from the surrounding air."
The house is located on an exposed southern slope of a mountain overlooking the Willamette Valley's rich wine region. Karuna House provides spectacular views of majestic Mt. Hood and the Cascade Range to the east. Two towers, clad in HPLP, anchor Karuna House to the earth, marking the location of double-height spaces and vertical circulation. Hawbecker says, "Although the building is exposed to a tough climate from wind, rain, and snow, the finishes still look great."
The home's super-insulated envelope is designed to be airtight. Solar heat gain is controlled through the use of exterior operable blinds that shade triple-glazed windows. Heating, cooling, and hot water are supplied by an efficient heat pump system, and a heat recovery ventilator provides the spaces with a continuous supply of fresh, preheated air. The home's tight building enclosure is expected to result in the usage of 90 percent less heating and cooling energy than a typical home.
Completed in 2013, this project has been awarded numerous awards reflecting its sustainable initiatives. These include the following:
2015 National Institute of Building Science Beyond Green Merit Award, High-Performance Buildings
2014 GreenBuilder Home of the Year Award, Best Building Science
2013 Portland 2030 Challenge Design Award for Excellence in Residential Net-Zero Energy
2013 Honoree; Portland Business Journal's Innovation in Sustainability Awards, Energy
The performance benefits of high-performance lime plaster that contribute to the goals of an architect achieving sustainability initiatives include environmental performance for energy savings, materials and resources, and indoor air quality.
Optimizing Energy Performance: R-Values/Air Barriers/Air Permeance
Designing for energy efficiency requires conscientious detailing of exterior walls. All green rating systems require performance targets and modeling. To optimize energy performance, architects select exterior materials that can contribute to insulation values and create airtight enclosures that control moisture and vapor penetrations. The thermal resistance value, or R-value, of HPLP is 1.02 per inch of thickness, providing a greater resistance to heat loss than granite, marble, or even actual limestone.4 The insulation value of stucco is an R-value of .02 and of concrete, an R-value of .08.5 When directly applied to a mass wall with insulation on the interior side of a wall assembly as per the American Society of Heating, Refrigerating and Air-Conditioning Engineers (ASHRAE) and the International Energy Conservation Code (IECC), HPLP can become an integral part of a continuous insulation system.
However, it is the performance values for moisture control that make this product one of the best choices for environmental savings. According to Joseph Lstiburek at the Building Science Corporation, air barriers resist air pressure differences in buildings, keeping outside or inside air out of the building enclosure. "Airflow carries moisture that impacts a materials long-term performance (serviceability) and structural integrity (durability)," he explains. "Airflow also affects building behavior in a fire (spread of smoke and other toxic gases, supply of oxygen), indoor air quality (distribution of pollutants and location of microbial reservoirs), and thermal energy use. One of the key strategies in the control of airflow is the use of air barriers."6
HPLP is a spray-on continuous exterior cladding that is impermeable to air flow. This material is strong, flexible, and durable, withstanding damage over the life of the building. Compliance to the ASHRAE 90.1-2010 and the 2012 IECC requirements for air leakage rates requires that material components or assemblies must meet a maximum air leakage rate of 0.04 cfm/ft2.7 HPLP applied at a 3/8-inch thickness as part of a wall assembly has been tested and confirmed to receive an air permeance value of 0.0024 cfm/ft2, far exceeding the recommended code values. As a result, energy costs are greatly reduced due to the natural capacity of HPLP for zero air infiltration.
HPLP exceeds air permeance values, while also providing a material that "breathes." Vapor permeability is a standard measure of the water vapor permeability of a material. The higher the number, the more readily water vapor (in the gaseous state) can diffuse through the material. A perm rating of less than 0.1 is considered a Class I impermeable vapor retarder (which is also considered a vapor barrier); a perm rating between 0.1 and 1 is considered a Class II semi-permeable vapor retarder; a perm rating between 1 and 10 is a Class III permeable vapor retarder; and a perm rating greater than 10 is highly permeable and not considered to be a vapor retarder. HPLP provides a perm rating of 84, and allows moisture trapped in the building envelope to breath and dry out, eliminating most mold and mildew problems. In comparison, stucco is an absorptive cladding. Problems with the use of moisture barriers has caused numerous failures of stucco and EIFS walls due to improper installation and understanding of moisture control with an absorptive surface.8 A material that does not have high perm ratings requires careful detailing and the use of building papers, air, vapor, or water resistant barriers. HPLP naturally weatherproofs a building without the use of any moisture barriers, even when applied directly over CMU.
Originally published in Architectural Record
Originally published in September 2016
Notice