High-Performance Coatings for Commercial Applications
A new generation of coatings is engineered to protect assets, enhance appearance, and maximize long-term value for your clients
Sponsored by Sherwin-Williams
Learning Objectives:
Distinguish between the features of a high-performance coating and a traditional architectural coating.
Describe why high-performance coatings are well suited for applications with stringent environmental considerations.
Recognize the basic differences between the five primary types of high-performance coatings and identify potential applications for each.
Explain what factors determine a coating's sustainability.
Evaluate the impact of a coating's life cycle on long-term product costs and the environment
Credits:
This test is no longer available for credit
Every job is unique. Each has specialized requirements, client demands, and environmental compliance issues that must be considered. Of the many challenges facing the design community, one of the most demanding is specifying the right coating for commercial spaces. Just as all jobs are not created equal, all paints are not created equal. Standard latex architectural wall paints typically found in MasterFormat section 099123 for Interior Paint are fine for some light-duty commercial applications but are inadequate for areas that experience higher traffic or frequent cleaning. And heavy-duty industrial coatings such as the epoxies and urethanes typically found in section 099600 for High-Performance Coatings are usually reserved for harsh industrial environments such as manufacturing and processing plants.
What about all those busy, high-demand spaces that fall between light commercial and heavy industrial? Often referred to as Light Industrial or Heavy-Duty Commercial, these "in-between" spaces could include commercial kitchens, locker rooms, school classrooms, fitness centers, healthcare facilities, animal hospitals, natatoriums, school cafeterias, transit terminals along with many other high-traffic, high-profile commercial spaces that are all around us.
Specify standard latex wall paint for these areas and it could result in premature failure of the coating, excessive maintenance cost for the owner, and a greater consumption of resources as a consequence of frequent repainting. Yet, if you specify a heavy-duty industrial-grade epoxy for these areas, you are limited in colors and sheens, the application requires a specialized painting contractor, and the finish quality can be substandard for a commercial space that will be seen by customers, employees, or the public.
A stippled, glossy finish might be acceptable for a concrete block wall in a beverage plant, but would not pass inspection for a school hallway. So, what is the solution to this dilemma? Fortunately, there's a new breed of high-performance wall paints designed to address the need for durable coatings in these types of environments. These technologically advanced coatings are available in virtually any color and all of the popular sheens, provide a smooth, elegant finish, comply with stringent environmental standards, and can be applied by a standard painting contractor. Additionally, high-performance commercial coatings deliver the hard-wearing durability a commercial space demands, without compromising the client's expectation for a beautiful finish that's easy to apply and inexpensive to maintain.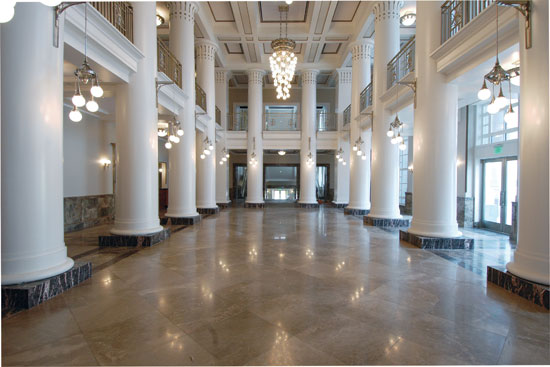 Photo courtesy of Sherwin-Williams
Technologically advanced high-performance coatings bridge the gap between traditional architectural paint and coatings formulated for heavy industrial applications.
Originally published in Architectural Record
Originally published in June 2014
Notice