Responding to new energy goals with facade design
Sponsored by the Ornamental Metal Institute of New York
Learning Objectives:
Explain why energy codes are leading architects to rethink the use of all-glass facades.
Identify design features that warrant consideration in response to new energy codes and occupant demands for improved comfort.
Discuss how high-performance glazing, shading, dynamic glass, fabric membranes, double-skin facades, and building integrated photovoltaics are helping to support expansive glass facades.
Assess, through case studies, successful applications of these technologies in achieving energy savings and increased user choice and comfort.
Credits:
This test is no longer available for credit
While the beautiful aesthetic created by large expanses of facade glazing is not disappearing any time soon, increasingly stringent energy codes are pushing architects to seriously reconsider just how much glass they can afford.
"The dominant drivers, at least with large commercial and luxury residential buildings, continue to be aesthetic," confirms Mic Patterson, LEED AP BD C, vice president of strategic development for the Advanced Technology Studio of Enclos in Los Angeles, California. "Building developers want floor-to-ceiling glass because of market demand, despite the negative effect on thermal, solar, and acoustical performance."
However, an initiative called the Architecture 2030 challenge is pushing all new buildings, developments, and major renovations to be carbon-neutral by the year 2030, and the Energy Independence and Security Act of 2007 is directing projects built after 2025 toward a zero-net-energy goal. While these targets are still a few years away, they are beginning to shape the all-glass facade.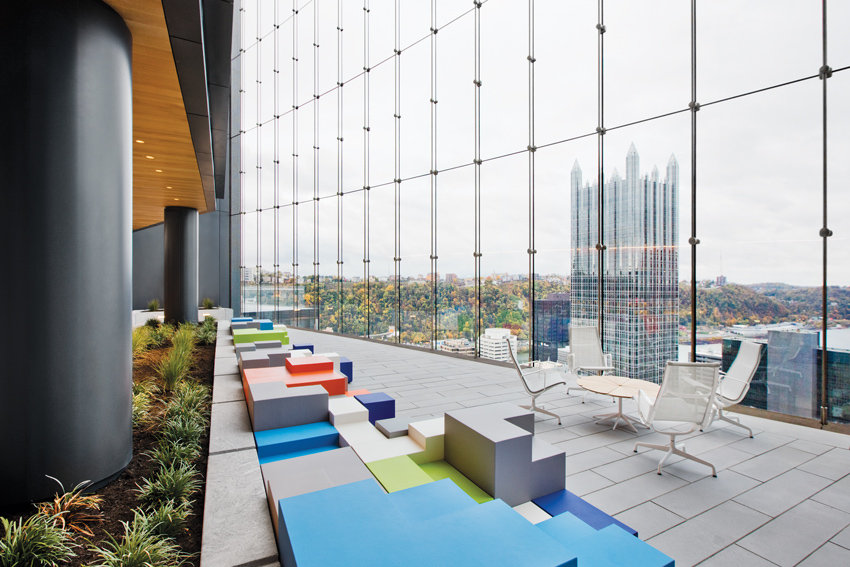 Photo courtesy of Connie Zhou Photography/Gensler
Described as the greenest high-rise in the country, Pittsburgh's Tower at PNC Plaza successfully merges an expansive glass facade with highly energy-efficient technologies.
Furthermore, ASHRAE Standard 90.1 and California's Title-24 are already making an impact now, guiding nonresidential buildings to limit window area to 40 percent or less of the total wall area, while requiring high-performance glazing that balances thermal performance with high visual light transmittance for daylighting, according to Erik Ring, P.E., LEED Fellow, principal of LPA Inc. in Irvine, California.
"Currently there is a 'perfect storm' forming, as energy codes, environmental mandates, and economic drivers are all coming together," states Udi Paret, general manager building solutions, Solaria Corporation, San Francisco, California. "From international agreements, such as the COP21 (Conference of Parties) Sustainable Innovation Forum, to federal incentives, such as the extension of the higher solar investment tax credit bracket, all the way to municipal level code requirements, such as last year's update to Title 24 for at least 1 percent renewable energy generation in new construction, there's a myriad of drivers making developers and building owners realize that innovative designs in glass facades are necessary to maintain competitive edge and the value of their properties."
So, in order to overcome the modeled energy penalty associated with the poor-performing, all-glass envelope, designers are more seriously evaluating technologies such as high-performance, insulated low-e glazings, electrochromic and photochromic glass, solar shading, double-wall facades, and, to some extent, building-integrated photovoltaics (BIPV).
That said, it's important to point out that the codes that more directly address window-to-wall ratios only do so from a prescriptive-design approach, still leaving room for designers to well exceed the recommended 40 percent ratio, as long as they can ratchet down energy consumption in other ways, i.e. a performance-based approach to meeting code.
"The newer, stricter codes are certainly making a drive toward a more energy-efficient building. As a result, it pushes us as architects to rethink the traditional 'glass box.' This inherently encourages the use of less glass in the facades and a greater use of high-performance glazing and high-performance mechanical systems, but doesn't mandate anything," explains Laura P. Beene, AIA, LEED AP BD C, project designer/project manager for Earl Swensson Associates (ESa) in Nashville, Tennessee.
While Omar Renteria, AIA, NCARB, LEED AP BD C, senior project director for EYP Architecture & Engineering in New York, acknowledges that more frequent code publishing cycles are driving improvements in overall best practices, they still don't support the high-performance baselines that today's envelopes require. Instead, "they take into consideration average metrics that are very broad and are more geared to baselines as static points in time from an environmental perspective, and therefore don't always address the trend toward more unpredictable and rapidly changing environments to which envelopes must adapt to in order to truly meet sustainability goals."
In other words, buildings can't be viewed as isolated elements within the built environment, he says, and more effective results will need to come from designers performing more extensive analysis and energy modeling to achieve high-performance metric targets.
For example, while glass is certainly needed for daylighting and views, for other envelope areas—such as at interstitial spaces that don't have transparent or translucent requirements—Renteria says that too much emphasis is placed on glass when a different and potentially more sustainable material would be better suited to achieve a more efficient response. "In short, designers could be more responsible from a sustainable point of view to use glass where it is needed, but look for other material solutions where it is not."
Notice