More Than One Way to Skin a Building
Four curtain wall case studies show different ways to address daylight while achieving superior aesthetics and performance in new and renovated buildings
This course is no longer active
Sponsored by the Ornamental Metal Institute of New York
Learning Objectives:
Identify and recognize the characteristics of high-performance curtain walls that can be used in a variety of settings.
Investigate the design potential and innovative opportunities to create building curtain wall system installations that add and control daylight.
Assess the functional contributions of curtain walls towards improved interior environments and creative exterior applications.
Specify and design curtain wall systems using construction details that integrate with structural systems appropriate to new and renovation applications.
Credits:
Building facades have become more than the sum of their parts, particularly when curtain wall systems are used. Advances in materials, digital tools, fabrication techniques, and multidisciplinary collaboration mean that modern facades are being used to regulate entire building environments in terms of daylight, ventilation, and energy use. The cutting-edge technology of many curtain wall systems, coupled with good design principles, is saving energy while providing indoor environments that are focused on the needs of the users. The result is an impressive combination of design and performance coming together for new and renovated buildings.
Overview of Curtain Wall Systems
A curtain wall system is defined as a complete exterior envelope facade system which provides a non-structural, relatively lightweight, weather-tight covering on buildings. Being lightweight, it reduces both the load that must be supported and the manpower needed to erect it. In the case of small, low-rise projects, the system may be field fabricated or "stick built" and glazed using standard components similar to a storefront system. However, curtain wall components are notably different in design and performance characteristics with typically much better results compared to storefront components. Larger projects may justify full factory fabrication with panels prepared and glazed ready to be placed directly onto the building structure, minimizing the number of joints in the facade. Curtain wall systems are generally installed outside of the structural system of a building running past floor slabs and other structural elements. They are then attached via tiebacks directly to the building structure at floors, columns, and beams. This installation process means that all wind loads and dead loads imposed on the system are compartmentalized and transferred directly to the building structure. Hence the curtain wall system carries only its own weight and loading while the building structure absorbs all imposed loads.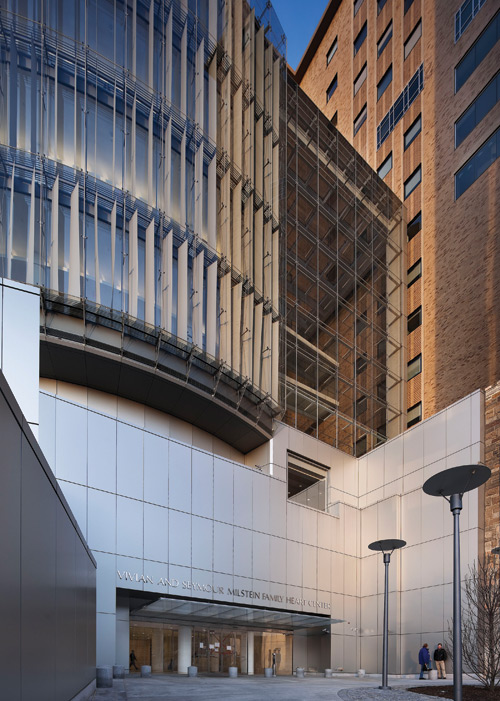 Curtain wall systems, like this one at the Milstein Family Heart Center, can be used for a total building or just for a portion to meet a variety of design and performance needs.
Photo by Paul Warchol, courtesy of the Ornamental Metal Institute of New York
Originally published in Architectural Record
Originally published in May 2013
Notice