Managing Risk During Intricate Curtain-Wall Projects
Early collaboration and a design-assist approach are key to successfully delivering complex facades
Sponsored by Ornamental Metal Institute of New York
This test is no longer available for credit
NYC TO DC
More recently, REX and Front collaborated on facade design for 2050 M Street in Washington, D.C. REX's vision was to create a kaleidoscopic effect with hundreds of identical, subtly curved insulated glass panels with no mullions for a full all-glass aesthetic.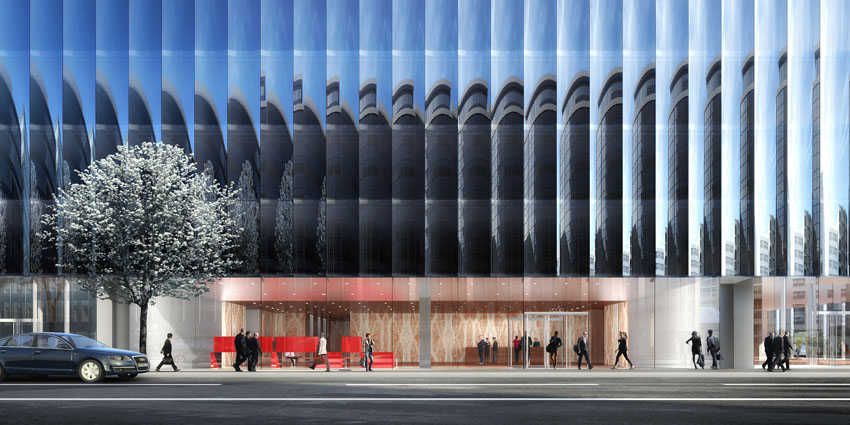 Photo courtesy REX/© Luxigon
The unique glass at 2050 M Street creates a new Washington, D.C., office type, one which combines the advantages of an all-glass building with the modulation of a high-relief facade befitting its context.
However, when working with curved, laminated panels, Simmons points out that a higher variation in the fabricated geometrical dimensions of the panels is common, thereby compromising a clean aesthetic post-installation.
Fortunately, the team decided that a tight-tolerance aluminum frame could absorb the looser glass, drawing the observer's eye away from any imperfections in the glass geometry. "The tight-tolerance frames are installed just like a regular unitized curtain-wall unit, so you still get those economic efficiencies," Simmons explains.
But perhaps even more impressive was the design team's ability to deliver a prefabricated unitized curved glass facade without mullions, which is really unprecedented.
As part of the project process, Front engineered the glass design on a prescriptive basis and took the specification to five glass fabricators globally, who then built accurate project specimens of the curved geometry, incorporating all fabrication details and tolerances. The preferred glass supplier was determined by owner, general contractor, and design team, and that company was assigned as the supplier to curtain wall contractors who were bidding the project.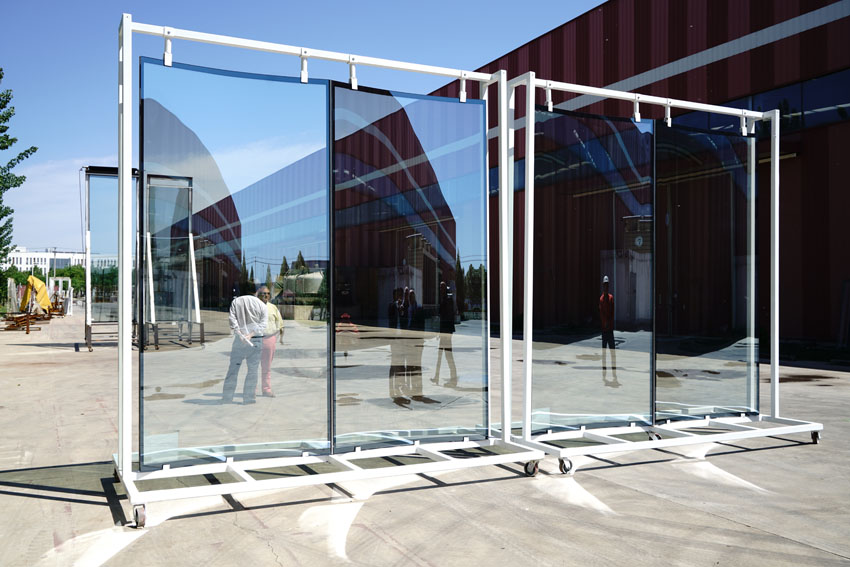 Photo courtesy REX/© Luxigon
This glass mockup for 2050 M Street demonstrates the design's intention for transparency, crystalline reflectivity, and lack of distortion.
The curtain wall contractors took the glass supplier on board and offered a turnkey engineer and supply contract. Ultimately, the curtain-wall contractor was able to collaborate with a local installer with both contracts held separately under the general contractor.
"Once they knew how much the glass-supply aspect of the job would cost while securing the expected quality, there was greater confidence by the team that other aspects of the curtain-wall procurement could be delivered within budget," relates Simmons.
Overall, Simmons explains that unlocking and having some control over the pricing of components is key to mitigating risk, but one really has to "get under the hood" in order to unlock that value.
Another interesting facade project in the Capital City is the new 140,000-square-foot International Spy Museum. Described as folded structural glass veil, suspended in front of the "black box" exhibition space, Eckersley O'Callaghan was challenged with delivering the complex facade design in a short time frame with a tight budget.

Photos courtesy of Eckersley O'Callaghan & Partners
The steel fabrication of the International Spy Museum's exposed architectural elements required much craft and labor to achieve an exposed finish.
Regarding the latter, Uluaydin's team rationalized the original curved glass design into 17-foot-high folded panels. A lightweight stainless-steel structure then stitched together the geometric folds, which ultimately delivered a thinner build-up of glass at a lower cost.
Adding even more complexity to the project was the fact that the facade is steel as opposed to aluminum. Whereas aluminum fabrication is an automated CNC process, the steel fabrication of exposed architectural elements required much more craft and labor to achieve an exposed finish.
Furthermore, the facade was designed with a tension-rod hanging system and was therefore very sensitive to movement during glass and framing installation caused by elongation of the rods due to weight, explains Uluaydin. And being that the rods were stainless steel, they were more prone to what is called thread galling (i.e., freezing up), thus not allowing field adjustments to the rods.
In order to address this head on, the facade contractor considered and designed the length of rods to maintain plan dimensions and make adjustments to the tension rods where necessary as they were installed. "The tolerances and connection points were all surveyed and monitored during the installation to maintain tolerances and appropriate clearances," Uluaydin adds.
A little less than 10 miles north is SHoP's 14-story mixed-use Midtown Center complex surrounding a large public plaza in Washington, D.C. A unique glass-and-copper facade was designed and built with 10 different unit types with varying angles of copper to create a gradient pattern. Unit depths range from 9 inches to 33 inches and are optimized at a typical 5-foot width for efficient office layout.
"The copper panels are clipped onto the facade with pre-attached formed stainless-steel pop rivets to allow for thermal expansion, concealed fasteners, and replacement if needed," Kumar says.
In addition to aesthetics, the innovative facade design optimizes solar shading. As compared to an all-glass facade, the glass and copper design delivers a 6 percent peak reduction of overlit area, a 50 percent decrease in glare, and an 18 percent reduction of direct solar gains. "Because the sawtooth facade's solid copper portion faces south, the lighting in the building is more indirect," Kumar explains. "Furthermore, the copper portion of the facade acts not only as a louver but also a solid envelope with thermal insulating properties."
One other recent innovative facade project of note is the San Francisco Museum of Modern Art, which involved the largest architectural application of fiber-reinforced polymer (FRP) in the United States.
Enclos worked closely with the design team early on to arrive at a tight pressure-equalized aluminum curtain wall that could also achieve the rippled surface with a rainscreen of FRP.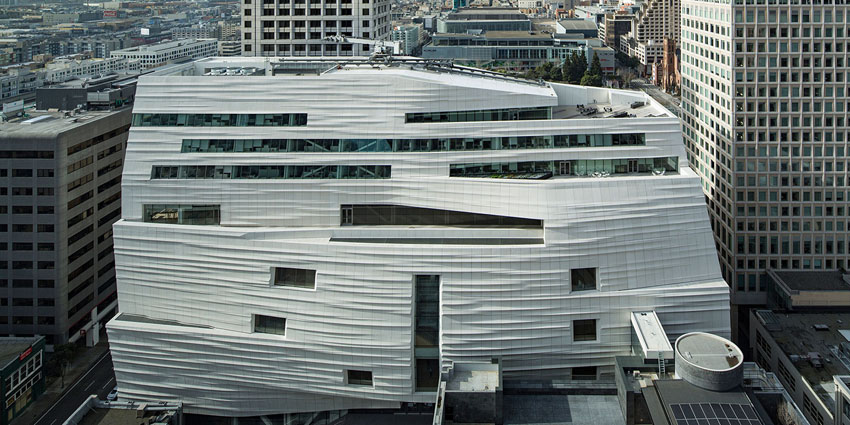 Photo courtesy of Enclos/© Henrick Kam
San Francisco Museum of Modern Art is the largest architectural application of fiber-reinforced polymer (FRP) in the United States. Working closely with the design team, a tight pressure-equalized aluminum curtain wall was installed to achieve the rippled surface with a rainscreen of FRP.
"The CNC capabilities of Kreysler Associates—a composite materials in construction expert—their efforts in getting fire-testing approvals, and proximity to both Enclos' assembly shop and the project site made this a unique opportunity with many local synergies," Vaglio says.
"The FRP panels were shipped 10 miles to be attached to the insulated curtain wall frames and sent another 30 miles to site," he continues. "The result is a facade of 700-plus unique panels, approximately 5 feet by 4 inches by 26 feet tall. With early development of the contoured facade, including iterations of 3-D and parametric model exchanges amongst the design team, this is one of our proudest examples of a design-assist collaboration."
BEST PRACTICES
Returning to the overall topic of mitigating risk down the supply chain, Patterson recommends keeping the chain as simple and local to the building site as possible.
As noted, some projects produce the curtain-wall system overseas, ship it to the United States for coating, send it back across the ocean for curtain-wall assembly, and then deliver it for a third time across the ocean, where it is then trucked cross-country for installation on a New York City skyscraper.
Not only does this this around-the-world-and-back-again transport significantly increase the risk of something failing, but the embodied carbon footprint is also off the charts.
"Economies of cost drove this decision, not considerations of risk or the economies of carbon emissions. This must and will change," Patterson says.
Another critical consideration is site logistics, particularly in dense urban areas with no storage and the absolute minimum in the way of staging area. In these cases, prefabricated curtain-wall units have to arrive at the site just in time to be lifted from the transport vehicle and set on the building, he explains. Alternatively, racks of units must be carefully positioned within the building for access by installation crews.
With facade installation often running 25 percent or more of the total system cost, facade contractors must be strategic in the way they manage this.
Offering some overall advice, Vaglio emphasizes the importance of being open minded to new materials, sources, and solutions, and where appropriate, vetting new supply chain partners, establishing project expectations, and building trust.
Another important point is not hesitating to turn down a project. "We would rather let a customer know upfront that the project is not a good fit with our operational capacity than jeopardize our reputation by committing to a project we may not be able to perform at our highest level on," he says.
As fabricators and contractors evaluate these opportunities, a number of key questions must be asked, including:
Who will make the glass units?
Can we verify the thickness?
Can this be competitively bid?
How will it be transported to site?
How will it be installed?
How does the cost compare to a traditional system?
"We get answers to each one of these questions to prove viability of the approach in terms of both possibility and budget constraints," Kantzas says. "We follow a similar process for each facade component."
Ultimately, supply-chain management comes down to trust. Of course, there are always extenuating circumstances that cannot be fully controlled. But by being honest about their capabilities, actively pooling their expertise, keeping the lines of communication open, and working together toward the same goal, building team members can greatly increase the odds of a successful curtain-wall project.
| | |
| --- | --- |
| | The Ornamental Metal Institute of New York is a not-for-profit association created to advance the interests of the architectural, ornamental, and miscellaneous metal industries by helping architects, engineers, developers, and construction managers transform designs into reality. |
Originally published in Architectural Record
Originally published in November 2019
Notice