Managing Risk During Intricate Curtain-Wall Projects
Early collaboration and a design-assist approach are key to successfully delivering complex facades
Sponsored by Ornamental Metal Institute of New York
This test is no longer available for credit
EXCEPTIONAL FACADE PROJECTS
A great project example of successfully managing the supply chain is Bjarke Ingels Group's VIA 57 West pyramidal-shaped condominium complex built around a sprawling, European-inspired interior courtyard.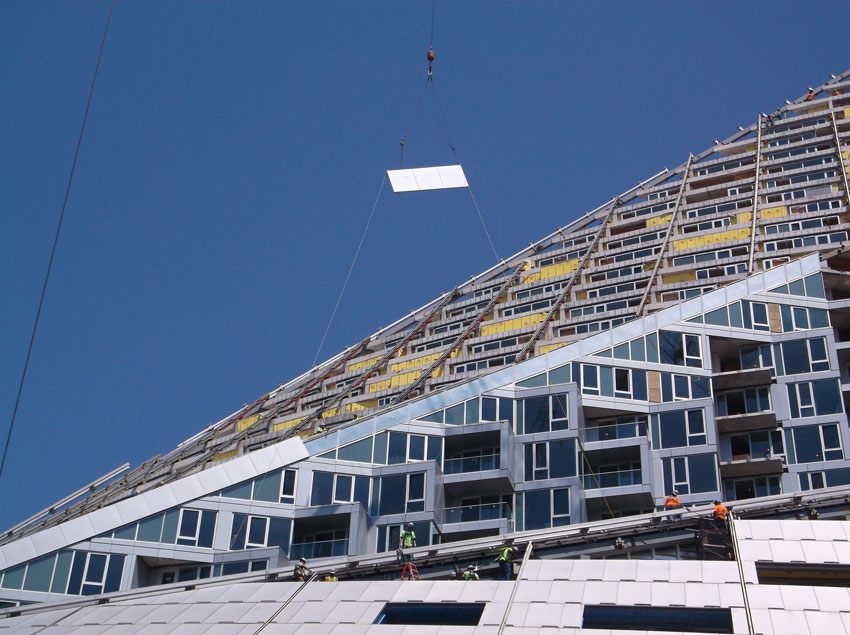 Photos courtesy of Enclos
Simulations and parametric modeling helped the design team fine tune, fabricate, and deliver a unique pyramidal-shaped facade enclosing a large interior courtyard for VIA 57 West.
With four distinct elevations and a sloping, hyperbolic-shaped roof, the sizing of the gutters to support optimal distribution of rainfall had to be studied early on in the design. This was accomplished with Enclos' Advanced Technology Studio, using a combination of RealFlow simulations and parametric Grasshopper models to analyze the water flow distribution for every panel.
Creating a continuous, smooth, double-curved surface along the south elevation was also challenging.
"In order to achieve the tight tolerance of the design intent, our team developed detailed fabrication-ready 3-D models for each of the more than 1,200 unique mega-panels creating the sloped facade and fed this information into our CNC machines," explains Alessandro Ronfini, senior designer, Advanced Technology Studio, Enclos. "During and after the fabrication and assembly process, each panel went through a rigorous quality-controlled process that included a laser metrology scanner, which verified that each double-curved geometry was an exact match of the master 3-D model."
Once analyzed and approved, each panel was transported to the site for installation. Here, laser scanning and constant verification of the built condition with the master 3-D model were essential to confirming that the physical location of each panel matched the ideal location of its digital twin, he explains.
To accommodate the concrete and steel tolerance, Enclos built the anchors securing the facade to the main structure with a tolerance of 2 inches in all directions. "This gave us enough room to adjust each panel as necessary to achieve the shiny, smooth surface you can admire along the Hudson River today," relates Ronfini.
About 10 miles up the river, at Columbia University's Manhattanville campus, a 12-story and nine-story building, separated by a large plaza, will become the new home of Columbia's Business School.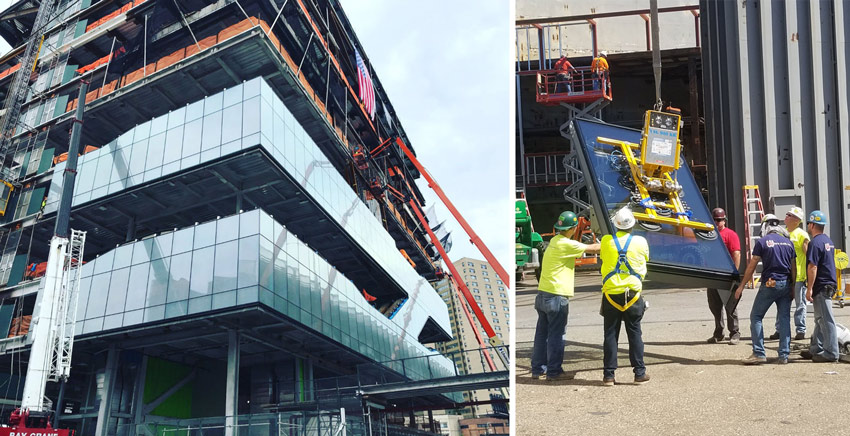 Photos courtesy of W&W Glass
With five different wall systems, the design, fabrication, and installation of two new buildings at Columbia University's Manhattanville campus required large mockups to test for air, water, thermal, and acoustic performance to verify the system's integrity.
The facades consist of GFRC panels, aluminum single-span, multistory unitized curtain walls, and a tall span structurally-glazed glass fin all coming together across multiple levels. Consequently, coordinating all the materials and ensuring a seamless, weathertight system was a big challenge.
"Projects like this require a high degree of R&D to develop systems then prove them out by building mockups for each wall type with specific conditions to put them through a battery of tests at a lab," explains Haber.
In order to accomplish this, the project team collaborated early on with vendors to get their input. "This project had five different wall types and two large performance mockups that were fully tested for air, water, thermal, and acoustic performance to verify the integrity of the system as the different wall types came together. In addition, there were multitude of visual mockups used to illustrate visual concepts, fit, and finish."
Ultimately, by working through bugs during the mockup phase, a certain level of risk was mitigated.
For another W&W project, the curtain-wall installer was challenged with ensuring that 47-story unitized curtain wall system at 30 East 29th Street could integrate custom chevron-shaped insulated metal panels into the facade in a weathertight manner.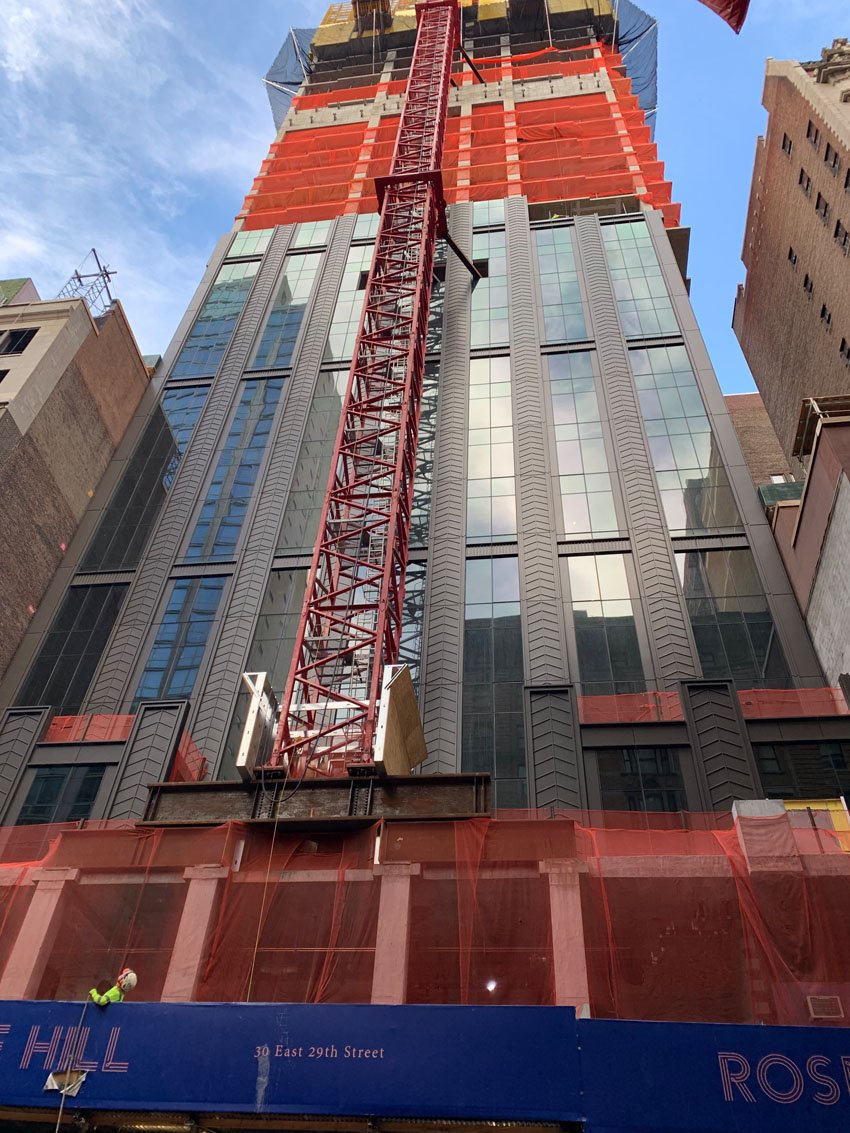 Photo courtesy of W&W Glass
For the 47-story 30 East 29th Street facade, an intensive R&D process was engaged in order arrive at alternate fabrication methods for curtain-wall panels so that they could be incorporated with a complex shape and profile.
"There was intensive R&D into alternate fabrication methods for the panels so that they could be incorporated with this complex shape and profile," Haber says. "Custom vertical extrusions were also added next to the panels to add banding to the chevrons and windows."
While bar stock receivers, used on typical aluminum metal panel systems to engage into traditional curtain wall pockets, were considered, they did not turn out to be a viable option.
"The design ultimately used a custom profile at the edge of the panel to achieve the aesthetics the architect desired with feasibility from a technology perspective to assure it could be efficiently fabricated and sealed on a shop assembly line," says Haber.
By doing this additional design work upfront, the team mitigated risk, and the final result was a clean, tight transition between insulated metal panel, extrusion profile, and the structurally glazed curtain wall mullion.
The iconic New York Times Building provides another example of how additional work performed early on can pay off in the long run. In this case, Forest City Ratner paid Benson a stipend before the project was even awarded to develop details and best means and methods to help understand the facade design's ceramic brise soleil and come up with manufacturing methodology that would be consistent throughout the project.
"By working on a visual mockup early in the process, we were able to demystify the sunscreen design. It gave us confidence that our ideas and the use of materials and vendors —like the aluminum extrusion fabrication and ceramic baguette supplier—would meet the tolerances required and assemble relatively easily," Heymann says.
Just south of VIA 57 West, at 5 Manhattan West, REX designed a scheme to reclad the building with a contemporary, pleated facade design. Analysis showed that due to the additional weight, the existing slabs were insufficient to support the weight of the new structural system.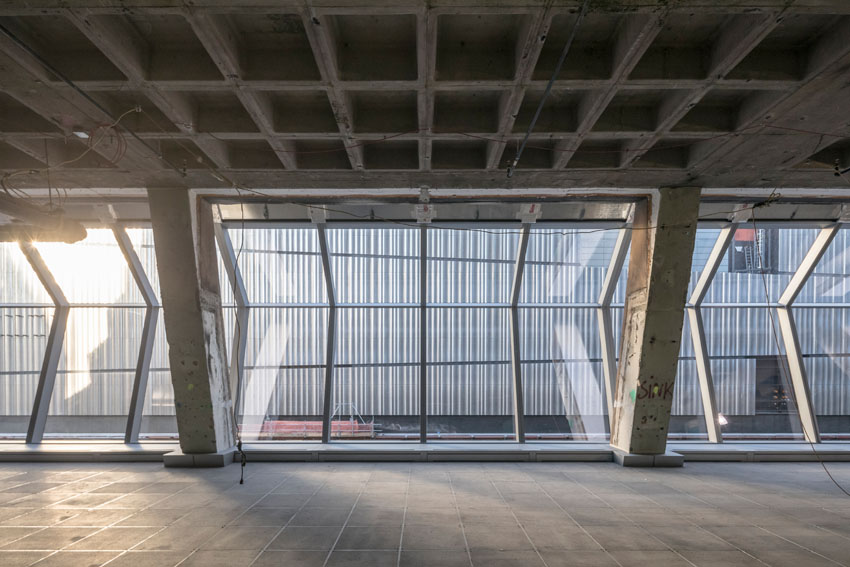 Photo courtesy of REX/© Laurian Ghinitoiu
Pleated curtain-wall panels were specially designed for 5 Manhattan West to simultaneously sit and hang so that the heavy pieces would not rotate during lifting and placement.
"We decided to span new steel called spreader bars, supported between columns to support the new facade system," explains Kantzas. "This means that all of the loading from the facade goes directly into the columns and no load is imparted onto the slabs."
However, drilling expansion anchors into the side of the fully reinforced columns was a challenge, so columns were X-ray scanned in order to locate reinforcement.
Furthermore, the facade's stepped design made hoisting and setting the panels very difficult challenge. Custom lifting rigs were developed to adequately lift the panels so they would not rotate. However, the panels were very heavy, and with the pleat/kink in the panel, it was difficult to get it to dead load at one slab level, according to Kantzas. "We had to design the panels so they sat and hung at the same time," he explains.
Originally published in Architectural Record
Originally published in November 2019
Notice