Managing Risk During Intricate Curtain-Wall Projects
Early collaboration and a design-assist approach are key to successfully delivering complex facades
Sponsored by Ornamental Metal Institute of New York
This test is no longer available for credit
The glass supplier can also provide critical information on the performance attributes of various architectural glass products, and attributes that affect the sizing of mechanical systems and the ultimate comfort of the building occupants.
As decisions continue to be made, Enclos often creates project-specific animations of the construction sequence and full-scale 3-D printed prototypes of key performance details. "The 3-D prints help educate our customers on where the performance is occurring within their facade system, while the animations clearly showcase a site logistics plan, revealing early on any coordination items with the general contractor," Vaglio says.
"When design development has concluded and a project moves into production engineering, teams use Inventor to develop detailed models of each unit," he continues. "A lot of energy is invested in precision at this stage, and the primary beneficiary is the manufacturing shop. Leveraging the data from the Inventor models, we have developed a proprietary workflow that links this information to CNC machines and inventory tracking. This provides a level of quality control at each step in fabrication and assembly."
Giving a sense of timeline, Uluaydin says that for most small- to mid-size projects with a performance and visual mockup, contractors need about 12 to 16 months for mockups, submittals, engineering, fabrication drawings, procurement, and fabrication. He adds that complex facade systems may involve the use of new materials or technologies, which require quite a lot of testing before implementation.
Heymann advises that a project's performance mockup capture as many details as possible: "The knowledge gained while working on the performance mockups helps progress the shop drawing details, fabrication, and assembly plan, and our field installation crew can better understand the nuances inherent with any custom design."
This is especially the case with complex geometries, because the facade contractor must understand the tolerances inherent in materials, fabrication, installation, and how those relate to building structure tolerances and movements. These factors combined ensure that expectations for quality and aesthetics can be successfully achieved, he adds.
Design features such as oversize curtain-wall and glass units, sunshades, and crown and roof screen walls and claddings can become very ornate. "This creates complexities that need to be studied and planned well in advance so those requirements can be built into the design, cost, and schedule of the project," Hemann says.
Depending upon site conditions, executing the logistics of facade installation may be yet another hurdle to overcome, particularly in the absence of a tower crane, as contractors will need to get creative to transport the materials into the building to be able to set from the floor slabs.
"Getting the unitized panels into the hoist for distribution on floors can be a critical plan to assure the installation goes as efficiently as possible," says Michael Haber, managing partner, W&W Glass, Nanuet, N.J.
In some cases, a custom lifting/rigging systems is needed to install complex geometry or deal with otherwise inaccessible conditions. "These solutions require a great deal of upfront planning and design technologies to prove the efficacy," he adds.
Additional logistical challenges may include the size of ocean containers, over-the-road shipments, building site access and unloading, opportunities for vertical transportation on-site, hoisting and installation equipment capacity and capabilities, trade personnel access to work points, and construction sequencing within the system and with other trades, relates Heymann.
MANAGING THE SUPPLY CHAIN
As a project's facade begins to take shape out in the field, the entire sequencing process is most complex, requiring a high level of management.
One of the ways that Enclos deals with this challenge is by tapping into extensive network of preferred partners who offer many of the common materials utilized in a facade. "With early communication to key material suppliers and a timely commitment to work with them, they can be setup for success to be productive," Vaglio explains.
Of course, there can always be anomalies and/or schedule changes, driving the team to adapt and supplement with additional internal resources or external partners.
"Any hiccup in the supply chain is a potential disaster," Patterson says. "Delays to the installation of the facade system leave the building open to the elements and prevent the following trades that require building enclosure before they can proceed. Successful facade contractors have learned to be experts in supply chain management."
In trying to avoid a situation where a particular material has yet to arrive on-site at installation time, Clark Construction Group spends time vetting their partners. "This includes researching subcontractor supply chains and making visits to verify that they can perform to standards that we believe are necessary to achieve the required results," reports Joseph Conover, vice president, Clark Construction Group, Los Angeles.
"Lead times are also critical path items and must be considered when selecting the right vendors," agrees Haber. "We have to know that the vendors have the capacity to produce products within the scheduled delivery window when we need it. Otherwise you will fall behind and slow the process of other trades putting the project schedule in jeopardy."
Heymann also agrees that the building team members need to be active participants in understanding the capabilities, core competencies, and lead times of the key material suppliers for the facade. His firm has a close relationship with key aluminum and glass suppliers, and will hire them based on their ability to manufacture to the quality required in the specifications, their manufacturing capacity, and their ability to respond when there are hiccups.
In reality, Uluaydin says it is rare that the contractors will not have materials on-site or labor to perform the installation, "Materials not delivered on time or excess labor pool is a financial and schedule burden for contractors, so they manage this as part of their responsibilities," he explains. "This causes a delay and has serious implications for subs and contractors and is something they try and avoid."
What can come up are issues surrounding the visual quality of materials and a lack of specification that can quantitatively be used to judge quality, and this can delay material delivery. In order to mitigate this, a preconstruction process is generally applied to work out these types of issues.
In addition to having the capacity to provide the required volume of fabricated material, selected vendors need to have the technical knowledge to engineer and competently fabricate solutions that will work for the exact project requirements, Haber adds. "If either of these requirements are lacking, there will be potential for poor quality, material not fitting on-site, requiring re-engineering or remakes, or material not being delivered. This will ultimately cause project delays which all can lead to lost revenues," he explains.
To best avoid these types of situations, factory visits should be made to review quality during fabrication. "If not managed, an undesirable distortion or visual defect may end up on the building due to schedule constraints," Uluaydin warns. "This is where tight specs and tangible review criteria are needed to judge materials for compliance. Otherwise it is subjective and just leads to disputes."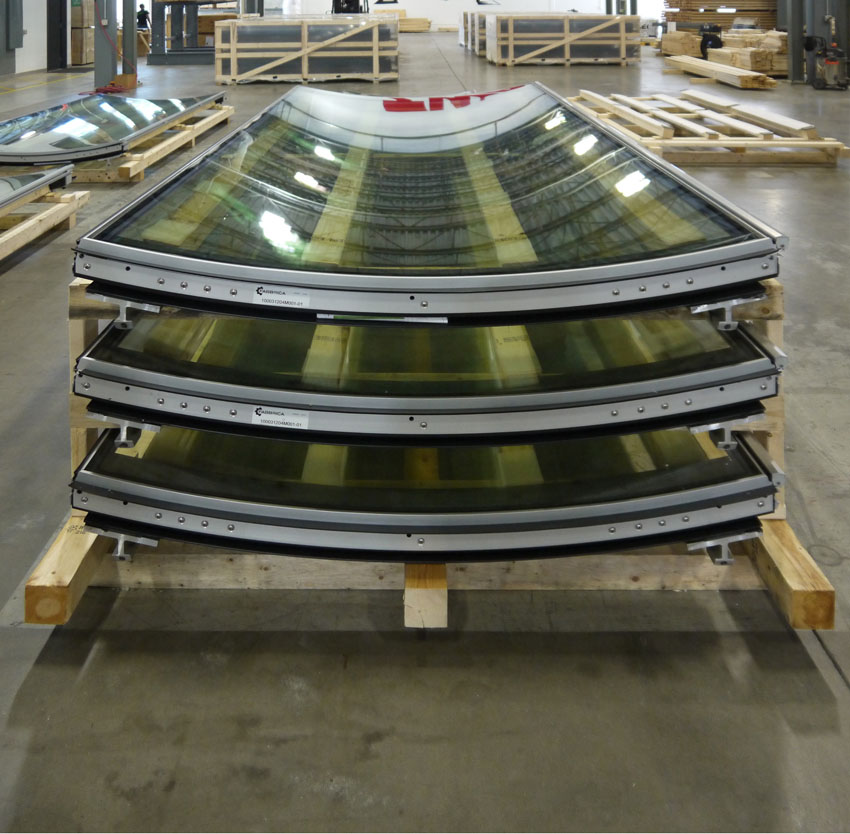 Photo courtesy of REX/© Luxigon
The curved panels for 2050 M Street are inspected in Fabrica's shop in Enfield, Connecticut, before shipment to the site.
Another issue surrounding risk mitigation is having the right labor on hand at the right time. In order to address this, as a union company, Benson has access to glaziers and iron workers in whatever locale they work. "We are also mindful not to take on too much work in any one region so we can recruit, manage, and maintain a quality workforce," Heymann explains.
Offering a big-picture perspective on this process, Simmons compares it to a spiral circling upward. Travelling along the spiral, the design team collects data points for all aspects of the project, and builds confidence and awareness for best system design and technical detailing. As the process cycles up, things start coming into focus.
"There is a fear of things coming undone along the way, and we are constantly trying to assess and control risk as it appears," he explains.
Originally published in Architectural Record
Originally published in November 2019
Notice