Managing Risk During Intricate Curtain-Wall Projects
Early collaboration and a design-assist approach are key to successfully delivering complex facades
Sponsored by Ornamental Metal Institute of New York
This test is no longer available for credit
DESIGN PHASE
A curtain-wall facade project's design phase frequently employs many of the aforementioned advanced digital design tools. Where complex geometries are involved, architects and facade designers turn to parametric modeling like Grasshopper for Rhino3-D to study the extent of variation in a skin's panelization, determine governing dimensions, and conceptualize system details that are applicable across a range of unique instances, explains Vaglio.
"Early phases also rely on Revit to set up estimating models, AutoCAD for detailing, as well as structural and thermal analysis software," he adds.
At Front, experts will take programs like Grasshopper and write their own customized scripts to better analyze geometry and generate design options. Furthermore, the facade consulting group will program their own plugins when there are no commercially available tools suitable for the task.
One example is a tool that Front created called Elefront, accessible at www.food4rhino.com/app/elefront. "It enables us to embed and manage complex building information in the 3-D model and streamline the process from design to fabrication," says Kantzas. "Due to the complexity of certain projects, we also invented a workflow that divides a building into different systems, components, and stages, allowing team members to work collaboratively and concurrently on a large-scale complex project."
Overall, Simmons explains that this initial design process involves applying iterative forms of analysis performed again and again and again to ultimately arrive at the efficiencies and characteristics that the project team is seeking.
From a performance standpoint, Yalin Uluaydin, RA, Eckersley O'Callaghan & Partners, New York, points out that the facade design must be verified first and foremost. Many times, structural modifications are needed before moving on to the detailing and design phases, where issues of constructability are dealt with.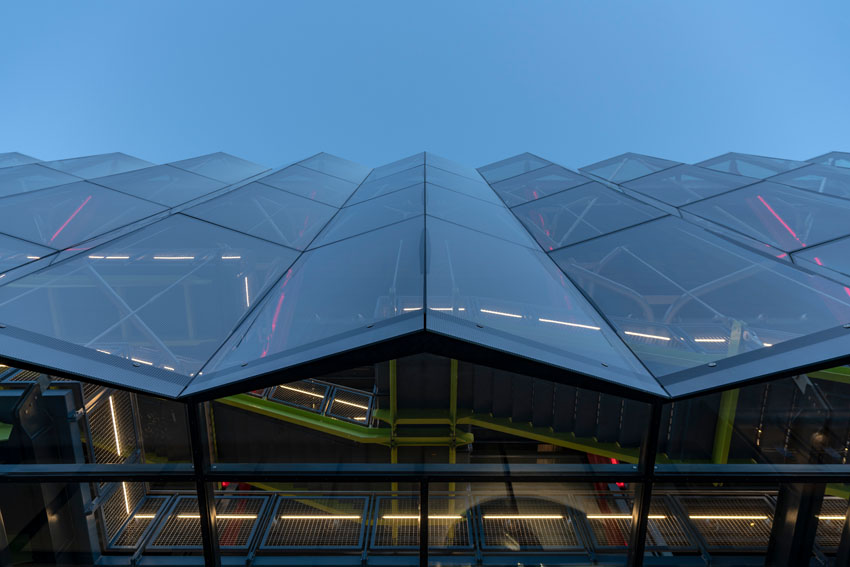 Photo courtesy of Eckersley O'Callaghan & Partners
At the International Spy Museum in Washington, D.C., the final design features a folded structural glass veil suspended in front of the "black box" exhibition space.
Simultaneously, as the facade is being designed, an integrative process will pool the expertise of fabricators and contractors, thereby benefitting from their valuable input.
Along these lines, SHoP's process involves tapping into various design and communication technologies like 3-D modeling, 3-D printing, AR, virtual reality, and physical prototyping to develop their concepts into buildable designs. "At the same time, we interface with the client team and contractors to draw interest from the facade industry stalwarts and get early input on general detailing strategies and feasibility, as well as project scheduling and procurement strategies," says Kumar.
In terms of ways in which contractors offer advice on feasibility, one example is metrics developed by Benson that help determine the relative complexity of one project as compared to the next, and to ascertain the level of risk and potential resource requirements. Ultimately, Heymann says that a lot of the decision-making comes down to lessons learned from past projects, so it is in the best interest of project teams to draw in experienced contractors.
DESIGN-ASSIST
By working in a design-assist process, the design team can work with the contractor toward a dedicated guaranteed maximum price, and this usually helps accelerate the project schedule.
From the perspective of risk management, Patterson points out that a risk-averse building industry—with the owner on one end and the vendor/fabricator on the other—will typically work to push the risk down or upstream, respectively. "Often the risk concentrates on the facade contractor who is left to figure out how to best implement the facade program," he explains. "But the remarkable thing is that these attempts to deflect risk are seldom successful, and if a challenging facade application goes awry, everyone involved in the project suffers."
Consequently, the best practice by far when dealing with an innovative or complex facade design is to engage all key players involved in the implementation of the facade program as early in the process as possible. "Schematic design is not too early to bring these entities onboard," Patterson says.
When the facade contractor is engaged as a paid member of the design team and tasked with sitting shoulder-to-shoulder with the architect's facade designer, it can then provide real-time budget, schedule, and constructability input throughout the design process, explains Patterson. In a true design-assist setting, the team has the opportunity to work through the details of the design, eliminating surprises at bid time.
In facade contractor Enclos' experience, it finds its input being requested earlier and earlier. For example, being invited to bid on a product based on only 50 percent of design development documents is not unusual. Furthermore, the bid to build the facade is accompanied by a fee for design-assist services for a period of time to collaborate with the architect and facade consultants to arrive at a constructible solution, by 100 percent design development, that aligns with the project's target budget, explains Vaglio. "Arriving at a buildable system that sets up the manufacturing and construction phase is essential to ensure the schedule goals can be achieved," he adds.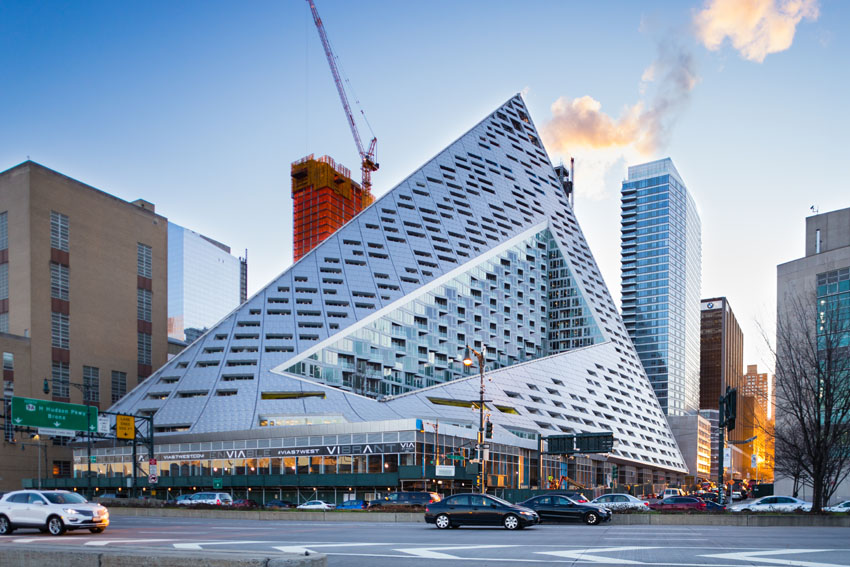 Photo courtesy of Enclos
The facade contractor should be brought in early on for collaborating with the architect and facade consultants in or to arrive at a constructible solution. This was the case for VIA 57 West in Manhattan.
In cases where the facade contract is only awarded at the end of construction documents, this can create a situation where architects might be brow-beaten into decisions contrary to the design intent due to downward pressure of the construction schedule, costs associated with maintaining the original design, unforeseen conditions, etc.
On the other hand, with design-assist, the facade contractor can work on the performance mockups and project shop drawings prior to groundbreaking, which can also take the facade off the critical path in some cases. "This whole process brings advantages to everyone in the AEC team, as issues can be resolved in an agreeable manner," Uluaydin says.
While this is an ideal scenario, Patterson is afraid that the industry has failed to converge on a definition for design-assist. "For many in the industry, it remains the practice of inviting a facade contractor in at some point during design development and learning as much as can be learned for free, which is not design-assist, but rather business as usual," he says.
Similarly, O'Malley observes that some designers are reluctant to engage the contractor too early because they feel that it might stifle their ability to design the project the way they want, and some owners still feel that the best way to get the lowest price is to finish the drawings and have a competitive bid.
Curtain-wall companies can contribute in several ways to the early stages of a project: they can provide valuable advice and guidance, including options on how to configure the system; material and product sourcing options; cost estimates; input on logistics, site constraints and erection options; and feedback on lead times and market capacity.
While a general best practice for bringing in the curtain-wall company is also "the earlier, the better," O'Malley points out that the design team needs to first spend some time exploring concepts, massing, and material types with the building owner in order to hone in on a general concept for the design. Furthermore, the industry is very busy, and curtain-wall contractors have plenty of projects from which to choose. Consequently, the design team has the best chance of hiring the right curtain-wall company for the job if it has already defined some of the major parameters of the project.
Originally published in Architectural Record
Originally published in November 2019
Notice